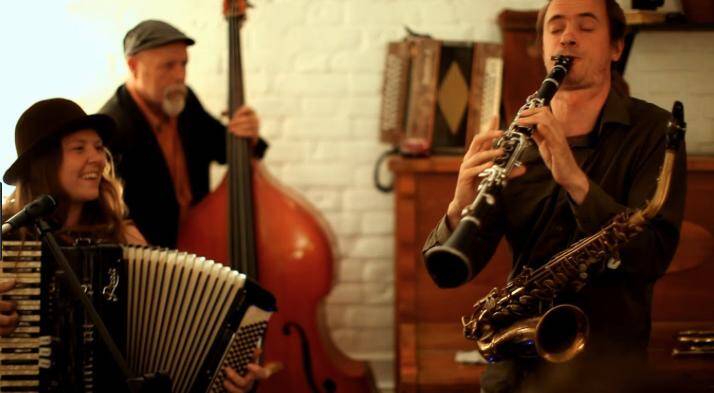 Panspermia

I've recently reviewed two traditional jazz albums featuring the distinctive vocals of Louisa Jones. (Man Overboard Qunitet, The Cable Street Rag Band.) She is accompanied by many of the same musicians here but Whiskey Moon Face is her chance to take the musical reigns.
They play original material set to her enchanting lyrics. The other bands mostly stick to the jazz canon. I hear so many well worn songs that it is wonderful to listen to something new and her delivery brings explanation to every word.
The most well known member is the phenomenal clarinetist Ewan Bleach who seems to be able to adapt and shine in any situation, he helps arrange the music for the band. Dakota Jim Ydstie also stands out not least because of his highly characteristic voice on a track or two from each album. It is remarkably well paired with Jones' both in harmony and in maintaining a coherent feel from song to song. Ydstie also plays bass and accordion, two instruments, notably, of the several that Jones plays herself. Jones has had advanced training in an Indian classical singing style so her unique vocal control is no happy accident.
(This video, of a song from One Blinding Dusky Dusk, illustrates the contributions of Ydstie and Bleach, but isn't the best example of their distinct "sound".)
The trio forms the heart of the band and for many tracks on this album, it is just those three.  Their previous album, Formless Forms which came out in May has a fuller sound. The musicians appearing as a fourth or fifth have been culled from the same bunch for all of their albums. They are, quoting from Jones' website, "Chris Barber's cornet player Magic Mike Henry, Russian trombonist Anton Wunderlich, Canadian songwriter and banjo player Sam Bailey, French violinist Mirabelle Gillis, Scottish drummer John Blease, Cornish trombonist Skye Murphy, Scottish composer and fiddle player Alastair Caplin."
Jones is an excellent jazz singer, and they are all jazz musicians but this isn't quite a jazz band. I wouldn't pigeonhole them as European folk music either. It is timeless lyric set to timeless arrangement.
The music is led by the accordion in the fashion of French cafe jazz and much of it has a Russian Gypsy feel. Jones even sings in Russian at times. It suits her voice which has a strained passion and brilliant inflection. Other tracks bring that feeling closer to their UK home and the wharves and tinker encampments of Britain.
(This is the title track of the new album played several years ago.)
That traditional sound has a very modern appeal. Sentimental youth in the wine and philosophy phase, (or guys like me that never grew out of it,) will fall for the mood of this album. The excellent musicianship, particularly the freedom given to Bleach by such a small ensemble, is a bonus. The album was recorded, as all of their albums have been, "live" in the studio giving each musician a chance to stretch and shine. The group has had success touring in Europe and has built a following in Russia. I'd love to see them come stateside.
---
Online Only
For Online Only Access without delivery of the print paper sign up below.
Subscription Options
---
Print Edition
 If you'd like the PRINT EDITION, (12 monthly issues) use the following PayPal link. After your payment is complete you will be allowed to create an online account. You will receive the next mailed copy, usually shipping around the 22nd of the month. See a PDF Sample Here.