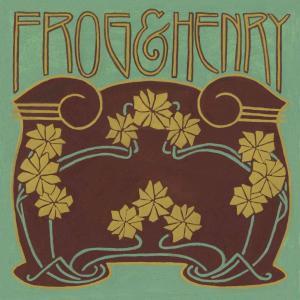 Frog and Henry consider themselves a New Orleans based band, and they have fine reasons to do so. As a collective, they've included members from Tuba Skinny, The Hokum High Rollers, The Loose Marbles and other notables of the Crescent City busking scene.
I've included them with reviews of UK based traditional jazz groups because they recorded their recent album in England and the previous one in Europe, and because Europe and the UK have been the locus of their touring thus far. (Minus a stint in Turkey and a 2019 spring tour planned to South Africa)
Their history and lineup are intentionally hard to pin down. Liner credits list instruments, recording locations, dates, equipment, but not bandmembers. They do give Ewan Bleach composer credit for one track on each album. Out of respect, I won't name anyone else here.
The distinguishing features of this collective originated when two one-man bands created a duo and performed together on the folk circuit before settling in New Orleans around 2011. Once there they were able to find other musicians with an interest in the vortex of jug bands, string bands, ragtime, and jazz. They now bill themselves as a "brass and string band", an email from the band explained their history this way:
"the group was formed in late January 2013, in New Orleans as an eight-piece street performing band. The original line-up included two jug players who also played tuba and guitarron (Mexican string bass), mandolin-banjo, violin, guitar, clarinet, tenor banjo, and washboard. We made our first recordings within two weeks of forming and then were inactive as a large group until 2017. The tenor-banjo player, who no longer plays with us, named the group during a car-ride down N.Rampart St./St. Claude Ave, from the French Quarter to the lower ninth ward."
Those gap years explains how they can sound so established after bursting on the scene less than two years ago. All were involved in other great groups during those years and in other configurations with each other.
Frog & Henry still uses a foot peddle tuba, freeing up hands for a second instrument, otherwise they mostly play their instruments one at a time. It is now the music that makes them stand out. On their first album Frog & Henry sound like an honest to goodness rag band, in that anyone who heard them in 1905 would say, "That there's a Rag Band and gee I love that foot tuba thing."
They have talent in spades and use it to create understated rhythmic complexities that will please the most critical ear. Most of the titles they cover are from established jazz artists like King Oliver and Jimmy Noone but the tone often feels earlier. They are pulling on influences from pre-jazz recordings and the hokum, jug, and string acts that were also tapping those pre-jazz sources.
Part of that feeling is derived from the actual tone created recording on a "Nagra iii full-track 1/4" mono reel-to-reel tape-recorder, with a single Electrovoice 664 on low impedance setting." You can feel them crowded around the mic as if it were a horn they were playing into.
They pull together their albums from multiple small sessions over the course of a year. Their two so far are both posted on Bandcamp as self-titled so I'll refer to them as 2017 and 2018.
The 2017 album was made in three sessions and consists of two different lineups. The album opens with a set of clarinet, alto-sax, tuba, guitar, and tenor banjo. The first track is an Ewan Bleach original, "Berlin Rags". Bunk Johnson's "Thriller Rag" comes next and within a chorus you'll get what is special here. They aren't all rags, "So Sweet" and "San" highlight the reed section's jazz chops, as does "L & N Rag", their arrangement of a fiddle tune.
The second block of tracks uses clarinet, violin, mandolin, banjo, washboard, drum kit, baritone sax, and guitar with the addition of a tuba and second reed on the last three tracks of the album. "White Birds", credited to Hawiaan Orchestra, "Marsovia", a Spanish number, and "Griserie", a composition Django Reinhardt played on banjo, are waltzes. They demonstrate the broad palette of influences bands drew from during the time period. "The Big Four" by Bobby Leecan's Need More Band is an album highlight, with truly impressive washboard playing complementing the strings like hand and glove.
The 2018 album has enough instrumental variation to make your head spin but the basic lineup they vary from is clarinet, alto sax, soprano sax, tenor sax, tuba-machine, guitar, and banjo. In many cases musicians are switching instruments during the breaks. In the extreme case of "A Good Man is Hard to Find", nine instruments are played by only four musicians, you can see the process on a Youtube video.