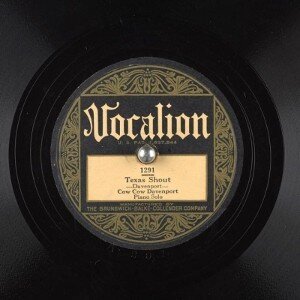 Set forth below are the Seventeenth and Eighteenth "Texas Shout" columns. They first appeared in the May and June 1991 issues of the West Coast Rag, (now Syncopated Times). Tex wrote an introduction to the second part, about living musicians, when the Shouts were reprinted in the late 90s. It is included before the second part. 
---
Texas Shout #17
Who is your favorite Dixieland musician? Who is your favorite living Dixieland musician?
The great thing about "Favorites" is that it's a game anyone can play. You don't need to be an expert to have a favorite. All you need is a musician who, for whatever reason you want to pick, rings your chimes more than any other. No one can tell you you're wrong, either.
Moreover, the musician needn't be an all-time great, or for that matter even a very good player. If a favorite had to be the greatest, the discussion would end right here, in fact — we'd all pick Louis Armstrong.