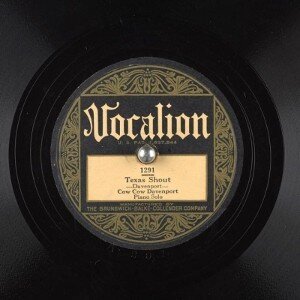 Set forth below is the thirty-fourth "Texas Shout" column. The initial installment of a two-part essay, it first appeared in the November 1992 issue of The West Coast Rag, now The Syncopated Times.
Because the text has not been updated, I should mention that, since this essay first appeared, Wally Rose, and other musicians who recorded with Watters and the Yerba Buena Jazz Band at one time or another, have gone to their reward. Their names will be fondly remembered as long as Dixieland jazz is played.
Through the years, there have been many enormously influential Dixieland bands. However, only one combo has ever singlehandedly created a new style of Dixieland. The band is Lu Watters' Yerba Buena Jazz Band and the style is called West Coast revival (sometimes known as San Francisco style).
I'd like to use today's column to discuss the characteristics of the West Coast revival style. Along the way, I'll toss in some thoughts regarding what I believe to be misconceptions about it in certain areas of the Dixieland community.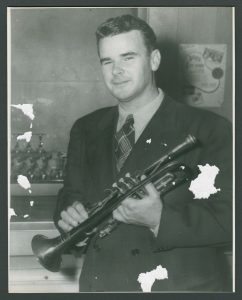 Trumpeter Watters and his sidemen were professional musicians making a living playing the prevailing popular and jazz styles of the late 1930s, essentially swing and big-band dance. At the time, the most common form of Dixieland was Chicago style, the Dixieland style that best fits the solo orientation of swing musicians.
Watters and his colleagues had been listening to small-band recordings of the 1920s, particularly the downtown New Orleans style 78s of King Oliver, Jelly Roll Morton and Louis Armstrong. Hearing an approach to the music that was hardly to be found anymore; an instru­mentation employing two-beat rhythm, banjo and tuba, all musical devices not employed by swing musicians; and some worthwhile tunes that had been totally forgotten, they decided to get together after hours to revive this instrumentation and repertoire.
After some jam sessions at the Bay Area's Big Bear Tavern, the band went into the studio on December 19, 1941 to wax eight sides which were released on the Jazz Man label. The lineup was Lu Watters, Bob Scobey, cornets; Ellis Horne, clarinet; Turk Murphy, trombone; Wally Rose, piano; Clancy Hayes, Russ Bennett, banjos; Dick Lammi, tuba; and Bill Dart, drums.