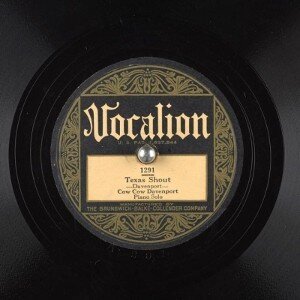 Set forth below is the thirty-eighth "Texas Shout" column. It first appeared in the April 1993 issue of the West Coast Rag now The Syncopated Times)
I recently read a record review in a respected jazz periodical in which the reviewer, discussing a singer whom I will refer to as "X," said: "X … was not a jazz singer, X was not a dynamic improviser. … X was a practitioner of crooning …"
By contrast, in Jazz Singing, the only book-length treatment to date of the subject, author Will Friedwald states: "Louis Armstrong and X [are] the two most important figures in jazz-derived popular singing. … X's greatest accomplishment … was the application of jazz to the music of Tin Pan Alley."
These diametrically opposed assessments are characteristic of the confusion that exists among the jazz community whenever the question of jazz singing is discussed. This confusion, in my opinion, results because some jazz commentators are not comfortable viewing a singer as a musician whose instrument happens to be his/her own voice instead of a trumpet, trombone, piano, etc.
However, if you look at singers that way, you'll have no trouble discerning which ones have the ability to sing jazz. You'll do so simply by applying the same rules you'd use to determine whether any other instrumentalist has that talent.
First, let's dismiss some red herrings. We'll start with the "crooning" point raised above. The reviewer seemed to feel that X's skills as a crooner could be offered as evidence that X could not sing jazz.
Well, Tommy Dorsey could produce one of the creamiest, most sensual tones ever heard from a trombone. He used that skill to great advantage on many successful non-jazz pop recordings. However, I've never heard anyone suggest that doing so somehow diminished his considerable talent as a jazz trombonist.
Benny Goodman not only deployed his singing clarinet on many romantic non-jazz dance sides, but also was, I understand, a creditable classical clarinetist. Anyone who used those facts to try to prove that Goodman was not also a jazzman would be laughed out of the room.
A singer may be able to croon, yodel or hum, and may attain an enviable repu­tation in the pop market by doing so. However, that statement tells you absolutely nothing about whether that singer also has the ability, when called for, to sing jazz. Just because you can do one thing well doesn't mean you can't also do something else well in the bargain.
Probably because the late Nat "King" Cole emerged from the jazz community in the first place, and was in fact one of the best jazz pianists of his day, he has always been universally acknowledged, and rightly so, to be a great jazz singer as well. However, Cole was also a "crooner" if there ever was one, achieving his greatest fame and success via his distinctive, smooth, intimate vocalizing on ordinary pop ballads.
For a second red herring, the above-quoted reviewer also seemed to feel that one could not be a jazz singer unless one was a "dynamic improvisor." This conclusion reflects the commonly-held notion that improvisation is a sine qua non of jazz.
I have addressed this notion several times in previous "Texas Shout" columns. I don't want to go through the reasoning again in detail today, but if you've been a steady reader, you will be familiar with my view that improvisation, though typically a predominant part of most jazz performances, is not essential to jazz. There are many well-known hot dance sides from the twenties, swing-band 78s from the thirties, progressive and bop rides from the forties, etc., which are fully scored from beginning to end and which are recognized by all and sundry to be jazz renditions.
The distinguishing feature of jazz, as I have often stated in these pages, is its unique rhythmic feeling, the characteristic that most jazzmen refer to as "hot, swinging" rhythm. An instrumentalist who can play music with that feeling has the ability to play jazz, without regard to whether the notes are improvised or scored, or to whether they are played with a tart tone or a velvety "croony" timbre.
In short, if an artist can be hot and swinging when required, then he/she can play jazz. That's the rule you apply to trumpeters, trombonists, pianists, etc., and it's the same rule you apply to vocalists.
By that rule, we recognize that Ella Fitzgerald, who often improvises wildly adventurous melodic lines, is a jazz singer, but so is the wonderful Maxine Sullivan, who swung effortlessly and naturally while rarely deviating much from the melody lines written by the composers.
By that same rule, we can see that many successful singers, some of whom had excellent voices, did not possess the ability to sing jazz. Al Jolson, one of the most dynamic and popular entertainers of all time, who had a rich voice and impeccable timing and pitch, apparently could not swing, or at least if he could, he never did so on record. History, then, does not include Jolson in its list of jazz singers, nor Eddie Cantor, nor Sophie Tucker, nor Gene Austin (one of the twenties' most popular singers, now mostly forgotten).
You'll be able to use this rule to find out which of the singers you encounter belong on your list of jazz singers. For the benefit of those who might like to investigate this subject a bit more, I'd like to use the balance of this column to mention some vintage-period jazz vocalists whom I have particularly enjoyed over the years.
I do not intend to be exhaustive in naming individuals. The omission of your particular favorite – maybe Sinatra or Calloway – is in no way intended as a slight or a denigration of that person's skill. If you want to add some names to the ones mentioned herein, I'd probably go along with most of them.
Number One for me, and probably for many others, is Bessie Smith. The majesty and power of that great big voice are simply galvanizing, triumphing not only over sometimes inferior material but also over her somewhat limited range, to the point that there are no bad Bessie Smith records. Fortunately, her recordings are almost constantly in print. If you have never heard any of them, you're really missing something.