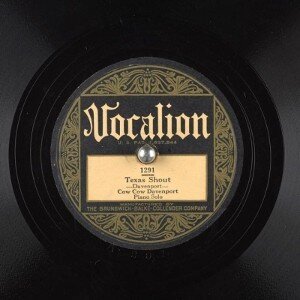 Set forth below is the forty-fifth "Texas Shout" column. The concluding portion of a two-part essay, it first appeared in the November 1993 issue of the West Coast Rag, now The Syncopated Times). Read part one.
Today's uptown jazzmen/women naturally turn toward recordings of their favorite artists for source material. The tunes recorded by Bunk Johnson, George Lewis, Kid Thomas Valentine, Billie and De De Pierce, etc., have become staples of the contemporary uptown repertoire.
In some cases, the pioneering musicians did not fully remember the tune as the composer originally wrote it. In those cases, they simply made up the missing parts. This procedure will work well enough as long as everyone in the band has the same understanding of what melody and chords are to be played at any given time.
Sometimes memories were sufficiently faulty that what emerged was an entirely original composition. Bunk Johnson's 1942 recording of "Bluebells Goodbye," for example, is almost surely an attempt to recall "Bright Eyes. (Good Bye.)" (1905), words by Harry H. Williams, music by Egbert Van Alstyne. However, Johnson undoubtedly got the song mixed up in his mind with "Blue Bell" (1904), words by Edward Madden, music by Theodore F. Morse, also a march-like tune with a lyric about a man bidding farewell to his love. The result, "Bluebells Goodbye," is in fact a brand new tune that doesn't resemble either of its sources in more than a superficial way.
In such cases, jazz bands wanting to play those numbers will, of course, use the early uptown records as a model. They are the definitive versions of these "new" titles.
There are other cases where pioneering uptown bands have played standard tunes, ones familiar to most Dixieland players, and not followed the accepted versions of the chords or melody. In such instances, revivalist uptowners have typically tacitly "corrected" the music and used the standard practices.
Some tunes occupy a middle ground. These are selections that are not particularly obscure but which are primarily played only by uptown New Orleans Dixielanders, and where the common practice is to follow the recordings rather than the sheet music. One example that readily comes to mind is "Ice Cream."
"(I Scream – You Scream – We All Scream For) Ice Cream" (1927), by Howard Johnson, Billy Moll, and Robert King, is a clever novelty ditty about a college for Eskimos. As originally written, the lyric to the first chorus is (spelling and punctuation per the original song sheet):
I scream, you scream
We all scream for Ice Cream
Rah! Rah! Rah!
Tuesdays Mondays
We all scream for Sundaes
Siss! Boom! Bah!
Boola Boola Sasparoola
If you've got Chocolet
We'll take Vanoola
I scream, you scream
We all scream for Ice Cream
Rah! Rah! Rah!
George Lewis' drummer/vocalist Joe Watkins obviously did not remember this lyric and instead sang what seems to me to be meaningless gibberish. Here is Watkins' version, from the first chorus of his vocal of June 18, 1953 as recorded on Delmark DL-201:
You scream, I scream
Everybody wants ice cream
Rock, rock my baby rock.
You scream, I scream
Everybody wants ice cream
Rock, rock my baby rock.
Osceola, R.C. Cola,
Everybody wants a Pepsi-Cola.
You scream, I scream
Everybody wants ice cream
Rock, rock my baby rock.
To me, it is perfectly obvious which of the two lyrics has the superior claim to be rendered. Nevertheless, despite the fact that the sheet music to this tune is reprinted from time to time in folios of twenties songs, the Watkins version is essentially the only one heard from Dixieland stages.