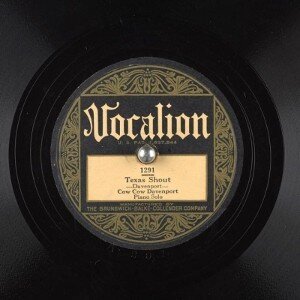 Set forth below is the sixty-fifth "Texas Shout" column. The initial installment of a two-part essay, it first appeared in the September 1995 issue of The American Rag. The update at the end of the article was added to a reprint in October 2003.
In the spring of 1994, two bills had been introduced in Congress. One would have declared 1995 the centennial year of jazz. The other would have purchased land by the Federal government and funded the site as a national park for jazz.
There was no action occurring on either bill, due to lack of supporting messages to Congressmen from their constituents. In order to inspire such activity, members of the jazz community interested in those matters attempted to "get out the vote."
As one of the few Dixielanders in the Wilmington, Delaware area known outside of the Delaware Valley, I received a number of phone calls in furtherance of this purpose. I said that I'd be happy to spread the word, meaning that I'd try to remember to mention the situation at my weekly Red Lion Jazz Band rehearsal and on any other of the limited occasions around here when the subject might be appropriate.
This was not a sufficient response for one caller, whom I'll refer to as X, a prince of a fellow, a friend of mine, and someone who has devoted more time in aid of Dixieland jazz than just about anyone I know. He was happy to hear that I'd spread the word, but he also wanted to know if I personally supported these causes.
Remembering the story of George Washington and the cherry tree, I didn't lie. I said that I was opposed to both of them, briefly outlining my reasons therefor (explained more expansively below).
X was obviously nonplused. While he acknowledged that he could agree with at least some of my reasoning, he said he was extremely disappointed to discover that I felt the way I did. He said that he supported both measures because he was "for" jazz. In fact, he said that more than once.
The implication was, I guess, that if you are "for" jazz, you must support these bills. Thus, if you do not agree with them, your true colors are exposed; you are not really a person who is "for" jazz – not even if you've been doing the various jazz-related things I've been doing nearly all my life (which I won't summarize here, but are known to many of you and have been touched upon in past "Texas Shout" columns anyway).
Now I really don't think that X believes, upon reflection, that I am some kind of fifth columnist in the jazz ranks, a secret viper in jazz's bosom. He was just caught so off guard that he blurted the first thing that came to mind that might be used to change my opinion.
However, my reasons for opposing these ideas are ones that I've pondered for many a year, regarding the way the jazz community interacts with the normal civilian world. I think they have much broader implications than the disposition of these two proposals.
Thus, though I never thought I would ever write a "Texas Shout" dealing with politics, I'd like to share them with you. In order to save Don from reams of irate responses in "The Letter Drop," I'll start by recognizing that many of you, like X, will not agree with me. I respect your opinion, hope we're still friends, and will be happy to buy you a beer sometime while we sit down and chew over the subject.
Fair enough? Here goes.
Let's start with the declaration of 1995 as the centennial year of jazz. X's only stated reason, in our conversation, for backing this measure was his opinion that it would operate to give jazz a wider degree of visibility on the national scene.
By the time this article sees print, we will know if the measure passed, and whether it accomplished that objective. I'll bet that it didn't.
I suppose that the readership of The American Rag is much more alert to matters affecting jazz than the general public. Yet, do many of you remember, or did you ever know, that in 1987, Congress adopted a resolution declaring jazz a national treasure?
That declaration was reported in many Dixieland-oriented publications. Was it also reported by your local newspaper, radio or TV station? Did anyone in your locale stage any special jazz activities to mark the occasion? Was the jazz scene in your area benefitted to any noticeable degree by Congress' action?
Congress makes all kinds of pronouncements of this type. It has probably decreed a national pickle day, a national donut month, a national ice cream week, etc. Do your local media make you aware of such declarations? Do you know when such events come up on the calendar? Do you eat more pickles, donuts, ice cream, or whatever it is, on these anniversaries?
I'll estimate, and I think I'm on the low side, that 98% of you answered "no" on all counts. So much for the visibility on a Congressional declaration of the centennial of jazz.
But what harm could the declaration do, you ask? Why not take the time to support the effort? How can doing so possibly hurt our cause?
The answer to those questions lies in my deep-seated belief, formed from decades of observation of the jazz scene, that (1) the Dixieland community is very small compared to other power groups in this country and (2) it should not use up any of this capital unless something concrete and positive is going to accrue to jazz as a result of doing so. Declaration of 1995 as a centennial of jazz will, I wager, not result in a single paying gig for a jazzman anywhere, cause any new music to be commissioned, lead to the production of even one new recording, etc.
I have no desire to belittle the activities of anyone who wishes to exert himself/herself on jazz' behalf. Further, I hope that these remarks do not cause me to be perceived as mean-spirited.
However, I believe that the impetus behind such movements is based on the mistaken notion that there is much of anyone left in the real world who cares what people think inside the Washington D.C. beltway. As I see it, Congressional declarations about jazz won't accomplish anything other than lulling elements of the jazz community into assuming that jazz has been moved forward in some important way. Actually, we will have gone to the well and consumed some of the water just to make a symbolic gesture.
If we're going to activate the Federal government to do something for jazz, let's get specific. Surely there are many things the government could do that would result in concrete benefits for jazz.
I confess that I have not compiled a list of them because of my feelings regarding government and the arts, set forth below. However, just picking an idea out of the blue, why not use our small pool of political capital to encourage our government to negotiate with Canada a way of reducing the hassle and cost attendant to gigs in that country by U.S. jazz musicians?
If a U.S. jazzman is hired to play a Canadian gig that is receiving widespread publicity (so that customs officials are likely to know about it), special papers have to be supplied in advance and filled out for display at the border when the U.S. musician enters Canada. A fee is due at that time of, I believe, 125 Canadian dollars. Also, if recordings are being brought in for sale at the gig, a special duty must be paid (which is not refundable with respect to records brought back to the U.S. that weren't sold).
Further, as combos playing the Victoria festival will attest, the 125-dollar/musician fee is reduced if the musicians in a band all cross the border at the same time. There is a sort of "group rate" discount, which makes it advisable for the band members to gather at the airport, wait around until all sidemen have arrived, and enter Canada together.
Otherwise, as when a musician wants to come in a day or week early for personal reasons, he/she's stuck with the fee. Certain festivals (such as Victoria) will not reimburse the expense in that case.
This situation obviously makes it more costly and inconvenient for Canadians to import U.S. jazzers. It also raises prices (thereby reducing sales) of the records to be sold at the gig. Which cause do you think is more worthy of calling your Congressman, this one or the declaration of a centennial year?
After all, your congressman is a busy person and he isn't going to keep giving you everything you want. The jazz community needs to pick its targets carefully before trying to mobilize the government. Doing so isn't cost-free, though it may appear that way in a vacuum, not set alongside other issues.
Well, you say, how about that national park? There's a tangible thing that would stand as a monument to jazz. Tex, you're not going to tell me that such an institution would be an empty gesture.
You're right, I'm not. I'm opposed to that one for an entirely different reason, one that reflects my basic view of the purpose of government as an institution.
*****
2003 Update:
As best as I can conveniently determine, Congress did not pass a resolution declaring 1995 to be the centennial year of jazz. Perhaps 1995 was long gone before jazz could be brought to the Congressional front burner.
However, House Concurrent Resolution 57, which declared jazz to be a national treasure, passed Congress and was signed in 1997 by President Clinton (who, to do so, actually took time off from interviewing interns). As predicted above, it sank without a trace, to my knowledge, as far as actual practical benefit to the jazz community was concerned.
Along these lines, I seem to recall that, since the foregoing column was published, Congress either eliminated or greatly reduced its practice of declaring something to be a national this-or-that. Inasmuch as this change now leaves Congress free to work more mischief in our lives by raising taxes and otherwise increasing the intrusiveness of government, there may be, after all, something to be said for trying to get it back into the empty-gesture business.
Part 2: Texas Shout #66 Government Subsidies
---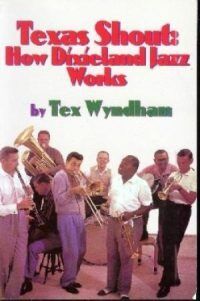 Want to read ahead? Buy the book!
The full run of "Texas Shout" has been collected into a lavishly illustrated trade paperback entitled Texas Shout: How Dixieland Jazz Works. This book is available @ $20.00 plus $2.95 shipping from Tex Wyndham, On request, Tex will autograph the book and add a personalized note (be sure to tell him to whom the note should be addressed).
Tex Wyndham's 3 CD Guide to Dixieland with music and commentary is available for $20 plus $2.95 shipping. The separate CD, A History of Ragtime: Tex Wyndham Live At Santa Rosa, is available for $13.00 plus $2.00 shipping. On request, Tex will autograph the inner sleeve and add a personalized note (be sure to tell him to whom the note should be addressed).
Send payment to Tex Wyndham, P.O. Box 831, Mendenhall, PA 19357, Phone (610) 388-6330.
---
Note: All links, pictures, videos or graphics accompanying the Shouts were added at the discretion of the Syncopated Times editorial staff. They did not accompany the original columns and do not necessarily reflect the opinion of Tex Wyndham