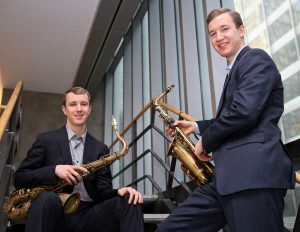 When asked what attracted them to jazz, the response you get from Pete and Will Anderson is "The jazz bug hit us very early on. We were in the third grade watching TV together, and a commercial came on for Chips Ahoy cookies. The soundtrack was Benny Goodman playing 'Sing, Sing, Sing.' We were hooked!"
Dave Robinson, an early mentor, recalls that while the twins were originally classically-trained, they joined his Capital Focus youth band in Washington, D.C. when they were 13 and toured the United Kingdom with the group playing classic jazz associated with Jelly Roll Morton, King Oliver, and Louis Armstrong. In 2005, the band attended the Thelonious Monk Institute Jazz/Aspen Snowmass and was selected to play in the North Sea Jazz Festival. "We used to feature them on a two-clarinet arrangement of 'I Wish I Were Twins,'" Robinson said. "They have a wide stylistic reach, which is a valuable commodity in the jazz world."
The 32-year-old, nearly-identical twins elaborate, "We were drawn to jazz for its beautiful synthesis of melody, harmony and rhythm. The music of the '20s, '30s, and '40s attracted us because that was the golden age of American music when genius composers and brilliant musicians held sway, and it was the popular music of the day. The music has expression, emotion and allows for so much individuality."
NYC and Julliard
The Andersons feel that what really launched their careers as professional musicians was getting to be known and making contacts while attending the Julliard School for six years where they were mentored by saxophonist Joe Temperly and received their Bachelor's and Master's degrees. "We were 18 years old when we made the move to the Big Apple. Most of the students were older and better musicians than we were. It was exciting just being in New York, the epic center of jazz."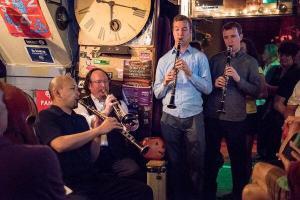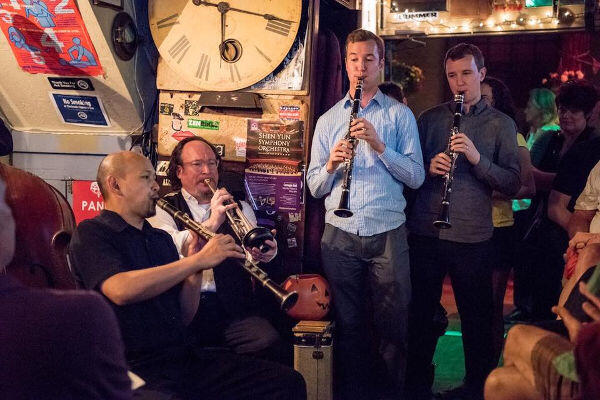 They began subbing in bands and for Broadway shows, getting to know and play with people like Vince Giordano, Dan Levinson, and Ed Polcer and learning from these older musicians how to lead a band, how to prepare set lists and make song selections, and how to communicate with other musicians, both on and of the bandstand. They were soon making a name for themselves as leading performers in the new generation of talented players who are keeping great music alive. They have led performances all over the world, played on Grammy-winning recordings, and been described as "clever, funny, charming…true showmen…delightful connection with the audience."
Tabbed as "virtuosos on clarinet and saxophone," they have performed at Carnegie Hall, been headlined in the leading jazz clubs across the country, appeared live on Garrison Keillor's A Prairie Home Companion, and been featured on the 2014 Grammy-winning soundtrack of HBO's Boardwalk Empire with Vince Giordano's Nighthawks. Their travels have taken them to 40 states and overseas, and they have been guest clinicians at more than 100 high schools and a dozen colleges.
Quincy Jones Accolade
In 2011, Peter and Will debuted their own Big Band at Manhattan's Symphony Space, offering their interpretations of the music of Quincy Jones, which evoked this response from Jones: "You dudes are the future! You made the soul of 78-year-old ex-bopper smile . . . smile like a fox eatin' sauerkraut."
They have both been recognized by the National Foundation for the Advancement of the Arts and as outstanding soloists by DownBeat Magazine; participated in the Betty Carter Jazz Ahead Program at the Kennedy Center; been recipients of Maxwell Gluck Community Service Fellowships; and played their original compositions as part of Betty Carter Jazz Ahead and Ravina Young Artists residencies.
In the classical field, the twins have performed clarinet solo works by Debussy, Mozart, Brahms, and Copeland with several symphonic groups. Dan Levinson has included them in his Three Benny Opera presentation, a three-clarinet salute to Benny Goodman.
The Andersons have performed at Jazz at Lincoln Center, The Kennedy Center, New Orleans Jazz Festival, The Blue Note, and this month have a concert at Birdland on May 26 featuring the music of George Gershwin. Their debut release, Correspondence (2012), was listed in Vanity Fair magazine alongside one by Miles Davis that was captioned "Four New Releases to Make You Love Jazz."
Twin Identities
As one critic wrote, "The distinctions between them as musicians are as subtle as the differences in their appearances." So how do you tell which is Will and which is Pete? They have similar personalities and often dress alike. They have always been competitive, but in a friendly, supportive way, and feel that they are lucky to have each other.
Well, Pete is older—by 10 minutes—and Will is one inch taller than his brother. Pete is married; Will is engaged, with an October wedding in the offing. Pete plays the tenor sax in a more contemporary vein, while Will on alto leans more toward the traditional style of jazz. Both include the soprano and baritone saxophones, bass clarinet, flute, and piccolo among the instruments they play. They cite Scott Robinson as their model in wanting to broaden their capabilities and become more versatile.
They point out that "It's really special for siblings to be able to work together, which was fairly common in the past, but is less common today as we have become more global. Since we have known each other for so long, we're fortunate that we have similar interests, which helps us as performing musicians and in running a business."
"We have been playing side-by-side for over 20 years. Jazz involves improvising and reading musical and non-verbal cues. We have gotten good at anticipating what the other one will do next, and it makes for fun to play together. Achieving excellence in anything requires a love of the craft, hard work and diligence, and gaining the experience of being put under pressure and sometimes failing."
Influences
Will cites his influences as Johnny Hodges, Benny Carter, and Jimmy Dorsey, along with flutists James Moody and Frank Wess. Pete mentions Coleman Hawkins, Lester Young, Harry Allen, Ken Peplowski, Sidney Bechet, and Ben Webster among the many great tenor saxophonists he admires.
The twins handle their fame in a professional, down-to-earth manner, displaying what one writer called "a self-effacing Jimmy Stewart charm." They can move easily from the early jazz of New Orleans to the more contemporary sounds of John Coltrane. They understand Ellington and know what to do with a Billy Strayhorn tune. They can interpret a Thelonious Monk composition in a way Monk would have appreciated. They demonstrate a depth of knowledge about saxophone players as diverse as Johnny Hodges, Stan Getz, and Hank Mobley.
One reviewer observed, "They're naturals who play the music like it's in a constant state of creation and reinvention." The twins respond that "Jazz is too good a music to die. It's still a relatively young music compared to the classics." They presented Classical Themes in Jazz at the Buck-Hilltop Music Festival in Skytop, Pennsylvania, where they performed the music of Bach, Debussy, Tchaikovsky, Dvorak, and Weber in a jazz style.
Produce Own Shows
Recipients of numerous awards, the Andersons are not only talented musicians, but entrepreneurs as well in producing their own shows. They produced Le Jazz Hot: How the French Saved Jazz, which tells the story of American musicians moving to France during an era of social unrest and keeping jazz alive. They have done off-Broadway shows saluting legendary clarinetists Benny Goodman and Artie Shaw, and had a Songbook Summit series of 32 shows featuring the timeless songs of four composers: Irving Berlin, Jerome Kern, Hoagy Carmichael, and Jimmy Van Heusen.
The Andersons find it more exciting to be leaders rather than sidemen and to be able to develop their own projects and book their own shows. "We have lots of projects in the works, including performing with symphony orchestras. We especially want to perform for people who may not be familiar with jazz and to expose jazz to more young people."
The question they get asked most often when they give a school clinic or master class is "Can I have a successful and fulfilling career as a musician?" Students also want to learn more about harmony and composition as well as how to practice. The Andersons respond: "The successful jazz musician today has to be versatile and to be comfortable and knowledgeable in both traditional and contemporary styles."
Relate to Audience
"The main goal of performers is to entertain the audience and have them feel good. We want the audience to have a renewed interest and appreciation for jazz music. We want them to leave feeling happy, feeling more inspired about the beauty of the world, forgetting about their frustrations and problems. It sounds clichéd, but that is why we do what we do."
Dan Levinson summed it all up when he was asked about Pete and Will, saying "Success in the music business is measured on multiple levels and entails much more than just being able to play one's instrument well. Woody Allen said that 80% of success is showing up. The Andersons show up—and on time. They care about making the music sound good. They always look professional and come to work with a positive attitude that pervades the atmosphere and makes for an enjoyable musical experience all around. While most musicians acquire these traits after years of trial-and-error, the Andersons have been exemplars of success from the time I first met them in their early 20s."
Visit Peter and Will Anderson online at peterandwillanderson.com.