Do not interpret an event not being on this list as a cancellation, it means only that they have yet to announce any information about the upcoming year. The lack of announced bands below is because many events are justifiably hesitant to make contracts with artists until they are sure they will be able to happen, but all signs point to an AMAZING summer and fall. Correction: The April print edition gave the wrong dates for the Sun Valley Jazz Festival., the correct dates are October 13-17th.
---
SARASOTA JAZZ FESTIVAL (Sarasota, FL) May 9-13 Postponed
With great regret, the Jazz Club announces the postponement of the Jazz Festival that was tentatively scheduled for May 9 – 13, 2021. The recent increase in the daily new Covid cases and the infection rate for the Greater Sarasota Region, including both Sarasota and Manatee counties, and concern for the health and safety of our members and musicians has prompted this decision. Keep posted at jazzclubsarasota.org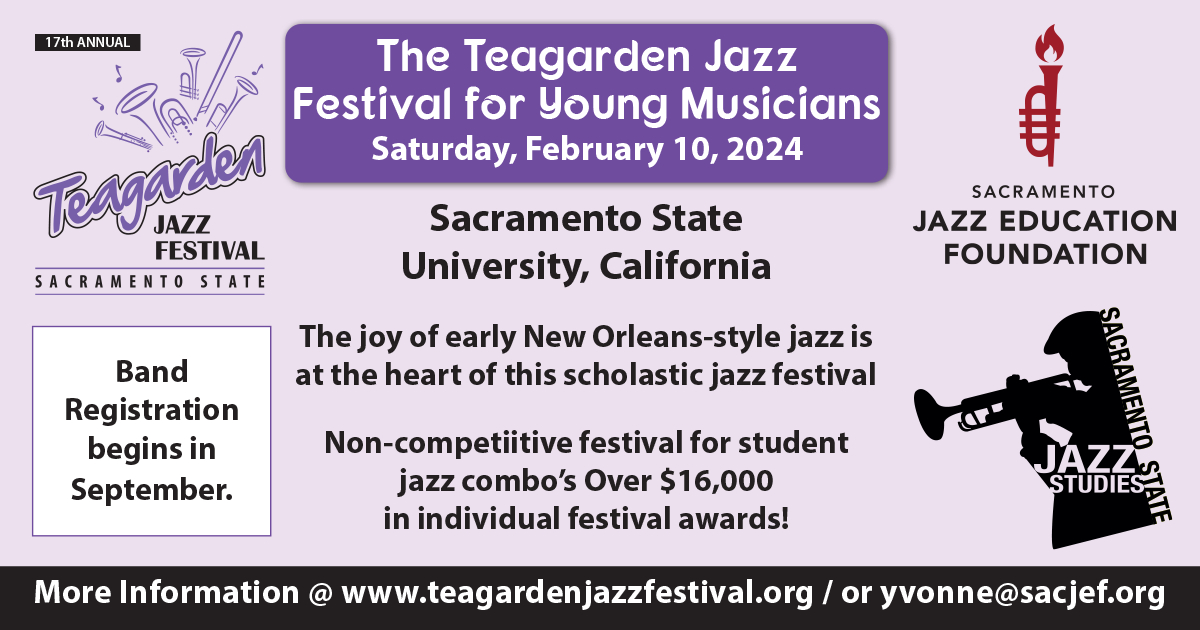 PENSACOLA JAZZ FESTIVAL (Pensacola, FL) May 15-16
The 37th annual Pensacola JazzFest will take place May 15-16 2021 at Seville Square in historic downtown Pensacola.
As always, JazzFest is a free and celebrates America's unique musical art form, jazz. We produce the event with assistance from a variety of corporate sponsors and community organizations. Jazz Pensacola volunteers also work yearlong to present Pensacola JazzFest as their annual gift to the community.
Scheduled artists include: Saxophonist Larry Panella, Jazz pianist Tony Viviano, Saxophonist Doug Horn, Trumpeter Jonathan Martin, Jack Zoesch Quartet, Glenn Parker Band, Jazz pianist Alex Nollan, Nobius, Isabelle Schrack Band, La'Roy Bodiford Quartet, Fais Do-Do, Chip Herrington Quintet, and the Excelsior Brass Band. jazzpensacola.com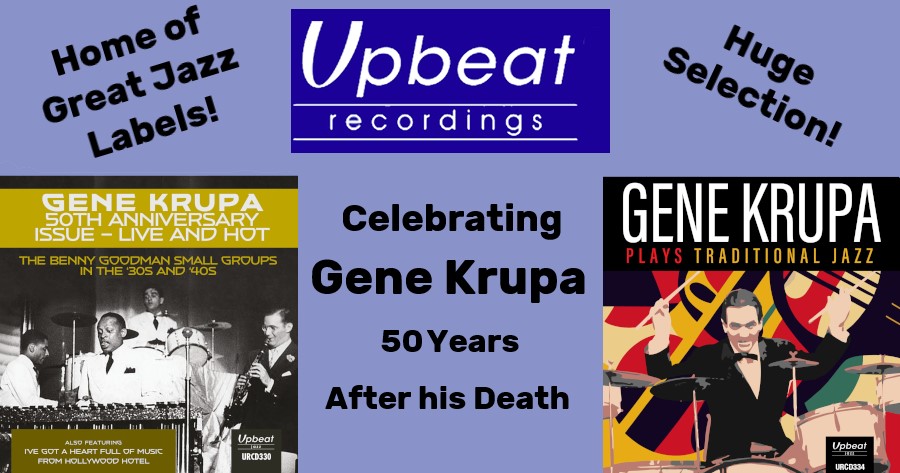 WORLD CHAMPIONSHIP OLD-TIME PIANO PLAYING CONTEST & FESTIVAL (Virtual Event) Memorial Day Weekend
A decision has been made to postpone the Junior, Regular & Senior Division Contests until May, 2022. It is simply not feasible to hold these events given the present health pandemic. The University of Mississippi safety protocols prohibit a live audience at this time. The Contest personnel have agreed to host a virtual New Rag Contest under modified rules on Memorial Day weekend, 2021 in addition to a noncompetitive Junior Showcase for those competitors ages 17-and-under. Stay tuned for details for both of these events in the coming weeks. Thank you for your patience and understanding as we traverse these very difficult times. – Ian Hominick, Art. Dir. oldtimepianocontest.com
SCOTT JOPLIN RAGTIME FESTIVAL (Sedalia, MO) (Cancelled)
The 2021 Festival has been postponed due to Covid concerns. The 2022 Festival WILL occur June 1-4, 2022. The Scott Joplin Foundation has been sponsoring a recurring free online event called Syncopated Saturday Night that can be found on their Youtube and Facebook pages. Links at www.scottjoplin.org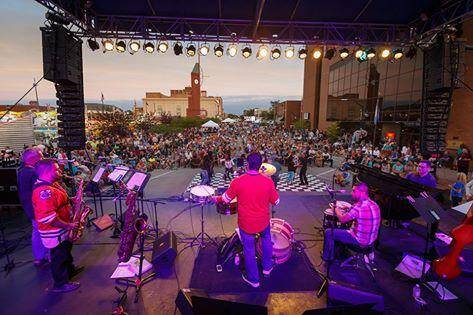 ELKHART JAZZ FESTIVAL (Elkhart, IN)
June 17-20
All indications are that the Elkhart Jazz Festival, which is largely an outdoor event, will be a go. No scheduled bands or ticket information for the ticketed venues is available as of press time.
Visit elkhartjazzfestival.com; tickets: (574) 293-4469; festival info: (574) 218-6477.
CLINE WINE & DIXIELAND JAZZ FESTIVAL (Sonoma, CA) – July 10
We have a date. Details to follow. This one day event has packed a punch in the past, scheduling as many long running West Coast traditional jazz bands as most three day festivals. Stages are in outdoor tents and a spacious in door venue.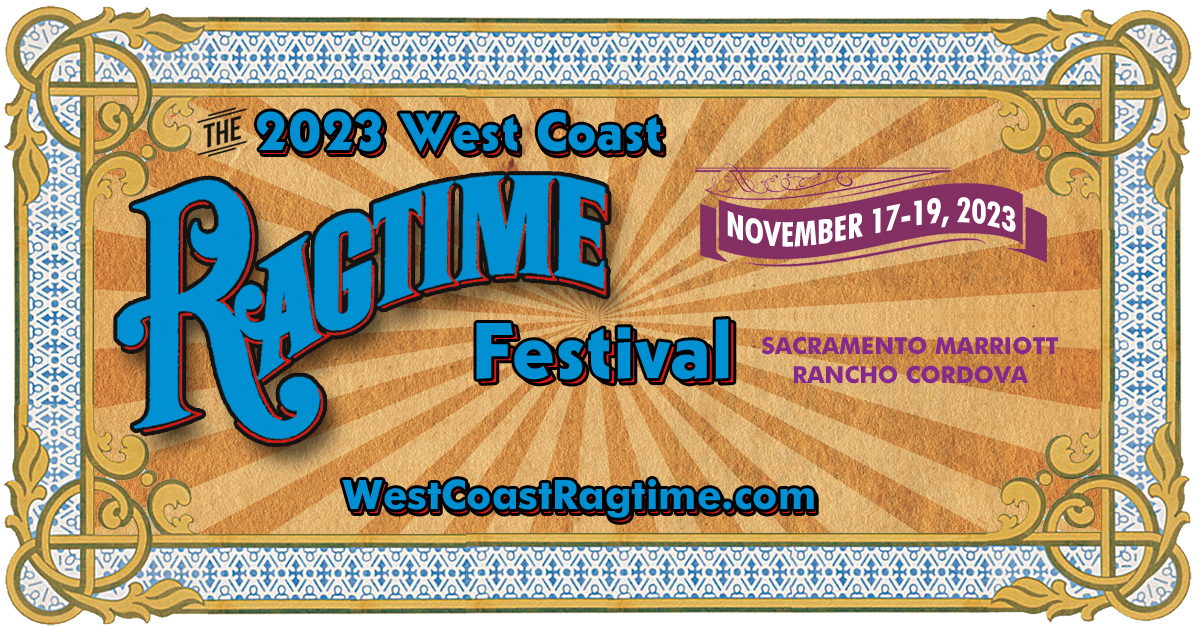 Call (707) 940-4025 or (800) 546-2070; visit www.clinecellars.com for reservations and winery information.
SOUNDS OF MARDI GRAS (Fresno, CA) – July 8-11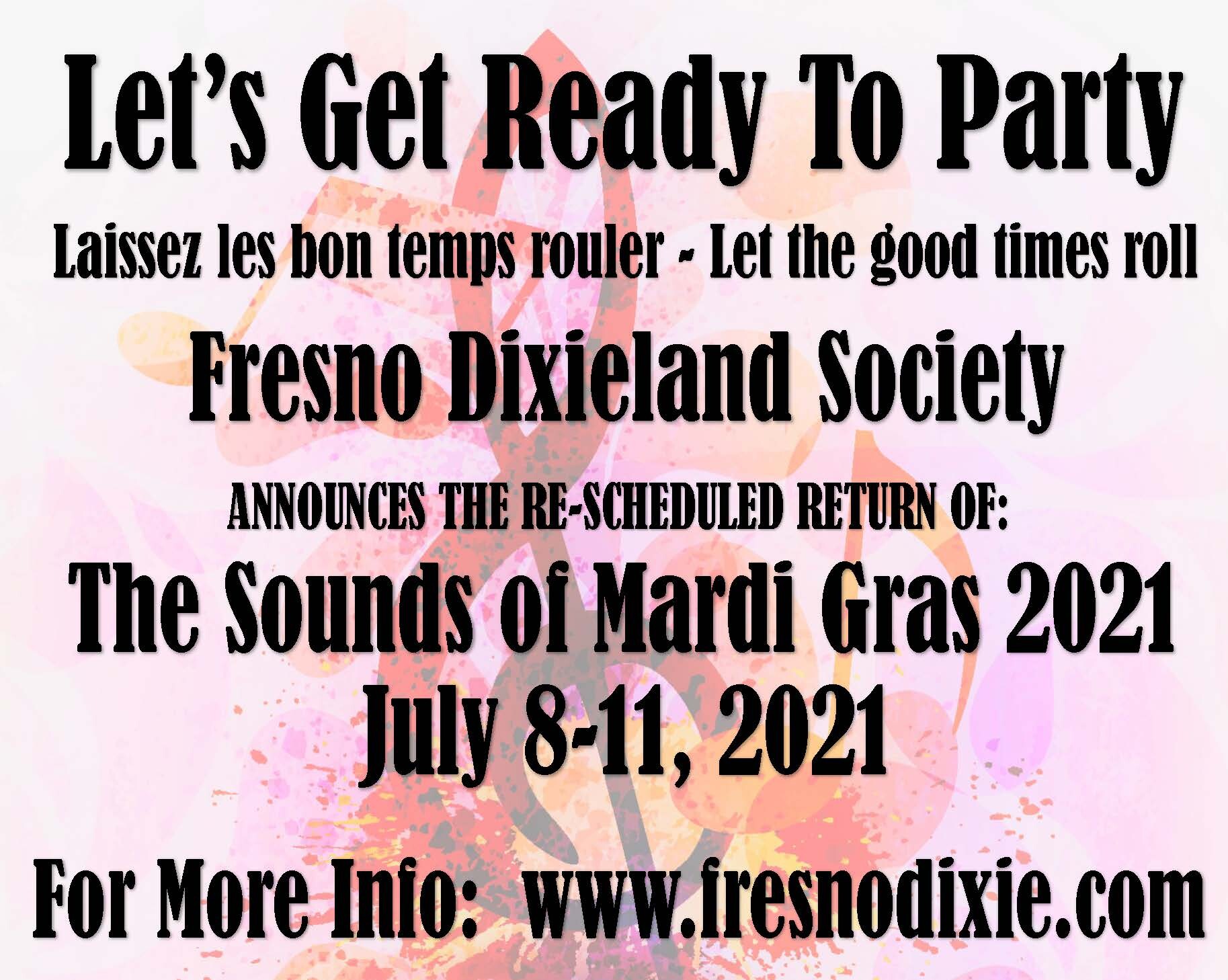 YES…IT REALLY IS HAPPENING. Fresno Dixieland Society will hold their annual Sounds of Mardi Gras Festival in a couple of weeks on July 8-11, 2021. The event will be held as usual at the DoubleTree by Hilton Fresno Convention Center. Linda is busy talking to bands and many of your favorites will be returning. The DoubleTree has health guidelines which we will follow for the safety of all attendees. Sponsorships are the mainstay of any festival but this year even more so. We hope you will support our festival with your attendance and if able, your generous contributions.
All the usual parades and events are being planned to include: Parasol Parade, Masquerade and Costume Parade, Putting on the Ritz Parade and Friday night Swing Dance and Saturday Night Mardi Gras Party. The themes for the Putting on the Ritz Parade is "Forties Hollywood Glamour" and the theme for the Friday Night Swing Dance is "High School Class Reunion." Past Kings and Queens of Fresno Mardi Gras will be everywhere, recognized by their colorful sashes.
Come, Listen, Dance and meet up with your festival relatives that you have not seen since Feb 2019. Very soon, more information such as tickets, sponsorships and how to make festival rate reservations will be at www.fresnodixie.com. Hope to see you there. Laissez le bon temps rouler……Let the good times roll. Fresno Dixieland Society Board Keep checking in at  www.fresnodixie.com for any new details.
EVERGREEN JAZZ FESTIVAL (Evergreen, CO) Cancelled
THE 2021 EVERGREEN JAZZ FESTIVAL HAS BEEN CANCELED. At its April meeting, the Evergreen Jazz Festival Board of Directors voted to cancel the 2021 festival. Said president Jeannie Mann, "The uncertainty of state and county Covid restrictions simply makes it impossible to commit to our usual intimate venues and up-close- and-personal format."
She added that the board will be exploring the possibility of streaming a series of live performances featuring many of the great bands from previous Festivals… "all leading up to a very special 2022 event!" Check the festival website www.Evergreen Jazz.org for updates and to subscribe to the festival newsletter.
NEWPORT JAZZ FESTIVAL (Newport, RI) July 30th-August 1st
Due to COVID-19 capacity restrictions, Newport Jazz will be doing things a little differently this year. We'll be focusing on creating three intimate days of amazing Jazz performances and surprise collaborations at Fort Adams – July 30th to August 1st. Due to modified capacities, we will be releasing access to this summer's events in phases. Be aware that we have not gone on sale with any tickets, so please do not purchase from any site posting them for sale. We will be communicating with our members in the coming weeks to share more details about how they can join us this summer and will be announcing ticketing options for non-members soon after that. Our goal is to keep our ecosystem going until we can gather our entire Jazz community next summer! www.newportjazz.org
50th Annual BIX BEIDERBECKE MEMORIAL JAZZ FESTIVAL (Davenport, IA) August 5-7
The 2021 Bix Fest will present what we hope you'll agree is one of our best line-ups ever, so far we have Andy Schumm and the Chicago Cellar Boys, Joe Smith and the Spicy Pickles, NOLA Jazz Band, Josh Duffee's ALL-Star Graystone Monarchs Band, The Mortonia Sextet led by Hal Smith and Dave Bennett, for their 16th appearance the Cakewalkin' Jazz Band, Miss Jubilee from St. Louis, the Southside Aces of Minneapolis, and the Bix Youth Band. Ticket information and hotel info will be available on our newly remodeled website later this spring.
Ticket prices and band schedules available soon; for more information visit www.bixsociety.org; call (563) 324-7170 or email at [email protected].
23rd Annual HISTORIC SUTTER CREEK RAGTIME FESTIVAL (Sutter Creek, CA) August 13th-15th
Scheduled artists; Paul Orsi, Carl Sonny Leyland, Michael Chisholm, ​Frederick Hodges, Elliott Adams, Matt Tolentino, Brian Holland, Danny Coots, Paul Stewart, Stevens Price, Anthony Sarginson, John Remmers, Julia Riley, Patrick Aranda, and The Easy Winners.
The website has been updated with current info and the pricing will remain the same as last year. We will be headquartered at the Auditorium City Hall this year and will have a few other venues throughout the town as usual.  I believe that this year will be perfect weather too!
(209) 304-0835, [email protected], historicsuttercreekragtimefestival.com. 
HOT JAZZ JUBILEE (Postponed to 2022)
The Hot Jazz Jubilee Board of Directors met recently, and, after lengthy discussion and much weighing of pros and cons, the decision was reluctantly made to postpone the 2021 festival to 2022.
For those of you who have already booked a room at the DoubleTree or elsewhere, please contact the hotel to cancel. We will notify you when you can rebook for 2022. We will of course roll over all prepaid badges from 2020 and 2021 to next year. We will miss seeing you and sharing all the fun this year, but watch this space! As soon as conditions allow, we will be hosting some live music fundraising events. And watch out 2022! We will be back and so will all those wonderful Musicians and Bands, as promised! (Yes, they have already put us on their calendars!) So mark YOUR calendars for Labor Day weekend, September 2nd-5th, 2022! In the meantime, stay safe!! hotjazzjubilee.com
PENTASTIC JAZZ & MUSIC FESTIVAL (Penticton, BC, Canada) Cancelled
The 24th Annual Jazz Festival is scheduled for September 10, 11, and 12, 2021 has been cancelled. We will return in 2022.
REDWOOD COAST MUSIC FESTIVAL (Eureka, CA) September 30th – October 3rd
The Redwood Coast Music Festival, which normally takes place in the spring, has been moved to the fall for this year. 4 days, 8 Stages, 40 Bands, and 100 Live Sets are planned.
(707) 445-3378; [email protected]; rcmfest.org.
FRENCH QUARTER FESTIVAL (New Orleans) Rescheduled September 30 – October 3
French Quarter Fest 2021 has been rescheduled from it's normal April week. It will now be September 30 – October 3. The French Quarter Festival  is a free event with several stages around the French Quarter and dozens of local bands, many of which play traditional jazz. No bands have yet been advertised but an idea of what to expect can be taken from the 2020 schedule on their website. frenchquarterfest.org
COLORADO SPRINGS JAZZ PARTY (Colorado Springs, CO) October 1st-3rd
They dates have been announced. Call 719-471-3124 for reservations. Mail check to P.O. Box 2257, Colorado Springs, CO 80901. csjazzparty.com
JAZZ FEST AT SEA (Caribbean) October 3rd-10th 2021
If you're a fan of Traditional Jazz, Classic Jazz, Chicago Jazz, Swing, in fact just about any style which emerged during the first half of the 20th century, plan to attend JazzFest at Sea – one of the premier jazz cruises of the year. We will be departing from Port Canaveral, Florida for an amazing jazz cruise to the Bahamas and Western Caribbean on the MSC Divina for 7-nights. Not only will you have your choice of amazing evening performances on our jazz cruise, but you are also invited to the afternoon sessions as well. All presented in an intimate jazz club atmosphere limited to 250 guests!
With pricing starting at only $999 per person including taxes and fees, this makes the perfect vacation getaway for all jazz lovers. Contact us today at 1-800-654-8090. www.jazzfestatsea.com
NEW ORLEANS JAZZ & HERITAGE FESTIVAL (New Orleans, LA) October
8-10th & 15-17th
Rescheduled from its normal time in the spring, the big event will bring people to the city during a very comfortable and exciting month. Jazz Fest is much more than what is happening at the Fairgrounds, the city comes alive with music for nine days. Bands to be announced. www.nojazzfest.com
SUN VALLEY JAZZ & MUSIC FESTIVAL (Sun Valley, ID) – Oct. 13-17
Partial 2021 Lineup – More Coming Soon: Blue Renditions, Blue Street Jazz Band, Boise Straight Ahead, Carl Sonny Leyland & Friends, Carolyn Martin Swing Band, Clint Baker's Hot Jazz with Katie Cavera, Yve Evans & Company, Gator Nation, Brian Casserly, Shaymus Hanlin, Holland & Coots/GroovUS, Hot Jazz Collective, Kings of Swing, Midiri Brothers Septet, Pearl Django, Side Street Strutters w/ Meloney Collins, and Tom Rigney & Flambeau.
Tickets available by telephone or at website; (877) 478-5277; sunvalleyjazz.com. Write for brochure (with full ticket pricing information) at Sun Valley Jazz, PO Box 2745, Sun Valley, ID.
ROSWELL JAZZ FESTIVAL (Roswell, NM) – Oct. 13th-17th
We're already putting the wheels in motion for 2021 RJF events. Invited artists include; Allen Vache, Ehud Adsherie, Harry Allen, Dan Barrett, Roger Dickerson, Larry Fuller, Charles Gordan, Michael Francis, Eddie Metz Jr., Chuck Redd, Ricki Malachi, Houston Person, Richard Simon, Hillary Smith, Randy Sandke, Johnny Varro, and Rossano Sportiello.
Please call or write for more information: (505) 359-4876 or (575) 808-9336; roswelljazz.org; email: [email protected].
JUBILEE BY THE SEA (Pismo Beach/Arroyo Grande) – Oct. 21st-24th
The Basin Street Regulars, hosts of the Jubilee by the Sea, have been hosting wonderful monthly online events. Follow them on social media to learn about the fall festival as announcements are made.
Badge sales: PO Box 356, Pismo Beach, CA 93448; 805-539-5696. For badges and more information, please visit pismojazz.com. Information: [email protected].
ARIZONA CLASSIC JAZZ FESTIVAL (Chandler, AZ) – Nov. 4-7
The only major festival to go off as planned during the pandemic the ACJF will be back this fall.
For details, go to azclassicjazz.org or call 480-620-3941. Send checks or credit card orders to ACJF, 10918 E. Michigan Ave., Sun Lakes, AZ 85248.
MIKE DURHAM'S INTERNATIONAL CLASSIC JAZZ PARTY (Newcastle-upon-Tyne, UK) – Nov. 5th-7th
Many amazing artists have been invited back for 2021. An impressive list of themed sets is already posted on their website.
For tickets and other information, please visit whitleybayjazzfest.org; [email protected].
SUNCOAST JAZZ FESTIVAL (Clearwater Beach, FL) – Nov. 19-21
Professor Cunningham & His Old School, Dave Bennett Quartet, Tom Rigney & Flambeau, Ed Metz Trio with Rossano Sportiello and Nicki Parrott, Brubeck Brothers Quartet, Bill Allred and The Suncoast Festival Allstars – Johnny Varro, Allan Vache, Davy Jones, Jay Mueller and Eddie Metz, Tom Rigney and Flambeau, Heather Thorn and Vivacity, La Lucha, Diego Figueirdo, Nate Najar, Daniela Soledade, Bakey and Betty, Betty Comora and Mike Evans, Amateur Jams with Dr. Jim Gover and His Naples Pals, Cat's Meow, Swing Dance Lessons, and More To Be Announced!
For tickets and information, visit us online at suncoastjazzfestival.com; or write: PO Box 395, Largo, FL 33779; (727) 248-9441.
39th ANNUAL SAN DIEGO JAZZ FEST (San Diego, CA) – Nov. 24-28
No details yet but there will be a lot to be thankful for this November!
Contact: AFCDJS, P.O. Box 880387, San Diego, CA 92168-0387; 619-297-5277.
Email: [email protected]; Website: http://www.sdjazzfest.org/
2022 Announced Dates
Jan. 13-23 Tucson (AZ) Jazz Festival
Feb. 3-5 North Carolina Jazz Festival (Wilmington, NC)
Feb. 25-27 San Diego Jazz Party (Del Mar, CA)
March 4-6 Jazz Bash by the Bay (Monterey, CA)
April 8-10 Three Rivers (CA) JazzAffair
June 1-4 Scott Joplin Ragtime Festival (Sedalia, MO)
Sept. 2-5 Hot Jazz Jubilee (Sacramento, CA)