In an era of ever-changing musical styles and tastes, it's truly amazing that The Four Freshmen have been harmonizing, recording and touring for 69 years, certainly qualifying them as the longest continuously performing quartet of its kind in the United States.
It was in early 1948 that brothers Ross and Don Barbour, then students at Butler University's Arthur Jordan Conservatory of Music in Indianapolis, Indiana, formed a barbershop quartet (along with Hal Kratzch and Marvin Pruitt) called Hal's Harmonizers. They wore false mustaches, armbands and waiters' aprons and sang Gay '90s tunes like "Sweet Adeline" and "In the Shade of the Old Apple Tree."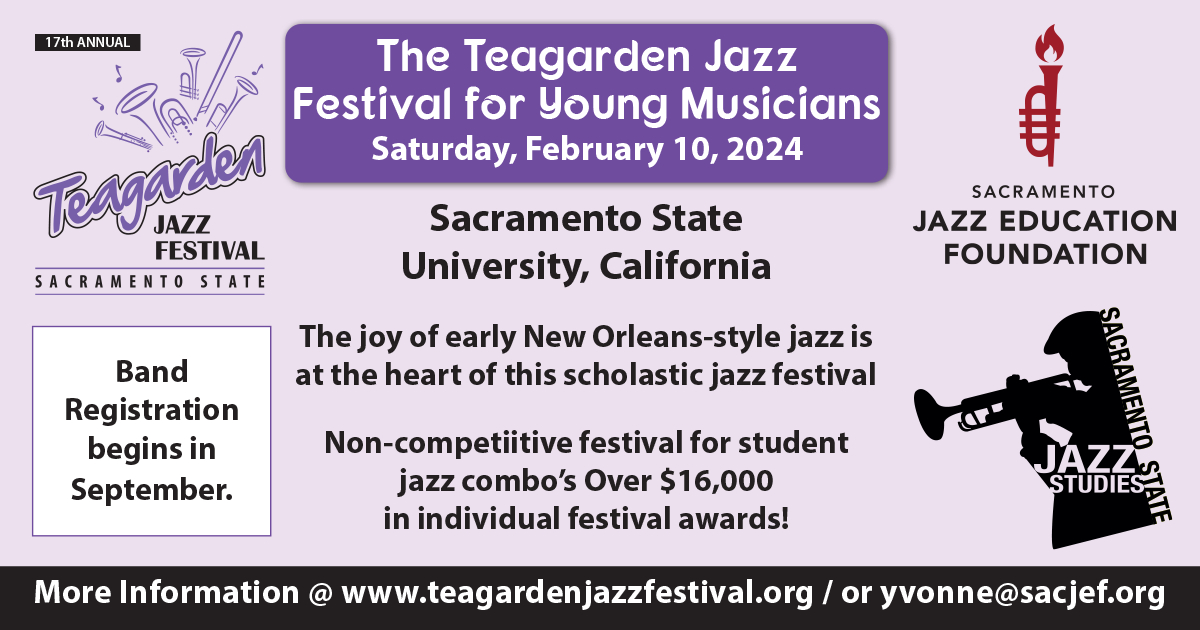 It wasn't long before they became bored with that routine, but didn't want to give up the income. So they form a second group—The Toppers—to experiment with more complex chords and jazzier arrangements patterned after The Modernaires of the Glenn Miller Orchestra and Mel Torme's Mel-Tones. Their popularity grew as they performed at college events, local malt shops, and bars, but it resulted in a casualty: Marvin Pruitt developed acute stage fright and resigned.
He was initially replaced by Ross Barbour's girlfriend, but it was decided a fourth male voice would be more appropriate for the sound they were trying to develop. Bob Flanigan, a cousin of the Barbours who played the trombone and had excellent pitch and phrasing, was recruited to take over as the male lead.
They rehearsed in a parked car with the windows closed to work out their own unique style of improvised vocal harmony. They signed with an agent who suggested Freshmen Four as a name, but they reversed the words and went on the road in September 1948 with Flanigan (1st tenor) and Kratzch (bass) alternating between brass and string bass; Ross Barbour (baritone) moving from piano to drums; and brother Don (2nd tenor) continuing to play guitar.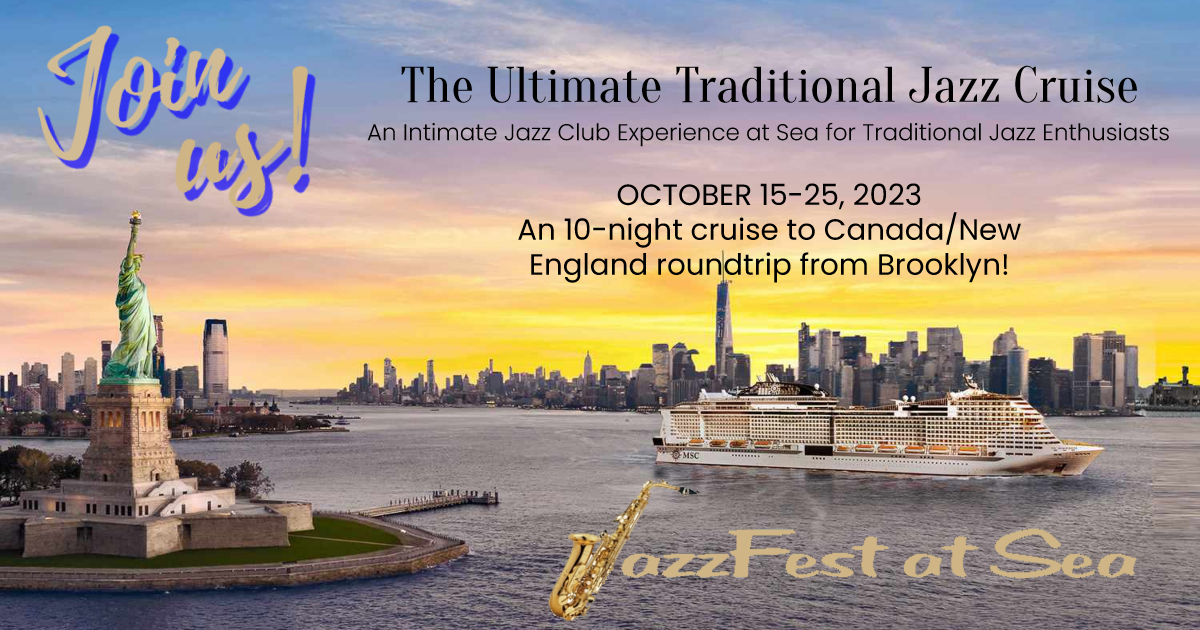 There were nights when they earned as little as $5 in tips, but they began to get the attention of people like Woody Herman and Dizzy Gillespie. Their big break came in 1950 when bandleader Stan Kenton, who had been told that there was a quartet in town that "sounded like his 43-piece ensemble," went to hear them at the Esquire Lounge in Dayton, Ohio. He was sufficiently impressed to arrange an audition with Capitol Records, who signed them later that year.
The Four Freshmen Sound
Their sound has been characterized by long, lush chords—Ross Barbour called them "purple chords"—and an improvisational style that made four voices seem like five or six. Bob Flanigan was quoted as saying, "We all thought in instrumental terms like horn players. I approached singing lead as if I was playing the trombone in Stan Kenton's band. We also use no vibrato because Kenton's trombones didn't."
"It's a Blue World," their first big hit, was first recorded in 1952 and has been their most requested tune over the years. It is included in just about every concert along with such standards as "Day by Day," "The Day Isn't Long Enough," "Poinciana," "Laura," and "Graduation Day." Their top-selling album has been The Four Freshmen & Five Trombones. Dick Reynolds, Pete Rugolo, and several former and current members of the group have done the arrangements.
Brian Wilson, the leader and co-founder of the Beach Boys, was inspired by the Four Freshmen, calling them his "harmonic education." The Freshmen are also credited with influencing the styles of such groups as The Lettermen, Four Preps, Manhattan Transfer, and the Mamas and Papas.
Traditional jazz festivalgoers are familiar with the Four Freshmen songbook, thanks to the Sorta/Kinda Dixie Jazz Band from Las Vegas. When Jim Fitzgerald was forming the group, they discovered an affinity for four-part vocals, particularly those by the Four Freshmen and the Ink Spots. One day they were rehearsing, and Autie Goodman, one of the Freshmen, walked in with a stack of charts, which he presented to Jim with the admonition, "If you're going to do our songs, you might as well get them right."
Over the years, the Freshmen have recorded 50 albums and received six Grammy nominations. Downbeat Magazine named them the best vocal group five times, and they were inducted into the Vocal Group Hall of Fame in 2001.
Bob Flanigan had the longest tenure of the original Freshmen—44 years—and continued to manage the group for five years until his death in 2011. Over the nearly seven decades, some 26 vocalists-instrumentalists have taken the stage as one of the Four Freshmen.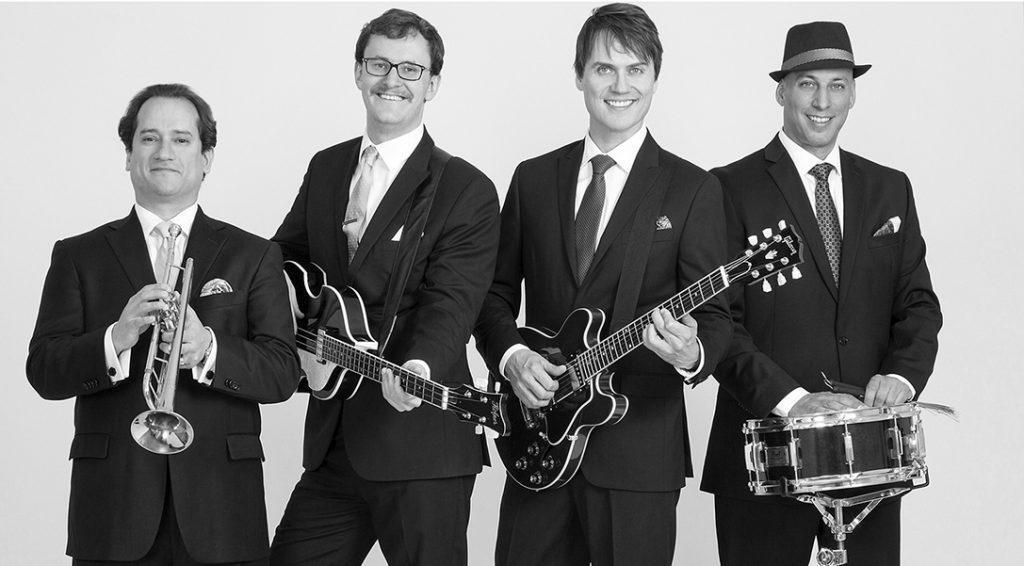 Current Group is #25
The current aggregation—#25—is headed by Bob Ferreira, who has been with the group for the past 24 years, having joined while a music student at Central Washington University. During his tenure, he has performed in all 50 states and 10 foreign countries and been the drummer on nine Four Freshmen recordings. The others are Stein Malvey, who has a degree in guitar performance from Lawrence University Conservatory of Music in Appleton, Wisconsin; Tommy Boynton on string bass, a graduate of the New England Conservatory in Boston, Mass.; and newcomer Jon Gaines, another product of the New England Conservatory, who plays trumpet and flugelhorn.
The 2017 Freshmen do 80 shows a year and usually are on the road for 10 days to two weeks at a stretch before having a break. "There are times when it can be a demanding schedule," according to Ferreira. "As an example, after packing up following a 7:30 pm concert in Scottsdale, Arizona, we drove six hours to Vista, California, arriving at 4:30am. We were up at 8:30 am for a 2 pm concert, to be followed by another at 7 pm. It's important that we learn to pace ourselves and to stay healthy, as we rarely use substitutes. I once played for over a month while getting over whooping cough."
When Curtis Calderon announced that he would be leaving the group at the end of 2016 to spend more time with his growing family, the search was on to find a replacement, which ended up being Jon Gaines. Ferreira then sent six charts of the Four Freshmen's most popular tunes so that Jon could learn the third vocal part. Then it was another six charts and another six, followed by a week of rehearsals with the other three musicians until Jon was comfortable with the three dozen most popular songs that the group does before going out on the road. "We don't refer to charts when we play, so it all has to memorized—from vocals to solos to breaks. It happens pretty fast, and any new member has to quickly grasp the Four Freshmen sound and style."
The entire Four Freshmen library involving hundreds of charts is currently being archived at Butler University. Whenever their schedule allows, the Freshmen will do workshops and master classes for aspiring musicians. "You have to reach young people at an early age in order to make a lasting impression," Bob Ferreira points out. "We also use social media to reach the younger audience."
The Four Freshmen still have a loyal following, with a fan club of 3,000 members that will hold its 30th annual convention in Dayton, Ohio August 17-19, 2017. "The members are not just fans; they have become friends" in Bob Ferreira's opinion. "We always strive to do justice to these wonderful tunes. The music has impact and meaning to each and everyone in the audience. The songs have evolved from life experiences and are timeless."
The name of this long-lasting vocal group may be indicative of some kind of premonition because none of the original Freshmen graduated from college, although Bob Flanigan and Ross Barbour did receive honorary degrees from Butler. They will just remain Four Freshmen forever.