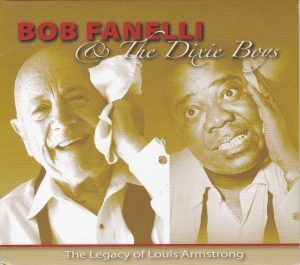 Veteran clarinetist and saxophonist Bob Fanelli pays tribute to Louis Armstrong on a CD with the Dixie Boys. The performances are not strict re-creations and there is no attempt to copy the original recordings. While there are some similarities between Fanelli's singing and Armstrong's voice, Roger Morgan's trumpet solos are in his own complementary style.
The group (which also includes trombonist H.L. Southall, pianist Mike Norris, banjoist Mike Byrne, bassist Bob Curl, and drummer John Rozzum) shows enthusiasm and spirit on a variety of standards. The expected hits (such as "Mack The Knife," "Hello Dolly," and "What A Wonderful World") are here but so are a couple of songs not associated with Armstrong ("Caravan" and "Alabama Jubilee").
A fine local group, the Dixie Boys are based in the Philadelphia area. Highlights of their set include "Struttin' With Some Barbecue" (which does a good job of introducing the musicians), "Up A Lazy River," and "Stardust." This would be a fun group to see live.
The Legacy Of Louis Armstrong
(Consensus Music, 12 selections, TT = 43:04)
To order write: [email protected]