On a warm August evening, I had the pleasure of sitting with six (of the seven) members of the Soggy Po' Boys, a New Orleans-style band out of southeastern New Hampshire. It takes me a little bit of time to match up faces and names against what I know of the band from online photos and videos, where pianist Mike Effenberger is "the bearded one" and the rest are mostly clean- or closely-shaven, as this evening, they are all sporting impressive beards that would make Billy Gibbons and Dusty Hill of ZZ Top envious. We settle into a comfortable seating area on the first floor of a church in Kittery, Maine, where Effenberger has just wrapped up playing a gig—the same church where the band recorded their most recent album, It's Good to Laugh Again (November 2022).
The Soggy Po' Boys (the band name refers to the iconic New Orleans "po' boy" sandwich) play New Orleans-style music that, in some ways, defies description. There's an infusion of Caribbean undercurrents and their albums also carry the "funk" tag on Bandcamp, but neither of those descriptors will be helpful in anticipating their sound. The band members are careful to refer to what they play as "New Orleans music" and not "New Orleans jazz" to make space for the funk, brass, and Caribbean influences. Suffice it to say, it's hot and driving when it's fast, and sultry and gothic (in a good way) when it's slow. The main thing the band aims for is accessibility with their music. Soprano saxophonist and clarinetist Eric Klaxton describes their sound as, "Whether or not you know the tune ahead of time, by the time we're done playing it four minutes later, the melodies are the kind of thing you can walk away whistling."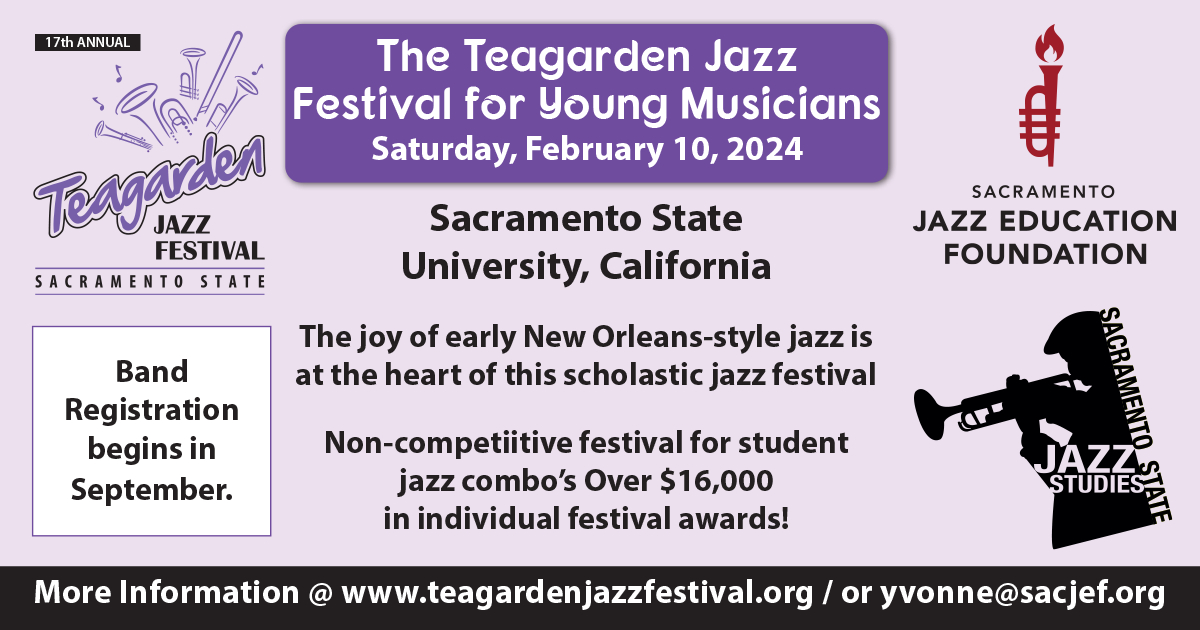 I can attest to this fact; I report having their "Maybe Baby" stuck in my head all day.
"It's working!" crows Klaxton.
The band has been around since 2012 (though not in its present incarnation—there's been some turnover) when several of them were hired to play a Mardi Gras gig in the New Hampshire seacoast region.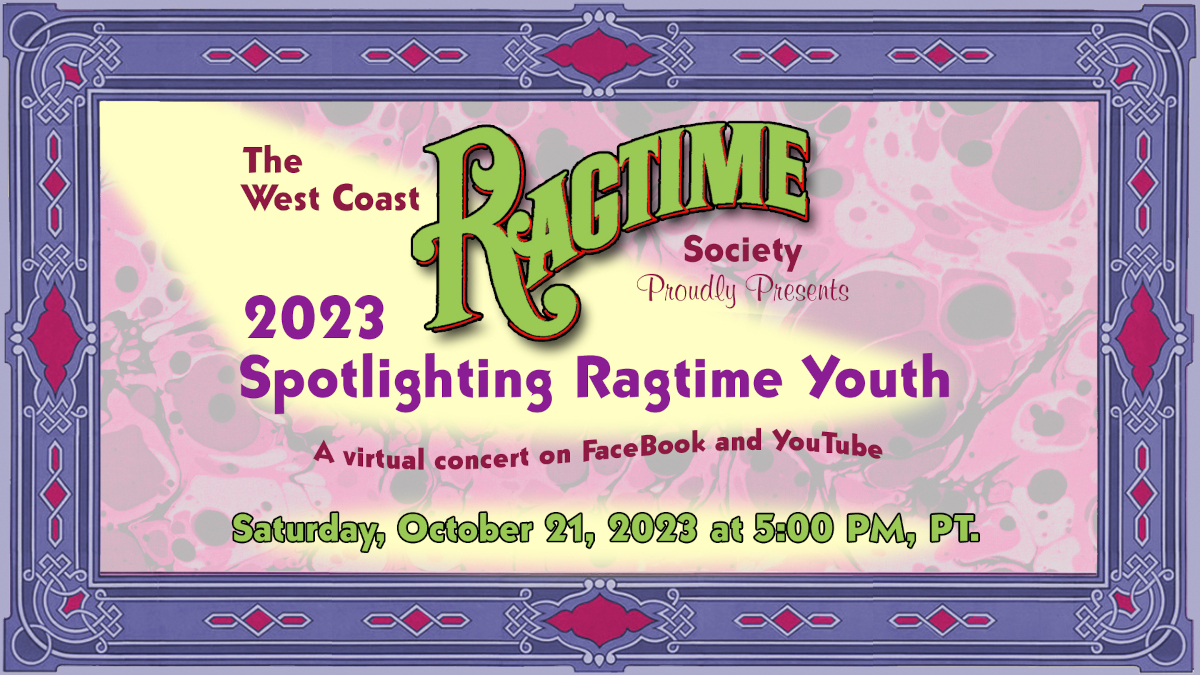 Mardi Gras in New Hampshire?
To those of us from New Hampshire, classic rock like AC/DC and Leonard Skynyrd tends to dominate, this might sound strange and rather unexpected. However, according to the band, the seacoast area has always been a hotbed of music and the arts, with a rich ecosystem of venues and gigging musicians supporting traditional jazz going back to at least the 1970s. According to Klaxton, "[the history] is partly supported by the fact there was a university where the music department wasn't huge or overly significant, but there were connections directly between some of the faculty there and some of the jazz musicians who called the seacoast home.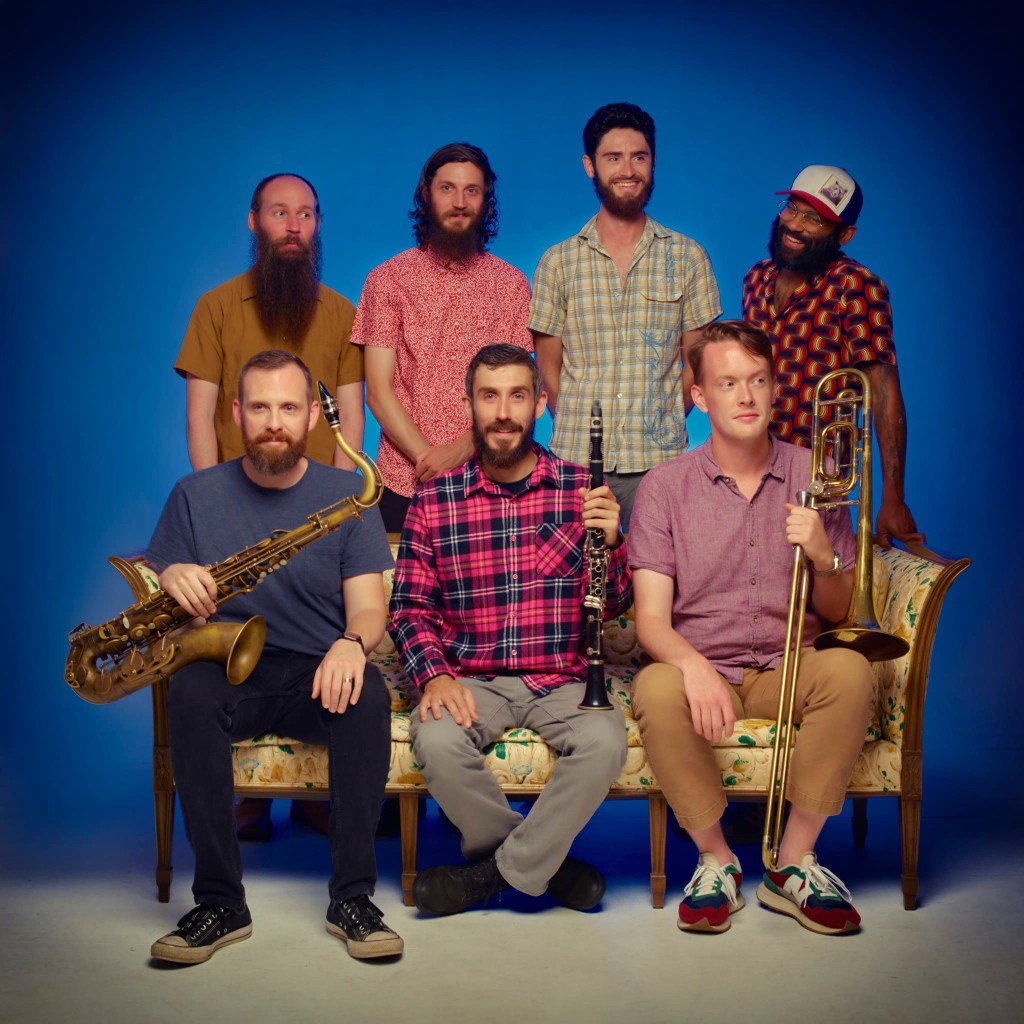 "And there's The Press Room [a local bar and restaurant], which was sort of a place that made sure jazz was a staple of the seacoast, through relationships with someone like Tommy Gallant, who is kind of like the godfather of jazz in this area. He's a really happening pianist who established that as a part of this cultural pastime. It became something that people sought out here, and therefore, other musicians came to participate as well, and he was excellent, so it kind of drew from Boston and other areas."
As for the Mardi Gras gig, vocalist and guitarist Stu Dias says it made perfect sense. "It wasn't out of nowhere. The Barley Pub [the place they were hired to play] was, at least at that time, the hub, where a lot of musicians met each other. I met all these guys for the first time through that venue, and it wasn't unusual, at least at that time, if you had a night off, to go down there and grab a beer, because you were probably going to run into someone you know so that was sort of the homebase for a lot of the gig musicians in the seacoast."
According to Klaxton, "The Barley Pub supported a lot of funk, experimental, and jazz music so the fact that New Orleans funk was the goal for Mardi Gras made sense given the type of music that was already happening there." Though, Dias concedes, that, at the time, New Orleans-style jazz, "wasn't ubiquitous in the area at all."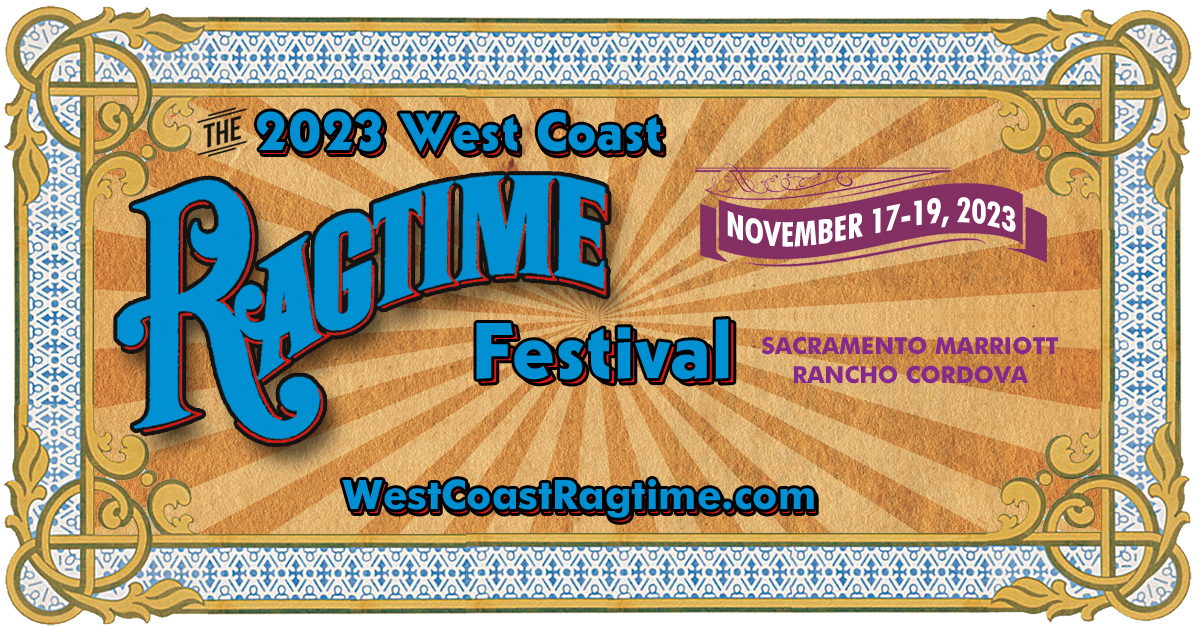 Now, only Dias, Effenberger, and tenor saxophonist Nick Mainella remain of that original group; Klaxton also claims close affinity to the original band. Mistakenly thinking the gig ended at 11 pm, the original group packed up their instruments, including a very heavy Hammond B3 organ. When informed they'd been engaged to play until midnight, the band, according to Dias, "collectively decided that we were not going to load that heavy instrument back in; there was a piano [in the pub], so we kind of sat around the piano and sang songs that were relatively close to the music we play now" to finish the last hour. Klaxton joined in on that "second half" of the gig.
Most of the band members have had formal music education, including degrees in music, excepting drummer Brian Waterhouse and Dias. However, despite most of them having studied jazz in college, they all came to New Orleans-style jazz via a circuitous route and have found their time in the band to be an education. In their own words:
Brian Waterhouse: One of you mentioned New Orleans music kind of being the gateway to other forms of jazz, and that is where, I think, a lot of us started, with the jazz that came later in the 20th century. I had heard The Meters and Galactic and Louis Armstrong, but it wasn't until I got into this band that I realized how vast the tradition is and how much rich material there is there, and I feel like that's a crime. When I started jazz school, my first listening assignments were Clifford Brown's "Study in Brown" and Miles Davis's "Kind of Blue" which are amazing, but there's a whole history that comes before that, and I'm glad I have the opportunity to dig into it now.
Nick Mainella: Largely the same. I grew up in a super musical house and listened to tons of music in all different genres and eras but never this trad thing. And same thing, music school kind of starts at Charlie Parker / 1945, and it's insane, or maybe they did cover it and I just didn't pay attention. But I don't think they did, and I definitely found it through this band, and I'm very, very glad I did. Now that I do a lot of teaching of students of that age, I make sure they at least know what is going on, [though] I can't make them like it.
Stu Dias: I didn't go to music school so this music was the only type of jazz I could have a prayer of playing; in fact, in the first couple of years of the band, I had to look up how to play chords I had never heard of [mimes finger positions on a guitar] Like this? This? [laughs] Honestly, I think the thing that appealed to me about it is I had been going down to New Orleans a bunch, and when I saw the way this type of jazz not only encouraged the audience to interact with it but celebrate when that happened, that is a thing I really like about music, like, broadly, when the thing you're putting out there encourages someone to interact with you and pulls them in rather than essentially having an invisible curtain in front of them saying "hey, listen to how impressive this is."
Mike Effenberger: Yeah, I came to this stuff backwards, too. I did go to jazz school and the nature of that program didn't even address bebop really, it started later than that. A jazz and contemporary music thing, so it was like jazz-centric but it spread out—
Me: It started with Kenny G? (laughter)
Effenberger: After that, I started looking at the roots just out of curiosity, basically, but this band was the first band where we dug into, at least, a piano-specific nature of the way this stuff works, and the deeper I got into this music, the more I realized, this is kind of the same stuff as like Charles Mingus and Ornette Coleman. Like, the nature of the group improv is way closer to that stuff than more inside-standard-y jazz, so I started caring about it more and more and digging into it deeper and deeper.
Eric Klaxton: I grew up with an older brother who was—and continues to be—a trumpet player and having grown up in a household with that, I did run into Louis Armstrong, but one of the things is that the recordings from that period are pretty challenging for young people to listen to generally – we're really spoiled with fidelity – so listening to those recordings was always a little bit challenging for me at the time. As a saxophone player, the saxophone wasn't thoroughly represented in that early time period, so it was just kind of hearing my brother listen to Louis, and then it was like oh well, this doesn't sound as good as these other, more modern recordings.
But it turns out, when we sat around that piano and started looking for common material and material that is related to New Orleans tradition, we landed on a lot of spirituals, and then we started thinking, "what are some of the oldest tunes we all know?" So we started landing on some of these really early tunes from the '30s and that did suck my attention backwards in time, because a lot of the music I find myself enjoying is about the group interplay and that thru-line of 120 plus years is now kind of the thing I've realized excites me about all the music I'm into. So yeah, probably, I came backwards to it, but I think it is that group dynamic that I like about all of it.
Scott Kiefner (bass): Yeah, I think my story is pretty similar to the other music school folks in the band. I grew up hearing jazz and went to school to study jazz and, you know, was sort of aware of early jazz from a historical perspective but it didn't… like, I think I had the Hot Five and Hot Seven Louis Armstrong recordings in high school and checked them out, but it didn't light a fire under me like other stuff did.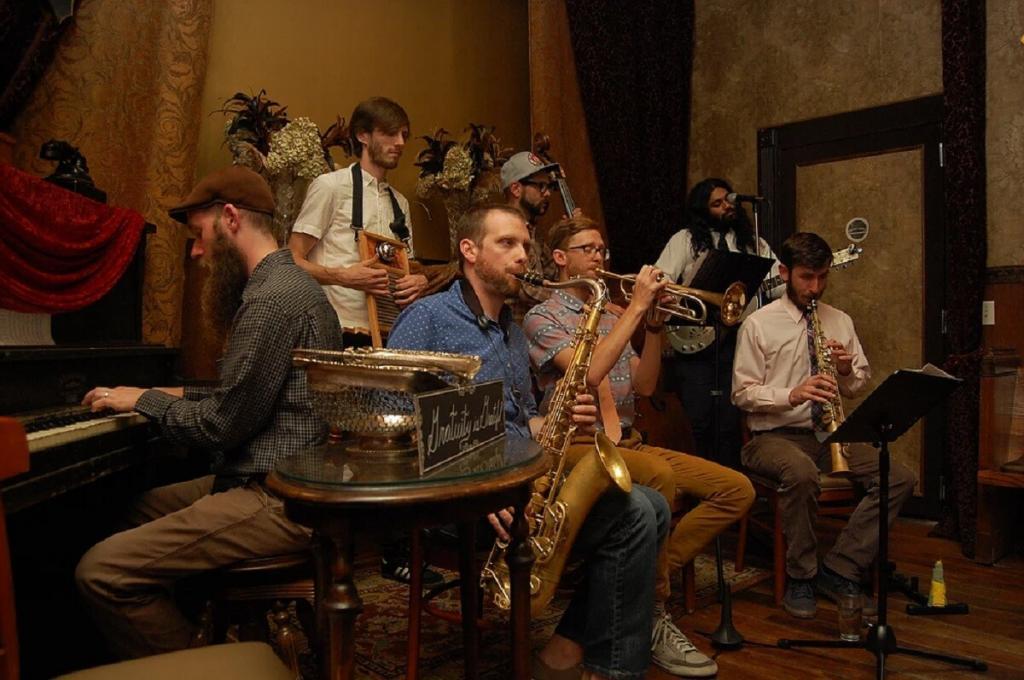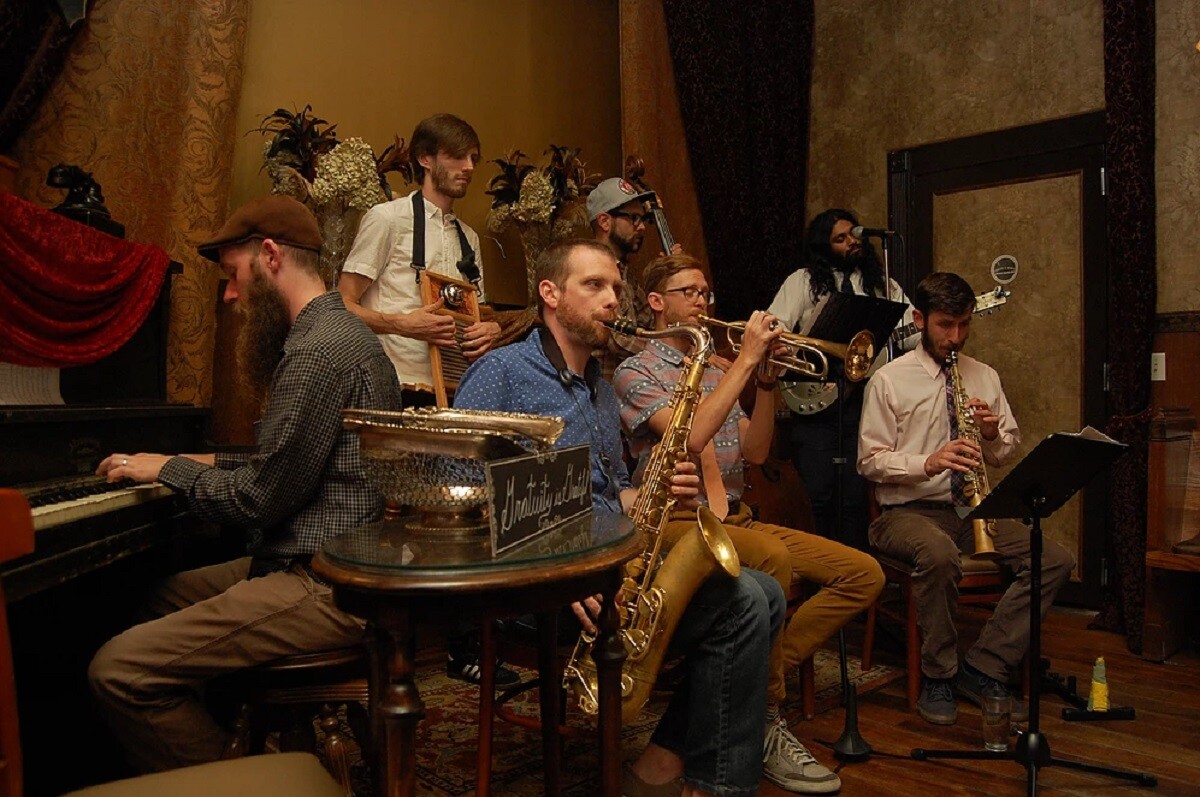 But then, after school, I got more and more curious about looking back further and finding the roots, the inspiration, for things that inspired me, and then playing with these guys was kind of what really got me interested and into playing. I think I had been sitting in with this band for a while, just like filling in from time to time, and around that time, I went to New Orleans for the first time and that was a big puzzle piece fitting into place for me; having the experience with this band and seeing how they approach this music, and then going to New Orleans and seeing the way people play it down there and also the way it functions down there.
You really catch the folkloric feeling of it, as opposed to the way I learned a lot of jazz was in like an institution. But you go down there and there's people that learn it on the bandstand or the street and it feels like folk music more so than a concert, like classical music, which isn't to say it's not sophisticated; it's extremely sophisticated, but… there's a social element and an oral tradition that really just clicked a lot of stuff into place for me.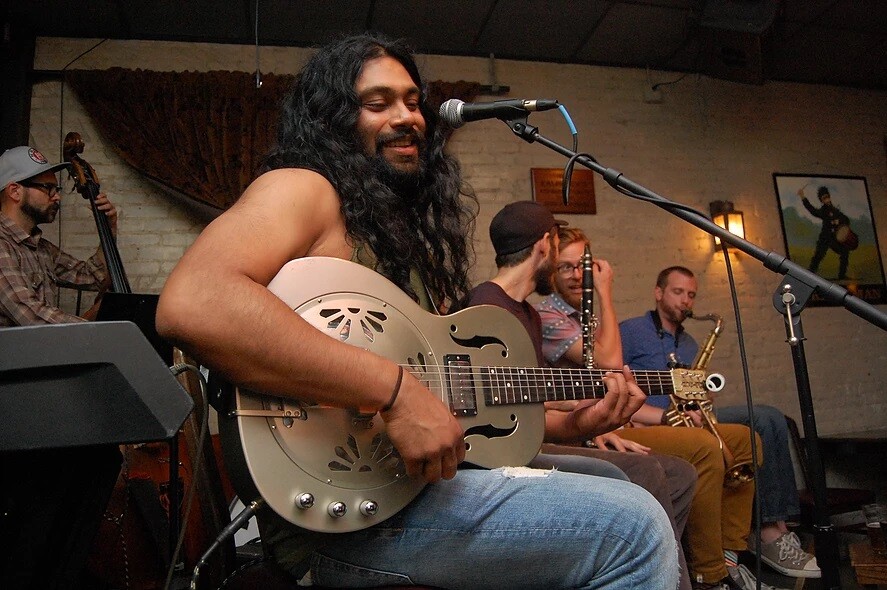 The band has honed its distinctive sound over the years, putting their own particular spin on New Orleans staples like "When The Saints Go Marching In" and "Dinah" and hymns such as "The Old Rugged Cross," as well as creating a stable of original works. In fact, in their early years, they were adamant about creating their own material—only three songs total across their first three albums were not written by them. They credit their distinctive sound to their collaborative approach to song writing (they collectively write every song as a team), though Dias's distinctive vocals have a lot to do with it as well.
His voice is dynamic, with a broad range. By turns, his voice is gritty and raspy, adding a sultry, anguished, "feel it in the soul," overlay to whatever he is singing, and, well, the word that comes to mind to explain the other dimension of his tone at the higher end of his range is "swampy" or perhaps "earthy," but in an electrifying kind of way. If that doesn't make sense, it's only because it's a voice that defies description or comparison. Listen to, for instance, the last minute of "Kiss of Fire" on the band's album It's Good to Laugh Again where Dias goes from soft and plaintive to gritty, raspy belting in the blink of an eye, bringing the song to a thunderous, wailing conclusion. Throw in Effenberger's jangling (in a good way), bouncy, barrel-house-esque piano playing, the band's fast-driving percussion, and a hot, brass band-infused horn section and it's a recipe for a band that stands out from the crowd.
And draw crowds they do. A recent gig at The Press Room in Portsmouth, NH, was standing room only. At festivals throughout New England, they're becoming a fixture. And they show no signs of slowing down. In fact, they are headed back into the studio to record a new album (their seventh) in January, which they say will be a little more split between originals and music of the trad jazz canon.
They'll be playing gigs and festivals throughout New England all summer, including the Seacoast Jazz Festival in Portsmouth, NH the Medford, MA Trad Jazz Festival, and in October, they'll take part in their annual "Honoring the Tradition" concert series celebrating an artist from the trad jazz cannon at The Dance Hall in Kittery, Maine (past focuses of these shows have been Louis Armstrong, Sidney Bechet, Fats Waller, and Allen Toussaint as well as one on the Caribbean aspects of music that is represented in New Orleans). This year they'll be honoring Jelly Roll Morton. Alas, details are not yet available on The Dance Hall's website).
They've also been trying to branch out geographically, including playing in Western, MA and upstate NY. The reception in both places has been positive. Says Dias, of their time at the Green River Festival in Western MA, "That's sort of a mix of traditional and contemporary music. I would say broadly in the roots or roots-adjacent world, and we got to play that, and it was especially heartening because that was an audience that had absolutely no idea who we were.
"We were the first act on a stage that was off to the side, and there were a lot of people there and they were really enthusiastic, and it was really great—and it was raining." Klaxton adds, "It's a bona fide festival, and it's three days and three stages and to be a part of something like that is really nice because, growing up, if you'd asked me if jazz had a place for that in those kinds of festivals, I would have said 'scram.' So, the fact that we do get to represent this tradition and this music in those settings is really exciting and heartening that people enjoy it, too."
Which brings us to the oft-expressed fears that New Orleans style music is fading in popularity or not attracting younger fans—which the band says are overblown. It's just a matter of venue. "If it's a sit-down, ticketed show," says Klaxton, "it's a bit of an older demographic, but when we were younger and playing until one in the morning all the time, we would party with the young crowd." Klaxton adds, "We recently played a show in Saranac Lake, New York, and it was definitely one of the youngest audiences we've had. Probably, no exaggeration, probably 300 people, and I'd say the average attendant was probably 35."
Dias chimes in, "Maybe younger."
Mainella: Yeah, maybe younger
Effenberger: Younger as the night went on!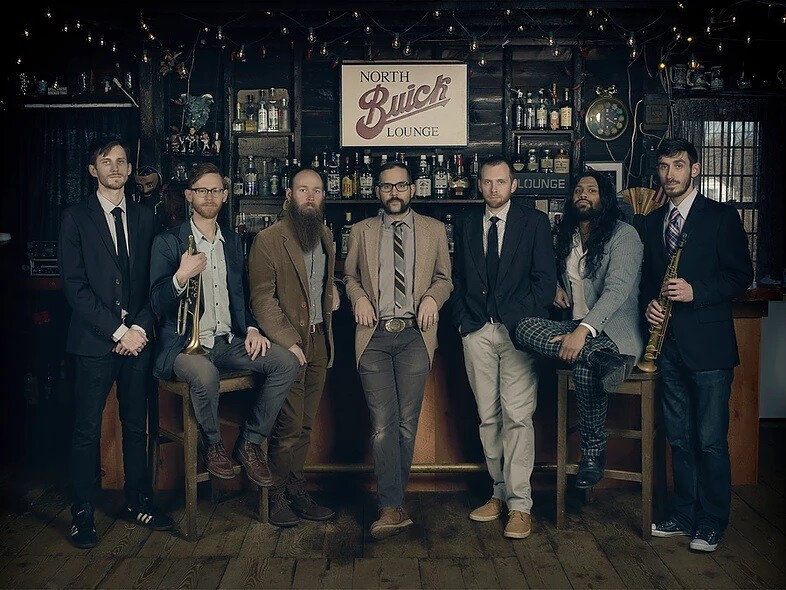 And then, of course, there's the weekly residency at The Press Room in Portsmouth, NH. When asked how that came about, they say it all started with a residency at their old "home base," The Barley Pub. As Klaxton tells it, "Our favorite place, where this all came from, The Barley Pub, invited us—or maybe we asked—but we sort of fell into a Tuesday night residency there. It's sort of something that happens in New Orleans, so the trips we took down there, we thought, 'oh yeah, these bands have residencies, okay, cool, maybe that's something we could think about,' and The Barley Pub welcomed us, which was great. Then as that establishment came to an end, we were like, well where The Barley Pub used to be is now a quaint little bar, let's see if they'll have us, so we hustled back to the room that was once The Barley Pub. They were like 'Tuesdays are light, so sure, let's do a thing.' And then we just kind of like—"
Dias cuts in to ask, "How many years?"
Klaxton: Seven years maybe? It was considerable. And then the pandemic happened. We stopped our Tuesday thing and then mid-pandemic they were like, "We're getting rid of this piano, so if you'd like it, come get it."
Dias: It wasn't our piano.
Klaxton: But we received that message and were like, "Where are we going to do this residency once [the pandemic ends]?" There's already a weekly jazz jam at The Press Room on Tuesdays that runs from 6 pm to 9 pm, and so, for me personally, it made a lot of sense to put [the residency] there, after [the jam session], because I kind of want to be present at those jam sessions as well as then host one that is a little more focused around the New Orleans thing. So, The Press Room just kind of fell into place. It's another favorite place of ours to play. We used to play downstairs there probably four or five times per year, and they were some of the most exciting shows. That was when you'd catch people off the street who didn't know they liked jazz, and they'd tell you to your face [belligerently], "I didn't know I was going to like this!" Thanks? But it was really rewarding, and it was this raucous little bar to kind of find our own voices as well, and so now it makes a lot of sense for us to be doing the residency there.
Elsewhere in the conversation, Effenberger makes a similar point about the ability of their music to convert listeners into jazz fans. "When we're doing our job right, we're kind of a gateway into [jazz] for people."
Having caught one of their performances at The Press Room, it's clear they are a crowd favorite—and it's no wonder; the venue plus their playing as well as the appreciative crowd clapping and hooting during solos and at the end of every song transported us to New Orleans (a random audience member sitting close to the stage who was pressed into service to hand around the tip-jar bucket added to the spontaneous, in-the-moment feel that one generally only gets in New Orleans); so much so, there was a moment of disorientation upon leaving the bar and realizing I was still in New Hampshire and not Louisiana.
Which is exactly the effect the band is going for. Says Dias, "The thing we've been pretty deliberate and conscious of is [to make sure] this music doesn't feel like a museum piece. So, we don't dress a specific way when we play, we don't really have bits that we do that are part of the show, because the thing that matters is the music. We genuinely love it, and if you genuinely love it and are trying to play it as honestly as possible, then it shouldn't feel like a museum piece because the music is meant to be experienced live not frozen in time."
Visit the band's website at www.soggypoboys.com and check out their albums at soggypoboys.bandcamp.com.