Andy Senior, Publisher and Editor of The Syncopated Times, has launched a GoFundMe fundraising campaign to shore up the paper's finances prior to converting the entity from a Limited Liability Corporation (LLC) under sole proprietorship to a 501c3 not-for-profit corporation. Since its launch in 2016, The Syncopated Times has been the only national publication devoted to traditional jazz, ragtime, and swing. The pandemic led to the closure of many of the jazz festivals TST counted on on as advertisers—which coincided with increases in the cost of paper, printing, and mailing, all making a for-profit model no longer feasible. Senior has been covering losses with his own money since March 2020.
A preliminary fundraising goal has been set at $60,000 so that a new 501c3 nonprofit organization under the name Syncopated Media can be established on a strong footing, with a view to expand beyond the monthly paper to cover the jazz scene and jazz history in the visual and audio formats that engage a modern audience. While The Syncopated Times in print (and online at syncopatedtimes.com) will remain the primary focus, the new organization will be able to secure grant funding to produce documentaries for YouTube, compile albums for Bandcamp, create podcasts, and resurrect Syncopated Times Radio.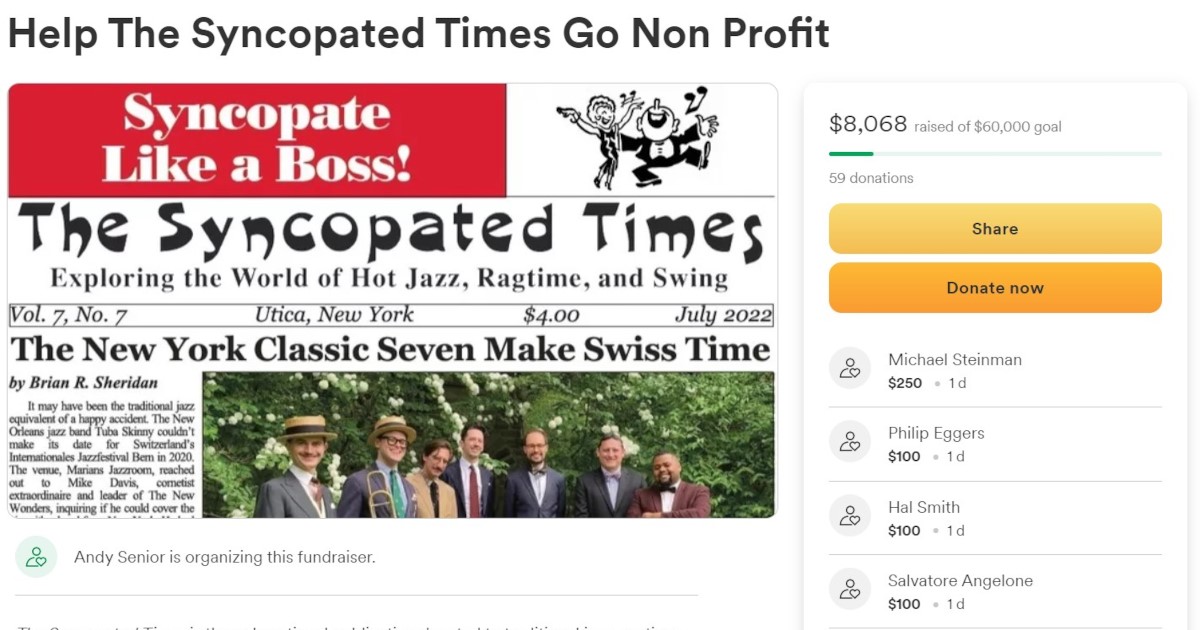 Considering the current high quality of The Syncopated Times, which now operates on a shoestring budget, the new organization will be able to accomplish great things with whatever funding can be obtained beyond what currently comes in from subscriptions and advertising. Money raised in this drive will cover necessary expenses during the process of becoming a 501c3 corporation, and allow the new organization to start with a large enough budget to sustain operations until further funding from grants and individual donors can be secured.
Nonprofit status will come with many benefits for TST readers and the jazz community. The reorganization plan includes recruiting a large and experienced Governing Board to pilot the new nonprofit and greatly extend our reach, especially into school and community music programs. The Board will also ensure that the future of professional coverage of the traditional jazz, ragtime, and swing community is not dependent on a single owner-operator, but a reflection of the community itself.
The Syncopated Times will retain a paid subscription model, both in print and online, and count on both new readers and renewals. Subscriptions will account for the majority of our operating budget for the foreseeable future. The editorial process will remain the same for each issue, with Andy Senior editing, designing, and laying out each issue. Nothing will change for current subscribers.
Those considering a donation may visit the below link.
We gladly accept checks to:
The Syncopated Times
1809 Whitesboro St.
Utica, NY 13502