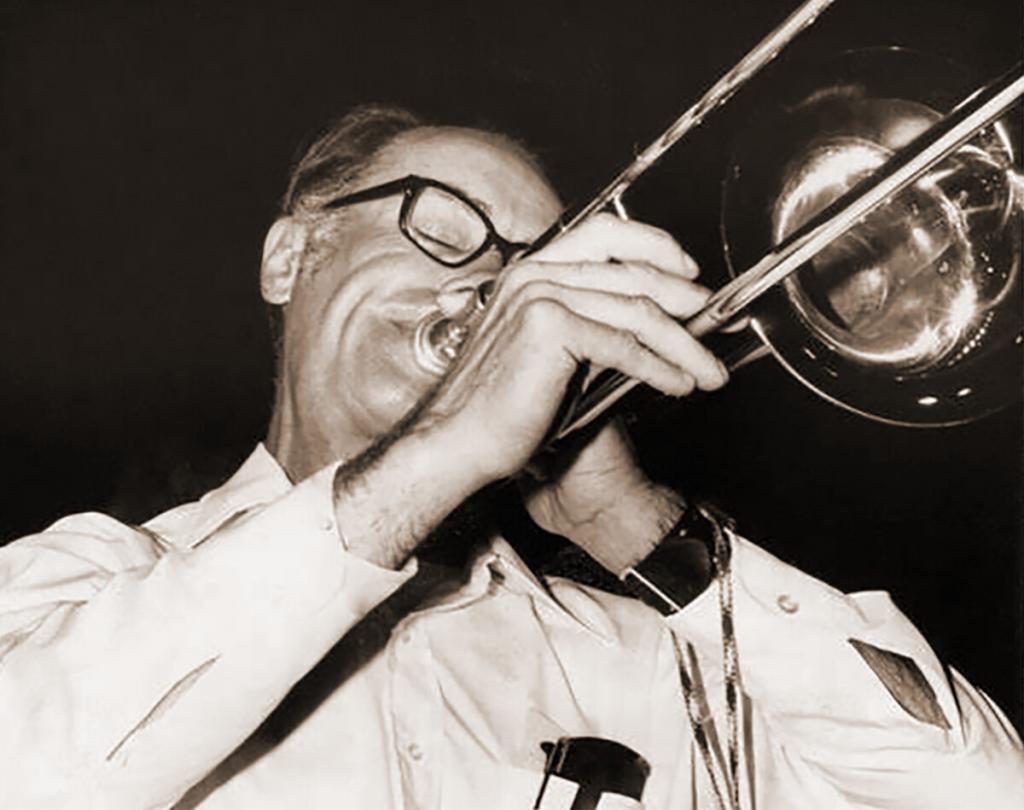 Jazz trombonist Bill Bardin played gutty two-beat Stomps, sophisticated four-beat Swing and lowdown Blues. His rich tone and tasteful instrumental voice made him a stalwart of the San Francisco Traditional Jazz Revival for nearly seven decades.
Remarkably, Bill sustained a day job for 25 years driving a warehouse forklift full-time at a Del Monte canning plant from 1957 to 1982. Yet during that time, he was integral to the jazz ensembles of Dick Oxtot, P.T. Sta nton, Earl Scheelar and others. Bardin recalled colorful highlights from his life in Jazz for a 1994 interview which is fortified by rare photos and audio.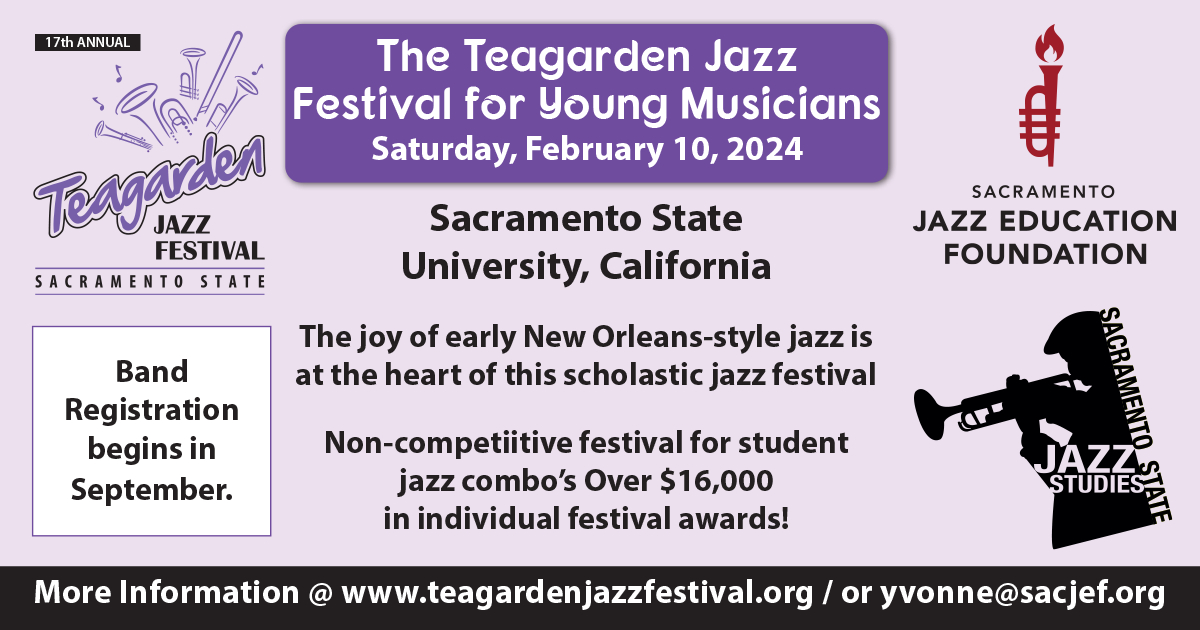 On Turk Murphy and Kid Ory:
"I became a Turk imitator. I never was a big Turk FAN. I am a great admirer of his part playing; the broad way that he plays parts in the band. And of course, from listening to the Hot Five records I was aware of Ory and an Ory fan. Then later Jim Robinson.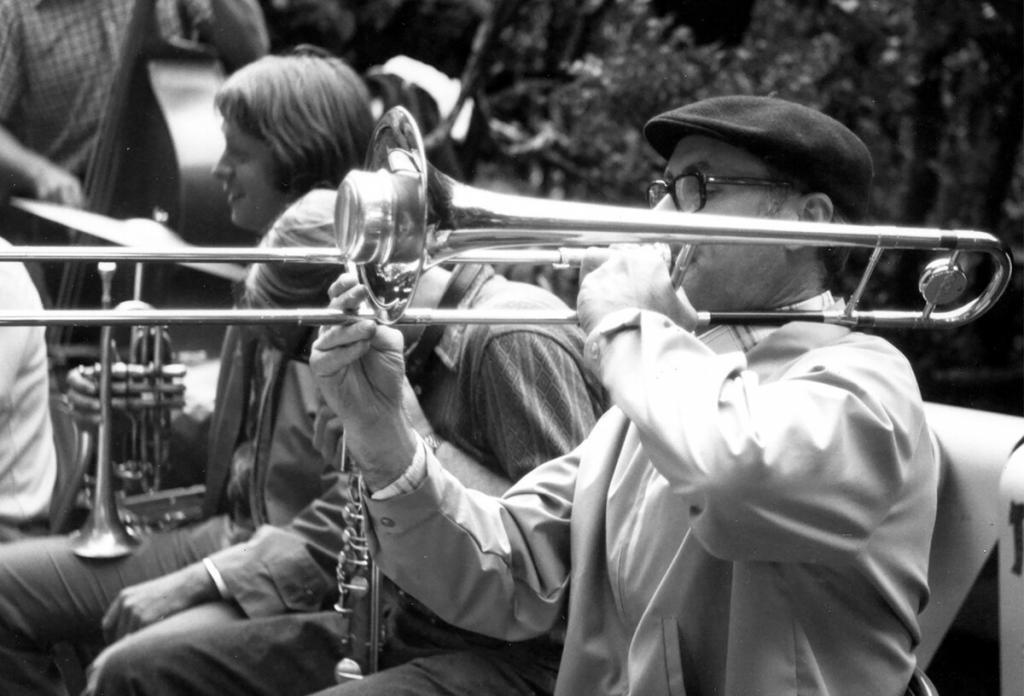 Although I didn't become a real fan of Jim Robinson's until I saw him in person with the George Lewis band. Ory's band was at the CIO Hall at 150 Golden Gate Avenue in about 1945 . . . and I spent a lot of time there. Another great all-time band."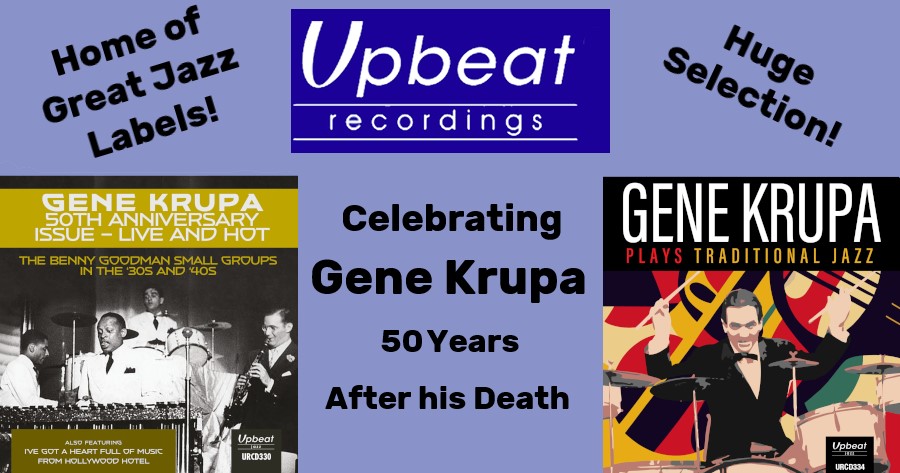 Your Basic Trombone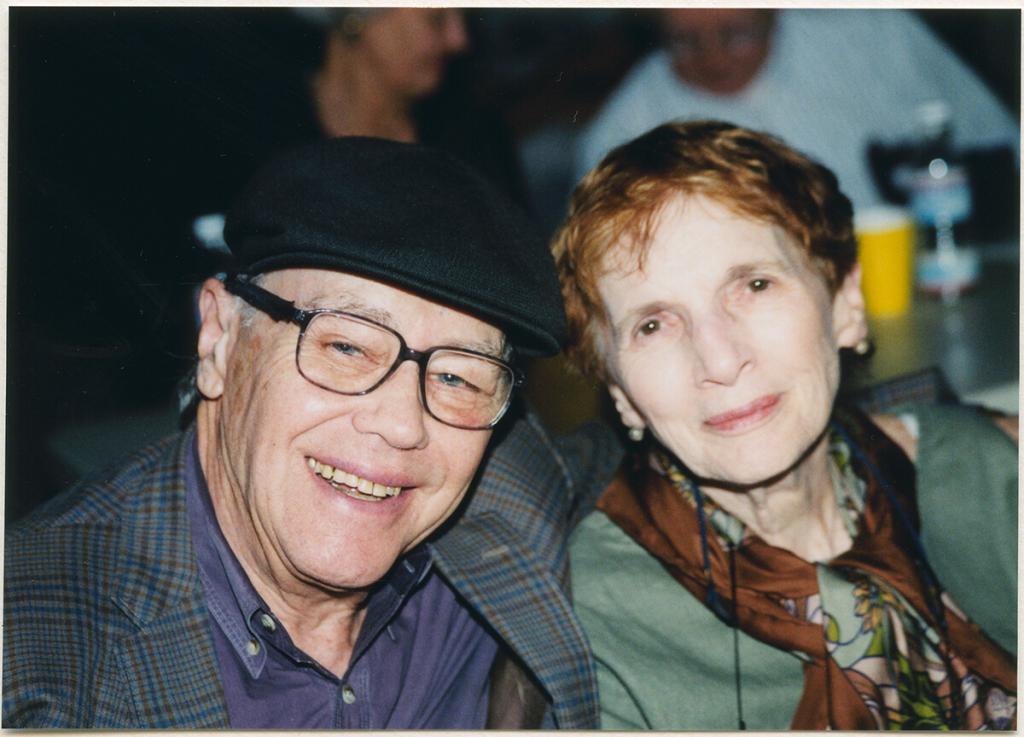 "Your Basic Trombone" was the humble motto on Bardin's business card. His main hobby was all things to do with brass instruments and the trombone. Besides jazz, he participated in brass music ensembles, traveled to conventions of enthusiasts and subscribed to brass band-oriented publications. Bill kept his horn gleaming and spotless; nicks or scratches were immediately repaired by a professional.
Bill and Mili (Rosenblatt) Bardin were a sweet couple. She was a very good artistic photographer who loved jazz and supported his gigging. Upon retirement in 1982, his union pension provided them a comfortable life.
Sadly, Bardin never ran his own band and made almost no commercial recordings. Yet dozens of recordings from jam sessions, nightclubs and casuals have been recovered and are offered at the Bill Bardin page of the Jazz Rhythm website: www.JAZZHOTBigstep.com.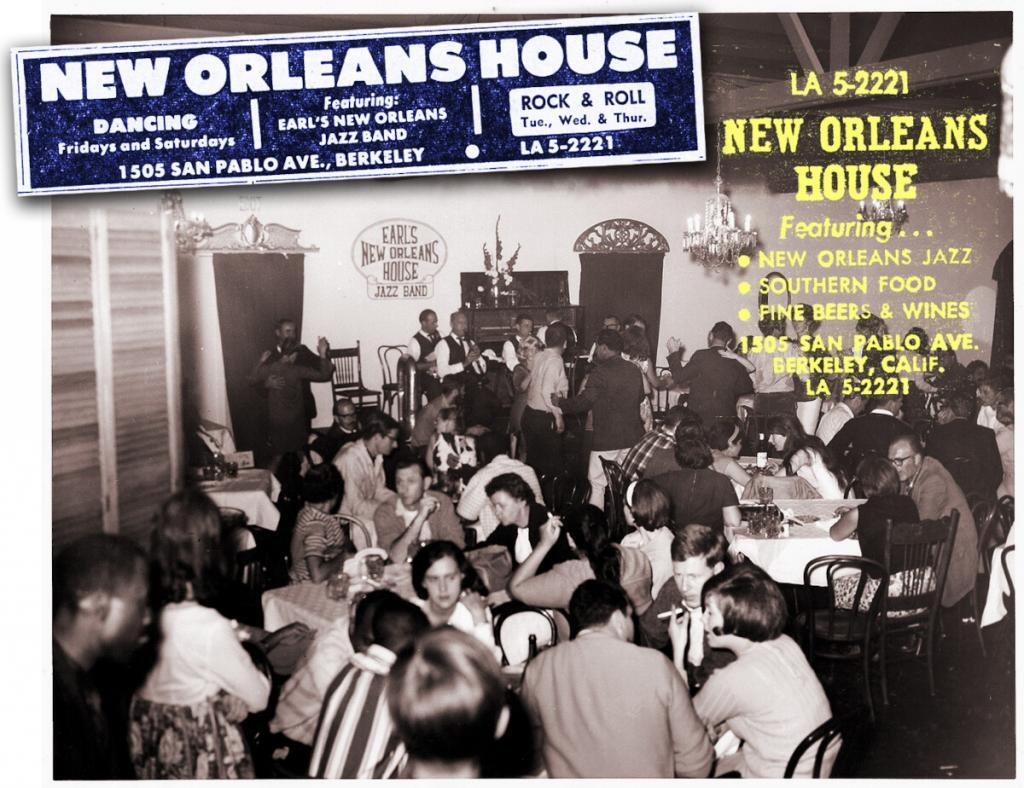 Four Decades with Bandleader Earl Scheelar
Earl Scheelar (b. 1929) was a talented multi-instrumentalist. His rich cornet notes rang out distinctively. Yet during the 1980s and '90s he usually led his bands playing very good clarinet. On both instruments, his huge tone, fresh variations and passion for the Blues were breathtaking. Beginning in 1966, Scheelar hired Bardin for all his bands. He echoed the sentiments of many:
"Bill Bardin was the finest trombone player the Bay Area produced.  I've always thought that. Even when there was this big debate going on: Bardin or Mielke?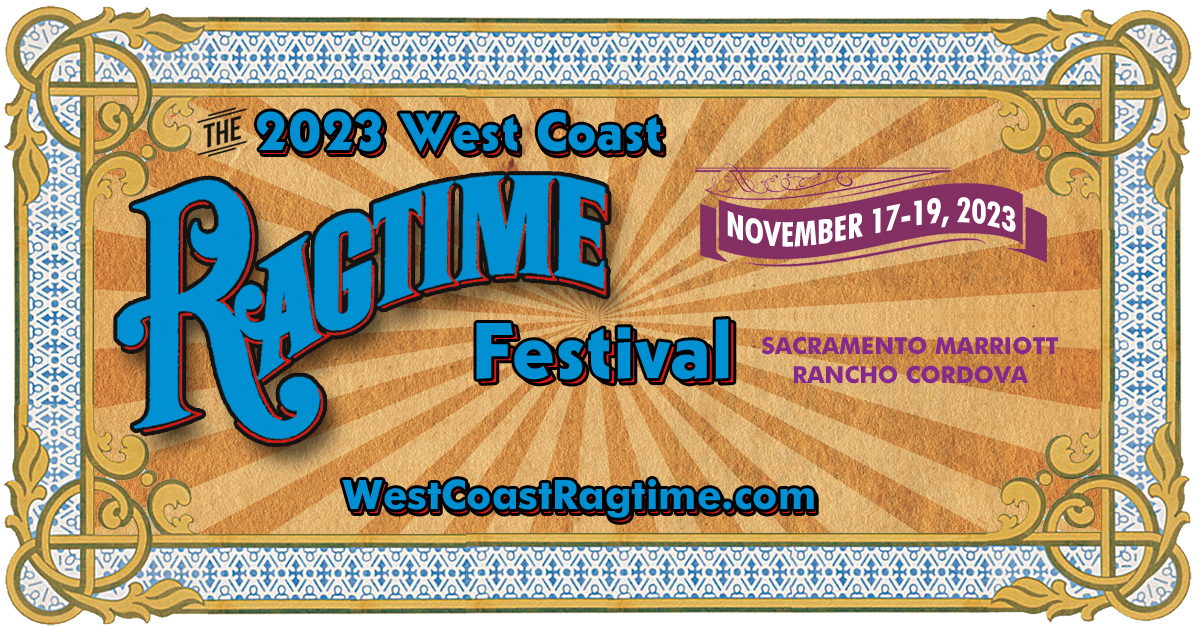 Mielke was never the consistent player that Bardin was in terms of listening and playing things that made everything else swing.  [I hired Bill] every time I could, he's on all the recordings.  Bardin was my trombone player."
Clip – Earl Scheelar recalls Bardin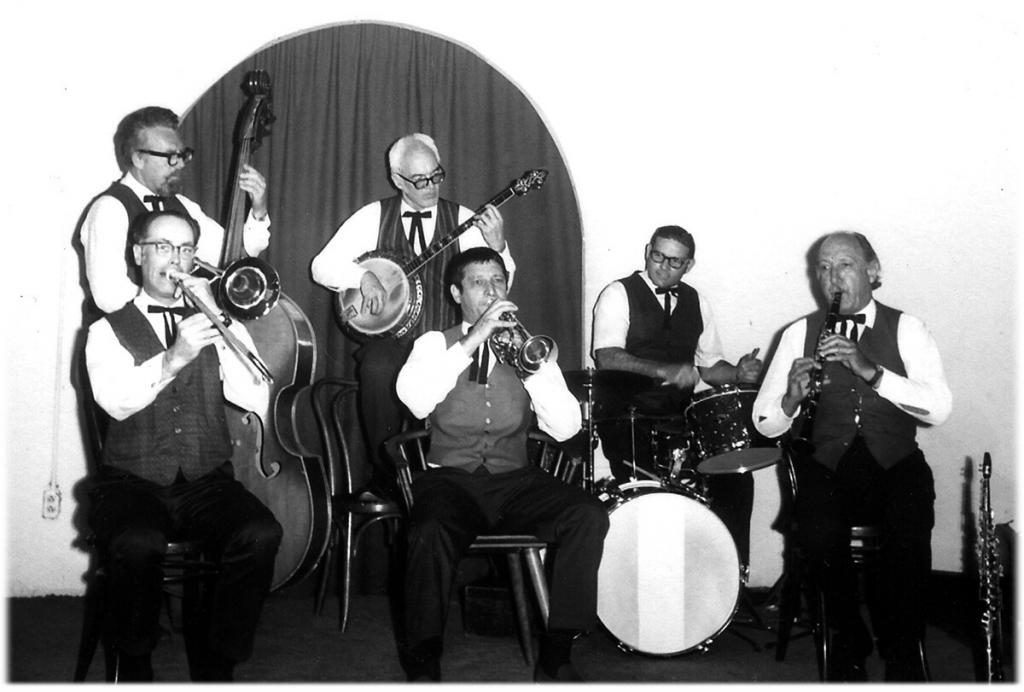 Earl Scheelar:
"I've always thought of him as a clarinet player primarily. And occasionally he'll switch off to another instrument. He'll give any instrument a try. On the Funky band he switched off from playing the clarinet to playing the cornet on that. Oxtot was in that band, too.
He was either the entire owner or part owner of a club in Berkeley called New Orleans House. And Earl had a band there, of course, since he was part owner of the thing. He would always try to get Burt Bales to play in his band. He used various trumpet players. I recall playing with Bob Short there on tuba more than once. Earl always got good players."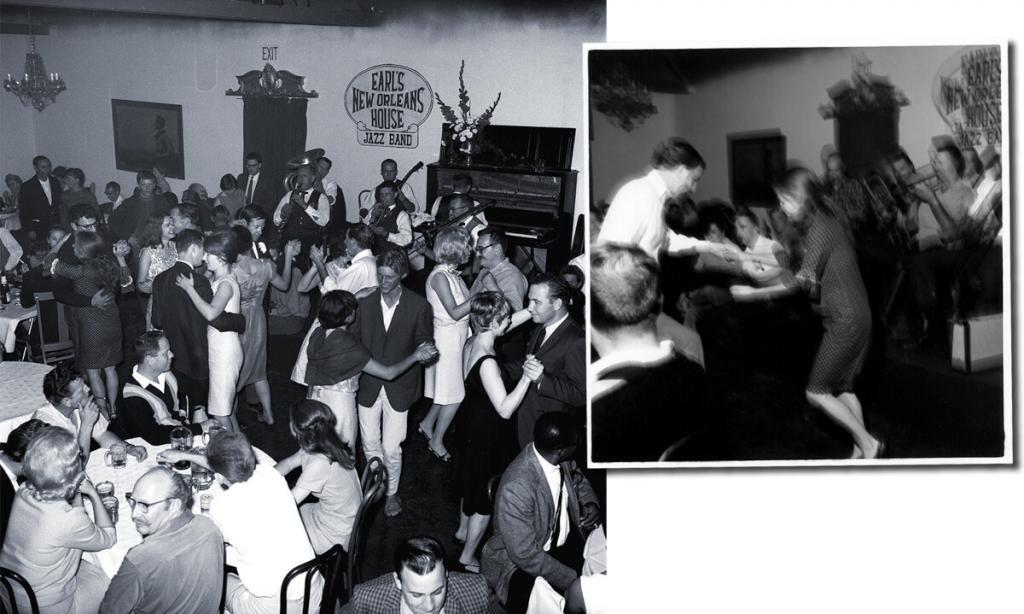 Earl's New Orleans House Jazz Band with Bob Helm, 1966-72
Scheelar created New Orleans House, a jazz venue, dance hall and restaurant serving Louisiana food and music in Berkeley. It only lasted for about six months during 1966-67, becoming an "electric Rock" venue thereafter. But he retained part ownership and access to the hall for recordings and special events. And Earl's New Orleans House Jazz Band survived for years, Bardin shared the trombone chair with John Farkas.
Scheelar's groups featured the striking clarinet and saxophone stylings of Bob Helm (1914-2003) whenever he was available or on leave from Turk Murphy's San Francisco Jazz Band. Regarded locally as a creative genius, the marvelous reed player was a co-founder of the West Coast Traditional Jazz movement and an international star.
Earl taped the band extensively in the spacious acoustics of New Orleans House, first issuing the music in joint co-operation with Merry Makers Records (MMRC-CD-50) and Trad Jazz Productions (TJP15) in 2013. Personnel are Scheelar (cornet), Bob Helm (clarinet), Bill Bardin (trombone), Karl Walterskirchen (banjo), Peter Berg (guitar), Bob Short (tuba) or Pete Allen (string bass).
Milneberg Joys – Scheelar NOHJB
Wild Man Blues – Scheelar NOHJB
Clarinet Player Hots O'Casey: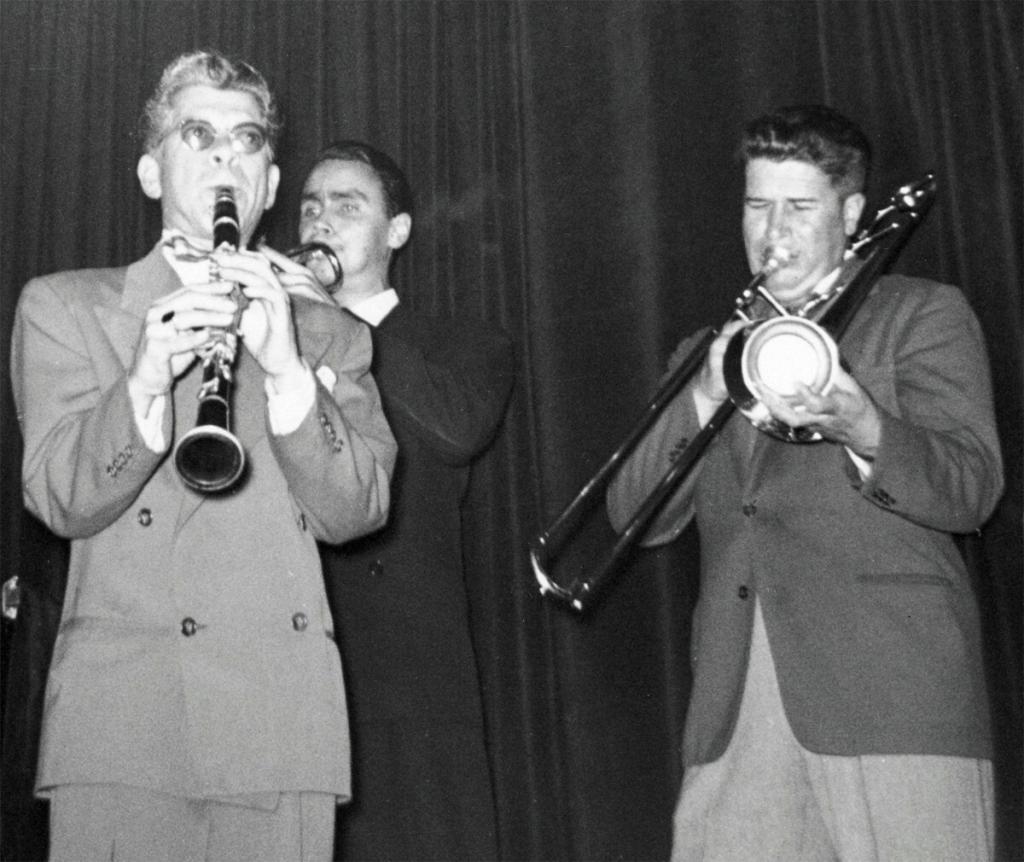 "He later changed his name to Hotso Casey . . . another character. He was not really a jazz player, but he played with plenty of spirit. He thought of his career as playing with Anson Weeks, the society band.
He played saxophone and arranged for Anson Weeks. He lived near the union headquarters . . . and tended bar at the union speakeasy in the basement quite often.
He was a little guy, a small man who . . . when he would get drunk, he used to like to take off his glasses and lie on his back and play his clarinet straight up into the air. Well, that was Hots O'Casey — about 1948."
Funky New Orleans Jazz Band with Bob Helm, 1972-97
In 1972 Scheelar created Funky New Orleans Jazz Band. Earl further developed his expressive cornet chops, Bardin skillfully glued the group together and both supported Helm's dazzling reed changes.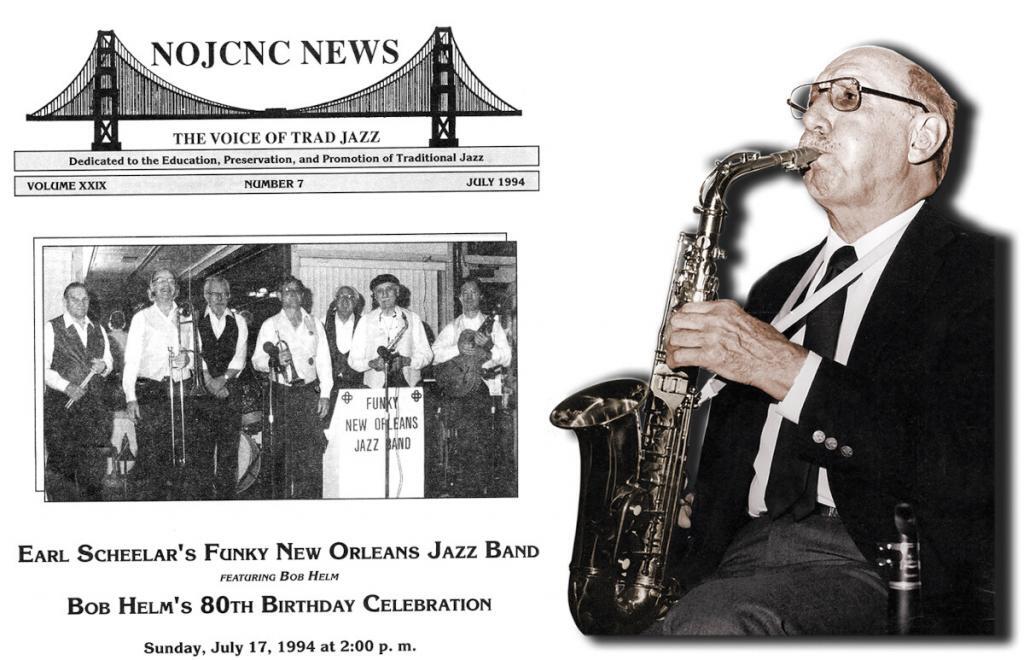 Funky band was popular at festivals, casuals and local Trad Jazz events. It was no accident that Earl hired, in effect, the former rhythm section of Mielke's Bearcats: banjo player Dick Oxtot, bassist Pete Allen and drummer Don Marchant, occasionally augmented by Burt Bales on piano.
Here's an exceptional and previously unpublished performance hosted by the New Orleans Jazz Club of Northern California. "Mama's Gone, Goodbye" was a favorite of Earl's and his cornet showcase for decades. Helm sits out the first take of "Mama's Gone, Goodbye" and the closing "Ladylove," which allows the incandescent talent of little-known soprano saxophonist John Smith to burn brilliantly.
This session demonstrates the remarkable muscular potency and drive of Earl's bands in those years. It's essentially Earl's New Orleans House band on the cusp of transition to Funky New Orleans Jazz Band. Personnel are Scheelar (cornet), Bob Helm (clarinet, alto sax) John Smith (soprano sax), Bill Bardin (trombone), Dick Oxtot, Pete Allen and Don Marchant at Alvarado Inn, Ignacio, CA 8.15.71.
Short Dress Gal – Scheelar Alvarado Inn
Mama's Gone, Goodbye, Take 1 – Scheelar Alvarado Inn 
Mama's Gone, Goodbye, Take 2 – Scheelar Alvarado Inn 
Riverside Blues – Scheelar Alvarado Inn
Lady Love – Scheelar Alvarado Inn 
Scheelar Alvarado Inn set complete
Rooming at Ma Watters' Flat, circa 1950:
"I was living at Ma Watters' house at 24 Steiner Street. Lu's mother rented a flat, that is the entire top floor of . . . a typical San Francisco house. Lu lived there for a while and he moved out. At the time I was living there, [Squire] Girshback had a room there . . . And Lu's half-sister, Lina, lived there and Ma Watters. We all had kitchen privileges.
And Lu's parrot was there too, living in Ma Watters' part of the apartment. Lina was a . . . pleasant woman, but little nervous. And sometimes the parrot would call out, "Lina, telephone!" Poor Lina would come out . . . she never did know when it was Ma Watters speaking or the parrot.
Lu, he wasn't living there but he would show up every now and then. Sometimes he and his wife Pat would show up and have a terrible quarrel. They'd be drunk, and they'd be yelling at each other and I don't think they actually threw anything at each other. But they'd be yelling at each other with strong language and loud."
P.T. Stanton's Stone Age Jazz Band, 1973-78
Bardin also took a key role in P.T. Stanton's Stone Age Jazz Band, further extending his longstanding association with the oddly brilliant cornet player dating back to before 1940. And he was continuing his musical dialog with Scheelar on clarinet, whose insistent Johnny Dodds-style New Orleans ensemble reed line buttressed and propelled the Stone Age front line.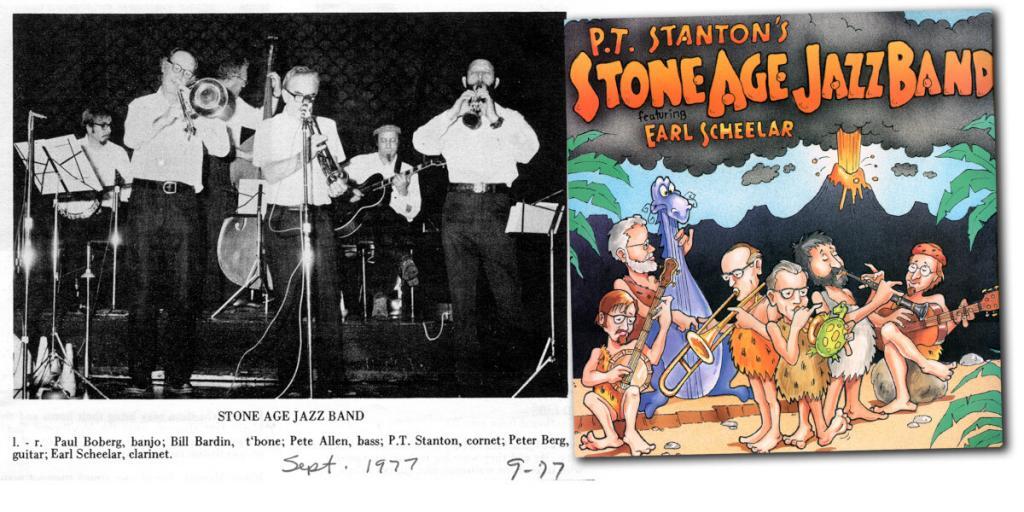 Peter Thomas Stanton (1923-87) defined and directed Stone Age leading from behind in Mielke's Bearcats. P.T. created a fresh format drawing inspiration from all points of the early jazz compass: New Orleans, Chicago, Kansas City and Harlem. The result was a four-beat New Orleans ensemble sound fused with Kansas City-style riffs behind the soloists.
The obscure "Move the Body Over" was popular among New Orleans musicians and reportedly a favorite of Stanton's. Walter Yost substitutes on tuba, guest tenor saxophonist Lisa Polland is heard in the last three titles and Bret Runkle plays washboard on "1919 March." In a session taped at New Orleans House in October 1974, Stone Age band never sounded happier than in their lilting rendition of "The Waltz You Saved for Me."
Stanton's Cultivated Character: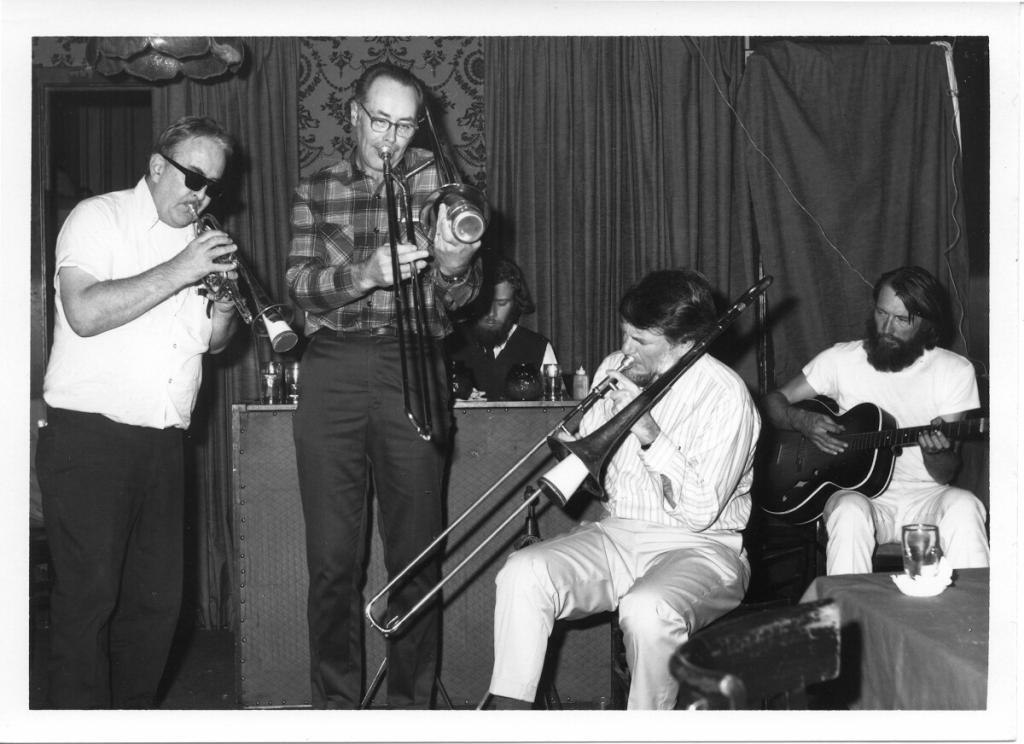 "From the time I first met him, he was around 19 then, he cultivated a dissipated image. He was an admirer of the Bix Beiderbecke life cycle I think. He thought Bix had had the right idea how to live. I think PT was a little disappointed to find himself carrying on after the age of 30. It upset his plans.
I believe that he was a Basie fan; we all were Basie fans and still are.  P.T. used to do a very creditable job of playing Basie-like piano.  
One time, trying to get a point across to some other player he said, 'think of it as a series of one' [laughs].  He was always coming up with gems like that.  He deliberately cultivated his own character."
Stanton was something of an acquired taste. He intentionally rejected the clarion majesty of the horn, substituting a personal vocabulary of quavering growls and strangled tones. P.T. supported the ensemble, taking a secondary role, preferring that clarinet and trombone take the limelight, according to Scheelar. Stone Age was deliberately idiosyncratic and proudly individualistic; most of the guys had facial hair and at one point they all wore beards.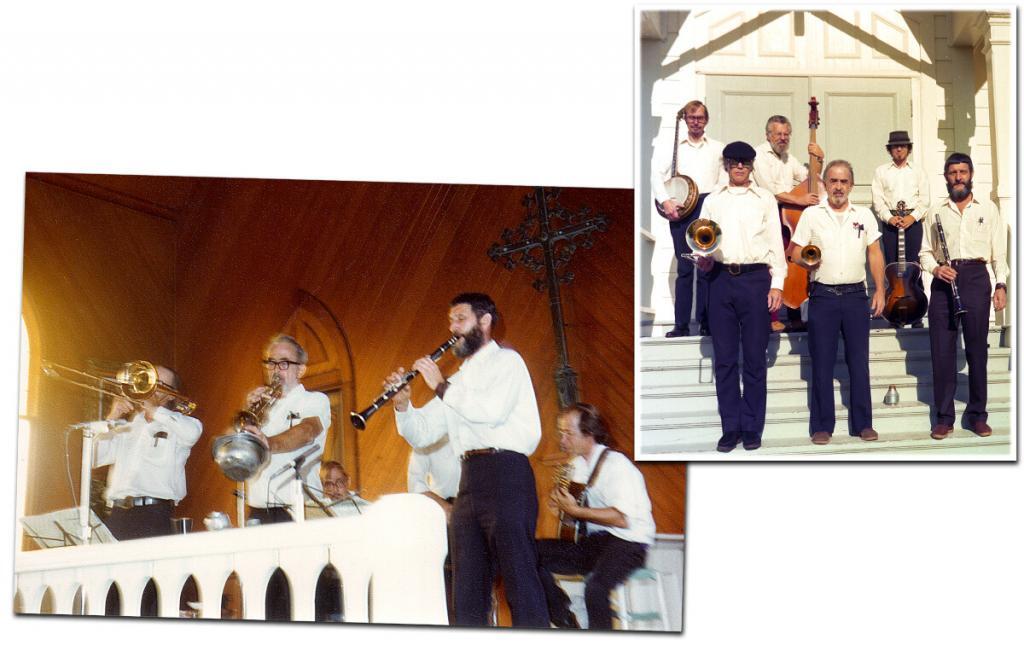 Despite a broad repertoire from Dixieland flag-wavers to deep Blues, the Stone Age book was limited to about 80 tunes. P.T.'s slow-drag rendition of "Sister Kate" was based on the 1928 recording of Charles Pierce and his Orchestra. Stanton favored antiquarian fare, songs by Stephen Foster and music predating the American Civil War. The vocal trio harmonizing of P.T., Earl and Bill brought a nostalgic charm.
Yet "Darling Nelly Gray" was more than mere nostalgia. An anti-slavery lament, it was composed in 1856 by Benjamin Hanby, a minister active in the Underground Railroad:
Oh! my poor Nelly Gray, they have taken you away,
And I'll never see my darling anymore;
I'm sitting by the river and I'm weeping all the day.
For you've gone from the old Kentucky shore.
. . .
They have taken her to Georgia for to wear her life away,
As she toils in the cotton and the cane.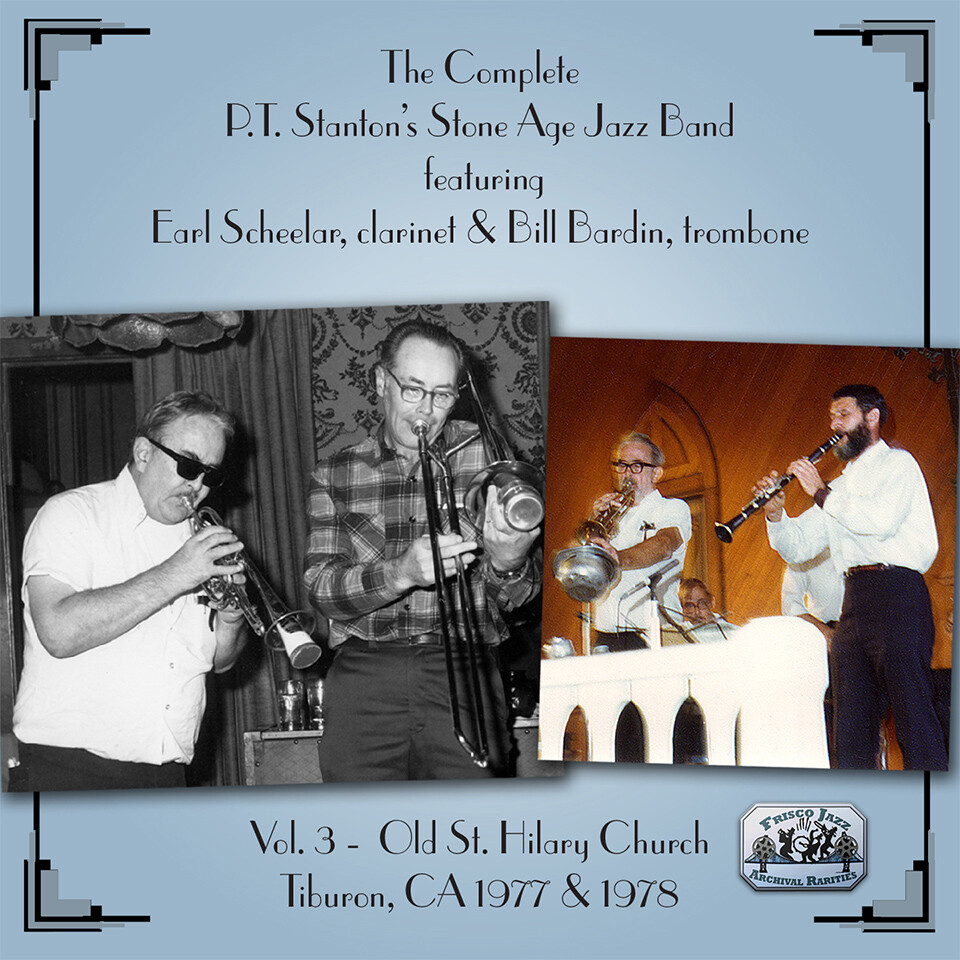 The Stone Age rhythm section was unconventional. Omitting drums and piano, it featured the banjo of Paul Boberg and guitarist Peter Berg. Long time mutual friend Pete Allen was the string bass player. But his frequent substitutes included Mike Duffy (string bass, mostly for rehearsals) and tuba player Walter Yost, who is heard on most of the tapes. These tracks were recorded in September 1977 at Old St. Hilary Church on the Tiburon Peninsula in Marin County north of San Francisco
When P.T. or Bunk Stopped Playing:
"One thing he did on the bandstand – not playing – he got directly from Bunk Johnson and I don't know how many other New Orleans trumpet players used to do this.  But Bunk at any time might just stop playing and wipe his mouth off.  I've seen this happen with other bands since then. 
We didn't know what on earth to do about that.  Even playing with Bunk we didn't know what to do.  In the real New Orleans bands the other horns just close in a little bit and make up for it.  But we didn't know what to do.  And it used to be very irritating when P.T. would just stop playing on the stompy part of the last chorus for instance."
Casa Verde Orchestra, 1985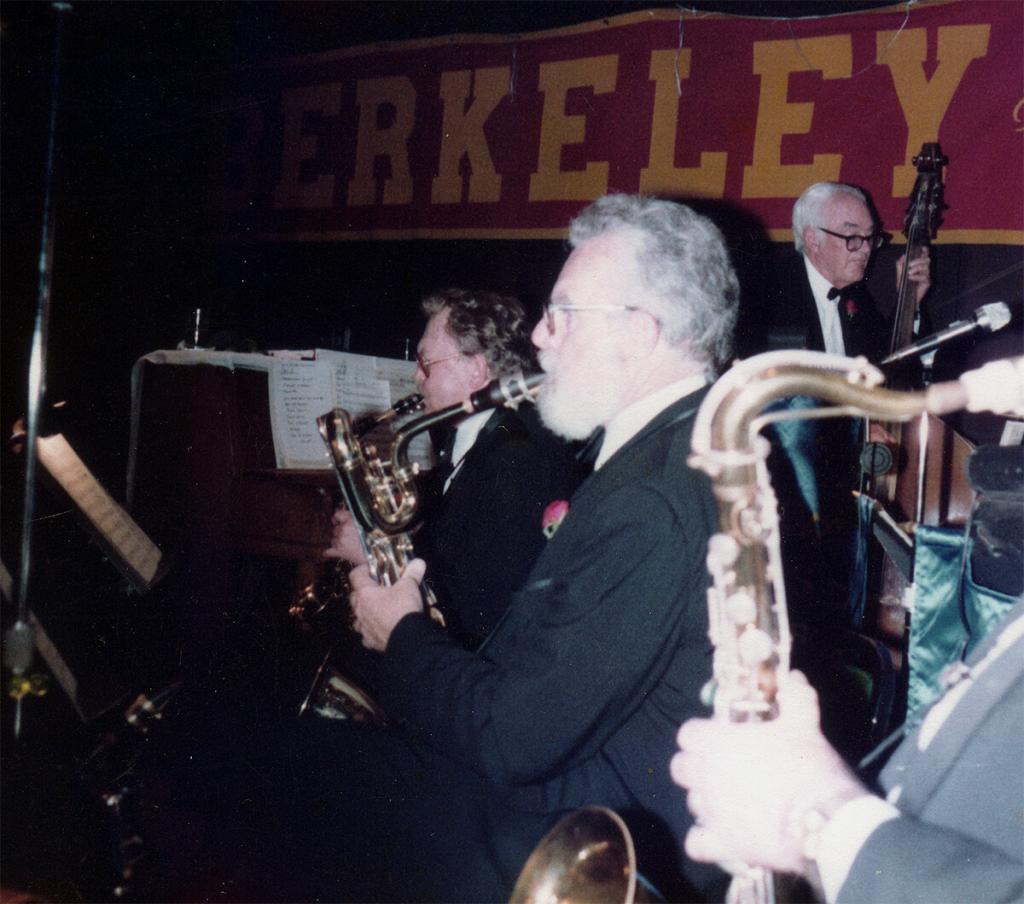 Bardin's association with Pete Allen (1921-2008) dated back to before 1940. Prior to 1955 he played pretty good clarinet and alto saxophone. Switching to string bass, Pete was a key ingredient of Bob Mielke's Bearcats. His extraordinary string bass tone, accuracy and volume made him one of the best rhythm players of the Bay Area.
In the late 1970s, Bill performed with the elegant Harbor Lights Orchestra, one of several local occasional swing ensembles organized, in part, by Allen. And Pete co-fronted the Casa Verde Orchestra, counting off the numbers onstage. Pianist Alan Hall was music director and wrote arrangements, as did several other players including Bill.
Clearly inspired by the classic Count Basie Orchestra, Casa Verde was a collective effort, meaning that nobody was leader, and no one got paid. The orchestra made no commercial recordings, no photos have yet emerged, and origins of the name have been lost. These tapes from Bill's personal collection — gigs at the Freight and Salvage nightclub and Shattuck Hotel in Berkeley — may be the only surviving traces of its existence.
Richard Hadlock developed an uncanny ability to emulate Lester Young's saxophone tone and technique though he had his own distinctive tenor and soprano styles. Other personnel were trumpeter Jack Minger, drummer Tom Stamper and Steven Strauss played four-string guitar.
Bill demonstrates easy proficiency with Mainstream Swing in "Doctor Dunce," an original composed by Alan Hall. Barbara Lashley provides a focal point singing Ellington's "I'm Checkin' Out Goombye." "Dickie's Dream" was recorded by Basie's Kansas City Seven in 1939 and named for trombonist Dickie Wells, Bill's longest and strongest musical influence.
Doctor Dunce – Casa Verde 1985
I'm Checkin' Out, Goombye – Casa Verde 1985
Five Spot Blues – Casa Verde 1985 
Doggin' Around – Casa Verde 1985
Dickie's Dream – Casa Verde 1985
With Dick Oxtot, c. 1970-95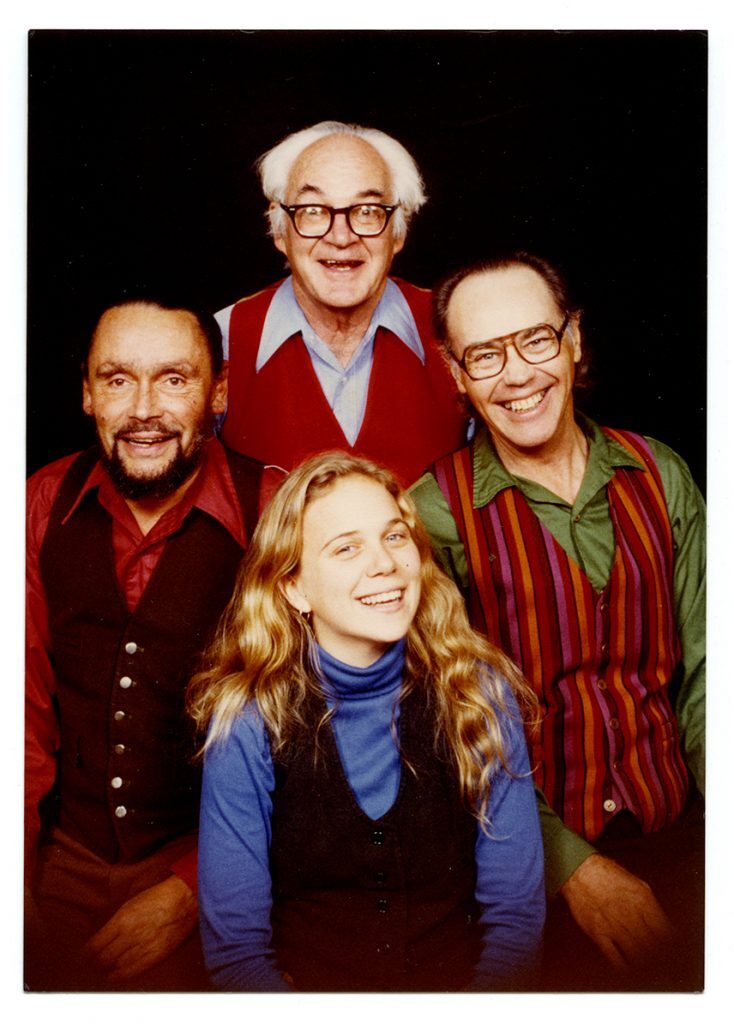 Bill Bardin and Dick Oxtot (1918-2001) met in the mid-1940s, working together intermittently for the next half century. Oxtot was a gifted multi-instrumentalist, banjo player, tunesmith, singer and gig getter who led bands for most of his adult life.
Though Dick constantly altered his rosters, Bardin was a steady fixture in Oxtot's Golden Age Jazz Band and related groups. Bill was part of Dick's eclectic jam band at The Ordinary in Oakland c. 1971-75. And he was "one of the lucky few" who worked with him a couple nights per week for years at The Point in the tiny town of Point Richmond, northwest of Berkeley.
Oxtot at The Point:
"I understand that the band started at The Point in the first place because the owner wanted to keep motorcycle gangs away from it and he knew that motorcycle riders hated this kind of music. But the band got quite a following there at The Point."
All the second generation [Revival Jazz] musicians put in a stint with him. Toward the latter part of his career at The Point he used to, just for the sake of change, like to change personnel. I guess that was his attitude throughout his career; he liked variety.
He likes pep, he told me one time. He likes Vaudeville tunes like 'Lindbergh, Eagle of the USA' and some appalling stuff — in my opinion. He likes 'I Can't Dance, I've Got Ants in my Pants' and doing duets on Vaudeville-type tunes."
Scheelar compared their partnership to a classic odd couple. Bardin was orderly, sensitive and easily upset by Dick's off-the-cuff leadership style. According to Earl, Bill could throw a fit over something as simple as "you said we were gonna play two choruses out and you played only one." He frequently quit or was fired by Oxtot. Eventually, they would make up and resume working together, but inevitably repeat the cycle.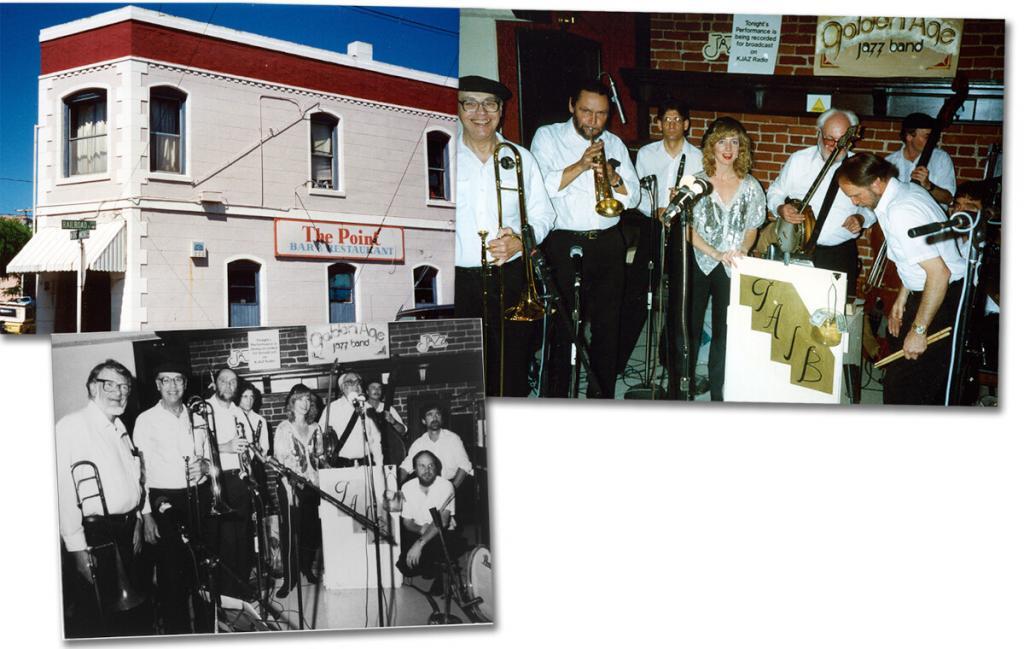 These select tracks are fine examples of Bill's contributions to Oxtot's ensembles at The Point in the 1980s. Yet because of constant fluctuations in his lineup, no particular band configuration or session could be called typical.
Jack Minger was a trumpet player who tastefully balanced Classic and Mainstream Jazz perspectives in his technique and had been a colleague of Bill's dating back at least to Victor's and Roxie's around 1950. Bill and Jack emulate the Louis Armstrong-Kid Ory recording of "Savoy Blues."
The other musicians probably include Laurie Lewis on string bass and of course, Oxtot on banjo. Reed players seem to be Charlie Rowe (clarinet) and Jim Rothermel (alto saxophone). Showcasing his magnificent chops, Jim waxes poetic on "Nobody Knows," its smooth four-beat swing could never be mistaken for the stomp-based, two-beat Traditional Jazz of Lu Watters or Turk Murphy.
Nobody Knows – Oxtot
Besame Mucho – Oxtot 
Savoy Blues – Oxtot 
Double-tonging and Doodle-tonging:
"I learned to play fast at The Point. I used to just either play in half-time or sort of fumble my way when a tempo was uncomfortably fast for me . . . I learned to do it easily so that I wasn't conscious of doing it.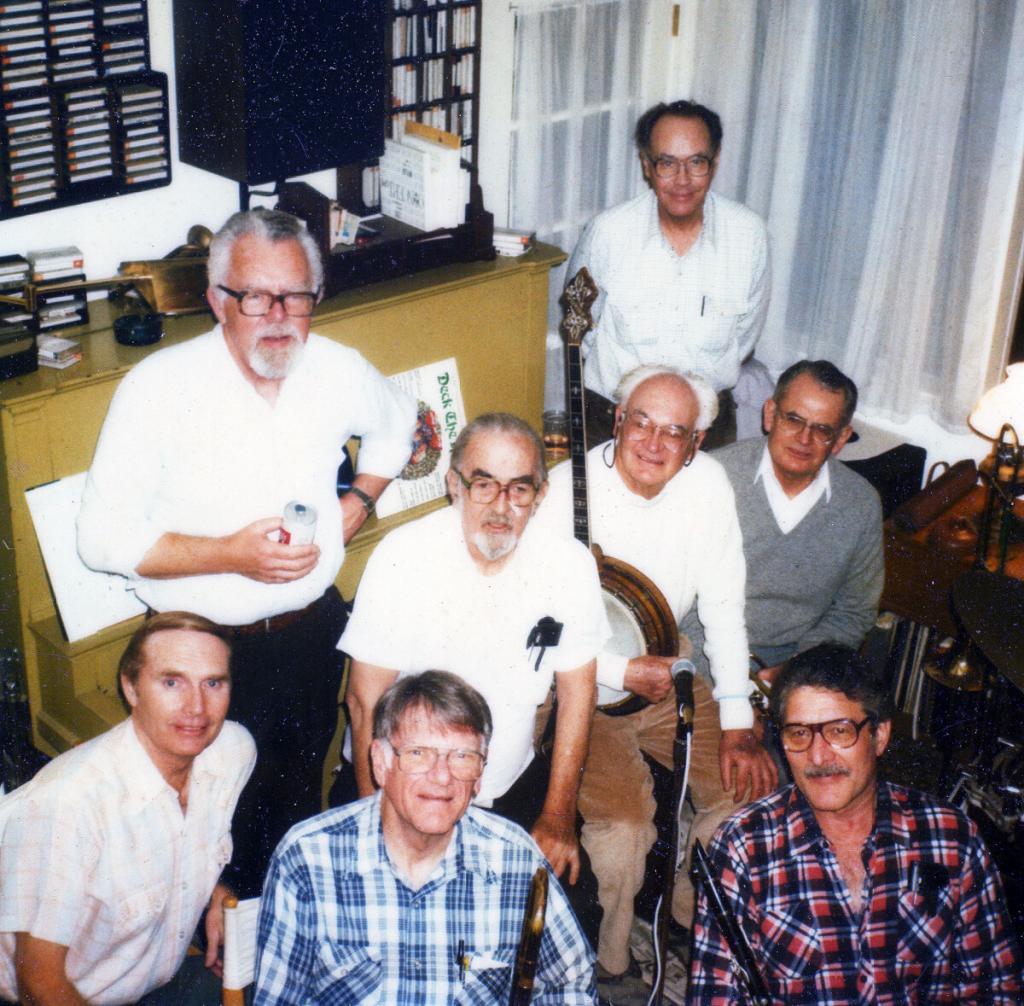 Single-tonguing the usual way is for the player to propel the air into the mouthpiece by going da-da-da-da or ta-ta-ta-ta with the tongue in back of the top front teeth. Double-tonging is to alternate the "t" syllable with a "ku" syllable in the throat to go tuk-a-tuk-a-tuk-a-tuk.
And there's another kind of double tonging that's even more useful than that called doodle-tonging. Where you just pronounce the syllables doodle-doodle-doodle-doodle. And you get a nice legato fast eighth note. I learned this from the great trombonist Steve Turre by the way, very useful."
Zenith Jazz Band, 1980-2010
Bardin was integral to Earl Scheelar's New Orleans Revival-styled Zenith Jazz Band. As usual, he gathered and supported the horns, not unlike his trombone exemplar Dickie Wells. Scheelar customarily hired a cornetist and played excellent clarinet in a declarative manner with plenty of woody New Orleans low-register gumbo.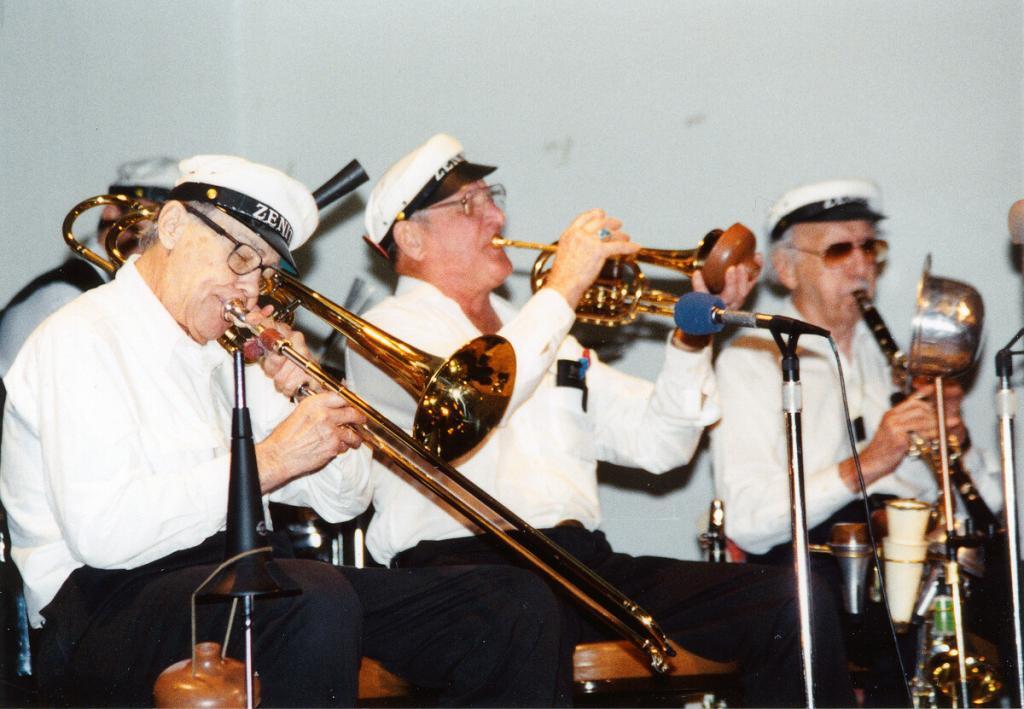 Bob Helm was again the featured reed soloist, vigorously switching between the clarinet or soprano and alto saxophones. The heft and volume of his alto lines can fool the ear, occasionally sounding like a tenor saxophone. The double-reeds reinforcing Scheelar's four-horn lineups, huge chords, and a remarkable diesel-horn effect.
They also convened as Zenith Parade Band, a raucous, expandable New Orleans-style marching band. Bill was an eager participant when they celebrated the Louisiana Second Line tradition at Northern California jazz festivals, sports events and civic gatherings: "Earl Scheelar's marching band sounds pretty good and gets the occasional marching job. In that band nobody knows quite what to do, which gives it a pleasant loose feel."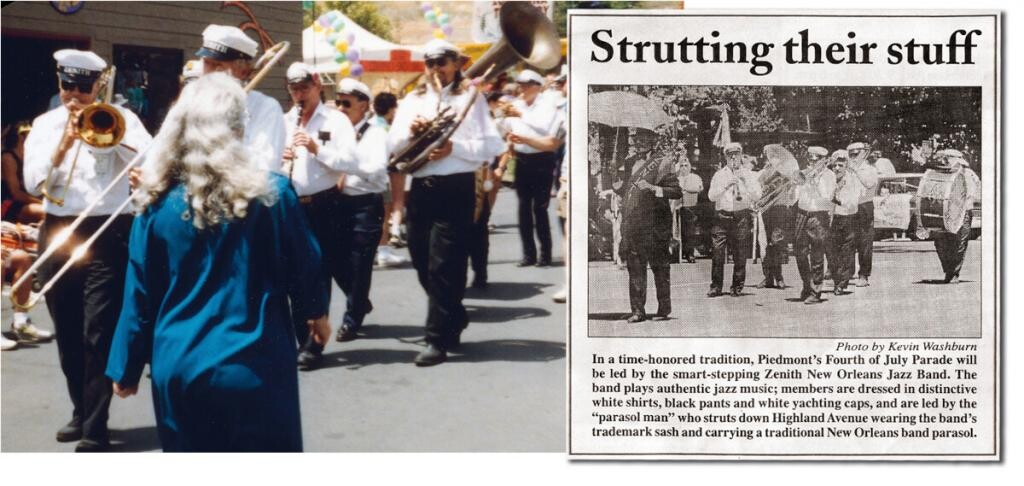 Bardin performed with Scheelar into the 2000s and as long as he was able. Earl said that in later years he required assistance getting to and from gigs. Scheelar needed to wait patiently afterwards while Bill cleaned and packed his instrument, shuffled to the lavatory and brushed his teeth, before he was ready to depart a venue.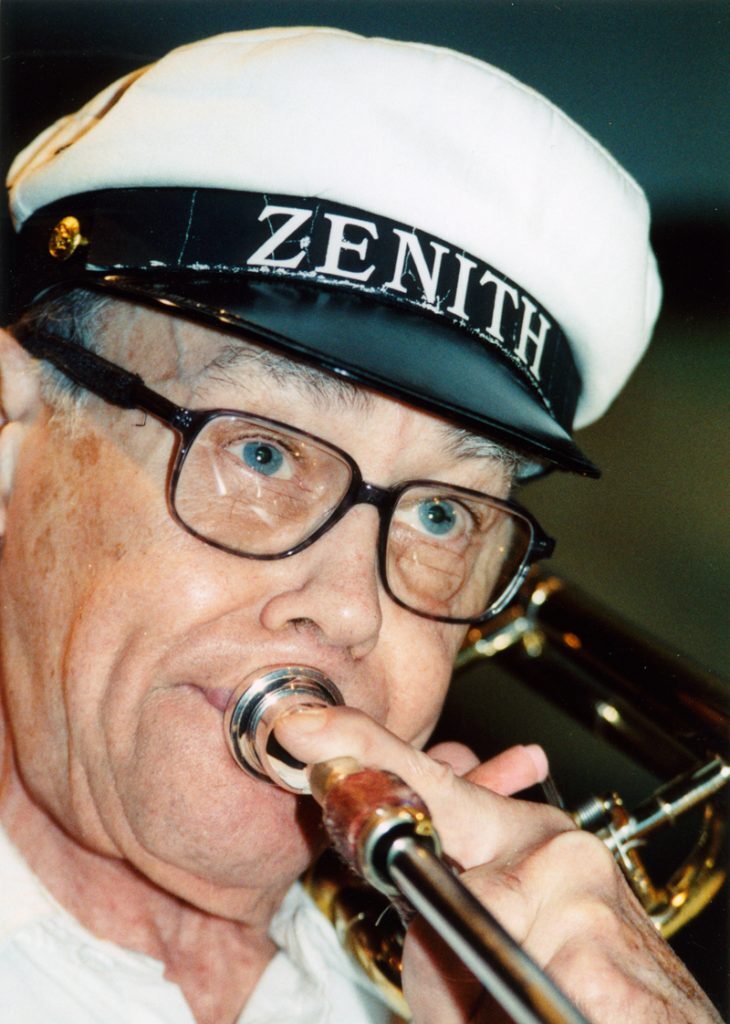 Zenith Jazz Band played at Chouinard Winery in the East Bay for several consecutive years. On this afternoon in 1994, Helm was at his most adventurous, the two-reed format generating rich harmonics, capped by the tasteful horn parts of Robert Young. They rescue "Tiger Rag" from cartoon cliché, honoring its French Quadrille origins in old New Orleans. Personnel were Robert Young (cornet), Bob Helm (alto and soprano saxes), Earl Scheelar (clarinet), Bill Bardin (trombone), Frank Tateosian (banjo), Jim Cumming (bass) and Henk Wagner (drums).
In the Shade of the Old Apple Tree – Zenith 1994 
Ain't Misbehavin' – Zenith 1994
Willie the Weeper – Zenith 1994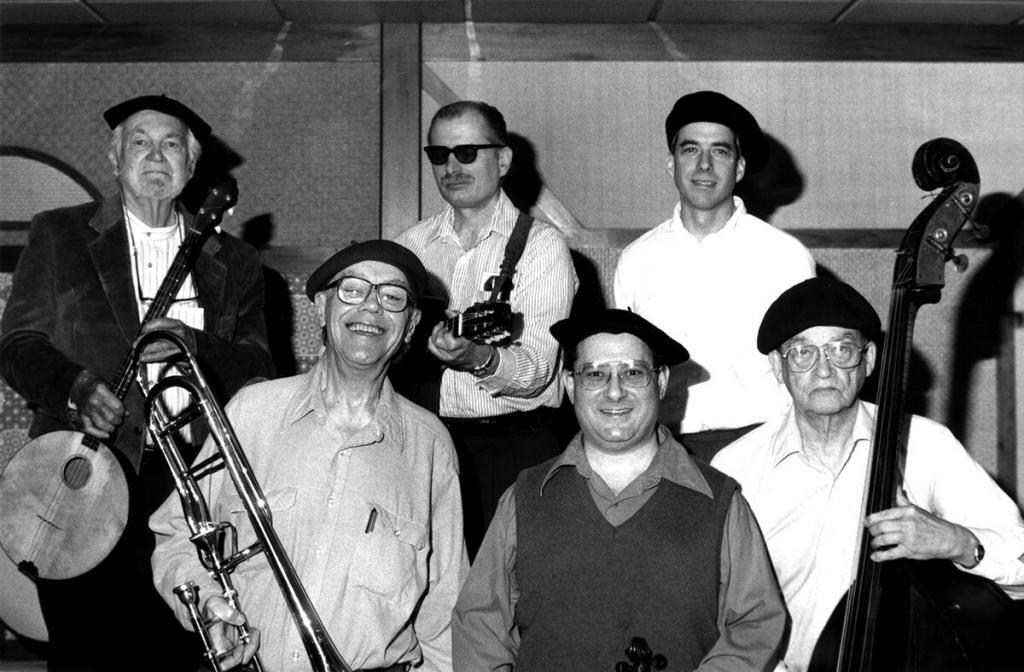 Speakeasy in the San Francisco Musicians' Union Basement, circa 1950
"I refer to it as a speakeasy, but it ran all day. There was a bar in the basement of the union. There was this room off to one side where the old hands would play [cards, Pinochle] and people would hang out at the bar.
Sometimes someone would call out: 'Somebody needs a trumpet player. Anybody want the job?' 'Yea, where is it?' 'At the Yacht Club.' 'OK, I'll take it.' Things like that.
Later, at 2:00 o'clock they'd lock the door. There were quite a few people who had keys to the front door of the union. I had a key.
You'd go in, go down the stairs and there'd be another closed door and you'd give a knock. It was a coded knock. A peephole would open, and an eye look out. Just like the movies. It would go until most people felt like going home, maybe 3:00 or 4:00 in the morning. And that was fairly jolly."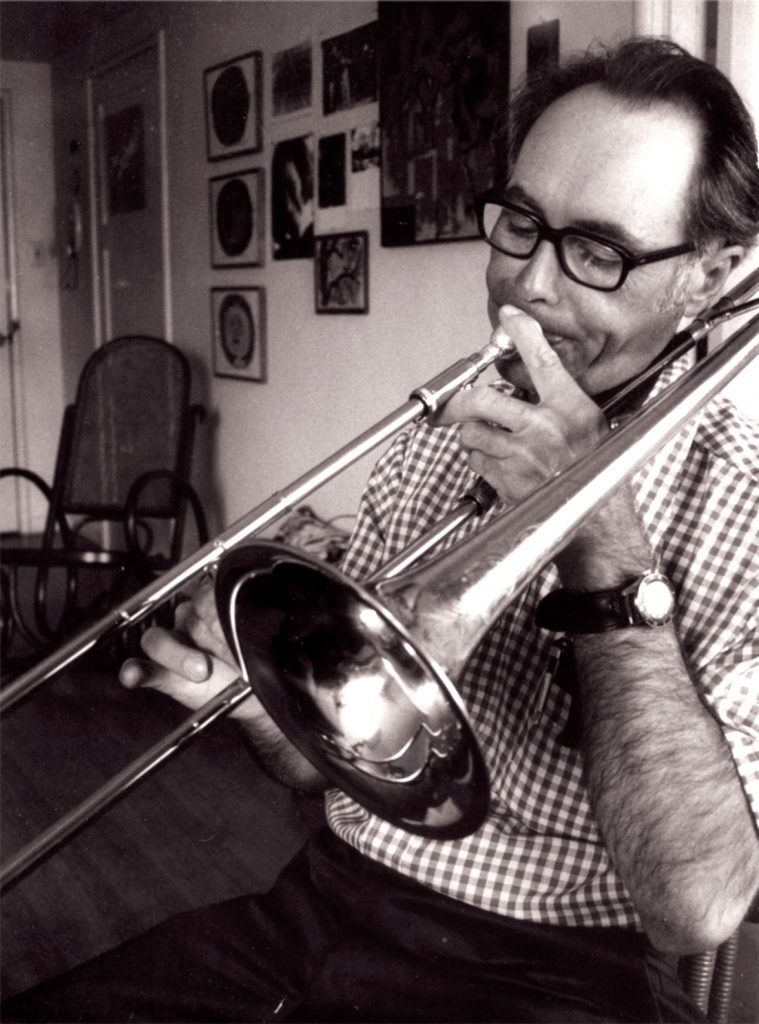 Trombone Eloquence
Bardin was a gentle soul: thoughtful, modest, well-spoken. A professional musician by his late teens, he rose grandly to the occasion when encountering living legends: Bunk Johnson, Benny Strickler, Frank Goudie, Ellis Horne, George Probert, Bob Helm, Clancy Hayes, Burt Bales, P.T. Stanton and countless unsung heroes like himself.
Bill was a musician of great skill and versatility, though perennially eclipsed by Bob Mielke. He focused and unified a Jazz ensemble using, in his own words, "harmonic nudges here and there." For almost seven decades, Bill Bardin brought eloquent trombone parts to the San Francisco Traditional Jazz Revival.
Encore with Magnolia Jazz Band, 1988
Yet another local ensemble that Bill performed with was Robbie Schlosser's Big Magnolia Jazz Band. Bardin joined them in a New Orleans Night Jam Session at the Santa Rosa Dixieland Jazz Festival, recorded for broadcast by this writer: Robbie Schlosser (cornet), Lin Patch (clarinet), Karl Walterskirchen (banjo), Evan Dain (bass) and Henk Wagner (drums).
Darktown Stutters' Ball – Magnolia 1988
St. James Infirmary Blues – Magnolia 1988
Shake That Thing – Magnolia 1988 
Mama Don't Allow – Magnolia 1988
Thanks, and Further Explorations:
Bardin was interviewed in 1994 by Dave Radlauer and Bill Carter in conjunction with the San Francisco Traditional Jazz Foundation. Special thanks to the late Mili Rosenblatt Bardin for photos, audiotapes and background. Thanks to Earl Scheelar, who was interviewed in 2015, for audio tapes of his bands. Thanks to Hal Smith for music consultation. Mike Duffy's liner notes to the 1993 Stone Age Stomp Off album were useful.
Bill made very few commercial recordings, but many recovered performances may be found at the JAZZ RHYTHM Bill Bardin page. Bardin's music, interviews and images are preserved in the Dave Radlauer Jazz Collection at the Stanford Libraries.
Links at Stanford Libraries:
Bill Bardin
Bob Mielke
Dick Oxtot 
Bob Helm
East Bay Sound 
Links at Jazz Rhythm:
Bill Bardin
Bob Mielke
Earl Scheelar
Earl Scheelar archive
P.T. Stanton – 1970s
The Ordinary tapes