We have posted Tom's official obituary and event info for his memorial here.
---
We are saddened to report that Thomas Dutart, a past President of the Basin Street Regulars/Central Coast Hot Jazz Society in Pismo Beach, and supporter of the Pismo Beach Jazz Jubilee By The Sea, was murdered on Tuesday evening, June 19th, outside of his home in a quiet Santa Maria California senior living community, he was 82.
The circumstances are still under investigation and police have no suspects in what appears to be a completely random attack.  Dutart was in the immediate vicinity of his home when he was stabbed at around 11:20pm. It is unclear whether it was he, or his wife Linda, who phoned the police, but he was pronounced dead at the hospital. Police have ruled out any domestic motive.
Dutart was originally from Stockton California and taught generations of students at the nearby Sequoia Elementary School in the Manteca Unified School District. A former student, Alvie Lindsay, commented on one of the many news reports about the tragedy saying:
Mr. Dutart was beloved in Manteca, where he taught generations of students. He was my 6th-grade teacher at Sequoia School. He was known for his good humor, compassion and his love of music, which he shared generously with the entire community.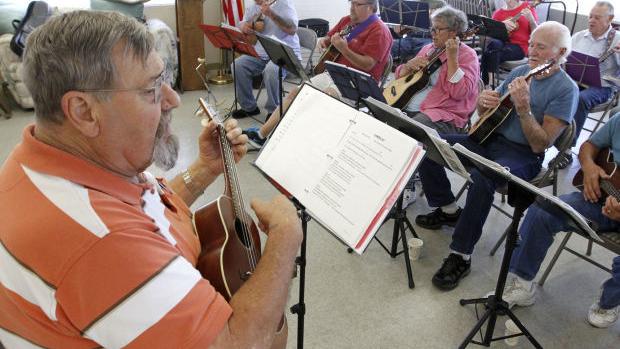 Dutart was always civic minded. After moving to Santa Maria in his retirement he became involved with the Old Orcutt OASIS Senior Center where he became music director of the Luis OASIS Ukulele Band.  The band, composed of up to 45 local seniors, got together for fun and to play out at events all over the area.
Dutart also served a year as president of the  Santa Maria Valley Senior Club. After stepping down from that position he continued to be an active fundraiser for the organization and wrote a "Toms's Trivialities" column for their newsletter sharing many humorous anecdotes.
He also became of service to the traditional jazz community. He played both tuba and banjo at monthly meetings of the Basin Street Regulars, also known as the Central Coast Hot Jazz Society, of which he was a past president.  They are best known for hosting the Jubilee By The Sea.
Tom Dutart was planning to play at their June meeting on the 24th, held at the Pismo Beach Veteran's Memorial Building. The meeting is expected to go on in his honor.
---
A Celebration of Life for Tom Dutart will be held on Sunday, August 5th, from 1:00 to 5:00 PM at the Pismo Beach Veteran's Memorial Building, 780 Bello Street, Pismo Beach, CA. They need to give an official count to the city prior to this event, so an RSVP is required. If you wish to attend, please contact LaDean Talcott via Messenger. 
More event info here.
(This story will be continually updated as more information becomes available.)
---
View a local nightly news report
HERE
A neighbor from his Central Valley days shares his memories of Mr. Dutart HERE
We welcome any additional memories of Tom, especially relating to his background as a musician and work on behalf of the jazz community, for potential use in a remembrance in our August issue.
Subscription Options
---
Or get the Print Edition with Online Access. To get the print edition of The Syncopated Times use this Paypal link. After you pay you will be issued a coupon for free online access.