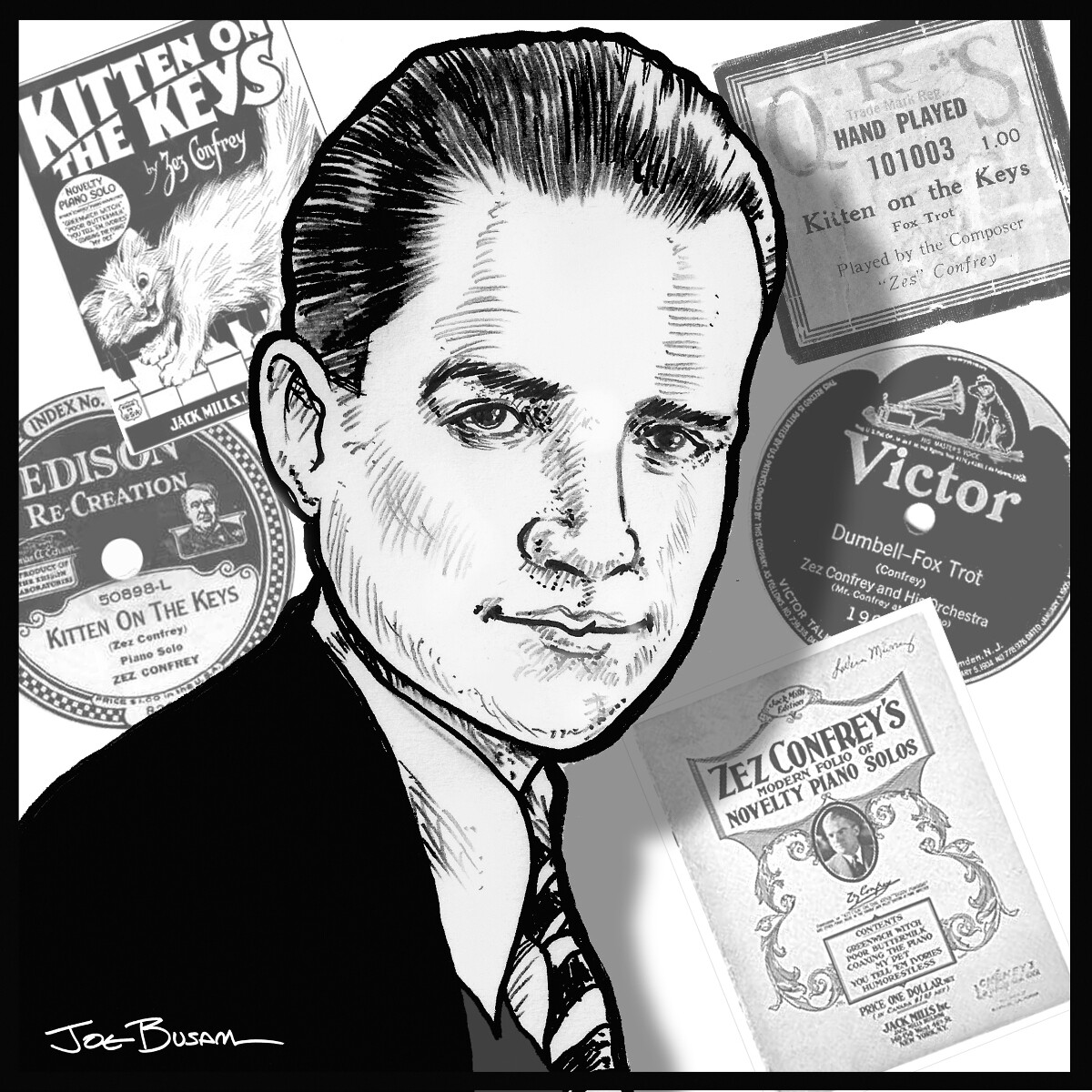 Edward Elzear "Zez" Confrey was born in Peru, Illinois, on April 3, 1895. Zez grew up in a musical household in which his older brother, James, was proficient on a number of instruments. When Zez, at age four, began to play his brother's piano lessons by ear, his parents realized he was a prodigy and found a teacher for him.
Zez Confrey led an orchestra while still in high school, and thereafter matriculated at the Chicago Musical College. While at college, he studied the time-honored classics as well as the more modern French composers, Debussy and Ravel, whose music fascinated him.
He enlisted in the Navy during World War One, and performed in the revue Leave It To Sailors. He shared the stage with a violinist named Ben K. Benny, whom the world would later know as comedian Jack Benny.
In 1921, Zez Confrey wrote the composition that would make him famous, "Kitten on the Keys." He claimed to have been inspired by the sound of a cat walking across his grandmother's piano late at night, but the quirky and engaging rhythm of the piece caused a sensation. Publisher Jack Mills signed him for a string of string of syncopated novelty hits, including "My Pet," "Stumbling," "Poor Buttermilk," and "Dizzy Fingers." He made piano rolls and recorded for Brunswick, Edison, Emerson, and Victor.
Confrey's rolls and records stimulated sales of his sheet music, which was daunting to amateur pianists. He addressed the difficulties inherent in playing his intricate works with Zez Confrey's Modern Course in Novelty Piano Playing, which remained in print until the mid-1960s.
Confrey's fame reached its apex when Paul Whiteman engaged him to take part in his 1924 Aeolian Hall concert, An Experiment in Modern Music, at which Gershwin's Rhapsody in Blue notably debuted. Zez dazzled and delighted the audience with his "Kitten" and his new Three Little Oddities.
Zez Confrey edged out of the spotlight toward the 1930s, though he appeared in the 1937 Vitaphone short Home Run on the Keys with Babe Ruth and composer Byron Gay. Confrey continued to compose and arrange prolifically, writing his last compositions in 1959. After years of battling Parkinson's disease, Zez Confrey died on November 22, 1971.