Note: Since this was written we have obviously launched an online edition, you're reading it… we still think you should get yourself a physical copy, but you don't need to listen.
---
The internet is brimming with noisy evangelists whose message is that we must simplify our lives, and disentangle ourselves from the clutter that keeps us from being happy. As they do so, they do not scruple about encumbering themselves with the clutter of our superfluous currency. Nonetheless, these apostles of minimalism (of whom a certain Marie Kondo is the reigning high priestess) have inveigled many thousands to rid themselves of the accumulated possessions that do not, as Ms. Kondo says, "spark joy."
Though a glance at my own domicile might suggest that I'm taking more decorating tips from Langley Collyer than from Marie Kondo, I look with some dismay on the minimalist life. As my contemporaries are flinging away physical media, knowing that it all may be stored on The Cloud and that all information reposes on the internet, my own rationale for holding onto these artifacts is that Someday I Am Going to Need Them.
Yesterday, that actually happened. To research my thumbnail bio of Eddie South, I sought information that should have been freely available on the web, and everything online referred to everything else online. There was a paucity of biographical material—and much of that was unreliable. I was driven to delve into my cluttered office to paw through boxes of CDs in the search of the physical liner notes that accompany them. Within a few minutes, I found exactly what I needed to complete my 375-word piece.
Yet Variety, in an April 2017 article "Eight Ways to Get Rid of Your CD Collection," literally suggested we should "skim them along a pond." What I find is that the liner notes of higher-quality reissue CDs and LP collections such as Giants of Jazz are conscientiously researched and may be considered authoritative. Meanwhile, on Wikipedia, the odds are that you're getting inaccurate information. Despite dirty looks from the de-clutter gurus, I'll hold onto my compact discs—and buy more.
Which brings us to other physical media. I admit that I don't make it cheap or easy for people to receive the digital PDF version of The Syncopated Times. Yet there are those who gladly pay $30 a year when they want the paper but don't want the paper. I tend to distribute it along with a physical copy to musicians (who are peripatetic) and I'm happy to send PDFs to those who have a compelling reason to receive it in that form. For the visually impaired, the PDF is much easier to magnify on a computer screen. And for foreign subscribers, email is much more economical than International Mail.
Though I accede to those who prefer digital, my view is that I specifically lay out The Syncopated Times to look good on a page. Reading it on your smartphone is like trying to look at it through a keyhole. There's also this: you have the physical document and you may refer back to it. And, if you don't want to play the "Langley and Homer" Home Game, you may distribute it to a friend and or black out your name and leave it in a doctor's waiting room. The main thing is that The Syncopated Times is intentionally a physical thing that exists in the world.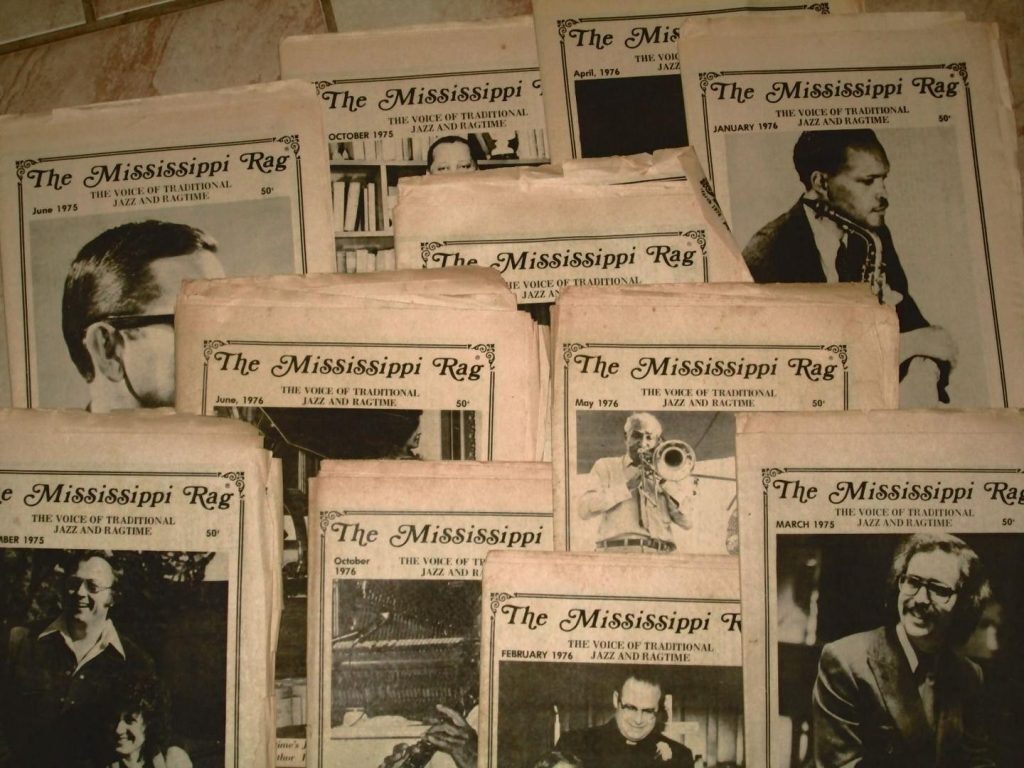 Two months ago I mentioned that I wanted to acquire copies of a worthy predecessor of this paper, The Mississippi Rag. As in the liner notes I mentioned above, there is a wealth of information in back issues of TMR, owing to the dedication and diligence of its founding editor, Leslie Carole Johnson. That scholarship is not readily available at the click of a mouse. One must have the physical publication at hand.
I was flabbergasted to hear that a reader had saved almost a full run of The Mississippi Rag—and floored when he sent them to me. And November being the month when we ritually give thanks, I want to publicly express my deep gratitude to Bill Benswanger and his wife Aimee for the gift of their whole archive of papers, going back to the January 1974 issue.
I spoke to Bill on the phone shortly after he responded to my story. He's spent a lifetime involved in the musical life of Pittsburgh: he and a friend almost ran into Glenn Miller backstage at the Stanley Theater; Marion Hutton met them and told them they'd better find seats or Glenn would be furious. Bill ran a record store, and when the representative for Capitol records wanted to add a classical line in 1952, he helped get Pittsburgh Symphony conductor William Steinberg on board for their first classical LPs—and acted as de facto engineer during the recording sessions. (I have that ten-inch Capitol LP of Schubert's Second Symphony—the sound is stunning.)
Bill began to get The Mississippi Rag when his son was taking a music class from Trebor Tichenor and Trebor gave his son the third issue. He immediately realized the paper was something special and subscribed until the last digital issue (Which he duly had printed out on paper.)
What is The Cloud compared to a robust physical archive? A Castle in the Air compared to a solid library of books, periodicals, and other media? Bill Benswanger saved 34 years of The Mississippi Rag not knowing I would come along and ask for them.
How could he have known? He saved them simply because they were worth saving. I am grateful beyond words.
---
Would you like to see what we look like in print? Enjoy this PDF of a recent paper. If you think the world needs a paper like that subscribe to the print edition.