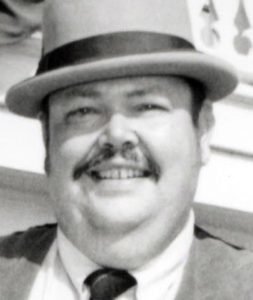 To have known Trebor Jay Tichenor is to have known a ragtime legend. In fact, this St. Louisan might have been a ragtime original had he been born two generations earlier. Trebor could play and compose in the Mississippi Valley folk ragtime style and but for the color of his skin, he would have fit right in with Tom Turpin's Chestnut Valley friends at Tom's St. Louis Rosebud Saloon in the first decade of the twentieth century.
I first met Trebor in the late 1960s on the Goldenrod Showboat during a Riverfront Ragtime Festival. His career was already well established, and his legendary collecting had already reached near definitive status. My wife and I were in St. Louis on the riverfront and we saw the St. Louis Ragtimers were playing. Al Stricker was introducing the next number, and I was fascinated by the large gentleman with a pleasant smile on the tiny round piano stool. I had a chance to meet Trebor when they took a break and it was a propitious meeting for only a few years later I called on him for help as plans were being made for a classic ragtime festival in Sedalia to honor Scott Joplin.
Trebor told the story of his induction into the community of ragtime musicians many times. His mother had a pop music band in the early 1930s, "Lettie's Collegiate Syncopators." They played novelty rags and popular music so Trebor grew up with syncopation in his home. Early attempts to give him music lessons failed, but like so many before and after him, when he discovered the "Maple Leaf Rag" in his early teens, ragtime became his obsession. His grandmother purchased a small sized Steinway for him to encourage his early musical interest.
While still in high school he began to amass his famous collection. He tells of scouring record stores for anything with "rag," in the title and he would often describe the impact of reading They All Played Ragtime by Blesh and Janis had on him.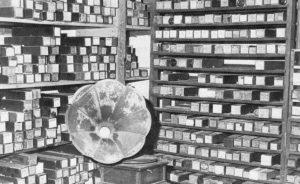 Trebor was most interested in collecting piano rolls and then in finding the sheet music for each composition. He not only built his great piano roll and sheet music collections, but he learned to play the pieces and researched the composers and the performers as he discovered new compositions. After a lifetime immersed in this study, he became one of the top authorities on ragtime in general and Mississippi Valley folk ragtime in particular. Tichenor grieved when they tore down Tom Turpin's old Rosebud Café building in 1960. Around 1900, it had been a gathering place for some of the best ragtime composers and musicians in the country.
While studying at Washington University in 1961, Trebor was invited to fill in for "Ragtime" Bob Darch at Mickey Mantle's Dugout lounge in the Joplin, Missouri, Holiday Inn. Trebor brought along banjoist Al Stricker and Don Franz on the tuba. They formed a small group called "The Ragtimers," as they dubbed themselves and later added Bill Mason, cornet; Eric Sager, clarinet; and Joe Thompson, trombone.
From that engagement the group was invited back to Pierce City, Missouri in the summer of 1961 for the Theron C. Bennett Memorial Concert. Trebor introduced and played his own composition "Pierce City Rag" he had composed specifically for the concert.
Back in St. Louis the group played at "The Natchez Queen" in the old Gaslight Square district from 1961 to 1966 and they quickly became well known around St. Louis and across the Midwest. The stories of the group's experiences and performances are told on the Ragtimers' fan club website stlragtimers.com. It opens with a wonderful photo of Don Franz, Al Stricker and Bill Mason taken just last December. And ragtimers.weebly.com contains a wonderful photo history.
Also, in 1961, Trebor met Russ Cassidy and they began publishing The Ragtime Review (1962-1965), named for Axel Christensen's earlier publication by the same title but not to be mistaken for it. This began Trebor's career as a researcher, writer, and teacher. He had a ragtime program on St. Louis radio briefly in 1971 and his weekly Ragophile radio program ran from 1973-1987.
For many years "The Professor" was a professor of sorts, teaching the L27 Music 109 course in ragtime at Washington University. His last class was in the Spring of 2010. Tichenor seemed to always be as interested in ragtime research, performing, composing, and collecting. He was also a natural teacher with both the knowledge and enthusiasm to inspire his students. At one point, Trebor foresaw an international ragtime organization that would have allowed the sharing of music and scholarship through communication among its members, much as it does happen today on the internet.
Around 1965 the Ragtimers moved to the Goldenrod Showboat on the St. Louis riverfront. Frank Pierson and Don Franz had beautifully restored the old river theater and Trebor and the group started their famous Riverfront Ragtime Festival on the boat that ran until the mid-1980s. It then morphed into the National Ragtime Festival.
Trebor and the group were popular entertainers but in addition to his regular performance schedule, Trebor published three vintage sheet music folios, the last published in 2005. With David Jason, Trebor wrote the book Rags and Ragtime in 1978. It traced the evolution of ragtime's various eras with a brief narrative description of each period and with an added series of prominent composer biographies and descriptions of their original pieces for each era. I won't begin to list the many articles and liner notes Trebor wrote in his career.
Over the years, Trebor recorded six albums of his own, nine albums with The Ragtimers and seven albums with family and friends. Trebor's close family began playing together as the Tichenor Family Five and recorded their Family Reunion CD in 2005. Trebor's wife Jeanette (Ethel) died in 1986.
Trebor Jay Tichenor greatly furthered and enhanced the study of America's folk ragtime music through his writing, teaching, composing, performing, and collecting. Of all his many contributions, however, and they are considerable, I would also add another…Trebor was an inspiration. His impact on the ragtime community, especially on young composers, performers, and I must add festival producers, was enormous. This is evidenced by the streams of "pilgrims" who found their way to his home and were greeted by the Tichenor family with warmth and appreciation. Albums of photographs testify that nearly everyone of note in the field was photographed there with "The Professor."
In his tribute to Trebor, David Thomas Roberts summed up the feeling of many who knew the Tichenor hospitality. "Like many of us, I've learned of more underappreciated, near-lost gems of ragtime from Trebor Tichenor than can be recounted. Our shared obsession with small town/folk/country ragtime provided a central foundation for our friendship from the time I was twenty-three and Trebor was thirty-nine, and that devotion never disappeared, no matter our other pursuits. Trebor's sharing of his massive, rarefied knowledge, including access to his collection, was one of the most supportive developments of life in my twenties, and I will always be profoundly appreciative of that. In conjunction with this affinity, our love of the land itself, and especially rural Missouri became an immovable anchor for our friendship form the beginning, and I have no doubt it will remain important to both of us far beyond the deaths of either of us."
The 2019 Scott Joplin Ragtime Festival honored Trebor Jay Tichenor with a tribute concert on May 29th. His talented daughter, Virginia emceed the evening's program. Virginia has the distinction of having been at the first Sedalia festival as a small child. Performers from every era of Trebor's life performed his compositions along side other folk ragtime pieces from his folios. The scheduled performers were The Crown Syncopators, Neville Dickie, Bill Edwards, Marty Eggers, Alex Hassan, Frederick Hodges, William McNally, Dave Majchrzak, Oliver Moore, John Reed-Torres, The Rhythmia, Dalton Ridenhour, Martin Spitznagel, Virginia Tichenor, and Bryan Wright.
It is a blessing to be allowed to use this column to celebrate and extend my personal appreciation to so many who have enriched and informed my life, and, I must add who will always be with me. Thank you Trebor.