Adrian Cunningham: The Professor Swings
Australian-born Adrian Cunningham got hooked on jazz early in life listening to his father's collection of 78 RPM records. As he began to achieve success early in his career in his native country, he realized that if he wanted to play American jazz, he should live in America and to be part of the culture of the people that created the music.
Following graduation from the Sydney Conservatory of Music with an Honors degree in Performance in Jazz Clarinet, he organized and toured with his own band, was a member of the famous Galapagos Duck and the Sydney All-Star Big Band, and played at the prestigious Montreux Jazz Festival in Switzerland.
One of Adrian's college professors recommended that he take lessons from Grammy Award-winning clarinetist Eddie Daniels, who is considered a virtuoso in both jazz and classical music and who formerly played with the Thad Jones/Mel Lewis Orchestra. Adrian did so on two occasions at Daniels' home in New Mexico.
– Visiting the Big Apple –
Adrian visited New York City in 2007, primarily as a tourist, but also to check out the local jazz scene and get a few lessons. He was so inspired that when he returned to Sydney, he realized he probably would never play at the level he heard in the Big Apple living in Australia. "I knew I just had to give it a try, or I would regret it for the rest of my life. I needed to make that connection."
The transition was not easy in trying to establish himself in a highly-competitive music environment. "It was tough, but challenging. It was important to make the most of every opportunity and to follow through with every contact I was able to make. In my first week, I was looking for a room to rent and checked out a place in Brooklyn. It turned out that the guy living there was a musician with the Baby Soda Jazz Band, and we got to talking. He invited me to sit in on his gig that Saturday night, and I subsequently joined Baby Soda for what became my first regular Saturday night gig."
– Busking for Tips –
"I would go busking in Central Park three or four days a week and met some great people. It was quite a humbling experience playing for tips in front of people like Alec Baldwin, Owen Wilson, and Keith Jarrett. But I was fortunate in finding work very quickly in the traditional jazz scene with a whole generation of young musicians who were reviving the music. I also connected with some of the more established musicians like Ed Polcer who were helpful in my getting established in a new city."
He soon was performing at all the top jazz clubs: Blue Note, Birdland, Smalls, Dizzy's Club at Lincoln Center, and the Village Vanguard. For two years, he was the leader of the saxophone section of Vince Giordano's Nighthawks, which he called "a real education in traditional jazz." He formed his own New Orleans-style band: Professor Cunningham and His Old School, which has become one of the top groups in the international Swing scene, garnering numerous awards along the way.
Explaining how he settled on the name of his band, "Since the band was playing traditional rather than contemporary music, I wanted to distinguish it from my more modern or original music. So I thought . . . . old music…old school. Then I thought . . . .old school…teacher…professor! And the rest is history."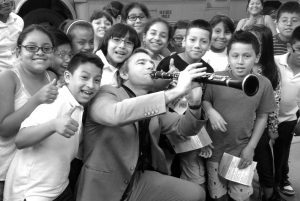 – Fortunate Experiences –
"I've been fortunate to play with some wonderful people in all sorts of situations. I played the Montreux Festival two years in a row with blues singer Sweet George Brown. Recently I've been touring and recording with trombonist Wycliffe Gordon, whom I consider a musician with a spirit closest to Louis Armstrong. In one of those surreal moments, I did a big band gig with trumpet legend Lew Soloff (formerly of Blood, Sweat & Tears), for which we were each paid $30."
"I got to play Carnegie Hall in 2016 where I performed one of my own tunes with the New York Concerti Sinfonietta. I'm happy going up to the American Legion Post in Harlem and playing for the amazing Harlem community. I also love playing events around the world for all those swing dancers. It blows my mind when I see 100 young people dancing to the music of Duke Ellington."
– Multi-Instrumentalist –
His instruments have been described as "a breathy tenor sax, fluid clarinet, and cirrus-sounding flute." As to his favorite, he responds, "It's like asking a parent which is his favorite child. I choose the instrument according to the song. The saxophone—and he plays both tenor and alto—is definitely the most prolific of the woodwinds at the moment. The clarinet requires a stricter technique than the sax as well as greater discipline and more practice to get it sounding good. The flute has been present in jazz since the early days, but not as a major voice."
"Each instrument has a unique quality and character that I love to explore. When I pick up the flute, I am a flute player, not a saxophone player who plays the flute. When it comes to recording, I much prefer live recordings which have a very special quality to them; a spontaneity and energy not often found in a studio setting. I want to capture the heat of the moment."
– Composing Musical Pictures –
Adrian enjoys composing heart-warming songs by reflecting on the emotions he has felt through a variety of life experiences, which in turn, he feels allows his audience to share these emotions as they listen to him play. A promo for the artist stated, "Adrian Cunningham has the incredible ability to paint a musical picture and capture the energy of the moment with his melodic songwriting and improvisation." His songs have been featured in the in-flight programs on Qantas, Delta, and UAE Airlines.
It's all happened in a little over 10 years since this Aussie transplant landed on America's shores. While he spends much of his time performing overseas, the United States has become his home base. He sums up what he has accomplished over the past decade, saying, "Success is a series of small steps. Each year provides more opportunities and forges new relationships. I don't really have a master plan as to where I'm headed. I just want to be the best that I can."
---
Online Only
For Online Only Access without delivery of the print paper sign up below.
Subscription Options
---
Print Edition
 If you'd like the PRINT EDITION, (12 monthly issues) use the following PayPal link. After your payment is complete you will be allowed to create an online account. You will receive the next mailed copy, usually shipping around the 22nd of the month. See a PDF Sample Here.