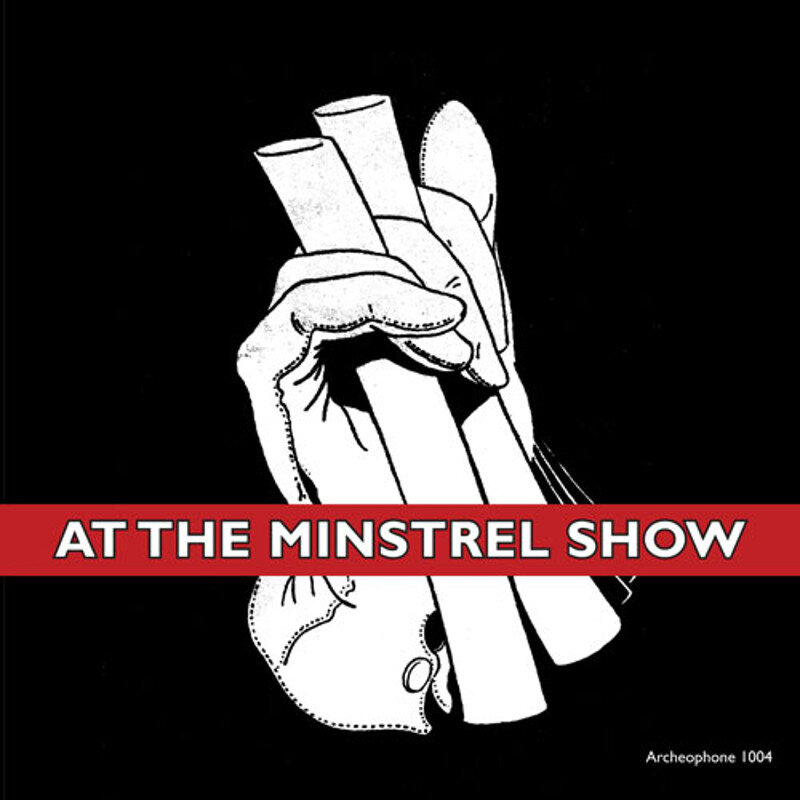 The Archeophone label makes early recordings available to the public accompanied by comprehensive liner notes that are often nominated for Grammy's. Past efforts have included Real Ragtime, a collection of ragtime recordings from the first boom in the 1890s.
Recent releases have included a 4 track 45 rpm record of banjo recordings from the 1890s, a collection of  Gus Haenschen recordings that some are calling the first jazz records, an anthology of Arthur Fields, and a collection of James Reese Europe related material, that like their newest release was associated with a book, in that case The Product of Our Souls: Ragtime, Race, and the Birth of the Manhattan Musical Marketplace. Serious historians of music await their releases eagerly.
At the Minstrel Show: Minstrel Routines from the Studio, 1894-1926 was 16 years in the making.  It bears the catalog number 1004 to prove it. They reserved that space as they awaited the extensive research conducted by media historian Tim Brooks for his book, The Blackface Minstrel Show in Mass Media. That research also aided the selection of the 51 titles and the 55 pages of liner notes contained in this double album. It was worth the wait.
Through the generosity of several notable collectors they were able to assemble three early efforts, on three different labels, to recreate a complete minstrel show. The limitations of the medium were overcome by offering a series of discs to be played chronologically. In the case of Victor the effect is complete. The eight disc set begins with the traditional "Gentlemen, be seated!". After some sketches and songs there is what may be a very authentic recreation of a cakewalk competition, and even a disc representing an afterpiece play.
The success of the Victor release in 1902-3 inspired a quick follow up from Columbia available as 12 discs or cylinders. Edison offered his own six cylinder set in 1906. These three attempts at complete blackface minstrel show reproductions comprise disc one of this album.
Disc two mostly consists of recreations of minstrel "first parts". Distinct from other comedy records of the time these cylinders and discs, some incredibly rare, specifically intended to give the feel of a minstrel show to a home audience. They often start with "Gentlemen, be seated!", and mix puns, banter between end men, and a chorus from a song or two.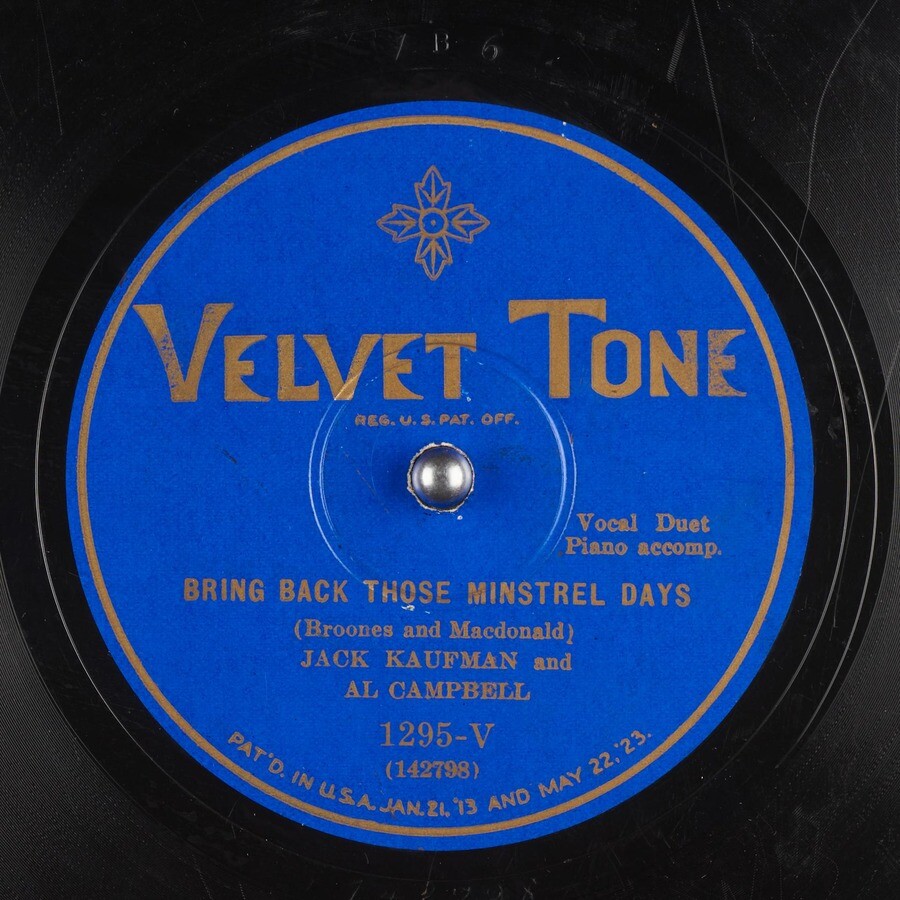 Disc two also features several popular songs about minstrel shows including Arthur Collins singing "I got to see de Minstrel Show Tonight." While these don't fit the albums premise of recordings intended to recreate shows they do provide context and a glimpse at how audiences felt about them.
The album, which could be thought of as an illustration for the book, helps us to understand the experience the turn of the century public had attending a minstrel show. The sense of exuberance and good fun they craved. The greatest comedic actors of the time, white and black, participated in minstrelsy. Seeing it through their eyes, as a nostalgic traditional format for entertainment, helps us to understand how blackface minstrelsy continued in all the other media chronicled in the book, including a presence on 1950s television and at 1960s community shows.
Are these recordings an accurate depiction of what you might hear on the minstrel stage? Tim Brooks, open to deciding otherwise, has concluded that they are. Obviously a stage show would involve more people than most of these recordings, and be many times longer, but nearly all of the actors involved had real minstrel show experience. What's more, the buying public knew what a show should sound like and wouldn't be fooled.
An interesting feature of these discs is how many how many of these recordings featured integrated casts. I was fully aware that African Americans were among minstrelsy's biggest stars. In many cases, because the participants used pseudonyms or weren't listed on sales materials, the buying public wasn't sure whether the voice on record was a white man in blackface, or a black man in blackface. But what surprised me was integration in the studio.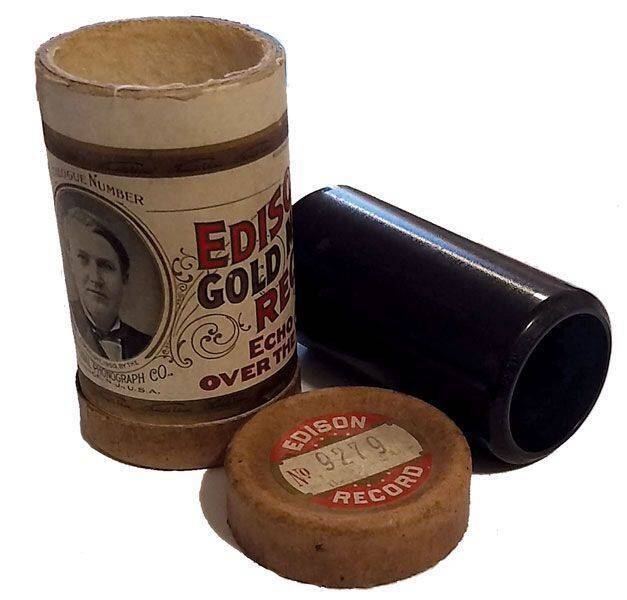 Several records feature black performers like George W. Johnson beside recording stars like Billy Murray. The Ancient City Quartette, an African American group, provides the chorus behind white comedians on other records. Beyond that, a large number of the compositions featured were written by African Americans including Gussie L. Davis, Bob Cole, Will Marian Cook, and several more.
While some of the dialogue, word usage, and power structures on the recordings are offensive, most of the humor and song is not predicated on race. For example, "My Wild Irish Rose", presumably sung in blackface, is included in a minstrel "first part" on disc two. One could listen to most of this in public drawing more confusion than ire but headphones will help bring out nuances on the recordings and I recommend them.
Collectors of cylinders and other early recordings will be familiar with some of the names involved including Len and Harry Spencer, S.H. Dudley, Billy Golden, Vess L. Ossman, Henry Burr, Jack Kaufman, and Dan W. Quin. Some of these men are familiar as serious vocalists rather than actors. and it is interesting to hear them in this setting.
But this album deserves to be found by a much greater audience. The minstrel show was the quintessential American form of entertainment in its time, it set the stage for vaudeville, variety shows, buddy comedies and joke structures common even today. This album is a glimpse at what stage entertainment was like in America at the earliest point that we can hear it for ourselves.
At the Minstrel Show: Minstrel Routines from the Studio, 1894-1926, Archeophone 1004, Archeophone.com

Joe Bebco is the Associate Editor of The Syncopated Times and Webmaster of SyncopatedTimes.com. He is available for liner notes and other writing or to give your website an overhaul. Reach him at [email protected]