Basin Street Regulars Send 12 Students to Jazz Camp
Every year the Basin Street Regulars raise money to send students to jazz camp, and this year we were able to sponsor twelve students at the Teagarden Jazz Camp and two students at the Cuesta College Summer Jazz Workshop. The Teagarden Jazz Camp is open to young musicians between the ages of 12 and 20 who play trumpet, trombone, clarinet, saxophone, piano, bass/tuba, drums, or banjo/guitar, as well as vocals. They only accept 10 of each instrument for each week of camp, so they are limited to a total of 90 campers per week. Preference is given to campers who are sponsored by their local jazz society. Tuition ($695 for 2018) includes meals, lodging, and study materials.
When students first arrive at camp they will audition, so the faculty can see their ability, then will be split up into bands according to their skill levels. Teachers work with them each day and every night they will showcase what they learned. The camp also has competitions such as corn husking, carrying water in a sponge, and other things to just have fun. The band that is awarded the most points at the end gets a pizza party. The campers also get to go hiking, play basketball and volleyball, and have a dance on Friday night. The camp is mainly about keeping traditional jazz and Dixieland music alive, but also allows time to have fun and form friendships. The last day of camp ends with a formal concert for parents, friends, and spectators.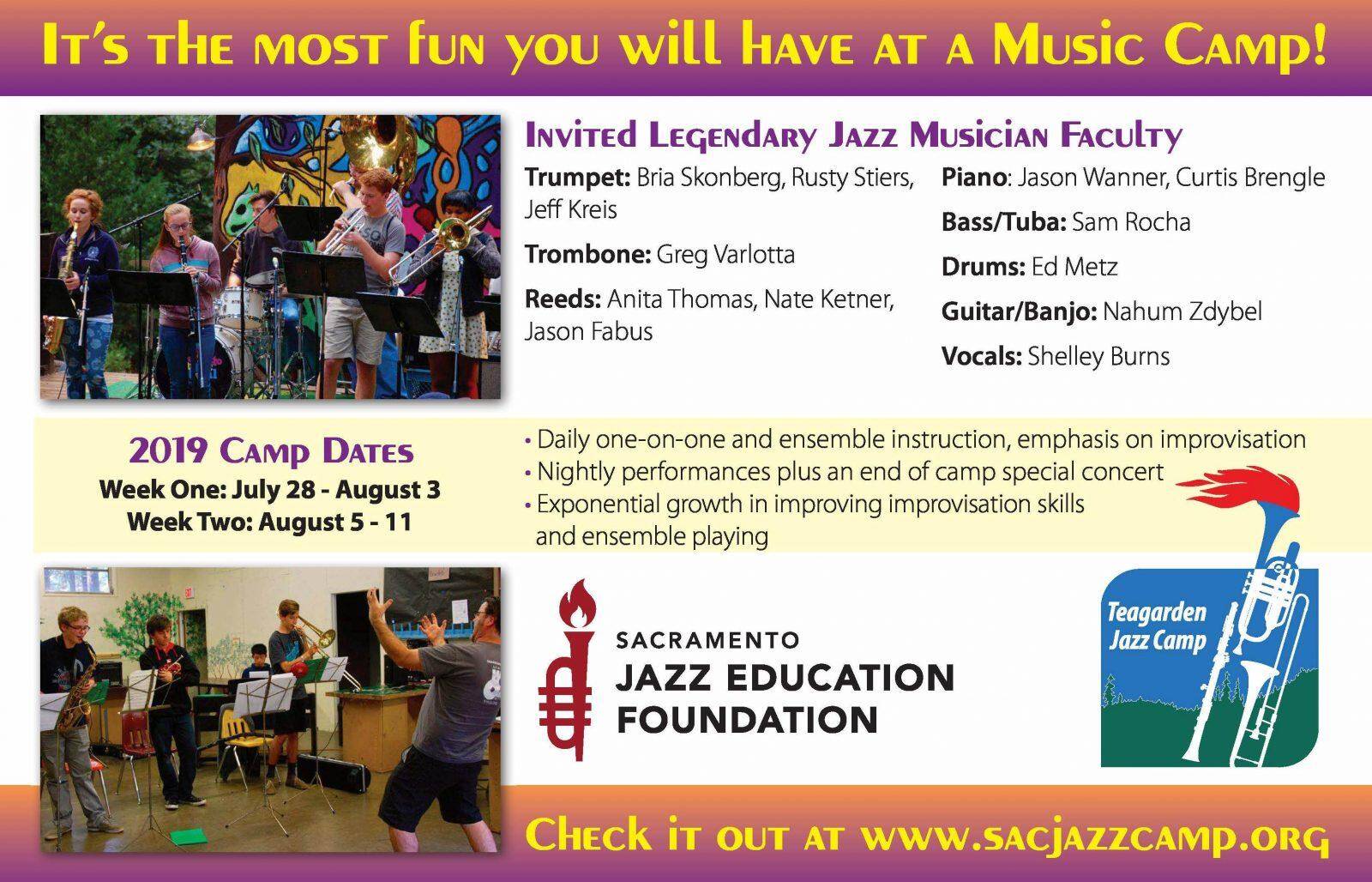 All the students appreciated the experience of camp, as evidenced by their comments afterward. Roman Baker was impressed with how friendly the other campers were and that everyone was so willing to help the students improve. Lauren George added that camp helped her build up her confidence. Andrew Heffler said the music theory class was very helpful and informative. Both Roman and Andrew remarked that they learned more in one week of camp than in a year of band at school.
To go to camp, students must first contact the Jazz camp online at www.sacjazzcamp.org and register themselves and their instruments; they can apply for a BSR scholarship once accepted.
For application information, please visit www.pismojazz.com.
---
If you would like to donate to our scholarship fund, please send a check to the Basin Street Regulars Scholarship Fund at P.O. Box 356, Pismo Beach, CA 93448.