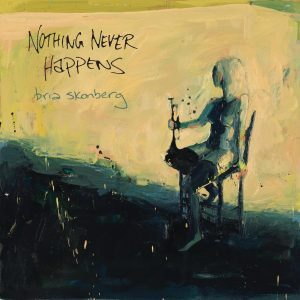 Bria Skonberg, who made her recording debut back in 2002 and has led her Mighty Aphrodite Jazz Band (a fine classic jazz band) since at least 2005, released two albums under her own name before leaving her native Canada for New York in 2010.
She has since made a strong impact on the NYC Classic Jazz scene as a hot trad trumpeter and an enthusiastic singer. However her two most recent albums for Sony, Bria and With A Twist, cast her as a Peggy Lee-influenced vocalist who also played a little trumpet, diluting her individuality.
Sad to say that her most recent recording, Nothing Never Happens (which she released herself) has almost nothing to interest the classic jazz fan. Skonberg performs eight originals with a septet that also includes organist Jon Cowherd, pianist Mathias Picard, guitarist Doug Wamble, bassist Devin Starks, drummer Darrian Douglas, and saxophonist Patrick Bartley.
Whether it is the opening r&b-oriented "Blackout," the country/folk ballad "Square One" (which finds the leader emulating Norah Jones),or the pleading and ultimately angry trumpet on "Villain Vanguard," those who enjoy hearing her play 1920s style jazz and swing will be disappointed.
There is a New Orleans-type dirge "So Is The Day" (which ultimately goes completely over the top), a bit of "Black And Tan Fantasy" on "Blackbird Fantasy," and the Cannonball Adderley-type soul jazz of "I Want To Break Free" (which has her best trumpet playing of the set), but not much happens throughout Nothing Never Happens, a largely forgettable recording that successfully hides Bria Skonberg's trad roots.
Nothing Never Happens (Self-released, 8 selections, TT = 41:27) www.briaskonberg.com