Jazz trumpeter Buck Clayton published a colorful and sincere autobiographical memoir thirty-five years ago. His literary voice is not unlike the mellow and tasteful tones of his horn that graced some of the biggest hits of the Swing era.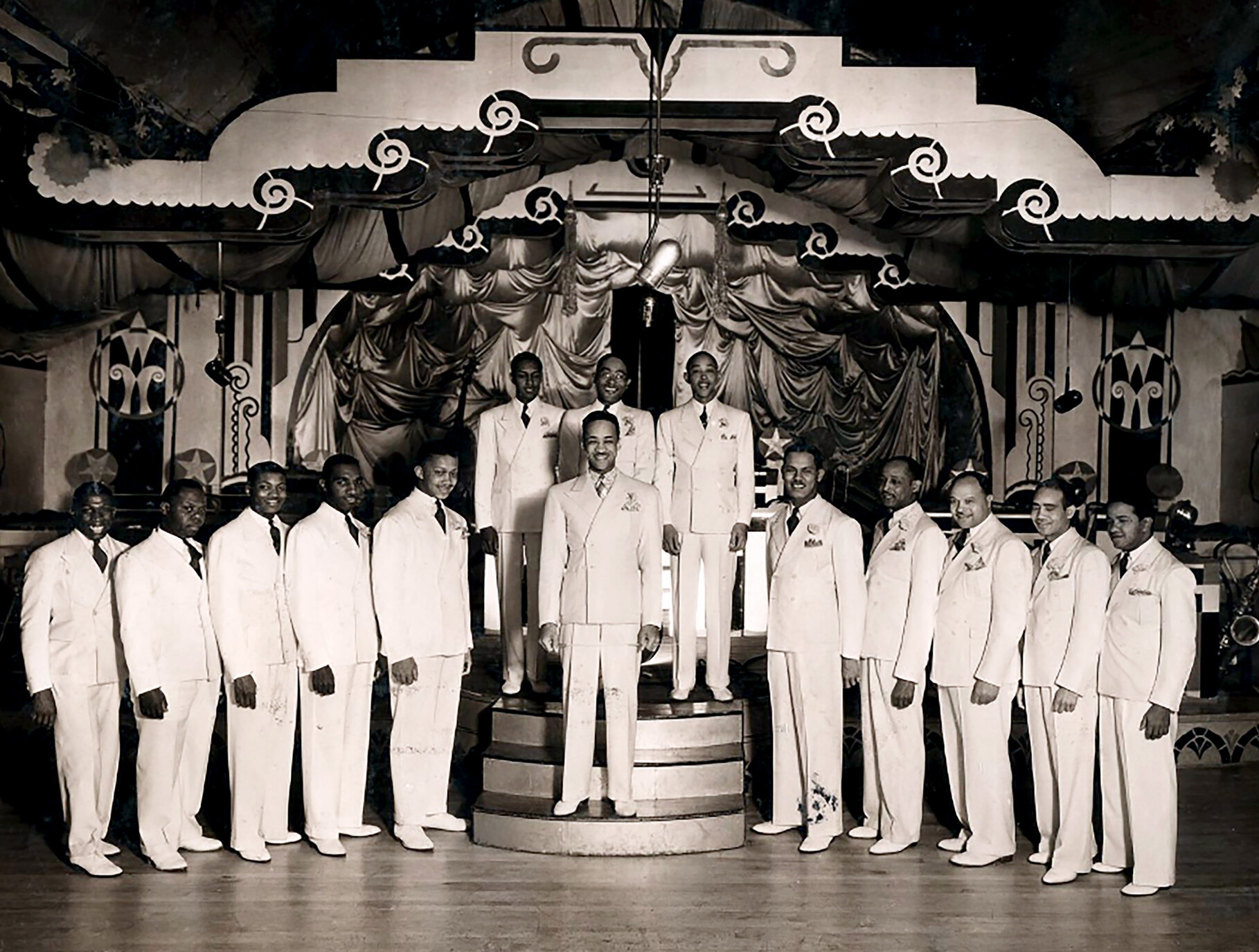 The book includes a comprehensive and detailed discography. The 24-page appendix cites all his known audio recordings (issued or not, excluding Basie) and television appearances, from 1937 to his last recorded public performance at Carnegie Hall on June 30, 1984 in the Kool Jazz Festival.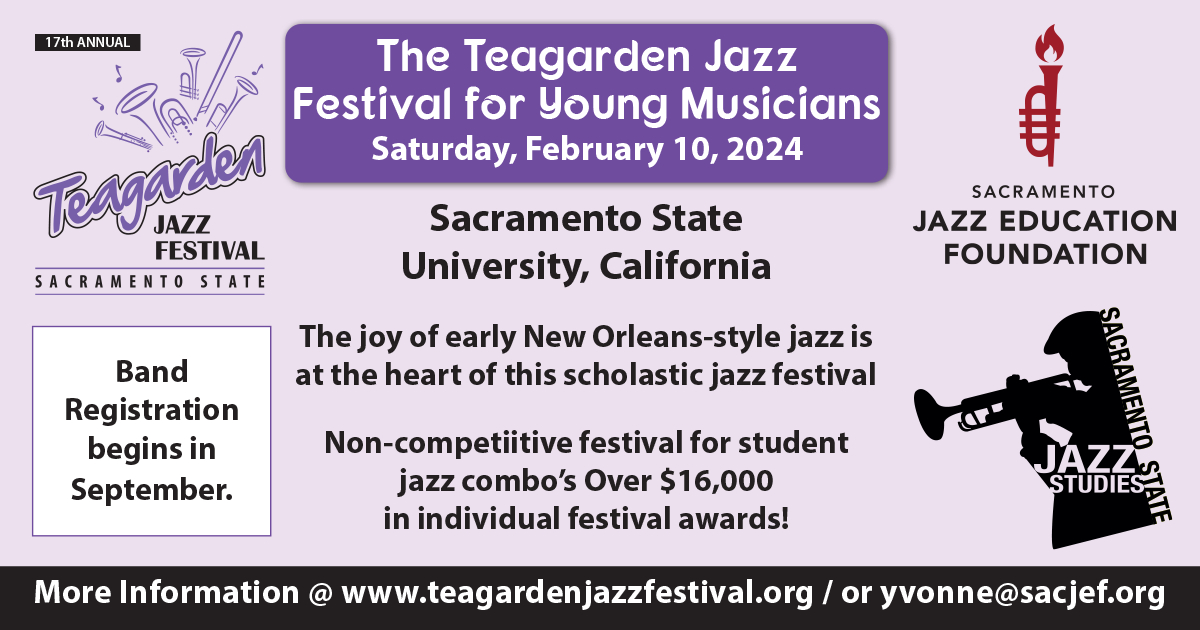 Returning to Los Angeles in 1935 after an adventure of nearly two years performing in Shanghai, China, Wilbur "Buck" Clayton  (1911-1991) put together another band of Harlem Gentlemen and toured on the West Coast Pantages Theater circuit. In late 1935 and early 1936 he led yet another version of the orchestra at Sebastian's Cotton Club in Los Angeles (Culver City) which included tenor saxophonist Herschal Evans and drummer Lee Young, Lester Young's brother.
Joining Basie in Kansas City, 1936
Clayton was born and raised in Kansas, but that's not how he became part of the Kansas City music story. He just happened to be passing through, headed to a job with Willie Bryant after visiting his family in Parsons. Buck already knew several of the musicians and his reputation preceded him. The orchestra needed a new trumpeter to replace Hot Lips Page. "Introduced to Basie I found him to be a nice congenial cat that knew all the answers" he writes.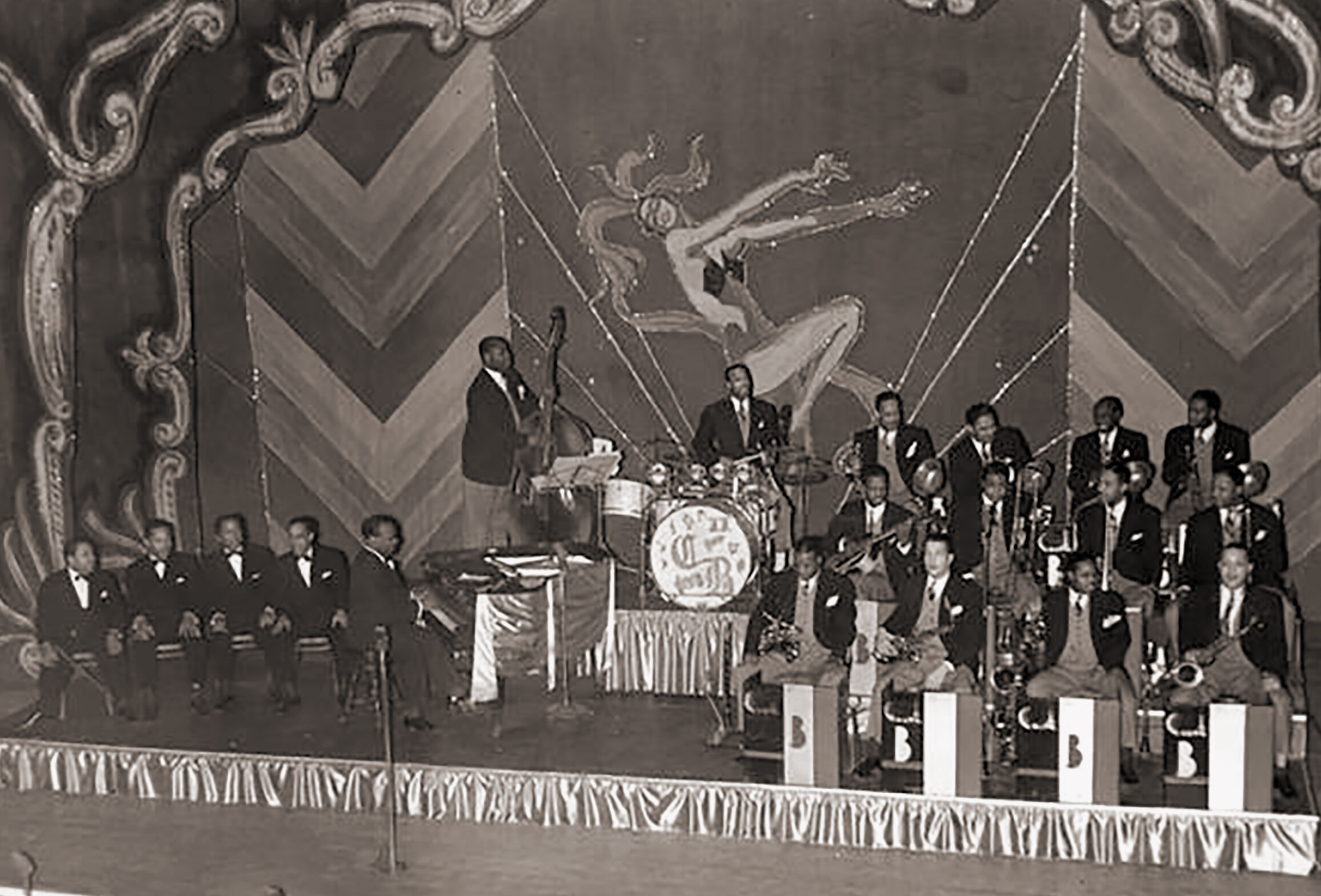 He was shocked to be offered a salary less than half of what he had made years earlier at a taxi-dance hall back in L.A. but took the job anyway "spellbound" by what he heard. His timing proved auspicious; the orchestra was soon adopted by impresario John Hammond, moved to New York and hit it big on radio, records and in the concert hall.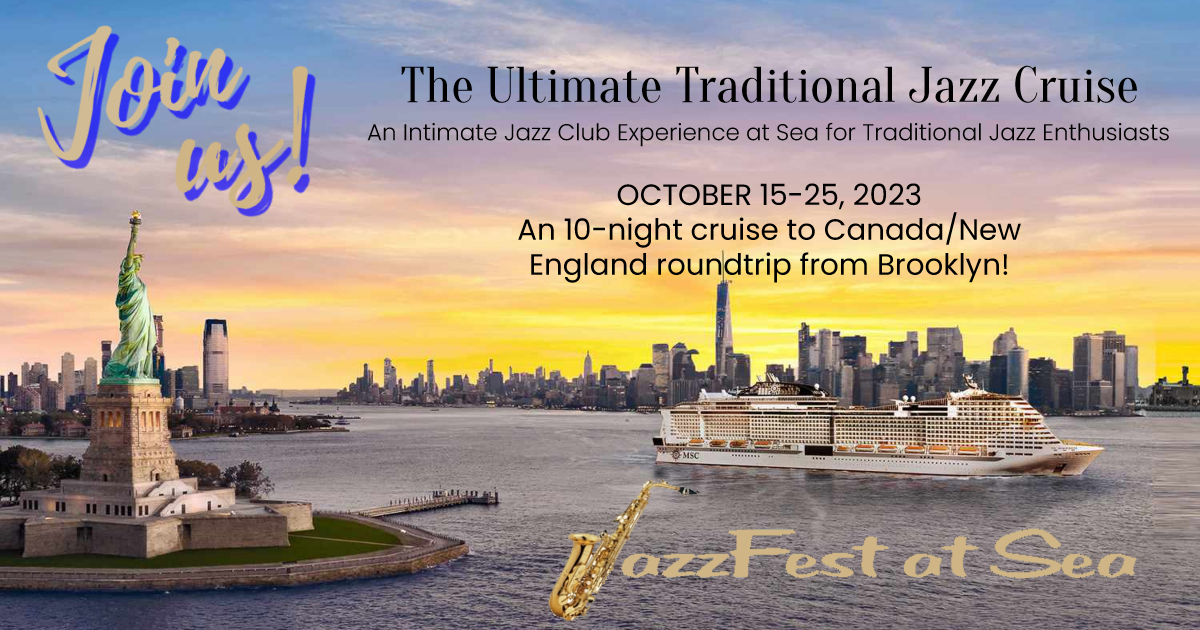 His distinctive muted trumpet was a key textural element of the Basie hits. And he was essential to the landmark small-band recordings of the Kansas City Five, Six and Seven (1938-41), co-starring in those combos with trombonist Dickie Wells, saxophonist Lester Young and electric guitarist Eddie Durham.
A perfect match for the Basie orchestra, Clayton is heard on EVERY recording session of the original so-called 'Old Testament' band, from its 1937 emergence on disc to 1943, more than 200 sides. He was unofficial music director contributing tunes and arrangements. Drawn to the inner circle he became an integral component.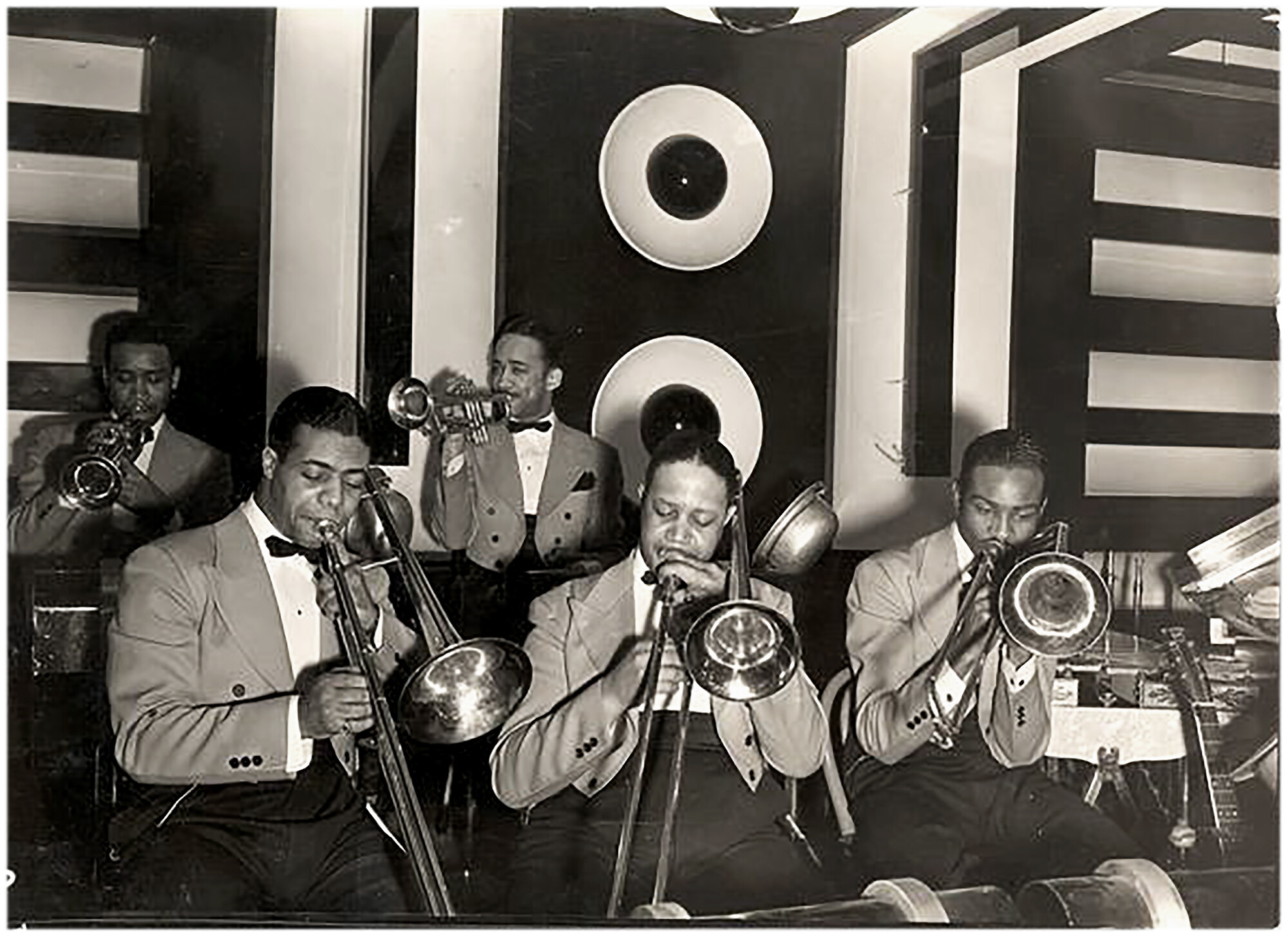 Swingin' the Blues in KC
The chapter about Basie and Kansas City is his longest at forty pages. Enthralled by his recollections of the wide-open Jazz town, Clayton tells beguiling tales of its legendary dive bars: The Sunset Club, Florida Blossom and the Movie Chateau:
I liked Kansas City more than I thought I would. In the clubs, beer was five cents, whiskey was fifteen cents and scotch was twenty-five cents. There was always guys pushing wagons that were full of sandwiches, boiled potatoes, clams, fried chicken and all kinds of goodies, and they were all cheap . . . Everything was cheap in Kansas City at that time.
Buck offers insights on their threadbare road tours before anyone knew who the band was and dishes dirt on high times at the Reno Club where Basie held forth in the early days: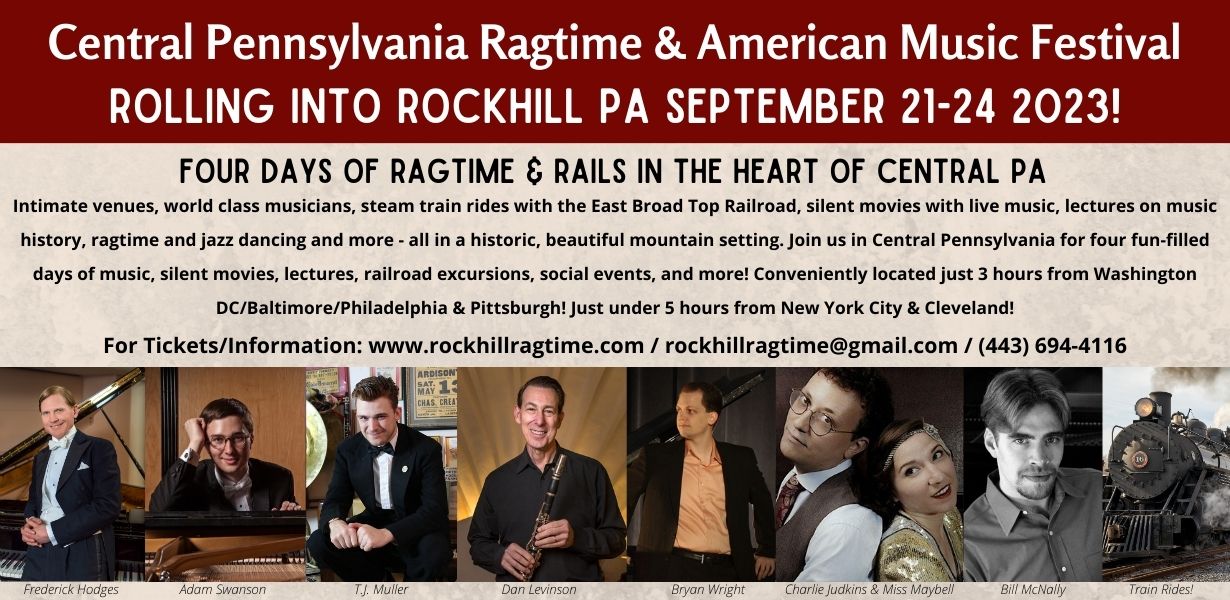 In back of the Reno Club there was an open space where the band used to go out and turn on during intermission. I remember Lester taking me out in the backyard, as we called it, and light a stick of pot and then looking at me with those big eyes to see if I really knew how to smoke pot or if I was just pretending. After he scrutinized me for a few minutes he said, "Well, he really knows how."
Clayton's tenure with Basie ended when he was drafted in late 1943. Briefly in the US Army during the Second World War, he was stationed in New Jersey and encouraged to continue playing and jamming. Performing under the leadership of Sy Oliver and Mercer Ellington (Duke's son) he won an Esquire Gold Award for "Best Musician in the Armed Forces." After the war Buck had a sextet in residency at Café Society in New York City.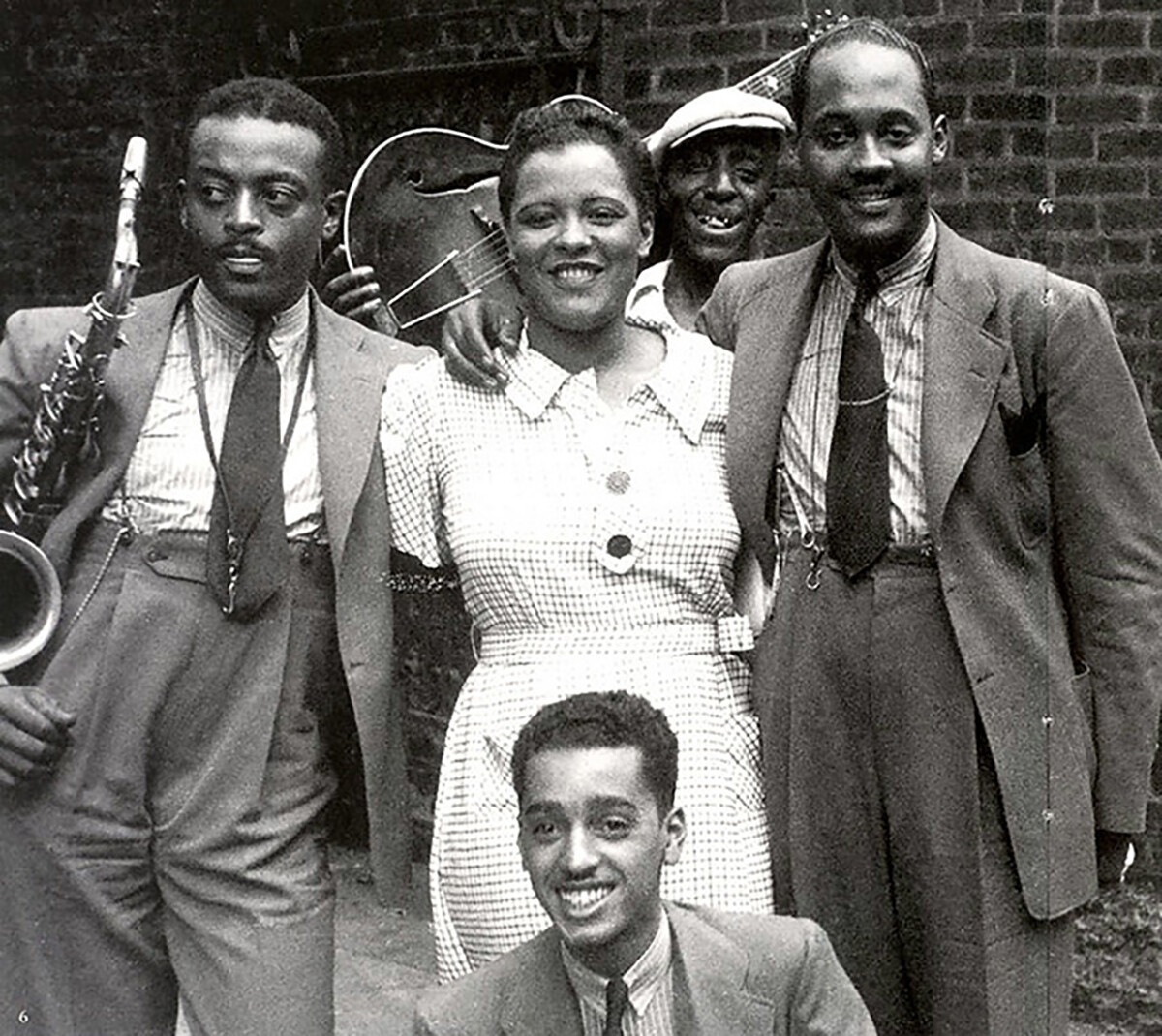 With Billie Holiday
The Basie chapter also encompasses his recollections of Billie Holiday who sang briefly with the Basie orchestra. Holiday and Clayton became very close and at some point, were almost certainly lovers. He's on about thirty songs from her classic recording sessions. The intimate musical partnership of Billie, Buck and Lester set a high benchmark for empathic interaction between jazz horns and singer.
And Clayton had a role in some of Holiday's later sessions, television appearances, and her Carnegie Hall appearances of 1955 and 1956. The former was a celebration of Kansas City Swing starring Lester Young, Count Basie, guitarist Freddie Green, drummer Jo Jones and bassist Walter Page – a reminder that some of her closest musical associates had often been on loan from Basie.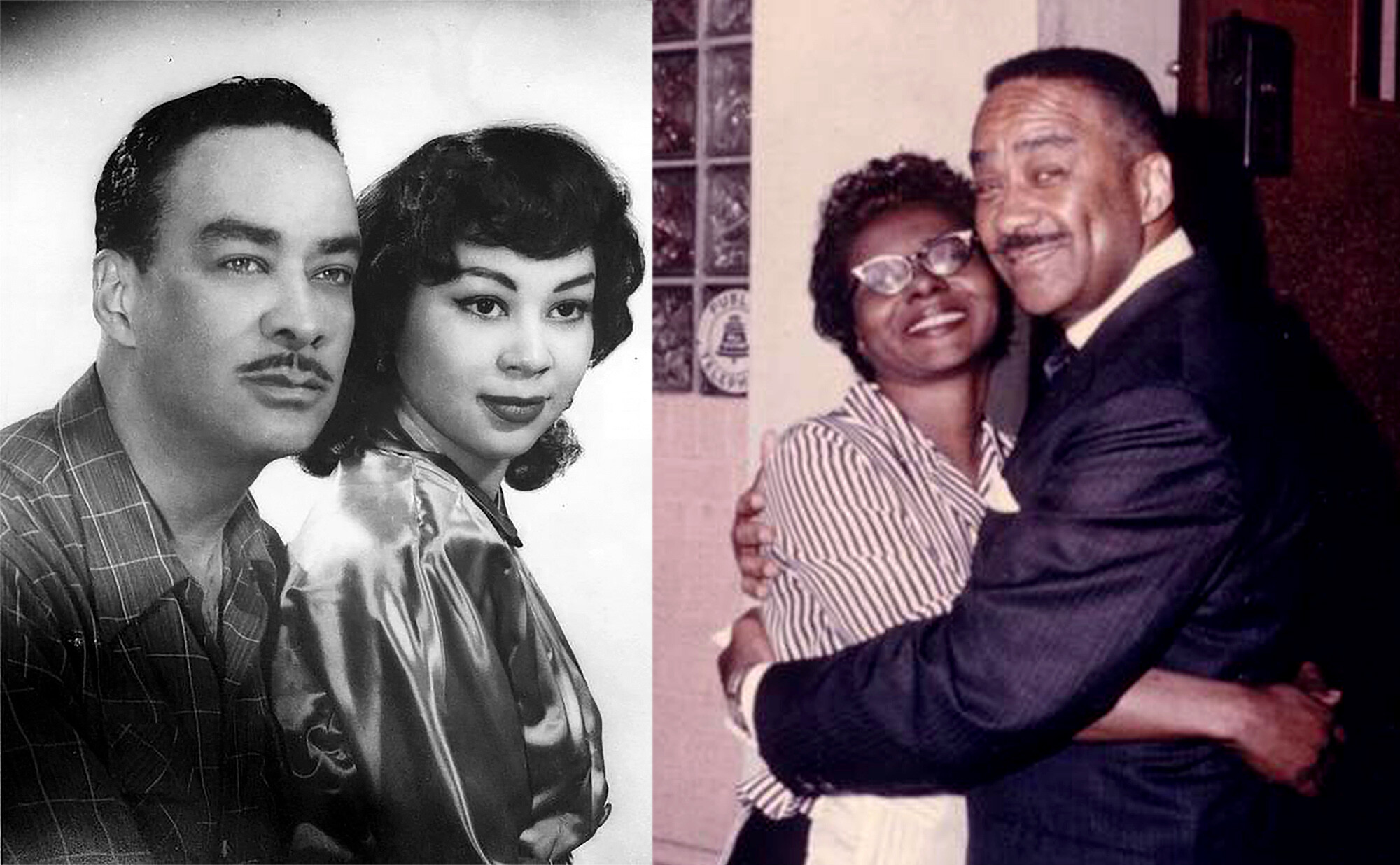 Marrying Patricia DeVigne, 1946
Buck writes that his second wife Patricia Roberta DeVigne was "a striking girl" of ethnically-mixed French heritage with a big heart: "This time I really had no doubts . . . I was proud of Pat and really enjoyed being with her all of the time." But first he needed to finish his commitment to the American armed forces and dissolve a defunct marriage to Derb Clayton.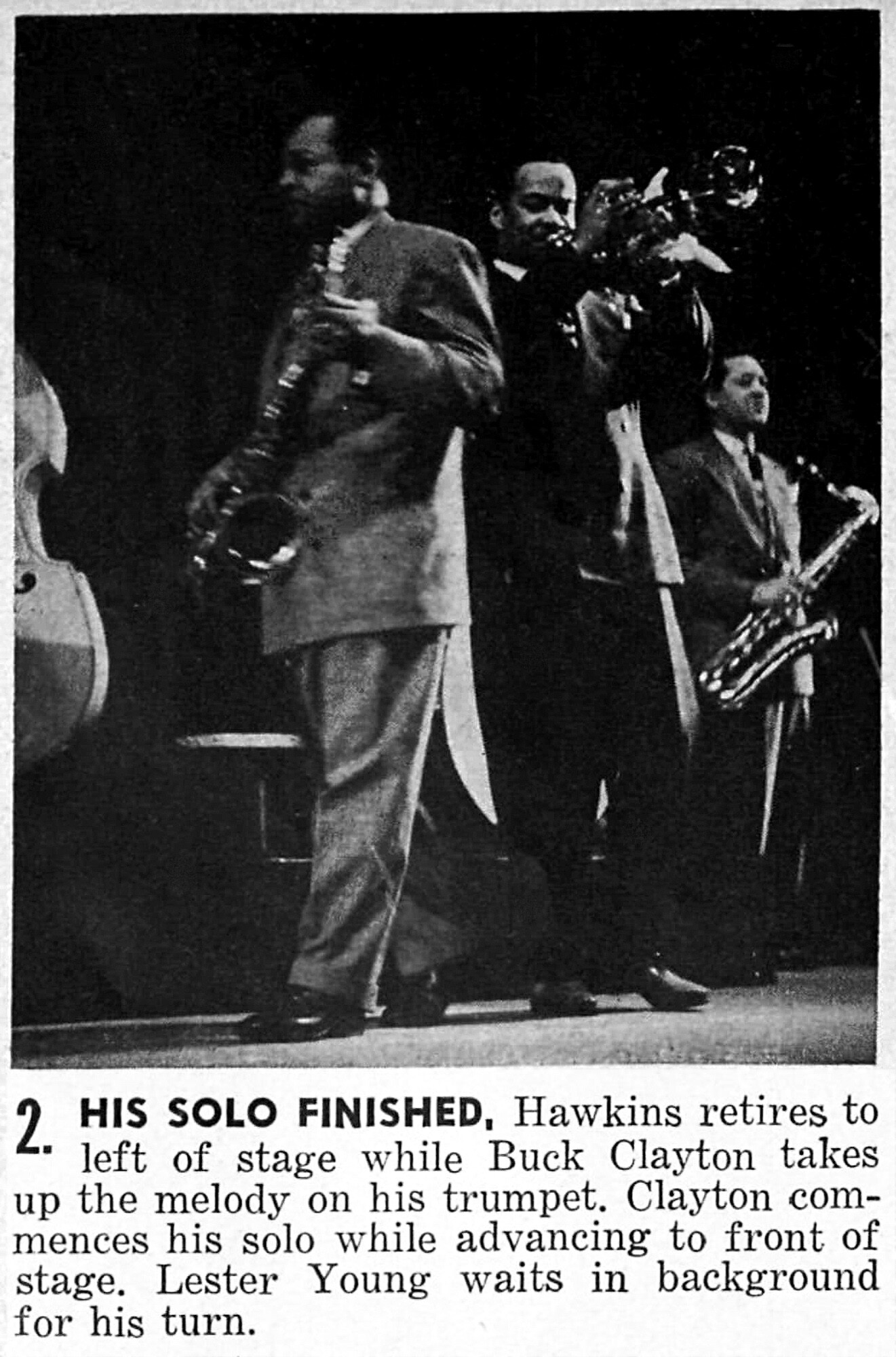 The private wedding ceremony of Buck and Pat Clayton was a noteworthy contrast to his celebrity-studded nuptials hosted by Duke Ellington at the Paramount movie studios a decade earlier. Nonetheless, they took their honeymoon traveling with the 1946 cross-country tour of Jazz at the Philharmonic featuring tenor saxophonists Lester Young and Coleman Hawkins. "It was the greatest thing in the world to be put between these two giants," he writes:
Coleman was cool so was Prez. These two giants of the tenor got along like they had been together for some time. They knew it was a continued cutting contest but neither of them doubted his own ability. It was like a weight-in for the two heavyweight champions of the world. . . Hawk and Prez were friendly toward each other and never showed any sign of jealousy, which to me meant that they were real professionals.
'Monsieur la Trompette'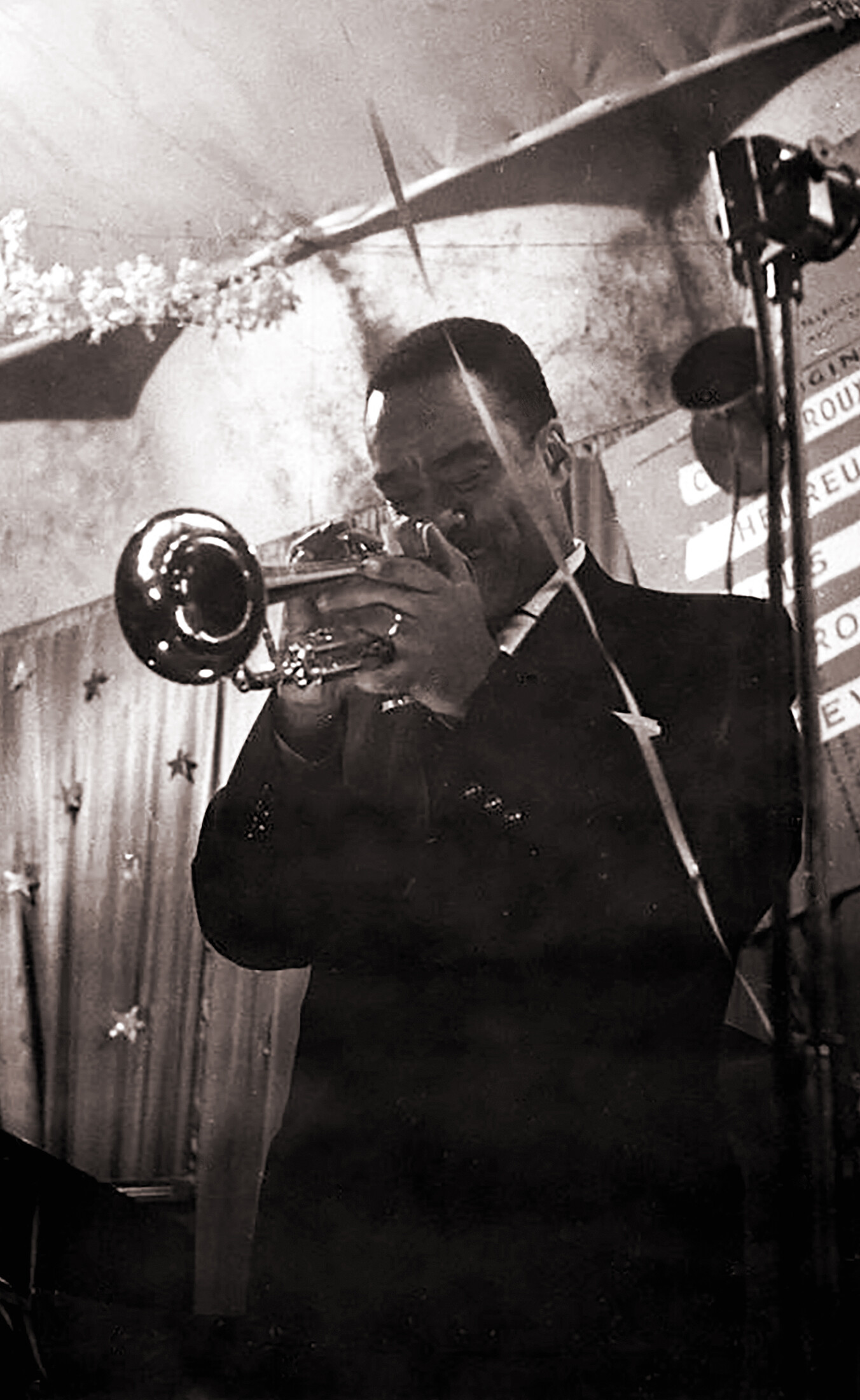 Clayton was first invited to France in 1948 by Jazz writer and critic Hughes Panassie. Though practically unknown there at the time, Buck embraced the project heartily, learning the language in advance. He was eager to imbibe what France had to offer in regional history, wine and food: "It was beautiful, and the people were beautiful. I loved French cuisine from the very start. We traveled practically all over France." He returned numerous times.
Buck settled in Paris for several months sampling the neighborhoods. "I decided to live for a few weeks in different section of Paris," finding he preferred Place Pigalle:
. . . where I found life to be more active than any other section . . . after 2:00 am the streets would be full of life. That's where all the real action was. They used to call me "Monsieur la Trompette."
I left Paris with a rather heavy heart because I really did like the city. . . but I think that if I hadn't been married I would have stayed in Paris like some of my lifelong friends.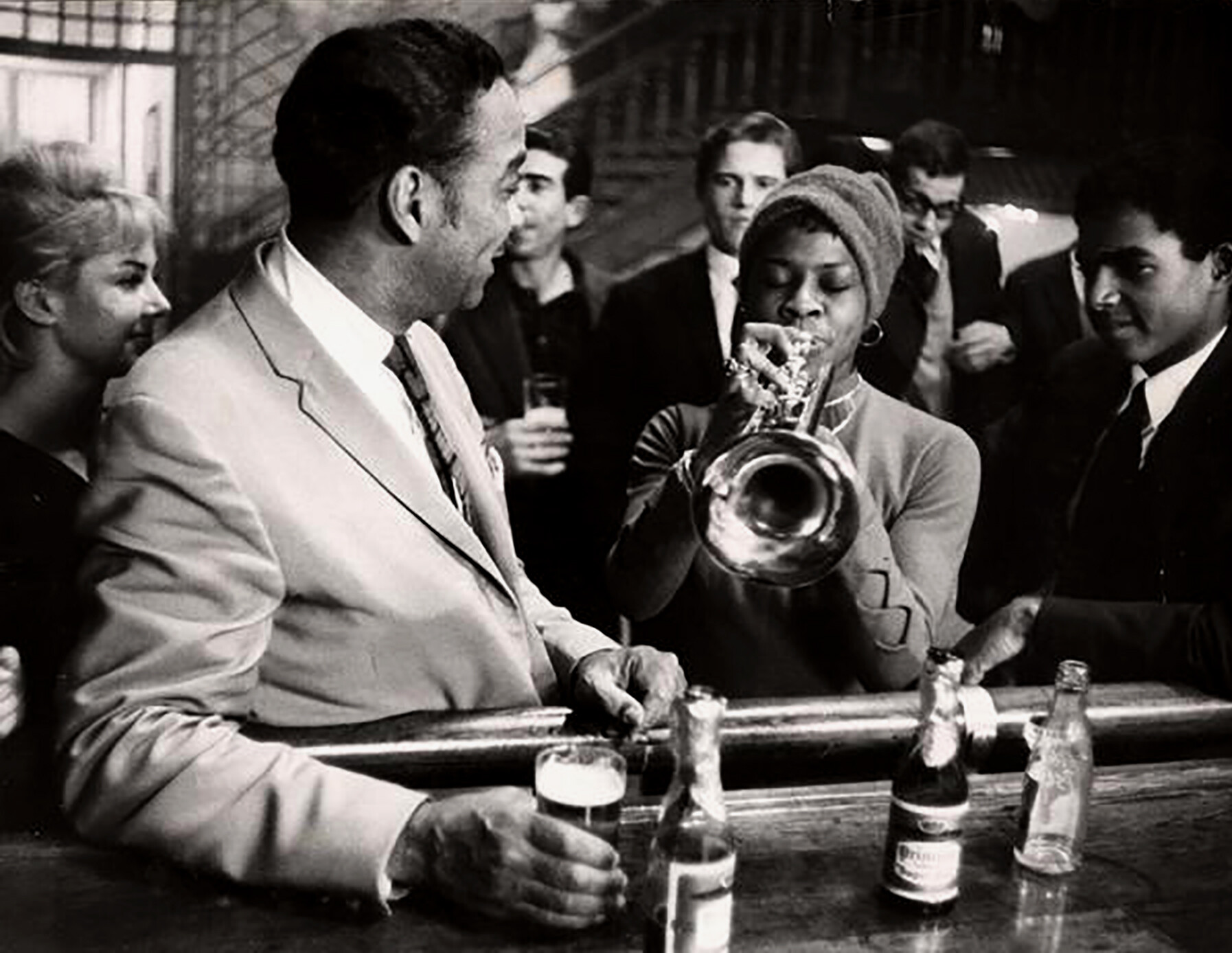 Buck and Humph: Trumpet Brothers, 1964-66
Buck writes:
I do believe that when I was playing with Humph I was at the peak of my career. Maybe it was because of my playing with him, I don't know, but I never felt better playing in my life than I did when I made the tours with Humph.
Humphrey Lyttleton  (1921-2008) was the most popular and charismatic British Classic Jazz horn player of the 1950s and '60s. An astonishing polymath, he excelled in music, the arts and public media. He mastered Jazz trumpet and clarinet, arranging and composing, managed his own nightclub in London and was a celebrated British cartoonist, beloved radio host and television personality.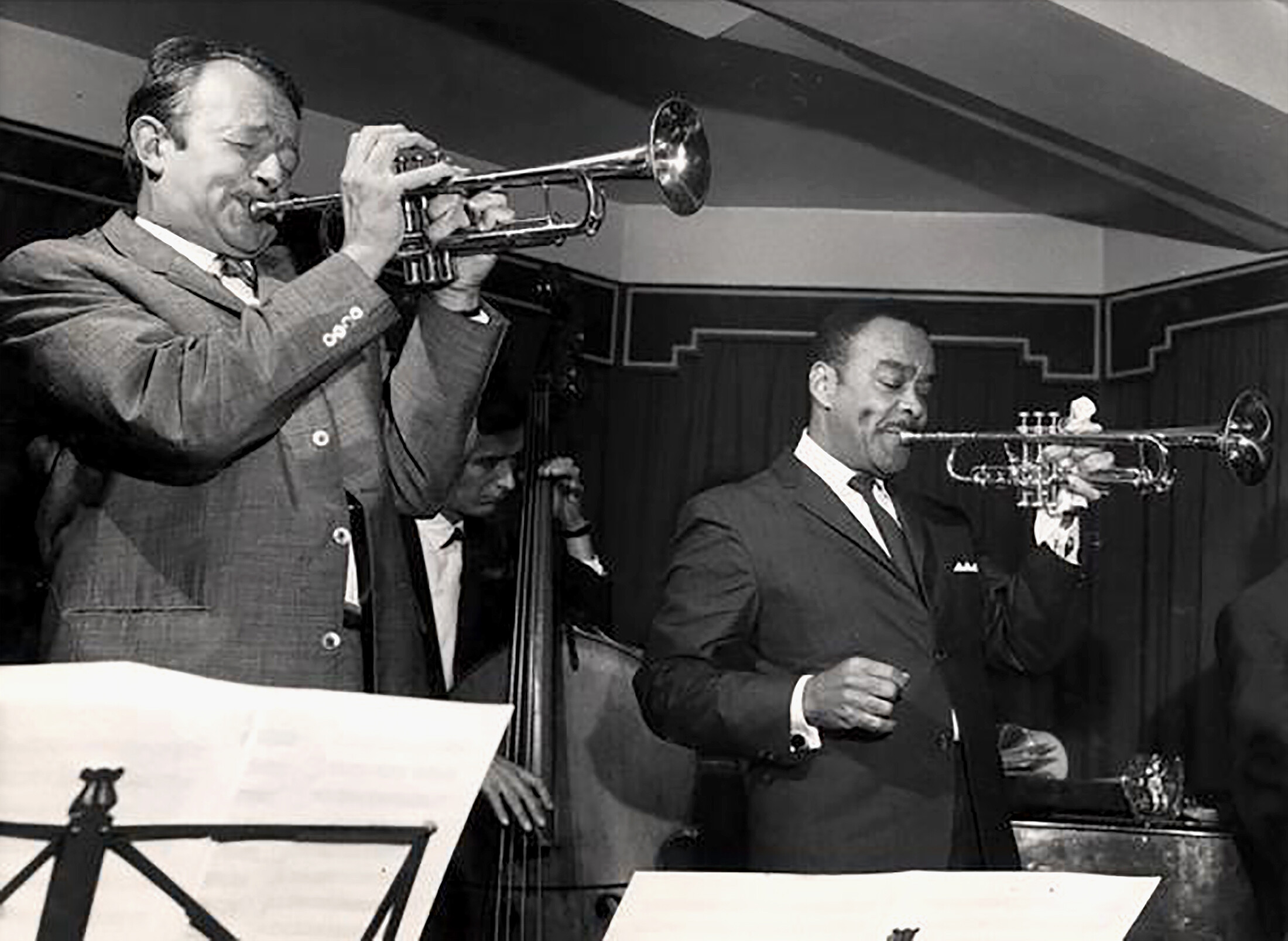 By the late 1950s Lyttleton was performing in the Kansas City manner. His 1965 tour was a KC Jazz Show and Swing revival featuring Basie alumni: Clayton, Ben Webster (tenor sax), Vic Dickenson (trombone) and blues singers Jimmy Rushing or Big Joe Turner. Humphrey invited Buck to join him on multiple tours, albums and television shows.
They shared a deep rapport and Buck dedicates a chapter to their years together, declaring them "trumpet brothers." He relates his delight at riding in Humph's sports car, racing at high speed through the verdant English countryside:
We'd stop sometimes at the little pubs on the road and have a beer or a meat pie. The tour with Humph was so pleasant that I forgot completely about coming back to New York . . . Humphrey and I had a ball blowing together. I made three more tours in the following years.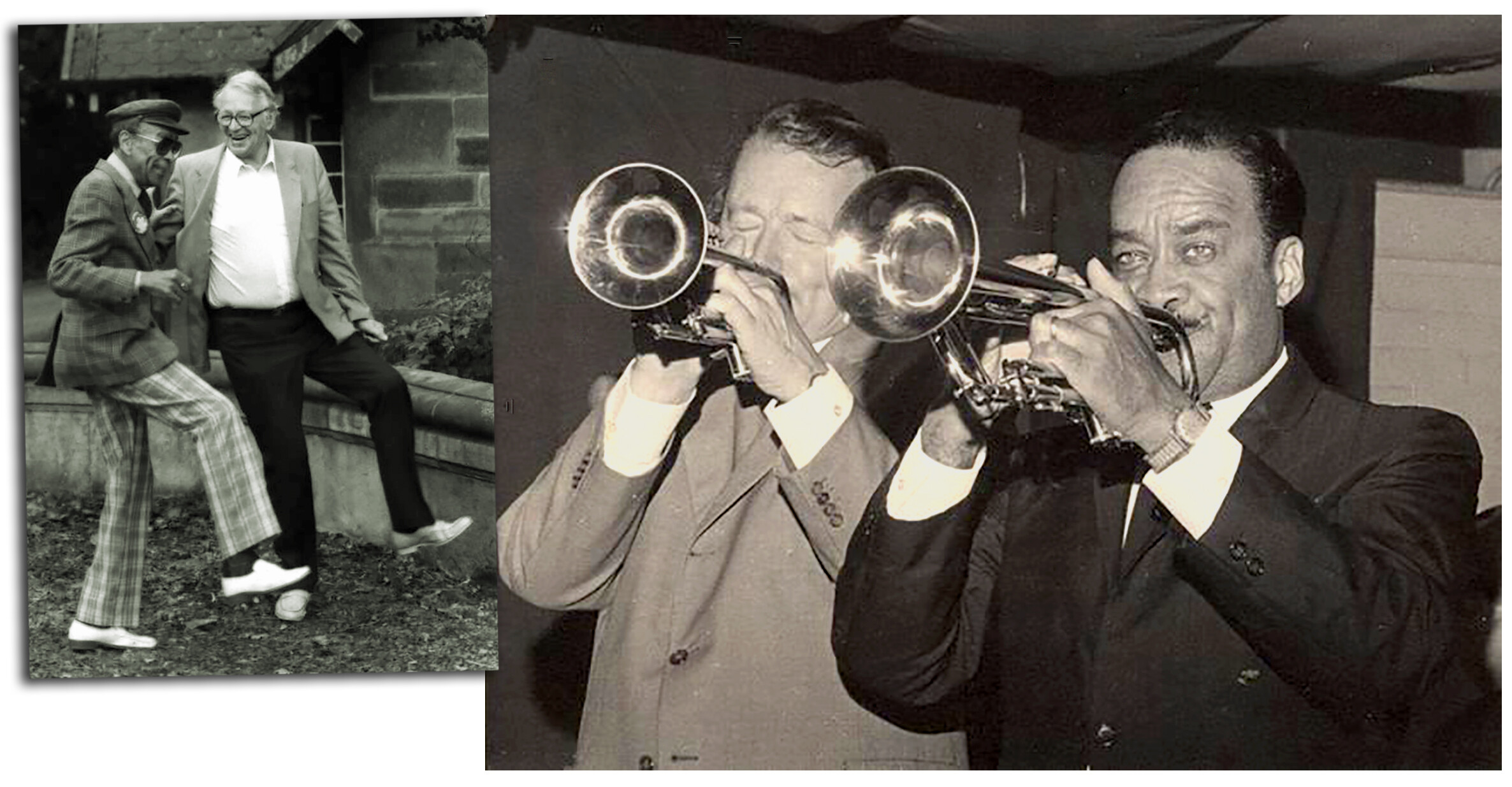 Buck Clayton's Jazz World
Clayton toured France and greater Europe vigorously many times. Over the decades, he performed in a wide range of bands, combos, concerts and casuals with Mezz Mezzrow, Ben Webster, Big Chief Russell Moore, Sir Charles Thompson, Bill Coleman, Vic Dickenson and dozens of superb French and European musicians.
He played quite a bit with Blues singers Jimmy Rushing and renewed an old friendship with "Big Joe" Turner, "everybody loved Joe in England." Buck and Joe toured Yugoslavia in 1965 recording in Zagreb and encountering quite a few excellent local musicians.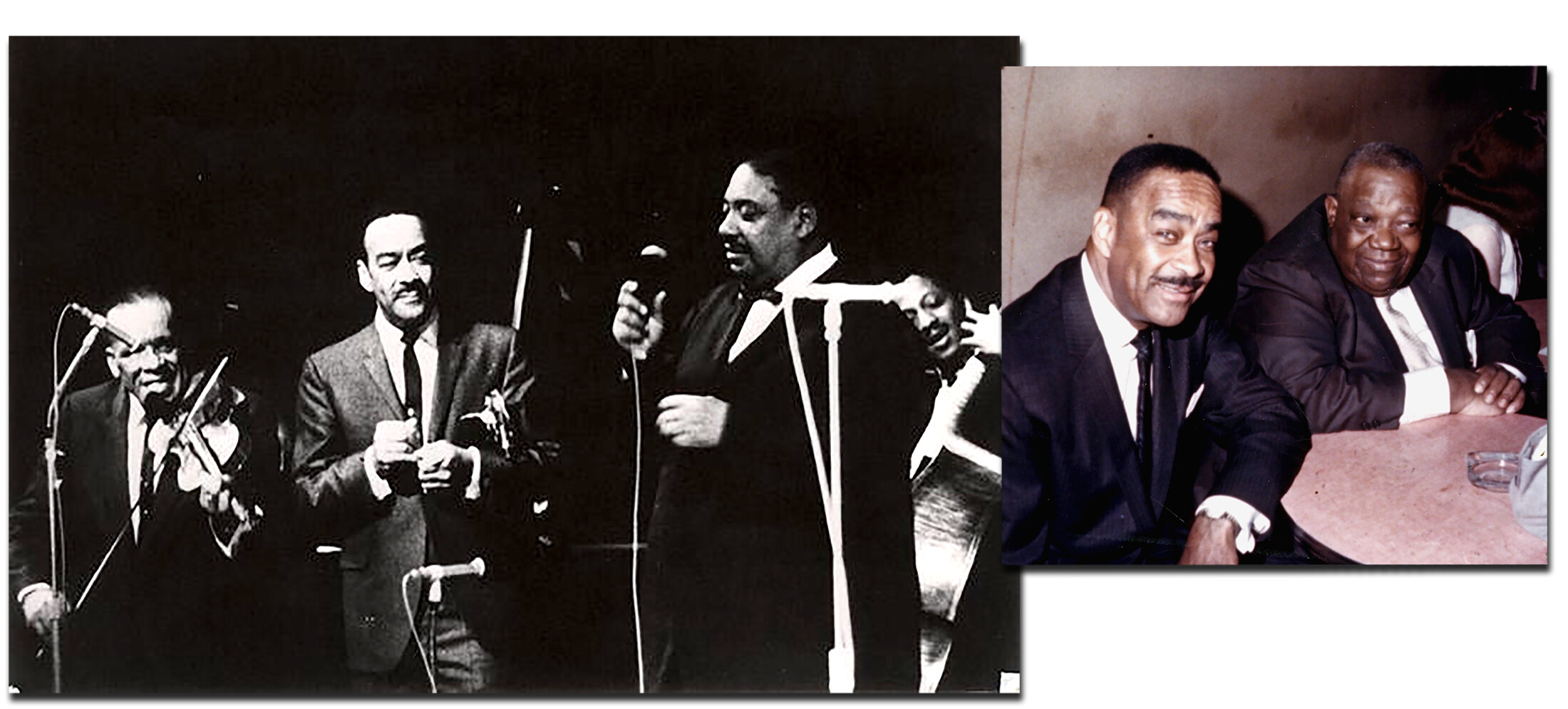 Buck became a highly valued all-star for studio jam sessions, international music festivals and on the elite 'jazz party' circuit. It's little appreciated that he built a successful independent career, flourishing as a popular soloist, international star and an arranger for Duke Ellington and Benny Goodman. In the 1955 movie, The Benny Goodman Story, he was seen onscreen, heard on the soundtrack, featured with Benny in subsequent TV specials and on an Ed Sullivan Show appearance.
He performed with Sidney Bechet at the 1958 World's Fair in Brussels. Joining the Eddie Condon mob for a while, he played the 1964 tour of Japan and Australia. In the 1970s Buck toured Africa under auspices of the U.S. State Department and was a headliner at the Nice Jazz Festival in 1976 and 1979.
Memoirs of a Well-Dressed Cat, 1986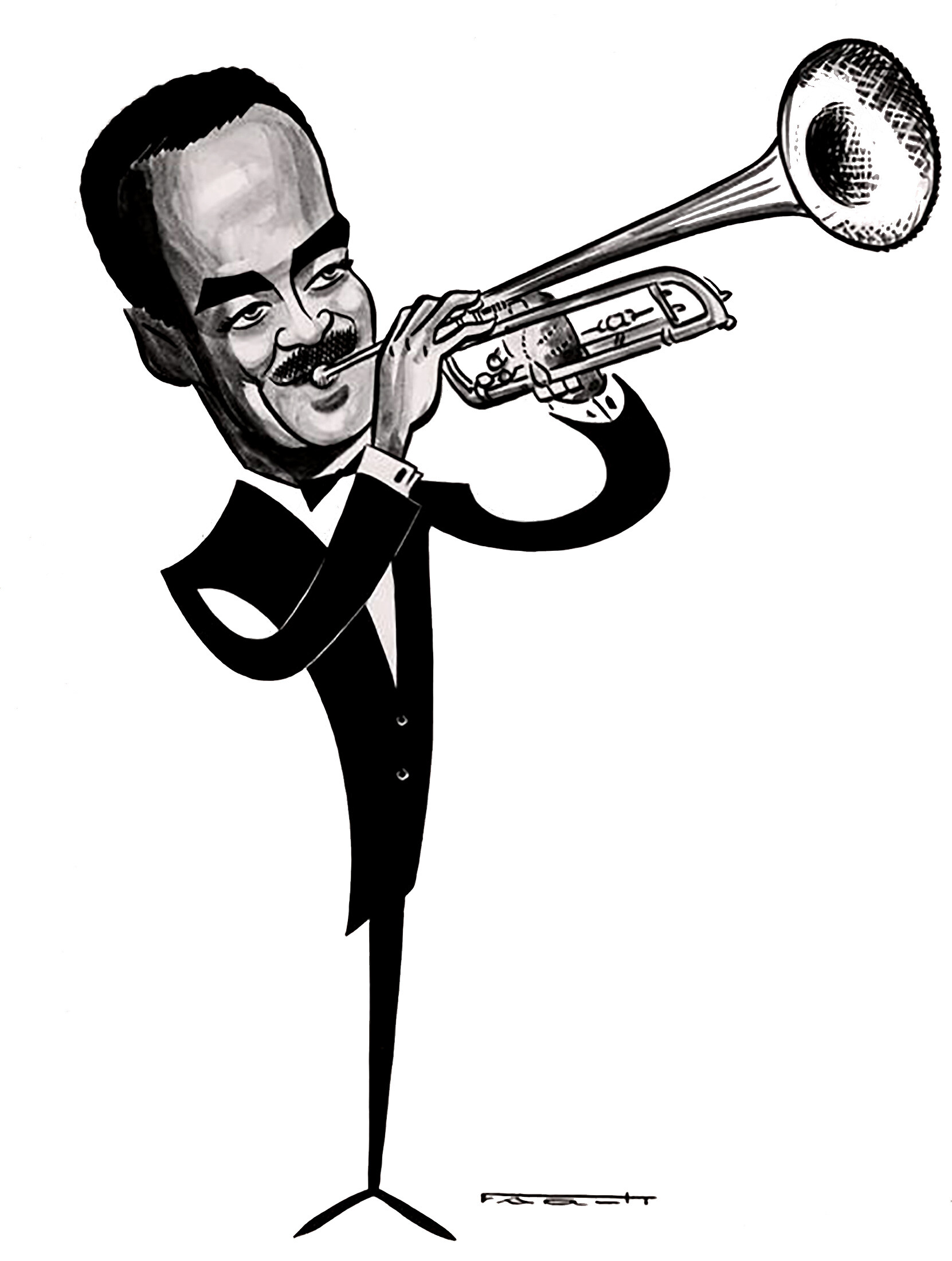 Living in New York City during the 1980s Buck wrote this memoir and ran a band. His composing skills came to the fore anew with the Buck Clayton Swing Orchestra, for which he wrote dozens of fresh charts and new tunes. He taught at Hunter College (CUNY), toured Europe again and was active until two weeks before his passing in 1991 about a month after his 80th birthday.
Clayton was among the handful of Jazz trumpeters who matured before 1940 to successfully adjust to the changes in Jazz after WW II. Adapting to modern influences, he cut surprisingly progressive discs through the mid-1940s and into the '50s, though never making a fulsome transition to Bebop.
Today, this evergreen stylist is recognized as a gifted soloist, bandleader and arranger in his own right. First gaining popularity in the orchestra of Count Basie and related combos, his records with Billie Holiday stand as exemplars of sensitive horn accompaniment for jazz vocalist. The silvery tones of his horn are woven into the fabric and texture of mid-20th Century American Jazz and Popular music.
An all-around musician and dapper bon vivant, Buck Clayton was a nuanced and durable voice of jazz, synthesizing old and new with grace and modesty while sustaining a creative and cooperative outlook. In this memoir, he has left us a sincere personal missive to remember him by.
Buck Clayton's Jazz World
Buck Clayton assisted by Nancy Miller Elliott
255 pages, photos, discography and index
Oxford University Press, 1986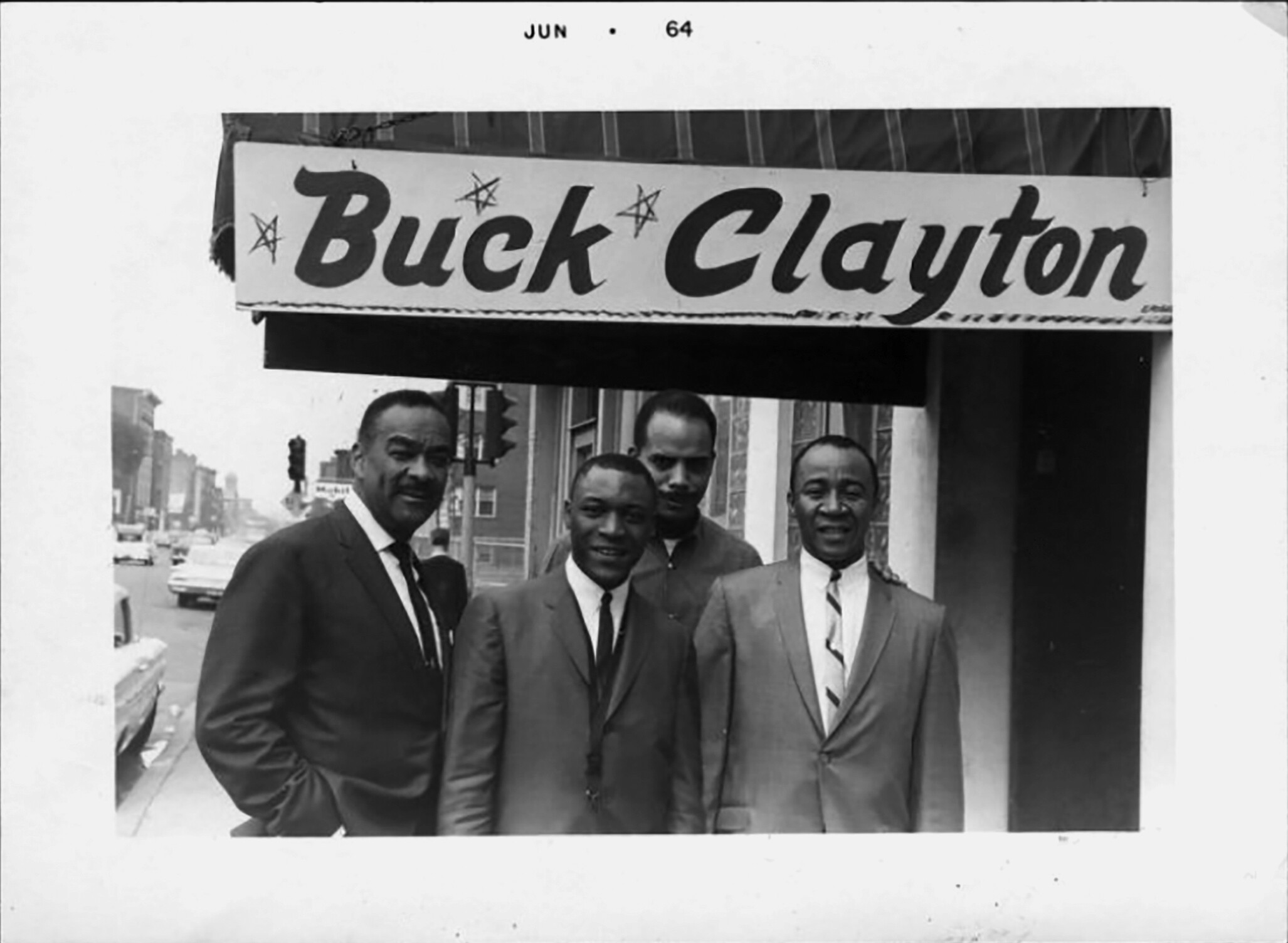 Resources and Links:
Photos from University of Missouri – Kansas City. Clayton's scrapbooks, sound recordings and photos are archived in the Wilbur "Buck" Clayton Collection donated to UMKC LaBudde Special Collections and Marr Sound Archives by Patricia Clayton.
Swingin' with Buck Clayton radio program (Pt. 2 of 2)
More about Buck Clayton in Syncopated Times 
Buck Clayton's Jazz World, Part One
Swinging with Trumpeter Buck Clayton
Jazz Birthday of the Month: Buck Clayton
More from Jazz Rhythm