Charley Straight
(January 16, 1891 – September 22, 1940) started his musical career in the early 1910's as a solo piano player and by circa 1917 led his first band.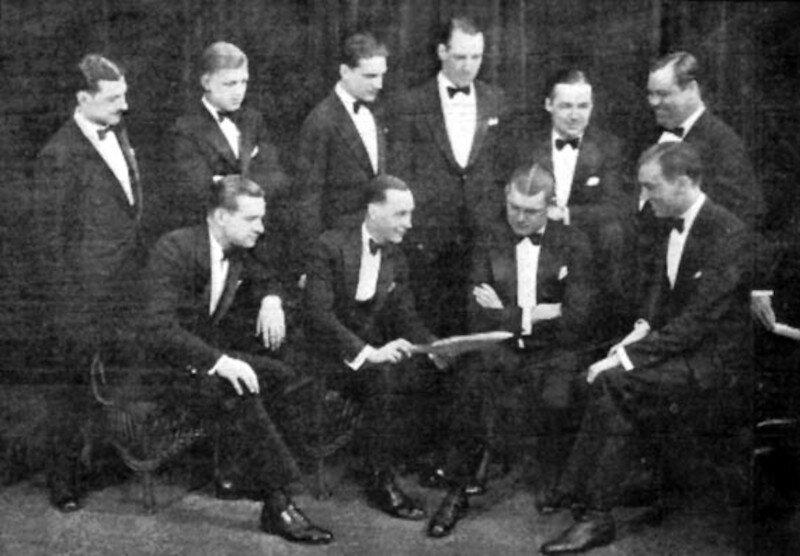 Although his was basically a hotel dance band, Straight appreciated jazz and some of his recordings for Paramount are among the best jazz records made by a white band in the early 1920's. His Brunswick recordings are slightly more "Hot Dance" in nature but there are plenty of excellent solos especially on the Vocalion sides and the very rare German issue of non-vocal take of Too Busy. Although Straight didn't record after August 1928 he remained active as a bandleader until his death in 1940 when he was hit by a speeding car in Chicago.
by Hans Eekhoff (from the liner notes of Brunswick/Vocalion Odds & Bits 1926-1930 on Timeless Records)
If you would like to order the Timeless Records' CD of Brunswick/Vocalion Odds & Bits 1926-1930 you can do so direct from Timeless Records.
Thanks to Bob Palmer and Shane Davis for their help with this page.

Title

Recording Date

Recording Location

Company

Arkansas Mule


(Jimmy Clark)

9-1923
Chicago, Illinois
Paramount
20264-A
Bathing Beauty Blues


(A. Lawrence / R. Cooper )

9-1923
Chicago, Illinois
Paramount
20264-B
Buddy's Habits


(Charley Straight / Arnett Nelson)

6-1923
Chicago, Illinois
Paramount
20244-B
Deep Henderson


(Fred Rose)

5-28-1926
Chicago, Illinois
Brunswick
3224-A
Do You, Don't You?
(Vocal Chorus by the Vagabounds)
8-25-1928
Chicago, Illinois
Brunswick
4026
Easy Melody


(Conley / Rodemich)

10-1923
Chicago, Illinois
Paramount
20271-A
Everywhere You Go
(Vocal Chorus by Frank Sylvano)


(Shay / Goodwin / Fisher)

1-16-1928
Chicago, Illinois
Brunswick
3797-B
Forgetful Blues


(Fred Hamm / Henry Winston)

12-1923
Chicago, Illinois
Paramount
20291-A
Puritan
11291
From Midnight Till Dawn


(Torey / Wimbrow / Abbott)

5-23-1928
Chicago, Illinois
Brunswick
3944
Hen Pecked Blues


(Jules Buffano)

6-1923
Chicago, Illinois
Paramount
20244-A
Her Beaus Are Only Rainbows


(Alfred Bryan / George Meyer)

5-28-1926
Chicago, Illinois
Brunswick
3203-A
Hi-Diddle-Diddle


(Coon / Keidel)

3-10-1926
Chicago, Illinois
Brunswick
3136-B
Hobo's Prayer


(Senter / Hirsch)

5-28-1926
Chicago, Illinois
Vocalion
15388
Hobo's Prayer


(Senter / Hirsch)

5-28-1926
Chicago, Illinois
Brunswick
3224-B
It Made You Happy When You Made Me Cry


(Walter Donaldson)

9-9-1926
Chicago, Illinois
Brunswick
3326
Just A Night For Meditation
(Vocal Chorus by Frank Sylvano)


(Young / Lewis / Pollack)

5-23-1928
Chicago, Illinois
Brunswick
3945
Last Night I Dreamed I Kissed You
(Vocal Chorus by Frank Sylvano)


(Kahn / Lombardo)

5-23-1928
Chicago, Illinois
Brunswick
3944
Last Night I Dreamed I Kissed You


(Kahn / Green / Lombardo)

5-23-1928
Chicago, Illinois
Brunswick
A-7797
Love, My Heart Is Calling You


(Joe Young / Sam M. Lewis / J. Cooper)

9-1923
Chicago, Illinois
Paramount
20265-B
Minor Gaff


(Arlack / George)

5-28-1926
Chicago, Illinois
Vocalion
15388
My Ohio Home
(Vocal Chorus by Frank Sylvano)


(Kahn / Donaldson)

1-16-1928
Chicago, Illinois
Brunswick
3797-A
My Sunflower Maid


(Smith / Wheeler / Eysoldt)

12-1923
Chicago, Illinois
Paramount
20291-B
Puritan
11291
Nesting Time
Vocal Trio by Keller Sisters and Lynch


(Monaco / Dixon)

3-21-1927
Chicago, Illinois
Brunswick
3516-B
Persian Rug
(Vocal Chorus by Frank Sylvano)


(Gus Kahn / Neil Moret)

3-17-1928
Chicago, Illinois
Brunswick
3899
Rose Of Sunny Italy
9-1923
Chicago, Illinois
Paramount
20265-A
Sentimental Baby
(Vocal Chorus by Frank Sylvano)


(Palmer)

3-17-1928
Chicago, Illinois
Brunswick
3900-B
Side By Side
Vocal Trio by Keller Sisters and Lynch


(Harry Woods)

3-21-1927
Chicago, Illinois
Brunswick
3516-A
Stealing To Virginia


(Gus Kahn / Walter Donaldson )

9-1923
Chicago, Illinois
Paramount
20266
Sweet Henry The Pride Of Tennessee


(Harry Akst)

10-1923
Chicago, Illinois
Paramount
20271-B
Sweet Southern Breeze


(Gus Kahn / Ted Fiorito)

1-1926
Chicago, Illinois
Brunswick
3076-B
Sweet Sue – Just You
(Vocal Chorus by Frank Sylvano)


(Will Harris / Victor Young)

3-17-1928
Chicago, Illinois
Brunswick
3900-A
Talking To The Moon


(Baskette / Little)

1-1926
Chicago, Illinois
Brunswick
3076-A
Tell Me Tonight


(Connor / Little)

8-1926
Chicago, Illinois
Brunswick
3324-B
That Old Gang Of Mine


(Billy Rose / M. Dixon / Ray Henderson)

9-1923
Chicago, Illinois
Paramount
20266
That's What I Call Keen
(Vocal Chorus by Frank Sylvano)


(Gus Kahn / Ted Fiorito)

1-17-1928
Chicago, Illinois
Brunswick
3899
That's Why I Love You


(Donaldson / Ash)

5-28-1926
Chicago, Illinois
Brunswick
3203-B
Too Busy
Vocal Chorus by Frank Sylvano


(Miller / Cohn)

5-23-1928
Chicago, Illinois
Brunswick
3945
Too Busy


(Miller / Cohn)

5-23-1928
Chicago, Illinois
Brunswick
A7792
Waiting And Dreaming
(Vocal Chorus by the Vagabounds)


(Miller / Cohn)

8-25-1928
Chicago, Illinois
Brunswick
4026
What A Man!


(Williams / Donaldson)

3-10-1926
Chicago, Illinois
Brunswick
3136-A
What's The Use Of Crying


(Kindel / Forbstein)

8-1926
Chicago, Illinois
Brunswick
3324-A

| | |
| --- | --- |
| Artist | Instrument |
| Gene Caffarelli | Cornet |
| Bob Conselman | Drums |
| Guy Carey | Trombone |
| Joe Gist | Clarinet, Alto Saxophone |
| Randall Miller | Trombone |
| Leo Murphy | Violin |
| Wally Preissing | Tenor Saxophone |
| Dale Skinner | Clarinet, Alto Saxophone |
| Frank Stoddard | Clarinet, Tenor Saxophone |
| Charley Straight | Piano, Leader |
| Bob Strong | Mellophone, Clarinet, Alto Saxophone, Violin |
| Frank Sylvano | Banjo, Vocals |
| Hannah and Dorothea Williams | Vocals |
| Ike Williams | Tuba |