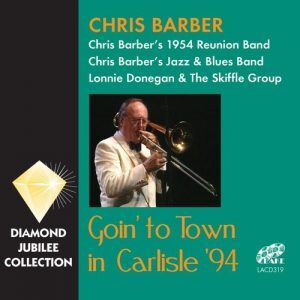 Trombonist Chris Barber formed his first band in 1949 and retired in August 2019. The Big Chris Barber Band will carry on, and continue to perform in England.
Fortunately Barber stayed on good terms with his alumni through the years. This two-CD set documents the June 4, 1994 concert from a special reunion tour that celebrated the 40th anniversary of his groundbreaking band of 1954. Barber was able to gather together all of the musicians from that group: trumpeter Pat Halcox (who was still playing nightly with the trombonist), clarinetist Monty Sunshine, banjoist-singer Lonnie Donegan, bassist Jim Bray, and drummer Ron Bowden.
The first CD features the alumni on six numbers (including "The Isle Of Capri," "Hiawatha Rag," and "It's Tight Like That"), has three showcases for Sunshine's clarinet, and four for the singing of Donegan with a four-piece rhythm section (including Barber on bass) performing the skiffle music that he made famous. The opening disc concludes with a wild version of "Ice Cream" that combines Barber's 1954 band with his group of 1994.
The latter, which has Barber, Halcox, Ian Wheeler on alto and clarinet, John Croker on tenor, clarinet, and harmonica, Johnny McCallum on banjo and guitar, electric guitarist John Slaughter, bassist Vic Pitt, and drummer Russell Gilbrook, is heard throughout the second CD. Known as Chris Barber's Jazz & Blues Band, the group stretches from "Bourbon Street Parade" and a medley of early 1930s Duke Ellington songs to features for Slaughter's electric blues guitar (which gets a bit rockish), and Barber's trombone (a medley of "Petite Fleur," "Sweet Georgia Brown" and his own "Slap 'n Slide"). The recommended twofer, which serves as an excellent overview of Chris Barber's legacy, concludes with a heated "Tiger Rag."
Chris Barber Goin' To Town In Carlisle '94
(Lake LACD 319, 22 selections, TT = 1:44:24) www.fellside.com