The Leader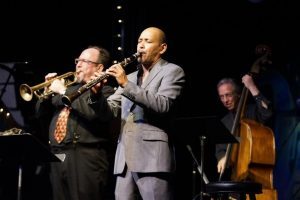 Evan Christopher, who was featured on the cover of the August issue of The Syncopated Times, brought the annual Jazz-n-Caz event in Cazenovia, New York, to a magnificent conclusion on September 16, 2017. Evan Christopher's Clarinet Road was for this occasion a hand-picked quintet of the finest jazz players available in the Northeast, including his frequent session mate, cornetist Jon-Erik Kellso, with whom he has an almost preternatural rapport.
The Band
Others on the gig were pianist Mark Shane whose most excellent, swinging playing we have always enjoyed; guitarist James Chirillo, whose exquisite taste and subtlety reminds us that the electric guitar is not merely a power tool, and bassist Pat O'Leary, who navigates on bull fiddle with a surprisingly light and melodious touch.
Christopher is a dedicated musician and scholar, and specializes in playing the Albert system clarinet which is not often heard outside authentic New Orleans music. I'd say he is one of the most gifted players I've heard—but to Christopher, it's about working hard to get it right, about craft. "Craft," he says, "is not subjective." His sound is heartfelt, and at times otherworldly.
Jon-Erik Kellso, a mainstay in the brass section of Vince Giordano's Nighthawks, is a true master of his instrument. He is worth hearing in any context, but he and Christopher evince an improvisational mind-meld on stage.
The Songs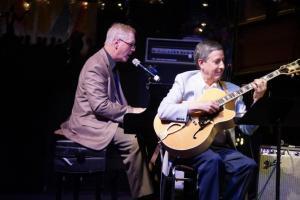 The concert began with Christopher's "Rampart Street Ramble," which accompanied his opening remarks, and proceeded through "Ballin' the Jack," Jelly Roll Morton's "Mamanita" (with that Latin tinge), "Hindustan," "Buddy Bolden's Blues" (sung with conviction by Mark Shane), "Old Sober March," (a Christopher composition honoring Yak-a-mein soup, a demonstrably effective traditional New Orleans hangover cure), the Tony Jackson perennial, "Pretty Baby," and concluding with a rousing, Caribbean-flavored rendition of J. Bodewalt Lampe's "Creole Belles."
I offer special thanks to Colleen Prossner of Jazz-n-Caz for providing a stage for these marvelous musicians to delight and inspire us in the hinterlands of upstate New York.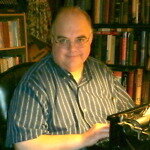 Andy Senior is the Publisher of The Syncopated Times and on occasion he still gets out a Radiola! podcast for our listening pleasure.