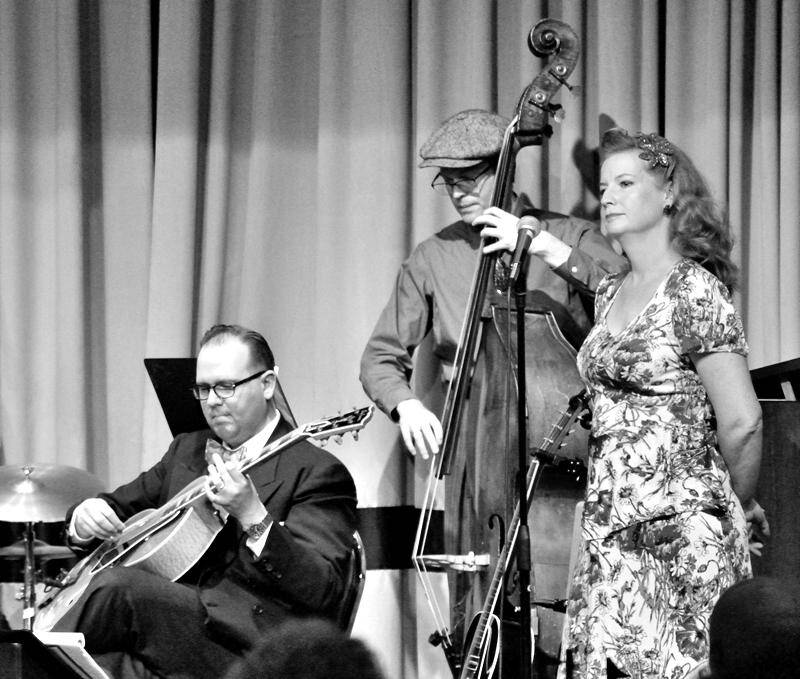 Concert Review: Jonathan Stout and the Campus Five
Hilary Alexander, vocalist and co-leader of The Campus Five, brings a touch of the '40s to the Valley Jazz Club in Canoga Park, CA, on January 7, 2018. (photo by Harvey Barkan)
---
"Spreadin' Rhythm Around"
Hearing the energy and vitality of 1940s swing coming from the Valley Jazz Club in Canoga Park on a Sunday afternoon brought back memories of an older sister's stories of dancing on the crowded floor of the Hollywood Palladium on Sunset Boulevard during WWII. As a pre-teen, my first exposure to swing was hearing it spun on Los Angeles radio by disc jockeys, on shows like Peter Potter's Platter Parade of the Pacific and Al Jarvis' Make Believe Ballroom.
Now, many decades later, I was hearing the same vibrant music, performed live—artfully and authentically—by The Campus Five band, a group co-led by Jonathan Stout and Hilary Alexander. Patterned along lines of popular small bands of the swing era, such as the Benny Goodman Sextet and Artie Shaw's Gramercy Five, this band was right on the mark with enthusiastic and spirit-raising music, played by musicians with an understanding and focus on swing. The Campus Five is a premier swing dance band.
Stout, a very fine guitarist and alumnus of the USC Thornton School of Music Jazz Guitar Program, is also a swing dancer, with an intense interest and desire to bring back the original purity of this music. In that spirit, Stout arrived armed with a brace of Gibson arch-top guitars. Why two separate guitars? One is electric for solo features and single string work, and a second that is acoustic only, for his splendid—and period correct—rhythm playing. Stout "found it better to treat a guitar as purely electric or acoustic, since electrifying an arch-top guitar often leads to it losing the essential acoustic character needed for proper rhythm guitar." He used an original 1939 Gibson EH-185 electric tube-type amp he has favored for about 11 years. It delivers exactly the vintage sound that he likes.
Drummer Josh Collazo included an unusual over-size 26 inch bass drum, with the ear-catching, deeper sound, that was favored by Gene Krupa. Collazo also had an eager "helper" to set up his drums kit, five year old Max, there to help Dad get it right. The other four members of the Campus Five, all veterans of this lively music, were Corey Gemme (trombone and cornet); Albert Alva (tenor sax); Wally Hersom (bass); and Chris Dawson (piano). And their work was inspired.
Hilary Alexander, the Campus Five co-leader, is gifted with a wonderful voice to sing these vintage songs. She sings with appealing presentation and assured style—and the same period authenticity demanded by both she and Stout—she could challenge the original vocalists. Alexander is the daughter of a jazz pianist and a Brazilian samba dancer, so if there are genes for jazz, she has them. With sparkling red hair bows to match her shoes, and a 1940's brightly colored dress with large red floral pattern, she looked and sounded 'forties-perfect.
Her vocals included, "There'll Be Some Changes Made," "Miss Brown, To You," "Spreadin' Rhythm Around," "Sunday," "You've Got Me Voodoo'd" (curiously, during this period and a little after, Voodoo was a topic of 40 movies, plus a few songs), and one of my favorites, "I'm Beginning To See The Light," that included a guitar feature by Stout incorporating the chord-melody style of Allan Reuss, who played on the 1944 recording by Harry James of this tune. Reuss, considered by some as the finest rhythm guitarist of the swing era, was heard with Benny Goodman from 1935 to 1938. He later freelanced with many other great bands, although he is virtually unknown today.
When a band of this caliber swings, there's a smoothness that flows with seamless interplay. Other tunes included on their playlist were: "Jackettes," "The Blues," "My Blue Heaven," "Button Up Your Overcoat," "Undecided," "Up On Blue Hill," "Honeysuckle Rose" (with Chris Dawson featuring Count Basie's piano style), plus original tunes by Jonathan Stout: "Mill House Stomp," "Bouncing With Bumpers," and "Up On Boot Hill."
Stout conscientiously announced what was about to be played, and often included a little story that went with the song. As an example, he explained that Artie Shaw wanted to record "When the Swallows Come Back to Capistrano," but he couldn't obtain permission to record it. Known for being a bit of a rascal with determination and drive, in 1940 Shaw got around the lack of permission when he recorded his version he called, "When the Quail Come Back to San Quentin."
The afternoon continued with interesting stories and information about the music, along with music we were there to hear. The music was heavenly for the dancers, performed by a motivated band with leaders who also know swing dancing. They understand what other swing dancers want to hear and how. "That's why," said co-leader Hilary Alexander, "you'll never hear me sing 'My Funny Valentine!'" However, you don't have to be a dancer for a thoroughly enjoyable music experience with The Campus Five—one that I can't wait to repeat!
---
This is what our print edition feels like. If you want good news to read with your morning coffee, order a print subscription. You'll get full online access to our archives, web extras, and our next issue will arrive at your door. Online only access to all of our original material is also available! Support Hot Jazz Journalism- Subscribe
---
Online Only
For Online Only Access without delivery of the print paper sign up below.
Subscription Options
---
Print Edition
 If you'd like the PRINT EDITION, (12 monthly issues) use the following PayPal link. After your payment is complete you will be allowed to create an online account. You will receive the next mailed copy, usually shipping around the 22nd of the month. See a PDF Sample Here.