Connie Jones died in his sleep on February 13, 2019. The following profile ran in the April 2015 edition of our predecessor The American Rag, it has never before been available online.
---
A master trumpeter and cornet player, Conrad "Connie" Jones is regarded as one of the most talented modern-day musicians to emerge from New Orleans, the city where he was born in 1934.
At 17, he was a member of the Dixiecats that won the Battle of the Bands on the Paul Whiteman national TV teen show. His first professional band was the Basin Street Six that included George Girard and Pete Fountain. A fishing buddy of trumpeter Al Hirt, Jones was in Jack Teagarden's last band and served as a pallbearer at the famed trombonist's funeral. One of the founders who served as chairman of the French Quarter Festival's entertainment committee for 22 years, he played all the famous jazz rooms on Bourbon Street and was a regular performer aboard the Delta Queen and American Queen riverboats on the Mississippi River. In 2012, he received an honorary degree from Loyola University of New Orleans.
From a Musical Family
Coming from a musical family, Connie began his musical journey at the age of 5, taking piano lessons from a great aunt who studied at the Peabody Conservatory in Baltimore. As a rambunctious youngster, his parents shipped him off to a military school in Gulfport, Mississippi, where, as one of the taller cadets, he was assigned to play the bugle. He took up the trumpet at age 10 and switched to the more mellow cornet some years later.
Back in New Orleans in 1950, he joined neighbor Tony Almerico's Junior Band that played the intermission sets at the Parisian Room and did a tour of New York City and Philadelphia. He took a respite from the music business in his early 20s, but resumed his career in 1961, playing with local groups, including Santo Pecora and the Tailgaters at the Dream Room on Bourbon Street.
In Teagarden's Last Band
In 1964, Jack Teagarden came to town for a Dream Room engagement, battling a liver ailment and worn down from too much drinking, too many cigarettes and too many one-night stands. On January 15, he failed to appear for the evening performance and was found in his room at the Prince Conti Hotel where he had succumbed from bronchial pneumonia at the age of 56.
At the funeral, Connie recalled, "I remember seeing him in that coffin. The family was going to fly him to Los Angeles for burial. The coffin was open, and I remember thinking, 'Boy, he really looks uncomfortable in there.' Not that he was that tall – maybe 5-10 or so, at most. But he was kinda broad across the shoulders, and he gave you the impression he was a big man in every way. But in that coffin, he seemed to be scrunched up in a space that was too small to contain him."
Connie remembers the "Father of the Jazz Trombone" as "one of the nicest people you could ever know." The inscription on Teagarden's tombstone at Forest Lawn Memorial Park in Los Angeles reads: "Where there is hatred, let me sow love."
To New York and Back
1966 found Jones touring with Bill Maxted's Manhattan Jazz Band and having the unpleasant experience of being robbed when the band was playing at the famed Metropole on Times Square in New York City. Back in the Big Easy and for the next seven years, he was the lead trumpet in Pete Fountain's band. He helped to reorganize the Dukes of Dixieland in 1974, but parted over disagreements with the band manager. He formed his own Crescent City Jazz Band that had a long stay at the Blue Angel nightclub on Bourbon Street and performed at the several local festivals held annually.
A Musician's Musician
He's toured worldwide, appeared on national TV shows and at festivals, and recorded on over a half-dozen record labels, most recently with clarinetist Tim Laughlin. Hurricane Katrina heavily damaged the Jones residence and temporarily relocated Connie and his wife to Dallas and then Montgomery, Alabama.
He uses a smaller mouthpiece to produce a unique tone, saying "I've always believed it's not what you say, but how you say it." Asked what he would tell an aspiring young musician, he advised. "Be willing to work 7-8 hours a day plying your craft, even if it means playing on a street corner for tips." He went on to say, "The advent of television was the great death knoll of live music. It's increasingly difficult for a young musician to find a place to play these days. They've made a mall out of Bourbon Street so it's not what it was when I broke into the business. Stay away from drugs and alcohol," noting he has not had a drink in 42 years and doesn't smoke.
Jones is an inveterate storyteller and has a funky sense of humor. Once he was approached by a
well-known and universally-disliked New Orleans club owner who asked, "When I die, you'll play at
my funeral. Right, Connie?" Without missing a beat, Jones turned and said, "Sure, I'm not busy next
Tuesday."
Final Thoughts
After 60-plus years of making a living playing music as a bandleader and sideman, Connie Jones jokes, "I never did a day's work in my life. I'm a saloon musician. I go with what I'm asked to do, if possible. I've learned a lot about my instrument by playing with different types of bands. I never had an absolute goal and have always been a student of improvisation. I know what I'm doing. I can tell you that I'm not guessing when I get on the bandstand."
At the end of his final set at the 2016 New Orleans Jazz Festival, Connie announced his retirement from
active playing. Asked how he saw his legacy, he thought for a moment and replied, "That I tried and
always gave my best when I came to work" Just prior to his farewell announcement, he brought the
house down singing "New Orleans and a Rusty Old Horn."
---
Also see our new Final Chorus entry for Connie Jones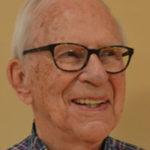 Lew Shaw started writing about music as the publicist for the famous Berkshire Music Barn in the 1960s. He joined the West Coast Rag almost thirty years ago and has been a guiding light to this paper through the two name changes since then as we became The Syncopated Times.  47 of his profiles are collected in Jazz Beat: Notes on Classic Jazz. Volume two, containing profiles from 2013-2016 will be available on Amazon soon. He taps his extensive network of connections and friends throughout the traditional jazz world to bring us his Jazz Jottings column every month.