Our October issue features a long interview with violin phenom Daisy Castro. She's developed as a musician, and as a person,  since startling the Jazz Manouche scene as a 13 year old by becoming the hit of Festival Django Reinhardt, in Samois sur Seine, France.
That was 2010. She had already produced an album, Gypsy Moth, that seems fully professional and rises well above juvenalia. That wasn't her first time in the studio either, she had already recorded in an act with her parents known as The Infidel Castros. That year she went on to perform at Djangofest  NW in Washington State and at Birdland.
She's since produced two more albums of her own as well as recording in a duo known as Clavicles and joining other groups. In early September she toured with The Resonant Rogues.  Within the world of Gypsy Jazz she has toured extensively with several quartets under her own leadership and with the well known Gonzalo Bergera Quartet which has taken her as far as Russia and South America.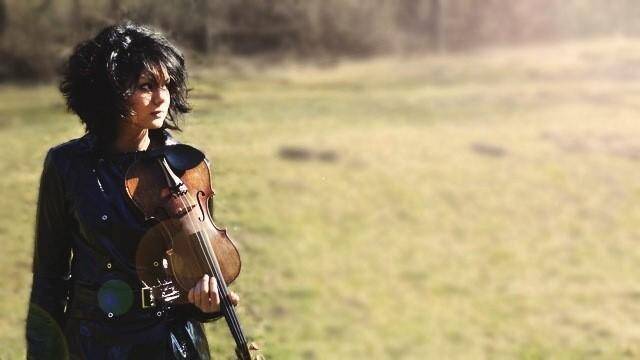 Déviation
Bergera appeared on her 2013 album Déviation. He is an Argentinian guitarist in the Django Reinhardt vien, but includes the jazz influence of his native country in his arrangements of progressive Gypsy Jazz.
Castro plays both violin and cello on the album. Bergera in addition to his lead guitar plays mandolin and bandoneón, a type of concertina traditional to tango ensembles. They are joined by Jeffrey Radaich on rhythm guitar and Brian Netzley on upright bass. Both are part of an interesting group known as The Black Market Trust that advertises itself as Gypsy Jazz but records mostly songs from The Great American Song Book.

The first thing you'll notice about Déviation is the artwork. Remarkably for someone who is only now 21, Daisy Castro believes in "keeping the CD alive." The music she has released under her own name isn't available for download. Castro drew some of the cover art and her mother and a graphic artist helped design the cardboard tri-fold the CD arrives in. The disc itself is styled like a 78rpm record and slides into its own 78 sleeve. The rest of the design features gramophone imagery. It prepares you for the timeless music inside.
This instrumental album isn't a 30s recreation. Castro herself composed two of thirteen tracks and only one is credited to Django Reinhardt.
They've chosen some more recent titles composed during the renaissance of Django inspired music that began in the 1970s. They also include compositions associated with the tango and South America.
The result is very traditional and jazzy, the rhythm section deserves much of the credit for the drive on what is predominantly an upbeat album, but with a few romantic interludes. One of these, Astor Piazzolla's "Oblivion" is my album favorite, it draws you in with every extended note.
World on Fire

The four big years of life experience and musical absorption since Déviation are apparent on Castro's latest album, World on Fire. It has a darker feel from the album art down, and more depth. There is a Balkan tinge to match the Spanish Tinge on Déviation, a slow "Miserlu" sets the tone early on.
With the exception of Netzley returning on bass, she is joined by new musicians. Quin Bachand plays guitar, oud and violin, he's a young multi instrumentalist who has received numerous awards for his musical projects in Canada ranging from Gypsy Jazz to Celtic folk. Max O'Rourke is a composer and arranger from Vermont who also plays the guitar as well as the Greek bouzouki on this album. Dick Adderson contributes on drums. Daisy again plays cello in addition to her violin, and also the canjo- a one string banjo.  The quintet bring a fuller ensemble sound than the sometime sparsity of  Déviation, and the instrumental variety adds some excitement.