Daisy Castro
At 21 Daisy Castro has already had an interesting and varied career in music. She began to learn classical violin at age six and was quickly recognized for her gifts. As a parallel track, she began playing and recording non-classical music with her parents. Together they performed as The Infidel Castros.
After becoming fascinated with the jazz inheritance of Django Reinhardt and Stephan Grappelli she recorded her first solo CD, Gypsy Moth,at just 13. Months later, in 2010, she was the talk of Festival Django Reinhardt, in Samois sur Seine, France. She went on that year to play Djangofest NW, in Washington State and even at Birdland.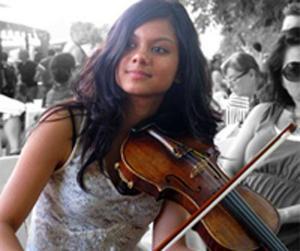 By the following year, she was back at Djangofest NW opening for the headliner. An intense on the job apprenticeship in music has followed featuring tours across Europe and America, some with bands under her own leadership, more albums, and a recent tour with the respected Gonzalo Bergara Quartet. She was also an artist in residence at the Strathmore in Bethesda Maryland. Headlines about her within the Jazz Manouche scene mark her as a ray of hope in much the same way Bria Skonberg was heralded by the traditional jazz community.
She has played numerous Django festivals all over the world, Americana festivals stateside, and a few traditional jazz festivals including the Sun Valley Jazz and Music Festival familiar to our readers. She has along the way collaborated with musicians in different genres who have helped her to continually expand her artistic sense and prodigious instrumental ability.
We recently had the chance to ask her a few questions about her career and approach to music.
What was your musical training like?
I was always surrounded by music – even as a very young child my parents would bring me to shows. I started playing the violin when I was 6 years old and had private lessons for classical music until I was about 12 or 13. The rest from there on was, and continues to be, mostly self-taught, with a private lesson from respected players here and there.
I had a pretty savage way of learning things when I was starting out- if someone told me I couldn't – or shouldn't do something, I'd find a way to do it anyway. A teacher refused to teach me vibrato, stating I was too young yet to apply the technique, so I learned it myself, the wrong way, and I didn't figure out how to do it right until a few years ago.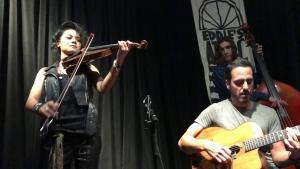 How did you become interested in jazz and who were your influences?
I found out about Django Reinhardt, Stephane Grappelli, and the Quintette du Hot Club de  France around the same time I started playing the violin, on a family trip to France where we heard their music being played at a market and purchased some CDs, but I didn't try to pursue playing jazz until I was around 12 years old and shifting from primarily classical music to other genres. I am inspired by a variety of jazz musicians – Stephane and Django of course, but also Chet Baker, Miles Davis, Billie Holiday, and many others. I am also largely inspired by traditional music from various parts of the world – Mongolia, China, Turkey, Greece and Romania to name a few.
When did you start playing professionally?
Because my parents are musicians, I was able to start having a career in music at an early age, playing as a trio with them.  I think my first paying gig must have happened when I was about 12 or so, maybe younger. My first jazz quartet gigs followed the release of my first album in 2010. I don't remember a lot of details from the first few years – but I guess I must have enjoyed it enough to keep doing it.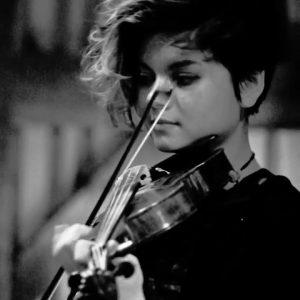 What have the highlights of your career been so far?
It's difficult to come up with individual high points in my career. Every time I play a show that I feel great about, I consider it another milestone. Playing in a small cafe for a handful of enthusiastic individuals has sometimes been just as life-changing as playing for the Django Festival before an audience of a whole lot of enthusiastic individuals. My residency at the Strathmore in Bethesda, MD, offered me a great amount of incredible resources and support which continue to be relevant to me today. I feel very fortunate that I am able to tour to places like Russia and Panama, and have the trip pay for itself…music has been very kind to me.
What can you say about the experience of getting noticed at festivals and making Gypsy Moth when you were only 13? It's a remarkably professional album, regardless of age. Did you already know that music would be your career?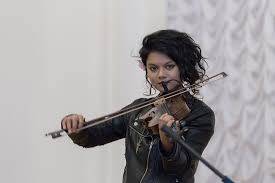 I guess in some way I always knew music would be my career. I never really stopped to think of doing anything else, it just always felt right. As a kid, going to festivals and getting to record an album was just magical, and I was just grateful to be along for the ride. The Jazz Manouche community in Europe was very accepting, inclusive, and supportive of me from the beginning, and that was surely the impetus that set this all in motion, for which I am forever thankful. Almost all of the friends I keep in touch with today I have met because of music. Almost all of the traveling I have done has been because of music.
How did you come to know Gonzalo Bergara? I noticed he was on your 2013 Deviation album but is not on World on Fire. What is different musically between what you do with his quartet, who you have recently toured with, and with your own quartet, who you have also recently toured with?
I met Gonzalo at Djangofest Northwest in Washington State. We got along, and we liked each other's playing, so we ended up collaborating on my second album, Déviation, which led to us playing together at Festival Django Reinhardt in Samois-Sur-Seine, France. About a year later, I began playing with his quartet. Because his compositions are very intense it was quite a musical workout for me and it really kind of forced me to improve! I've had to dust off my classical skills for sure!
Touring with my own quartet has been intense in different ways. Taking a leadership role comes with a lot of responsibility which can get overwhelming at times. But I'm sure it will get better the more I do it.  Musically, what I am doing with my quartet incorporates more global influences over a base of my Jazz Manouche roots.
There are so many artists out there with whom I'd like to collaborate that every album I've released features pretty much an entirely different group of musicians than the last – and therefore each album has a different energy. I like to switch things up often – it keeps everything fresh.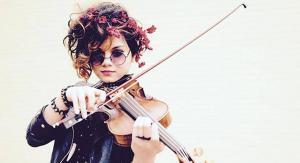 Many younger artists clam up in the studio but you seem to add even more soul to your music in that environment. How did you come to be so comfortable recording?
I feel there's a lot of potential in the recording studio. During a session I like to do as many tracks as possible live, but with the option of overdubbing a solo here and there. I also like to add orchestral tracks – I play cello as well and often act as my own string quartet, which, in the studio, is totally possible. So I see it as an opportunity for experimentation, which makes me very comfortable.  
Your CD artwork is stunning, and your newer music isn't available as a download, this seems pretty retro. What motivates you to put so much care into the presentation of your albums in addition to their content?
I think it's important to keep the physical CD alive. It's not just a bundle of music that you buy and listen to, it's an art project. As a visual artist as well as a musician, I think the CD package design is just as important as the tracks.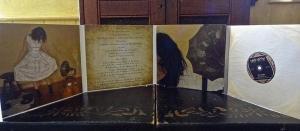 There is a lot of gramophone imagery on the artwork for Déviation? Were you influenced by 78rpm records?
My mother, Ann Castro, is an amazing artist and the mastermind behind the bulk of the artwork for Déviation. She has a love for Art Nouveau and all things retro. That album was an outlet for her artistic vision. We do have a couple of gramophones around the house, and a small collection of 78s, including some recordings of the Quintette du Hot Club de France. It is definitely cool to hear this music played through the same listening device as it was originally heard through.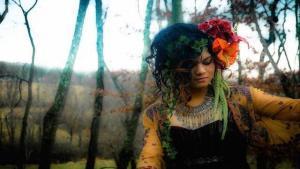 There is a bonus track on World On Fire,- after a period of dead air like it was often done in the 90's- Was that track cut to record or just made to sound that way? Either way, why did you include it?
The bonus track is "I Don't Want to Set the World on Fire" by the Ink Spots, and inspired the album title and the artwork for World on Fire. It was a bit of a spontaneous decision to include that track – I was traveling through Europe at the time so the track was actually recorded in Bavaria using an iPhone – if you listen closely you can probably hear my friend/travel companion taking a shower in the background – and a vinyl crackle and other effects were applied afterward.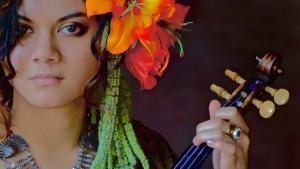 What were you trying to do differently in World on Fire? It seems otherworldly and while still being within the tradition it is also entirely modern, was that intentional and do you feel like the style can further develop and evolve?
I wasn't really trying to do anything. It all sort of happened as it happened. Playing with the band – Max O'Rourke, Quinn Bachand and Brian Netzley – and developing arrangements for the pieces just before we recorded them was all a spur-of-the-moment thing and we simply documented the results. As a musician I am constantly developing, so this is just a capture of a moment in that process. I look forward to the future.
As far as the style evolving, I hope that Django's music continues to inspire people to create their own sounds. Too many people impose limits within genres. There should be no limits, no boundaries to creativity.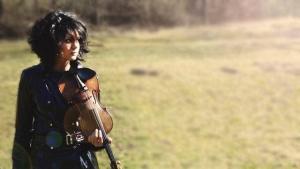 It feels like jazz is more appreciated nearly everywhere else than it is in America and since you've played both here and overseas, do you have the sense that America is starting to catch on?
I have performed jazz in the USA, France, Canada, Russia, and Panama so far. Audiences are different everywhere, but I found the warmest to be in Russia, somewhat surprisingly. I think jazz is plenty appreciated in America, and Gypsy Jazz has certainly experienced a rise in popularity in the U.S. during the time that I've been playing it. It remains more popular in European countries because it is a significant part of their musical heritage, rather than a musical trend.
Our paper covers a lot of jazz festivals where the focus is more on traditional jazz from America than Django influenced material, have you played for that kind of crowd and how was your music received?
Django's music is very unique and captivating – I have had positive experiences with a variety of audiences at traditional Jazz festivals. People who know about Django are happy to hear it played in this day and age. People who don't know about Django want to know about Django after hearing his music.
What projects are you working on now?
I am currently planning more tours with my own quartet, and I am involved in a few other projects as well. Most recently I have been half of a dreamy folk duo called Clavicles – we have just released a new EP. I will also be touring with a Swing/Americana/Klezmer/Old Time band, The Resonant Rogues, in September. I try to get involved with as many different projects as I can possibly handle!  
Subscription Options
---
Or get the Print Edition with Online Access. To get the print edition of The Syncopated Times use this Paypal link. After you pay you will be issued a coupon for free online access.