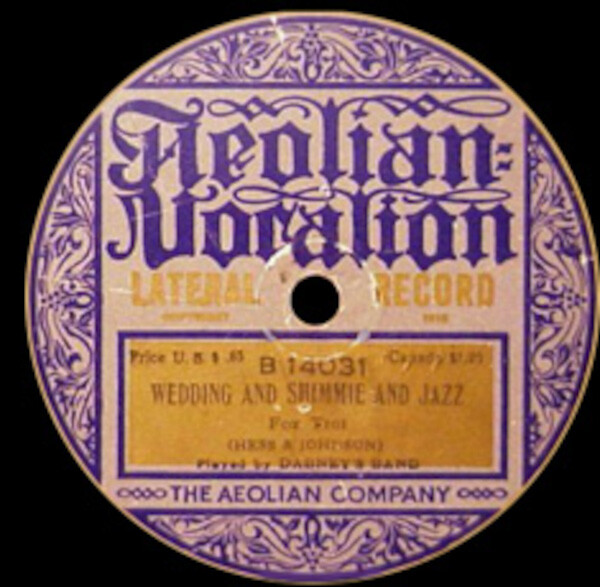 Ford Dabney
(15 March 1883 – 21 June 1958), best-known as the composer of the evergreen 'Shine', led an interesting career. He owned a theatre in Washington, worked as the official musician to the president of Haiti between 1904 and 1907, was a close associate of
James Reese Europe
 and was for several years featured with his band in Ziegfeld's Midnight Frolic atop the New Amsterdam Theatre.
"Slow Drag Blues" is somewhat anachronistic and shows the enormous gap left in black New York musical life by the death of Europe. No attempt is made to vary the arrangement, which consists solely of repeated verses and choruses and it may not come as a surprise to learn that Ziegfeld dispensed with Dabney's services in 1920, in favour of Art Hickman's Orchestra, with its saxophone section and novel orchestral arrangements. — by John R.T. Davies
(from the liner notes of Ragtime To Jazz 1 1916 – 1922 on Timeless Records)
Thanks to Dave Bartholomew for his help with the recordings on this page.

Title

Recording Date

Recording Location

Company

A Foxy Cure For The Blues
2-1919
New York, New York
Aeolian
Vocalion
12105
Aeolian
Vocalion
13005
A Winning Fight


(Abe Holzmann)

1-1918
New York, New York
Aeolian
Vocalion
A 12004
Beautiful Ohio Blues


(Robert King)

7-1919
New York, New York
Aeolian
Vocalion
12195
Blues My Naughty Sweetie Gives To Me


(Swanstone / MaCarron / Morgan)

11-1919
New York, New York
Aeolian
Vocalion
12245
Breeze
(Blow My Baby Back To Me)


(James Hanley)

10-1919
New York, New York
Aeolian
Vocalion
12229
Camp Meeting Blues


(W.T. Carroll)

11-1919
New York, New York
Aeolian
Vocalion
B 12246
Cheer Up, Lisa
8-1917
New York, New York
Aeolian
Vocalion
36002
Easy Pickin's


(Maceo Pinkard)

4-1919
New York, New York
Aeolian
Vocalion
A 12126
Feist's All-Hits Medley
9-1918
New York, New York
Aeolian
Vocalion
36205
Florida Blues


(William King Phillips)

9-1919
New York, New York
Aeolian
Vocalion
12211
'Frisco's Kitchen Stovers
6-1919
New York, New York
Aeolian
Vocalion
12179
Hello Central Give Me No-Man's Land


(Jean Scwartz / Sam M. Lewis / Joe Young / Al Jolson)

5-1918
New York, New York
Aeolian
Vocalion
36202
How Ya Gonna Keep 'Em Down On The Farm? (Introducing, "My Barney Lies Over The Ocean", "Come On Papa")


(Walter Donaldson / S.M. Lewis / J. Young)

4-1919
New York, New York
Aeolian
Vocalion
12125
I Ain't Gonna Give Nobody None O' This Jelly Roll


(Spencer Williams)

10-1919
New York, New York
Aeolian
Vocalion
12229
I'm Sorry I Made You Cry


(N.J. Clesi)

5-1918
New York, New York
Aeolian
Vocalion
36202
Indigo Blues


(Isham Jones)

1-1919
New York, New York
Aeolian
Vocalion
12097
In Miami
4-1919
New York, New York
Aeolian
Vocalion
12130
Johnny's In Town


(Jack Yellen / Geo. W. Meyer / Abe Olman)

1-1919
New York, New York
Aeolian
Vocalion
12101
Just Blue


(Wheeler Wadsworth / Victor Arden)

10-1918
New York, New York
Aeolian
Vocalion
12068
Keep Smiling


(Irving Berlin / Arthur Wimperis / Hartley Carrick)

4-1919
New York, New York
Aeolian
Vocalion
12125
Lassus Trombone


(Henry Filmore)

2-1919
New York, New York
Aeolian
Vocalion
12119
Lonesome Blues
Introducing Broken-Hearted Blues
(Perry Bradford)
9-1919
New York, New York
Aeolian
Vocalion
12211
Melody-Land
Introducing "Beautiful Queen Of The Nile


(Raymond Hubbell / John L. Golden)

8-1917
New York, New York
Aeolian
Vocalion
36002
Missouri Blues


(Harry Brown)

4-1919
New York, New York
Aeolian
Vocalion
12152
Miss Trombone
(A Slippery Rag)


(Henry Filmore)

5-1919
New York, New York
Aeolian
Vocalion
12167
Mr. Sousa' Yankee Band


(Joe Farrell / Gene Greene)

1-1919
New York, New York
Aeolian
Vocalion
36205
My Laddie


(Rogers / Akst)

12-1919
New York, New York
Vocalion
M-1006
My Laddie


(Rogers / Akst)

2-1920
New York, New York
Aeolian
Vocalion
A 14015
Now I Know
11-1919
New York, New York
Aeolian
Vocalion
12245
Old Glory Goes Marching On


(Paul B. Armstrong / F. Henri Klickmann)

5-1919
New York, New York
Aeolian
Vocalion
12167
Old Sammies' March


(Vandersloot)

1-1918
New York, New York
Aeolian
Vocalion
B 12004
On The Streets Of Cairo


(Hulten)

10-1919
New York, New York
Aeolian
Vocalion
12217
Paddle-Addle In Your Little Canoe


(Snyder)

8-1917
New York, New York
Aeolian
Vocalion
1219
Pussy Willow
11-1917
New York, New York
Aeolian
Vocalion
B 1243
Rainy Day Blues


(Frank Warshauer)

2-1919
New York, New York
Aeolian
Vocalion
12105
Aeolian
Vocalion
13005
Round The Corner


(Friml)

12-1919
New York, New York
Vocalion
B 14001
Sally Trombone


(Henry Fillmore)

11-1917
New York, New York
Aeolian
Vocalion
A 1243
Sarah, Come Over Here


(Eddie Nelson / Con Conrad)

1-1919
New York, New York
Aeolian
Vocalion
12101
Sliding Sid


(Abe Losch)

11-1917
New York, New York
Aeolian
Vocalion
12017
Slow Drag Blues


(Snowden)

8-1919
New York, New York
Aeolian
Vocalion
12195
Spanking The Baby
9-1919
New York, New York
Aeolian
Vocalion
12206
Springtime
(from "Zeigfeld's Midnight Frolic")


(Gene Buck / Dave Stamper)

10-1918
New York, New York
Aeolian
Vocalion
12066
Squealing Pig Blues


(Edna Belle Alexander)

6-1919
New York, New York
Aeolian
Vocalion
12179
Swinging Along
(from "Zeigfeld's Midnight Frolic")


(Gene Buck / Dave Stamper)

10-1918
New York, New York
Aeolian
Vocalion
12066
That's It


(Henry Creamer / J. Turner Layton)

11-1917
New York, New York
Aeolian
Vocalion
1218
The Darktown Strutters Ball


(Shelton Brooks)

8-1917
New York, New York
Aeolian
Vocalion
1204
The Darktown Strutters Ball


(Shelton Brooks)

8-1917
New York, New York
Aeolian
Vocalion
1219
The Jass – "Lazy Blues"


(Ted Eastwood)

11-1917
New York, New York
Aeolian
Vocalion
1218
There's A Lot Of Blue Eyed Mary's Down In Maryland


(Jack Yellen / Milton Ager / Geo. W. Meyer)

9-1919
New York, New York
Aeolian
Vocalion
12206
There's A Lump Of Sugar Down In Dixie


(Alfred Bryan / Jack Yellen / Albert Gumble)

9-1919
New York, New York
Aeolian
Vocalion
12027
Wedding And Shimmie And Jazz


(Cliff Hess / Howard Johnson)

2-1920
New York, New York
Vocalion
B 14031
What's Worth While Getting
(Introducing Poor Little Butterfly)


(Lewis / Ruby)

12-1919
New York, New York
Vocalion
A 14001
When My Baby Smiles


(Irving Berlin)

2-1920
New York, New York
Vocalion
A 14031
You Can't Blame The Girlies At All


(Abner Silver / Alex Gerber)

4-1919
New York, New York
Aeolian
Vocalion
12130

| | |
| --- | --- |
| Artist | Instrument |
| Edgar Campbell | Clarinet |
| Ford Dabney | Piano, Leader |
| Arthur Fields | Vocals |
| Joe Haywood | Tuba, Violin |
| Dennis Johnson | Drums |
| Nimrod Jones | Violin |
| Nappy Lee | Trombone, Euphonium |
| Bernard "Buttercup" Parker | Violin |
| Allie Ross | Drums |
| Cricket Smith | Trumpet |
| Alonzo Williams | Alto Saxophone |

Lost Sounds: Blacks And The Birth Of The Recording Industry by Tim Brooks, Appendix by Dick Spottswood, University of Illinois Press, 2004