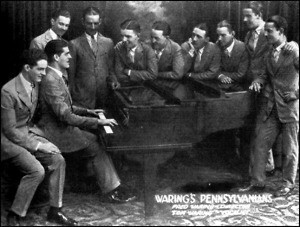 One of the enduring images of the 1920s is of the college boy in a raccoon coat, out for some jazz kicks with a hip flask and a flapper on his arm. Waring's Pennsylvanians popularized this type of image through their music, stage shows, and film appearances.
The band was formed in 1918 at Pennsylvania State University by the brothers Fred and Tom Waring, and their friends Freddy Buck and Poley McClintock. They first billed themselves as the Waring-McClintock Snap Orchestra and then became Waring's Banjo Orchestra before adopting the name of Waring's Pennsylvanians in 1922.
In 1923 they had a big hit with the record "Sleep" and the song continued to be the band's
theme song for many years to come. The Pennsylvanians were very popular at colleges and often played fraternity parties, proms, and local dances early in their career and then graduated to playing at movie theatres and vaudeville houses across the United States becoming one of the sought after acts in show business.
In 1925 Waring's Pennsylvanians had a huge hit with "Collegiate" and it remains their best-known song. The tune is a wonderful little time capsule of college life in the 1920s. By the end of the 1920s they were one of the most popular musical acts in the country and they starred in an early sound film called "Syncopation" in 1929.
In the 1930s they were one of the hottest acts on radio hosting shows sponsored by Old Gold, Ford, Chesterfield and General Electric and if that were not enough Fred Waring developed and marketed the kitchen appliance the Waring Blender.
The Pennsylvanians stopped making records in 1932 because they thought that they were competing against their radio show and would not do so again until 1942.
The act continued to be popular well into the 1950s and were pioneers in broadcast televison. In 1949 the Pennsylvanians had their own weekly television show sponsored by General Electric. As the years went by the band's music changed and they became more of a choral group than a Jazz group, but Fred Waring's Pennsylvanians remained active and quite popular up until Waring's death in 1984.
For additional information on Fred Waring and the Pennsylvanians you are encouraged to visit Fred Waring's America at the Penn State University Library web site.
Thanks to Bob Palmer, Carl Rose, Owen Miller, Dennis Pereyra, Dave Bartholomew, Verne Buland, James Gallup and especially Martin's 78 Turntable for many of the recordings on this page. Be sure to check out Martin's site for more great Hot Jazz and Hot Dance streaming audio on the web.
Title

Recording Date

Recording Location

Company

Across The Breakfast Table Looking At You
(From Warner Bros. Picture, "Mammy")


(Irving Berlin)

1-15-1930
New York, New York
Victor
22340-B
A Love Tale Of Alsace Lorraine


(Lou Davis / J. Fred Coots)

1-7-1929
New York, New York
Victor
21836-A
And So I Married The Girl


(Herb Magidson / Sam H. Stept)

11-16-1932
New York, New York
Victor
24186
A Picnic For Two


(Seymour / Goodhart / Hoffman)

5-13-1932
New York, New York
Victor
24030
Ah! Sweet Mystery Of Life


(Victor Herbert)

4-17-1928
Camden, New Jersey
Victor
35921-A
Alma Mammy
(From Paramount picture, "Sweetie")
Vocal refrain by Clare Hanlon


(Richard Whiting / George Marian)

12-16-1929
New York, New York
Victor
22254-A
Annie Dear
(from the Ziegfeld production "Annie Dear")


(Clare Kummer)

12-9-1924
Camden, New Jersey
Victor
19554-A
Any Ice Today, Lady?


(Ballard)

6-2-1926
New York, New York
Victor
20083
Any Way The Wind Blows


(Creamer / Hanley)

8-12-1924
Camden, New Jersey
Victor
19422-B
Anybody's College Song


(H. Hupfield)

11-10-1932
New York, New York
Victor
24181
At The End Of The Road


(Ballard MacDonald / James F. Hanley)

2-27-1925
Camden, New Jersey
Victor
19602
Blackin' Blues


(N. LaPorte / Nat Nathanson)

6-2-1924
New York, New York
Victor
19369-A
Blue-Eyed Sally


(by Al Bernard / J. Russel Robinson)

1-23-1925
Camden, New Jersey
Victor
19602
Bolshevik


(Nat Bonx / Moe Jaffe)

8-20-1926
New York, New York
Victor
20146-B
Born And Bred In Old Kentucky


(Meyer / Hanley)

2-27-1925
Camden, New Jersey
Victor
19603
Button Up Your Overcoat
from the musical comedy "Follow Thru"


(Ray Henderson / Lew Brown / Buddy DeSylva)

1-23-1929
Chicago, Illinois
Victor
21861-A
Chérie, I Love You


(Lillian Rosedale Goodman)

6-2-1926
New York, New York
Victor
20074-A
College Medley – Part 1
1. On Brave Old Army Team (West Point)
2. Hail To Pitt (University of Pittsburg)
3. The Victors (University of Michigan)
10-27-1932
New York, New York
Victor
24169-A
College Medley – Part 2
1. Alma Matter (Cornell)
2. Fight On Pennsylvania
3. Washington And Lee Swing
4. Fight On U.S.C.
10-27-1932
New York, New York
Victor
24169-B
Collegiana


(Dorthy Fields / Jimmy McHugh)

3-9-1928
New York, New York
Victor
21307-A
Collegiate


(Nat Bonx / Moe Jaffe)

4-4-1925
Camden, New Jersey
Victor
19648-A
Collegiate Blues


(Nat Bonx / Moe Jaffe)

12-18-1925
Camden, New Jersey
Victor
19905-B
Cover Me With Kisses
Vocal refrain by Tom Waring


(Arthur Freed)

1-3-1924
Camden, New Jersey
Victor
19246-A
Crying For The Carolines
(from the First National picture "Spring is Here")
Vocal refrain by Will Morgan and Chorus


(Lewis / Young / Warren)

1-8-1930
New York, New York
Victor
22272-B
Dance Of The Blue Danube


(Fred Fisher)

3-8-1928
New York, New York
Victor
21308-B
Dancin' Dan


(Tracey / Stanley)

1-2-1924
Camden, New Jersey
Victor
19257
Dancing Dominoes


(J. Zimmerman)

12-14-1929
New York, New York
Victor
22268
Dancing In The Dark


(Howard Dietz / Arthur Schwartz)

5-18-1931
New York, New York
Victor
22708-B
Does My Sweetie Do – And How!


(Holden / Belledena / Maceo Pinkard)

4-3-1925
Camden, New Jersey
Victor
19655
Don't Sing Aloha When I Go


(Smith / Black / Moret)

11-3-1926
New York, New York
Victor
20338-A


6581-4

Don't Sing Aloha When I Go


(Smith / Black / Moret)

11-3-1926
New York, New York
Victor
20338-A


6581-6

Down Home Blues


(Morde Berk)

3-26-1924
Camden, New Jersey
Victor
19303-B
Dreary Weather
Vocal refrain by Tom Waring


(Clay Boland / Frank Winegar)

8-12-1924
Camden, New Jersey
Victor
19422-A
Elizabeth


(Irving Caesar / Katscher)

3-13-1931
New York, New York
Victor
22655
Falling In Love
Vocal refrain by Clare Hanlon


(Earl Crocker / Mary Sullivan)

10-25-1932
New York, New York
Victor
22706-A
Farewell Blues
(Elmer Schoebel / Paul Mares / Leon Roppolo)
3-28-1928
New York, New York
Victor
21508
Fit As A Fiddle


(Freed / Hoffman / Goodheart)

10-25-1932
New York, New York
Victor
24168
Forever


(Henry Cohen)

1-2-1924
Camden, New Jersey
Victor
19246-B
Freshie


(Jesse Green / Harold Berg)

9-7-1925
Los Angeles, California
Victor
19784-A
Gee, But I'd Like To Make You Happy
(from Metro-Goldwyn-Meyer picture, "Good News")
Vocal refrain by Clare Hanlon


(Shay / Ward / Montgomery)

7-30-1930
New York, New York
Victor
22492-B
Glorianna
Vocal refrain by Clare Hanlon


(Lew Pollack / Sid Clare)

12-14-1928
New York, New York
Victor
21836-B
Good For You, Bad For Me
(From the Musical Comedy "Flying High")
Vocal refrain by The Three Girl Friends


(Ray Henderson / Lew Brown / Buddy DeSylva)

1-9-1930
New York, New York
Victor
22326-B
Goodnight, Sleep Tight


(Gus Kahn / Hal Leonard)

5-12-1924
Camden, New Jersey
Victor
19362
Have A Little Faith In Me
From First National Picture, "Spring is Here")


(Lewis / Young / Warren )

1-7-1930
New York, New York
Victor
22272-A
Have A Little Fun


(Pascoe / Dulmage / Werner)

9-19-1924
Camden, New Jersey
Victor
19492
Hay Foot, Straw Foot


(MacDonald / Carroll)

9-2-1925
Los Angeles, California
Victor
19814
Hello Baby
(From First National picture, "The Forward Pass")
Vocal refrain by Will Morgan


(Magidson / Washington / Cleary)

12-17-1929
New York, New York
Victor
22266-B
Hello Montreal!
(vocal refrain by Fred Waring)


(Rose / Dixon / Warren)

3-29-1928
New York, New York
Victor
21333
Hello! Swanee, Hello!


(Sam Coslow / Andy Britt)

1-31-1927
Camden, New Jersey
Victor
20467-A
Her Beaus Are Only Rainbows


(Alfred Bryan / George Meyer)

8-18-1926
New York, New York
Victor
20146-A
Here It Is Monday And I've Still Got A Dollar


(Segler / Cleary)

11-10-1932
New York, New York
Victor
24181
Here Or There As Long As I'm With You
Vocal Refrain by Tom Waring


(Virgil Davis / Jesse Greer)

1-21-1927
Camden, New Jersey
Victor
20476-B
High And Low
(I've Been Looking For You)
(From the Revue "The Band Wagon")


(Howard Dietz / Arthur Schwartz)

5-18-1931
New York, New York
Victor
22708-A
High Up On A Hill Top


(Abel Baer / Richard Whiting / Jimmy Campbell)

9-28-1928
Camden, New Jersey
Victor
21715-A
Holding Hands


(Simon / Berg / Dulmage)

1-2-1924
Camden, New Jersey
Victor
19254-B
Holding My Honey's Hand


(Hirsch / Goering / Bernie)

6-27-1932
New York, New York
Victor
24051-A
Honest! Really! Truly!


(Turk / Ahlert)

12-29-1931
New York, New York
Victor
22900
How About Me?


(Irving Berlin)

11-13-1928
New York, New York
Victor
21792
How'm I Doin'?
with scat vocal
(Lem Fowler / Don Redman)
4-5-1932
New York, New York
Victor
22978-B
Hush-a-Bye / That Naughty Waltz


(Seelen / Fain)

10-31-1932
New York, New York
Victor
24215
I Can't Do Without You


(Irving Berlin)

3-20-1928
New York, New York
Victor
21327
I Can't Make Her Happy
Vocal refrain by Clare Hanlon


(Pollack / Clare)

12-7-1928
New York, New York
Victor
21810-A
I Found A Million-Dollar Baby
(In A Five And Ten Cent Store)


(Billy Rose / Fred Fisher)

5-4-1931
New York, New York
Victor
22707
I Heard
(Don Redman)
5-13-1932
New York, New York
Victor
24030
I Love My Baby
My Baby Loves Me


(Bud Green / Harry Warren)

12-14-1925
Camden, New Jersey
Victor
19905-A
I Love The College Girls


(Nat Bonx / Moe Jaffe)

12-8-1926
New York, New York
Victor
20378-B
I Say It's Spinach


(Irving Berlin)

2-28-1932
New York, New York
Victor
22939
I Scream – You Scream – We All Scream For ICE CREAM


(Johnson / Moll / King)

11-30-1927
Camden, New Jersey
Victor
21099-B
I Used To Love Her In The Moonlight
vocal refrain by Clare Hanion


(Ted Fiorito / Lewis Young)

2-20-1929
Chicago, Illinois
Victor
21974-B
I Want The World To Know
from the Musical comedy "Hello Yourself"


(Leo Robin / Richard Meyers)

10-12-1928
Camden, New Jersey
Victor
21783-B
I Want To Be Happy


(Irving Caesar / Vincent Youmans)

1-10-1930
New York, New York
Victor
22292
I Wonder How I Look When I'm Asleep?


(Ray Henderson / Lew Brown / Buddy DeSylva )

3-24-1927
Camden, New Jersey
Victor
20562-A
I Won't Go
9-4-1925
Los Angeles, California
Victor
19943
If I Can't Have You
(I Want To Be Lonesome, I Want To Be Blue)
Vocal refrain by Tom Waring


(Walter Donaldson)

12-13-1927
Camden, New Jersey
Victor
21206-B
I'll Always Be In Love With You
from the RADIO picture, "Syncopation"


(Sam H. Stept)

2-4-1929
Chicago, Illinois
Victor
21870-B
I'm A Little Fonder Of You
Vocal refrain by Tom Waring


(Irving Caeser)

12-8-1926
New York, New York
Victor
20393-A
Victor
22314-A
I'm Haunted By The Swanee River Song


(Troy / Smith / Carleton)

5-22-1924
Camden, New Jersey
Victor
19362
I'm Only Guessin'


(N. H. Brown / Raymond Egan)

1-18-1932
New York, New York
Victor
22900
I'm Somebody Nobody Loves


(Virgil Davis / Loy / Harry Akst)

1-4-1924
Camden, New Jersey
Victor
19286
I'm Sorry, Sally


(Gus Kahn / Ted Fiorito)

10-12-1928
Camden, New Jersey
Victor
21755-A
In A Little Garden
(You Made Paradise)
Vocal refrain by Tom Waring


(Earl Whittlemore / Felice S. Iula)

6-2-1926
New York, New York
Victor
20078-B
In My Gondola


(Bud Green / Harry Warren)

4-1-1926
Camden, New Jersey
Victor
20010-A
In The Evening
Vocal refrain by Tom Waring


(James F. Hanley)

12-9-1927
Camden, New Jersey
Victor
21432-B
Insufficient Sweetie


(Wells / Jones)

1-21-1925
Camden, New Jersey
Victor
19569-B
It Made You Happy When You Made Me Cry


(Walter Donaldson)

10-28-1926
New York, New York
Victor
20315-B
It Seems To Be Spring


(Richard Whiting / Marion)

1-27-1930
New York, New York
Victor
22470-B
I've A Garden In Sweden


(Murphy / Owens / Lipton)

8-11-1924
Camden, New Jersey
Victor
19438-B
I've Got Some Lovin' To Do


(Moe Jaffe / Nat Bronx)

12-17-1925
Camden, New Jersey
Victor
19913-B
I've Never Seen A Straight Banana (take 2)


(Ted Waite)

3-23-1927
Camden, New Jersey
Victor
20562-B
I've Never Seen A Straight Banana (take 3)


(Ted Waite)

3-23-1927
Camden, New Jersey
Victor
LPV-554
Jericho
from the RADIO picture, "Syncopation"


(Leo Robin / Dick Myers)

2-4-1929
Chicago, Illinois
Victor
21870-A
June Night


(Cliff Friend / Abel Baer)

6-6-1924
Camden, New Jersey
Victor
19380-A
Just A Cottage Small
(By A Waterfall)


(Hanley)

3-23-1926
Camden, New Jersey
Victor
20010-B
Just Another Day Wasted Away
(Waiting For You)
Vocal refrain by Tom Waring


(Tobias / Turk)

6-2-1927
Camden, New Jersey
Victor
20724-A
Just Another Night


(Walter Donaldson)

10-26-1928
Camden, New Jersey
Victor
21755-B
Just Hot!
(Jimmy McHugh / Frank Signorelli / Phil Napolean)
6-6-1924
Camden, New Jersey
Victor
19377-A
Keep Smiling At Trouble
from "Big Boy"


(Al Jolson /Buddy DeSylva / Gensler)

12-10-1924
Camden, New Jersey
Victor
19533
Keep Sweeping The Cobwebs Off The Moon
Vocal refrain by Tom Waring


(Lewis / Young / Levant)

12-13-1927
Camden, New Jersey
Victor
21165-A
Laugh, Clown, Laugh!


(Lewis / Young / Frouto)

3-8-1928
New York, New York
Victor
21308-A
Let Me Sing, And I'm Happy
(vocal refrain by The Three Girl Friends)


(Irving Berlin)

12-17-1929
New York, New York
Victor
22340-A
Let's Have Another Cup O' Coffee


(Irving Berlin)

2-24-1932
New York, New York
Victor
22936
Let's Wander Away


(Earl Burtnett / Harry Owens)

9-3-1925
Los Angeles, California
Victor
19814
Like He Likes Me
(Introducing "Nicodemus")


(Caldwell / V. Vincent Youmans)

12-8-1926
New York, New York
Victor
20437
Lila
(vocal refrain by Tom Waring)


(Maceo Pinkard / Tobias / Gottler)

3-23-1928
New York, New York
Victor
21333
Little Peach
from the Musical Comedy "Louis the XVI"
Vocal refrain by Tom Waring


(Aurthur Wimperes / Sigmund Romberg)

4-2-1925
Camden, New Jersey
Victor
19636-B
Little White Lies
Vocal refrain by Clare Hanlon and the Three Girl Friends


(Walter Donaldson)

7-25-1930
New York, New York
Victor
22492-A
Look At Those Eyes


(Phil Baker / Sid Silver)

4-4-1925
Camden, New Jersey
Victor
19648-B
Looking At The World Thro' Rose-Colored Glasses


(Molie / Steiger)

6-3-1926
New York, New York
Victor
20076-B
Love For Sale
(from the Musicaly Comedy "The New Yorkers")
Vocal refrain by The Three Waring Girls


(Cole Porter)

12-24-1930
New York, New York
Victor
22598-B
Victor
25080
Maybe I'll Baby You
from "Take The Air"


(Gene Buck / Dave Stam)

12-13-1927
Camden, New Jersey
Victor
21206-A
Maybe This Is Love


(Ray Henderson / Lew Brown / Buddy DeSylva)

11-13-1928
New York, New York
Victor
21788-B
Maytime


(Vincent Rose)

6-2-1924
New York, New York
Victor
19367
Medley from "Flying Colors"
Louisiana Hayride – A Shine On Your Shoes – A Rainy Day – Mother Told Me So


(Howard Dietz / Arthur Schwartz)

11-10-1932
New York, New York
Victor
24239
Memory Lane
Vocal refrain by Tom Waring


( Buddy DeSylva / Spier / Con Conrad)

3-26-1924
Camden, New Jersey
Victor
19303-A
Mighty Blue


(Richard Whiting / Raymond Egan)

9-4-1925
Los Angeles, California
Victor
19784-B
Moonlight And Roses
(Bring Memories Of You)
(Adapted from Lamaire's celebrated "Andantino")
Vocal refrain by Tom Waring and Chorus


(Ben Black / Neil Moret)

6-3-1926
New York, New York
Victor
20194-A
More Beautiful Than Ever


(Ned Washington / Victor Young)

11-4-1932
New York, New York
Victor
24179-A
My Annapolis And You


(Bebo / Weinberg)

5-1-1929
New York, New York
Victor
21975
My Castle In Spain Is A Shack In The Lane
vocal refrain by Clare Hanion


(Irving Caesar / Cliff Friend)

2-20-1929
Chicago, Illinois
Victor
21900-A
My Lucky Star


(Ray Henderson / Lew Brown / Buddy DeSylva)

1-28-1929
Chicago, Illinois
Victor
21861-B
My Mother's Eyes


(Gilbert / Baer)

1-23-1929
Chicago, Illinois
Victor
21857
My Regular Girl


(Bud Green / Harry Warren)

12-9-1926
New York, New York
Victor
20598-A
My Sin
Vocal refrain by Clare Hanlon


(Ray Henderson / Lew Brown / Buddy DeSylva )

5-2-1929
New York, New York
Victor
21977-A
My Window Of Dreams
Vocal refrain by Tom Waring


(Al Bryan / John Klenner)

9-12-1928
New York, New York
Victor
21676-B
Nashville Nightingale


(George Gershwin / Irving Caesar)

9-19-1924
Camden, New Jersey
Victor
19492
Navy Blues
(From Metro-Goldwyn-Mayer picture, "Navy Blues")


(Fred E. Ahlert / Roy Turk)

12-14-1929
New York, New York
Victor
22254-B
Nesting Time
Vocal refrain by Tom Waring


(Mort Dixon / James Monaco)

3-22-1927
Camden, New Jersey
Victor
20589-A
Oh Baby!
(Don't Say, "No", Say "Maybe")


(Walter Donaldson)

1-3-1924
Camden, New Jersey
Victor
19254-A
Oh Donna Clara!


(Irving Caesar / Petersburshi / Beda)

3-13-1931
New York, New York
Victor
22655
Oh! Mabel


(Gus Kahn / Ted Fiorito)

12-10-1924
Camden, New Jersey
Victor
19533
Old Yazoo
Vocal refrain by Frank Zullo and chorus
(Fats Waller)
6-27-1932
New York, New York
Victor
24062-B
On A Roof In Manhattan


(Irving Berlin)

2-28-1932
New York, New York
Victor
22939
Orange Blossom Time


(Goodwin / Edwards)

5-22-1929
New York, New York
Victor
21997-A
Out Of A Million
(You're The Only One)


(Clarke / Leslie / Cobey)

8-12-1924
Camden, New Jersey
Victor
19471
Paradise


(Kerr / Zamecnik)

9-12-1928
New York, New York
Victor
21678-A
Pennsylvania State Medley
"Victory" – "Nittany Lion"


(James Leyden)

12-15-1925
Camden, New Jersey
Victor
19911-B
Peter Pan (I Love You)


(Robert King / Ray Henderson )

1-23-1925
Camden, New Jersey
Victor
19570
Pompanola
(From the Musical Comedy, "Three Cheers"


(Ray Henderson / Lew Brown / Buddy DeSylva)

11-13-1928
New York, New York
Victor
21788-A
Red-Hot Chicago
(From the Musical Comedy "Flying High")


(Ray Henderson / Lew Brown / Buddy DeSylva)

1-10-1930
New York, New York
Victor
22325-A
Rhymes


(Leslie Sarony)

4-5-1932
New York, New York
Victor
22978-A
Roses Of Yesterday
Vocal refrain by Clare Hanton


(Irving Berlin)

9-7-1928
New York, New York
Victor
21676-A
Sa-Lu-Ta! (Saud!)


(Gus Kahn / Walter Donaldson)

6-2-1927
Camden, New Jersey
Victor
20727-A
Say That You Love Me
from "Hello Yourself"
Vocal by Fred Waring and Chorus


(Leo Robin / Richard Meyers)

11-5-1928
New York, New York
Victor
21783-A
Since I Found You
Vocal refrain by Tom Waring


(Sidney Clare / Harry Woods)

1-21-1927
Camden, New Jersey
Victor
20467-B
Sing A Little Jingle


(Dixon / Warren)

5-15-1931
New York, New York
Victor

Sing Me A Baby Song
Vocal refrain by Tom Waring


(Gus Kahn / Walter Donaldson)

6-2-1927
Camden, New Jersey
Victor
20724-B
Sleep


(Adam Geibel / Tom Waring)

10-16-1923
Camden, New Jersey
Victor
19172-A
Sleep


(Adam Geibel / Tom Waring)

2-15-1928
New York, New York
Victor
unissued
Sleepy Head


(Davis / Green)

8-17-1926
New York, New York
Victor
20141-B
So Beats My Heart For You


(Ballard / Tom Waring / Ray Henderson)

7-17-1930
New York, New York
Victor
22486
Soft Lights And Sweet Music


(Irving Berlin)

2-24-1932
New York, New York
Victor
22936
Someone To Love
Vocal refrain by Tom and Fred Waring


(Gus Kahn / Ted Fiorito)

4-1-1926
Camden, New Jersey
Victor
20018-A
Stack O' Lee Blues
Vocal refrain by Vernon Dalhart
(Ray Lopez)
10-16-1923
Camden, New Jersey
Victor
19189-A
Stack O' Lee Blues
(Ray Lopez)
4-18-1928
Camden, New Jersey
Victor
21508
Swanee Butterfly


(Billy Rose / Walter Donaldson)

4-4-1925
Camden, New Jersey
Victor
19636-A
Sweet Muchacha


(Milton Ager / Cameron / Hoffman)

10-25-1932
New York, New York
Victor
24189
Sweetheart Memories


(Benny Davis / Joe Burke)

6-24-1927
Camden, New Jersey
Victor
20820-B
Sweetheart Of Sigma Chi


(Byron D. Stokes / F. Dudleigh Vernor)

6-2-1927
Camden, New Jersey
Victor
20820-A
Syncopation Sal


(Tom Waring / Ward Campbell)

4-5-1925
Camden, New Jersey
Victor
19768
Talkin' To The Moon


(Billy Baskette)

3-23-1926
Camden, New Jersey
Victor
20003-A
Tea For Two


(Vincent Youmans / Irving Caesar)

1-10-1930
New York, New York
Victor
22292
Tell Me While We're Dancing


(Nick Kenny / Harry Link)

3-22-1932
New York, New York
Victor
22966-B
Tell Me Why You Smile, Mona Lisa


(Egar / Stolz)

5-12-1932
New York, New York
Victor
24016
Tell Me You Love Me


(Santly / Pollack)

4-17-1928
Camden, New Jersey
Victor
21439
Thank Your Father


(Ray Henderson / Lew Brown / Buddy DeSylva)

1-17-1930
New York, New York
Victor
22326-A
Thanks For The Buggy Ride


(Jules Buffano)

12-17-1925
Camden, New Jersey
Victor
19913-A
That Melody Of Love
Vocal refrain by Tom and Fred Waring


(Howard Dietz / Walter Donaldson)

2-23-1928
New York, New York
Victor
21297-A
That's How I Feel About You
Vocal refrain by Fred Waring and Chorus


(Benny Davis / Archie Gottler)

1-31-1929
Chicago, Illinois
Victor
21881-A
That's Livin'


(Turk / Ahlert)

1-18-1932
New York, New York
Victor
22914
That's My Baby


(Clare / Friend / Murphy)

10-15-1923
Camden, New Jersey
Victor
19209
The Little White House
(At The End Of Honeymoon Lane)
Vocal refrain by Tom Waring(take 3)


(Eddie Dowling / James F. Hanley)

10-29-1926
New York, New York
Victor
20289
The Little White House
(At The End Of Honeymoon Lane)
(take 5)


(Eddie Dowling / James F. Hanley)

10-30-1926
New York, New York
Victor
LPV-557
The Old Man Of The Mountain
Vocal refrain by Chick Bullock


(George Brown / Victor Young)

6-27-1932
New York, New York
Victor
24062-A
The Song I Love


(Buddy DeSylva / Lew Brown / Con Conrad)

12-7-1928
New York, New York
Victor
21810-B
The West, A Nest and You


(Larry Yo / Billy Hill)

10-16-1923
Camden, New Jersey
Victor
19172-B
The Yale Blues


(Collie Knox / Vivian Ellis)

1-24-1928
New York, New York
Victor
21307-B
Then You've Never Been Blue
vocal refrain by Clare Hanion


(Lewis / Young / Ted Fiorito)

2-20-1929
Chicago, Illinois
Victor
21974-B
There Must Be A Silver Lining


(Morse / Walter Donaldson)

1-28-1928
New York, New York
Victor
21227
There's Danger In Your Eyes, Cherie
from the United Artists picture "Puttin' On The Ritz"


(Richmond / Meskill / Wendling)

1-16-1930
New York, New York
Victor
22293
Ting-A-Ling
(The Waltz Of The Bells)


(Andy Britt / Jack Little)

8-17-1926
New York, New York
Victor
20141-A
To Be In Love (Espesh'lly With You)


(Turk / Ahlert)

5-22-1929
New York, New York
Victor
22023
Together


(Ray Henderson / Lew Brown / Buddy DeSylva)

1-19-1928
New York, New York
Victor
21213
To-Night's My Night With Baby
Vocal refrain by Tom Waring


(Irving Caesar / Meyer / Butternuth)

6-3-1926
New York, New York
Victor
20078-A
University Of Pennsylvania Medley
"Drink a Highball" – "Red and Blue" – "Hail Pennsylvania"


(Westervelt / Goeckel / Dilly)

12-18-1925
Camden, New Jersey
Victor
19911-A
Wa Wa Waddle Walk


(Coburn / Zany / Rose)

5-14-1924
Camden, New Jersey
Victor
19346-A
Was It A Dream?


(Coslow / Britt / Spier)

2-24-1928
New York, New York
Victor
21297-B
Wasn't It Beautiful While It Lasted?
(From the Musical Comedy "Flying High")


(Ray Henderson / Lew Brown / Buddy DeSylva)

1-28-1930
New York, New York
Victor
22325-B
Way Back When


(Robison / Keater)

11-4-1927
New York, New York
Victor
21058
Well! Well! Well!


(Walter Donaldson)

11-16-1932
New York, New York
Victor
24186
What A Night For Spooning
Vocal refrain by Clare Hanlon


(Ballard McDonald / Dave Dreyer)

9-5-1928
New York, New York
Victor
21715-B
What Do You Say?


(Yellon /Milton Ager / Ask)

2-23-1928
New York, New York
Victor
21323
When My Dreams Come True
from the Paramount picture Cocoanuts


(Irving Berlin)

5-2-1929
New York, New York
Victor
21977-B
When My Sugar Walks Down The Street
(All The Little Birdies Go Tweet-Tweet-Tweet)
(Gene Austin, Jimmy McHugh Irving Mills)
2-27-1925
Camden, New Jersey
Victor
19610-A
Where Do You Work-a, John?
(Push-a, Push-a, Push-a)


(Weinberg / Marx / Warren)

12-8-1926
New York, New York
Victor
20378-A
Where Have You Been?
(From the Musical Comedy, "The New Yorkers")


(Cole Porter)

12-24-1930
New York, New York
Victor
22598-A
Victor
25080
Where The Blue Of The Night
(Meets The Gold Of The Day)


(Turk / Crosby / Ahlert)

12-23-1931
New York, New York
Victor
22894
Who's Blue Now? (take 1)


(Irving Caesar / Meyer)

2-14-1928
New York, New York
Victor
LPV-554
Who's Blue Now? (take 3)


(Irving Caesar / Joseph Meyer)

2-14-1928
New York, New York
Victor
21258-A
Will You Remember Me?


(Davis / Santly / Richman)

1-23-1925
Camden, New Jersey
Victor
19571
With Summer Coming On


(Turk / Ahlert)

5-12-1932
New York, New York
Victor
24016
With You
from the United Artists picture "Puttin' On The Ritz"


(Irving Berlin)

1-8-1930
New York, New York
Victor
22293
Without Love


(Cole Porter)

1-22-1930
New York, New York
Victor
22486
Wob-a-ly Walk (take 1)


(Harry Warren / Buddy Green)

11-10-1927
New York, New York
Victor
LPV-554
Wob-a-ly Walk (take 2)


(Harry Warren / Buddy Green)

11-10-1927
New York, New York
Victor
21099-A
Won't You Tell Me, Hon
(When We're Gonna Be One)


(Lewis / Young / Warren)

1-31-1929
Chicago, Illinois
Victor
21888-B
You Forgot Your Gloves


(Eliseu / Lehak)

5-15-1931
New York, New York
Victor
22706-B
You'll Get By
(With A Twinkle In Your Eye)


(Turk / Coots)

10-25-1932
New York, New York
Victor
22706-B
Young And Healthy


(Warren / Dubin)

11-4-1932
New York, New York
Victor
24214
You're Getting To Be A Habit With Me


(Dubin / Warren)

11-2-1932
New York, New York
Victor
24214
You're The One
(You Beautiful Son-of-a-Gun)


(Buddy Fields / Gerald Marks)

3-22-1932
New York, New York
Victor
22966-A
Yours With Love And Kisses


(Davis / Silva)

8-20-1926
New York, New York
Victor
20234
| | |
| --- | --- |
| Artist | Instrument |
| Scott Bates | Violin |
| Lou Bonnies | Guitar |
| Bill Brookins | Vocal |
| Fred Buck | Banjo |
| Chick Bullock | Vocal |
| Fred Campbell | Clarinet, Alto Saxophone, Baritone Saxophone, Flute, |
| Stuart Churchill | Trumpet, Alto Saxophone, Xylophone, Vocal |
| Elton Cockerill | Clarinet, Tenor Saxophone |
| Gene Conklin | Trombone |
| Roy Cropper | Vocal |
| Fred Culley | Violin, Vocal |
| George Culley | Trumpet, Vocal |
| Johnny "Scat" Davis | Trumpet, Vocal |
| Virgil "Stinky" Davis | Clarinet, Alto Saxohpone |
| Francis Foster | Violin, Vocal |
| Earl Gardner | Alto Saxophone |
| Jim Gilliland | Trombone |
| Clare Hanlon | Trombone, Vocal |
| Charles Henderson | Piano |
| Frank W. Hower | Piano |
| Lewis James | Vocal |
| Nelson Keller | Trumpet, Vocal |
| Murray Kelner | Violin |
| Poley McClintock | Drums, Vocal, Frog Voice |
| Will Morgan | Clarinet, Alto Saxophone, Vocal |
| Jimmy Mullen | Brass Bass |
| Lambert Murphy | Vocal |
| Ed Radel | Brass Bass, String Bass+B40 |
| Lou Raderman | Violin |
| Wade Schlegel | Trumpet |
| Si Sharp | Alto Saxophone |
| Vladimir Silinsky | Violin |
| Frank Sylvano | Vocal |
| The Three Girl Friends | Vocal |
| The Three Waring Girls | Vocal |
| Bill Townsend | Violin |
| Fred Waring | Vocal, Ukulele, Director |
| Tom Waring | Piano, Vocal |
| Y. Zayde | Violin |
| Frank Zullo | Trumpet, Vocal |
| | | |
| --- | --- | --- |
| Title | Director | Year |
| Fred Waring And His Pennsylvanians | ? | 1927 |
| Syncopation | Bert Glennon | 1929 |
| Varsity Show | William Keighley | 1937 |
Fred Waring and the Pennsylvanians, by Virgina Waring, University of Illinois Press, 1997
The Discography of Fred Waring and the Pennsylvanians, Compiled by Peter T. Kiefer, Greenwood Publishing Group, 1996