In 1917 this band cut nine titles for Edison, all issued on Blue Amberol as well as Diamond Disc. It was among the first to make records marketed as "jass." Jaudas' Society Orchestra was the only Edison group to make an earlier recording characterized as "jass."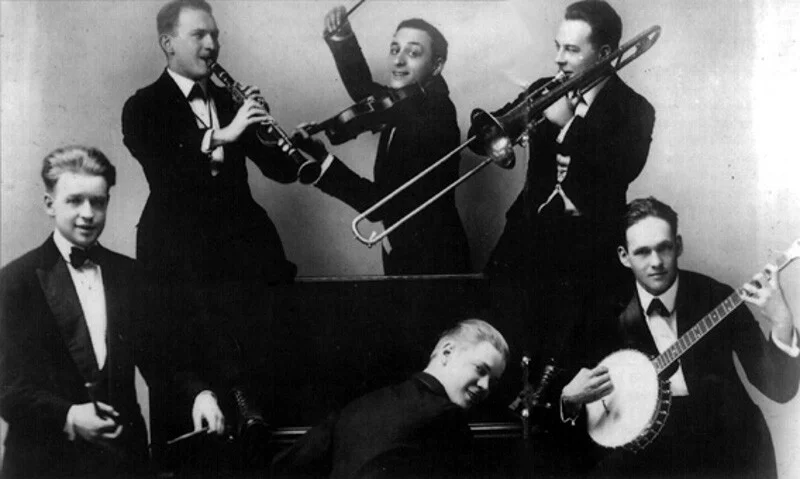 The Frisco "Jass" Band was formed in early 1917 by Rudy Wiedoeft soon after he arrived in New York City. According to the July 1917 issue of Edison Amberola Monthly, the band "is now playing engagements at Montmartre, New York's famous midnight cafe, the Winter Garden and the leading summer resorts near New York." Presumably the word Frisco was chosen to reflect that the musicians were from California. The band had no connection with Edison xylophone artist and vaudevillian Lou Chiha Frisco.
At its first session–on May 10, 1917–the Frisco "Jass" Band cut "Canary Cottage" and "Johnson's "Jass" Blues." In 1916-1917 Wiedoeft had played in the pit for Oliver Morosco's production of Canary Cottage as the touring show headed for the East Coast (it finally opened in New York City in the Morosco Theatre on February 5, 1917). "Canary Cottage"–a medley of the show's popular songs, written by Earl Carroll–was an obvious choice for the band's first session. Announcing its August release, Edison promotional literature characterized it as "a rattling One-Step melody from the tunes of the musical show 'Canary Cottage,' played in typical 'Jass Band' style." No cornet was featured, which was unusual for a "jass" ensemble at this time.
"Johnson 'Jass' Blues" was issued first on Blue Amberol 3254 in September 1917, then a few months later on Diamond Disc 50470. It was named after the song's composer, Arnold Johnson, who was also the band's pianist (beginning in the early 1920s he made Brunswick records under his own name). By 1920 lyrics were added to Johnson's melody, and the song was transformed into the popular "O," recorded by Billy Murray and others. The reverse side of Diamond Disc 50470 features "Umbrellas To Mend," notable for a band member shouting "umbrella!" at intervals and for remarkable percussion work.
Additional titles include "Pozzo" and "That's It." Promotional literature for "Night-Time In Little Italy," recorded on June 4, 1917, and issued as Blue Amberol 3286 in October, states, "'Jazz' Bands are all the rage now. This one is typical. The piece it plays is a very successful popular song, given here in Fox-Trot rhythm."
The November 1917 issue of Edison Amberola Monthly promoted the December release of "Yah-De-Dah" on Blue Amberol 3337 by stating, "The utter abandon displayed by a Jazz Band constitutes the greatest charm of this newest and smartest addition to modern dance music." Other Edison promotional literature added, "No players ever before played like this; hear them once and the Frisco Jazz Band will have you fascinated for life. Incidentally you'll fox-trot as never before to this music." (In late 1917 the company dropped quote marks from the band's name and, like other record manufacturers, switched from "Jass" to "Jazz.") "Yah-De-Dah" was recorded on July 26, 1917, and issued on Blue Amberol months afterwards. It was finally issued on Diamond Disc 51081 in December 1922. The reverse side featured "All I Need Is Just A Girl Like You," which had been recorded by the band on August 2, 1917.
By Tim Gracyk, from the book "Popular American Recording Pioneers 1895 -1925." 
Thanks to Nancy Karan, Al Simmons and Dominic Combe for their help with the recordings on this page.
Title

Recording Date

Recording Location

Company

All I Need Is Just A Girl Like You


(Abe Olman / Addison Burkhardt)

8-2-1917
New York, New York
Edison 51081
Blue Amberol 3390
Canary Cottage


(Earl Carroll)

5-10-1917
New York, New York
Edison 50440
Blue Amberol 3241
Cute Little Wigglin' Dance


(Henry Creamer / J. Turner Layton)

8-2-1917
New York, New York
Blue Amberol 3364
Johnson's "Jass" Blues


(Arnold Johnson)

5-10-1917
New York, New York
Edison 50470-R
Blue Amberol 3254
Night-Time In Little Italy


(Fred Fischer / Joe McCarthy)

6-4-1917
New York, New York
Edison 50515-L
Blue Amberol 3286
Pozzo One Step


(Vincent Rose)

6-4-1917
New York, New York
Edison 50464-L
Blue Amberol 3303
That's It


(Henry Creamer / J. Turner Layton)

8-1917
New York, New York
Edison 50950
Blue Amberol 3418
Umbrellas To Mend


(Mel B. Kaufman)

8-2-1917
New York, New York
Edison 50470-L
Blue Amberol 3485
Yah-De-Dah


(Mel. B. Kaufman)

7-26-1917
New York, New York
Edison 51081
Blue Amberol 3337
| | |
| --- | --- |
| Artist | Instrument |
| Arnold Johnson | Piano |
| Buster Johnson | Trombone |
| Rudy Wiedoeft | Clarinet |
| Marco Woolf | Violin |
| unknown | Drums, Banjo |