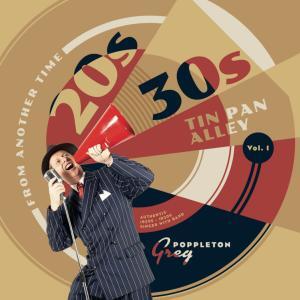 Greg Poppleton vividly remembers the day he fell in love with jazz. Aged just three, he saw a Louis Armstrong soundie on TV, replacing a broken-down broadcast like a hot jazz test card. Ever since then—and particularly since turning professional in 2004—he has doggedly pursued an authentic 1920s sound.
After dozens of reviews praising his aural "accuracy" and "authenticity," he can unashamedly claim to have achieved that ambition with the awkwardly-named '20s '30s Tin Pan Alley, Vol. 1.
It's a mix of the very familiar and the lesser-known. "My Canary Has Circles Under His Eyes" is a particular pleasure, featuring the occasional comedy bird whistle and clearly sung with a big smile. In fact, Greg must have been sore from grinning throughout his studio sessions, if his unwaveringly upbeat tone is anything to go by.
Some swing revivalists go for a big, bright sound, turning up the acoustic saturation to neon. These dense discs (think Royal Crown Revue, Big Bad Voodoo Daddy, Casey MacGill and so on) ooze interwar opulence, but lose something in heart. (They remind me of a ponytailed jazzman in a zoot suit, or a glamorous gal in a chic vintage dress, but modern makeup.)
Others use battered old microphones, sacrificing clarity for a characteristic, period fuzziness (or use electronic filters to achieve the same effect, leaving one wondering how well the song would stand up live).
Greg walks a pleasant middle path, choosing instrumental and technical simplicity to achieve an old-fashioned, uncomplicated sound. Most of the tracks on his latest platter feature just two instruments—washboard and banjo/ukulele—plus Greg's own pleasing, vintage voice.
His style harks back to a pre-jazz age of bel canto singing; he named the likes of Henry Burr and even Enrico Caruso amongst his influences, in a recent chat with The Syncopated Times. Such idols show themselves in Greg's version of "The Charleston" when, in the final chorus, he holds several syllables in impressive portamento slides. These, with his half-spoken, quivering vibrato, do a lot to refresh an otherwise very well-worn standard; something he achieves again and again with "Five Foot Two Eyes of Blue" and "I Wish I Could Shimmy Like My Sister Kate."
Movie actor Greg likens his singing, humbly, to a Shakespearean actor declaiming his lines. "Actors are so precious about Shakespeare now," he told TST. "I reckon actors in those days would come on and declaim to the audience, then play on what they got back. It's the same for the 1920s and 1930s. People look at the stuffy pictures and think they sang like that all the time. But they didn't; they got out there and related to the audience."
Greg isn't the world's strongest jazz vocalist; he rates his own skill as "decent." But there's something very charming about his Aussie accent and odd tonal wobble, such as that heard once or twice in "Ain't She Sweet." It suggests an unvarnished honesty which hints at a man more interested in entertaining than impressing (but who manages to impress, nonetheless). "Singing in the Bathtub" confirms his playful, vaudevillian attitude to jazz and his deep knowledge of the genre, as a longtime jazz radio DJ.
"Al Jolson," another idol, "was the first singer who really knew how to use a microphone," Greg told TST, "coming in close and signing softly but with presence, rather than belting it out. There was a roundness to his voice, but the enunciation was very clear. I think it was about doing justice to the likes of Gershwin and Porter."
The comment sums up this joyful nine-track album, available digitally or as limited edition CD, of which only 50 copies have been cut. Alternatively one could simply say that, with this delightful disc, "Happy Days Are Here Again"—sung half in German by Greg, for reasons unknown.