Henry Halstead led a band at the St. Francis Hotel (335 Powell Street) in San Francisco from 1922 to 1925. His band also appeared nightly on KGO radio broadcasts that spread the name of his orchestra up and down the West Coast.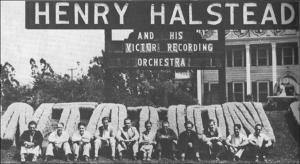 Halstead's band went on to play extended residencies at hotels and clubs in Los Angeles, Seattle and Santa Monica up until early 1944 when he disbanded the orchestra because he was losing so many of his musicians to the war effort.
The Halstead Orchestra was one of the first jazz or dance bands to make a sound movie short in 1927. The Warner Brothers' Vitaphone film was called 'Carnival Nights In Paris'.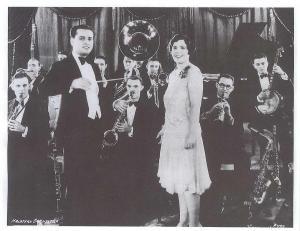 After he left the bandleader business Halstead bought an airfield, a restaurant and dance hall in Big Bear, California. He lived there for a few years and then moved to San Francisco where he booked talent at the St. Francis Hotel for a couple of years. After that he moved to Los Angeles, California and booked talent for a couple of more years there. Halstead then he moved to Phoenix, Arizona where once again he booked talent for a few years and then got into real estate.
Thanks to Hank Halstead Jr. for his help with the information on this page.
Title

Recording Date

Recording Location

Company

Ain't That Too Bad


(Chick Endor / Eddie Ward)

5-16-1927
Los Angeles, California
Victor
20691-B
Bull Frog Serenade


(Charles F. Caldwell)

6-19-1924
Oakland, California
Victor
19511-A
Bygones


(Kerr / Abrahamson / Warner)

9-12-1924
Oakland, California
Victor
19552
China Girl


(Halstead / Warner / Singer)

9-12-1924
Oakland, California
Victor
19579
Dream Of Love And You


(Transcribed from Liszt's "Liebestraum" by Glenhall Taylor)

5-12-1926
Los Angeles, California
Victor
20062-B
Frantic
6-20-1924
Oakland, California
Victor
19513
Give Me Today
5-12-1926
Los Angeles, California
Victor
20061-A
I Don't Know Why


(Frank Galvin / Jack Coakley)

9-12-1924
Oakland, California
Victor
19482-A
If I Were King
from the Musical Comedy "Patsy"


(Ingleton / Grey / Kornblum)

5-12-1926
Los Angeles, California
Victor
20062-A
Moonlight And Roses


(Neil Moret / Ben Black)

2-6-1925
Oakland, California
Victor
19579-B
My Idea Of Heaven
(Is To Be In Love With You)
5-16-1927
Los Angeles, California
Victor
20689
On The Way To Monterey


(Neil Moret / Ben Black)

1-23-1925
Oakland, California
Victor
19579-A
One Moment More With You
Vocal Refrain by Buster Dees


(Ray Egan / Dick Whiting / Neil Moret)

4-8-1929
Hollywood, California
Victor
22000-B
Pal Of My Lonesome Hours
5-16-1927
Los Angeles, California
Victor
20688
Panama


(Tyers)

6-20-1924
Oakland, California
Victor
19514
Playmates


(Billy Hill)

2-6-1925
Oakland, California
Victor
19575-B
Rosy Cheeks


(Simmons / Whiting)

5-16-1927
Los Angeles, California
Victor
20691-A
Sweet Little You


(Irving M. Bilbo)

8-30-1924
Oakland, California
Victor
19406
Tear Drops


(Lou Davis / Arnold Johnson)

3-28-1929
Hollywood, California
Victor
22000-A
Tessie (Stop Teasing Me)


(Brooke Johns / Ray Perkins)

8-30-1924
Oakland, California
Victor
19474-A
That's My Girl


(Joe McKiernan / Henry D. Kerr)

6-20-1924
Oakland, California
Victor
19482-B
The Roses Brought Me You
5-12-1926
Los Angeles, California
Victor
20061-B
| | |
| --- | --- |
| Artist | Instrument |
| Hal Chanslor | Piano |
| Buster Dees | Vocal |
| Ross Dugat | Trombone |
| Marion Fonville | Vocal |
| Henry Halstead | Violin, Leader |
| Phil Harris | Drums |
| Craig Leitch | Vocal |
| Zebe Mann | Banjo, Guitar |
| Abe Maule | Clarinet, Tenor Saxophone, Violin |
| Chuck Moll | Clarinet, Alto Saxophone, Bass Saxophone |
| Red Nichols | Trumpet |
| Ernie Reed | Clarinet, Alto Saxophone, Bass Saxophone |
| The Rounders | Vocal |
| Ted Schilling | Trumpet |
| | | |
| --- | --- | --- |
| Title | Director | Year |
| Carnival Nights In Paris | Vitaphone | 1927 |