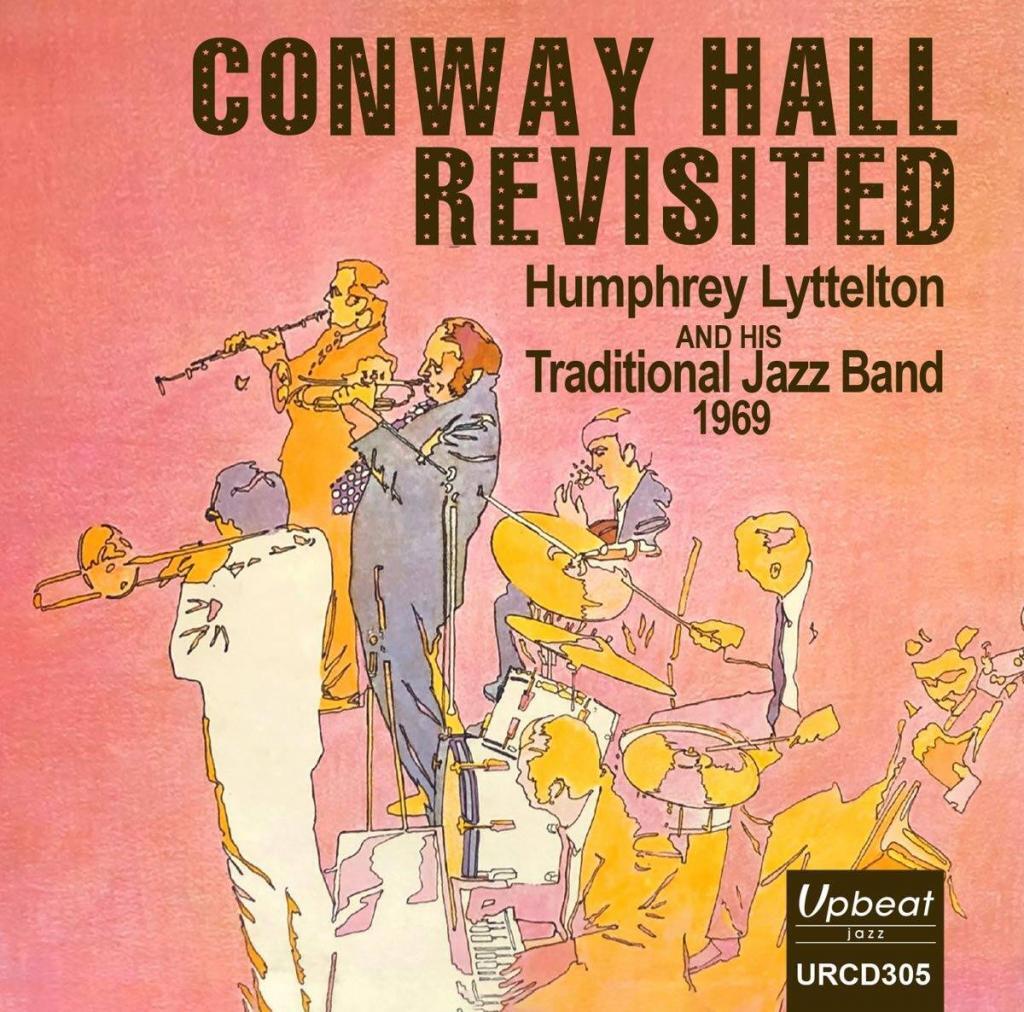 On this recording we hear Humphrey Lyttelton (1921-2008) being just a little retrospective in that he returns to the style of jazz of his early days. Back in the forties and fifties, the revival saw Lyttelton cast his lot with the burgeoning Dixieland scene as he joined the George Webb band. After he formed his own band, he found, with the passing of time, that he wanted to go farther afield, so he took part in forming the Grant-Lyttelton Paseo Jazz Band, and later went even more "modern," as he terms it in his liner notes to the original LP issue, to embrace bigger bands and more pronounced "swing" music.
However, Lyttelton always retained a soft spot for the jazz style he began with, and did enjoy returning to it, as he does here. He maintained that he was not indulging in nostalgia, nor was he trying to recreate the "original band," although he did have two of his former early cohorts—Wally Fawkes and Keith Christie—along for the ride. They were all simply indulging a fondness for a style of jazz in which they had all engaged earlier.
Other than a few tracks—"Mezz's Tune," "Gone with the Wind," "Out of the Gallion," and "I'll Close My Eyes"—the tune list comprises classics. But it is a joy to hear this group's interpretation of them. Louis Armstrong's All-Stars also tended not to stray far from such type of tune and even would repeat a solo or head arrangement in subsequent performances. For Lyttelton, Armstrong provided inspiration, and while Lyttelton did not try to imitate Armstrong, one can hear the influence in his playing. As I listened to the tracks on this CD, I couldn't help but hear echoes of the Armstrong All-Stars as Lyttelton provided a firm lead from the front and Staples propelled the band with his powerful drumming from the back.
Things get underway with a rousing Fidgety Feet and from there on the audience is with them. Tempos are varied, and even the content as well, as Lyttelton throws in a decidedly non-dixieland "Gone with the Wind." The trombone phrasing, along with the piano chording and improvising and the four-beat string bass along with the drummer's brushwork—all add up to a quite modernistic presentation, but one that is very musical and entertaining, as judging by their applause, the audience agreed. Although the track is over 10 minutes long, absent in this piece are the banjo and, perhaps somewhat surprisingly, the trumpet!
The following track reverts to the classic traditional jazz repertoire with a cracking "Snake Rag," Lyttelton and Fawkes acing the chromatic runs and Christie throwing in the requisite gliss at the proper moments. The breaks on this tune give all a chance to show their chops and invention—and all do. All of the cast sound as if they are having a particularly good time with this tune.
Of the remaining tunes, I would mention three. First, "Out of the Gallion," a slow blues for which Mezz Mezzrow is usually given credit, finds the two clarinets of Lyttelton and Fawkes beautifully emulating those of Mezzrow and Bechet, who together did the original recording. It's a very contemplative piece, rendered here with suitable gravitas, displaying nice harmonies between the two reeds, which blend together exquisitely. This tune is seldom heard from bands today. Another seldom-heard tune is "I'll Close My Eyes," a pleasant ballad, more favored by modern jazz groups as opposed to traditional ones. Finally the disc ends with an old favorite of the Lyttelton bands of earlier times, "The Old Grey Mare." While Lyttelton himself may not have indulged in nostalgia here, it is almost a certainty that his fans did as they joined in on the band vocal! It certainly was "many long years ago."
This is another superb recording made available on CD by Liz Biddle and Upbeat Records. It can be had from the Upbeat web site upbeatmailorder.co.uk.
HUMPHREY LYTTELTON & HIS TRADITIONAL JAZZ BAND — Conway Hall Revisited, 1969 (Upbeat URCD 305). Playing time: 76mins. 27secs.
Fidgety Feet; Mezz's Tune; Beale Street Blues; Cakewalkin' Babies from Home*; Gone with the Wind; Snake Rag; Out of the Gallion*; Bucket's Got a Hole in It; Panama Rag; I'll Close My Eyes; The Old Grey Mare.
Recorded Conway Hall, London, May 31, 1969.
Bill Brunskill, trumpet, vocal*; Les Allen, clarinet; Mike Pointon, trombone; Pete Tamplin, piano; Bill Stagg, banjo; Jim Bray, string bass, sousaphone; Bryan Hetherington, drums.
Humphrey Lyttelton, trumpet and clarinet*; Wally Fawkes, clarinet; Keith Christie, trombone; Mick Pyne, piano; Charlie Bentley, banjo; Dave Green, bass; Pete Staples, drums.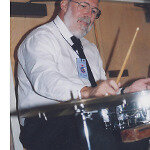 Born in Dundee, Scotland, Bert Thompson came to the U.S. in 1956. After a two-year stint playing drums with the 101 st Airborne Division Band and making a number of parachute drops, he returned to civilian life in San Francisco, matriculating at San Francisco State University where he earned a B.A. and an M.A. He went on to matriculate at University of Oregon, where he earned a D.A. and a Ph.D., all of his degrees in English. Now retired, he is a professor emeritus of English at City College of San Francisco. He is also a retired traditional jazz drummer, having played with a number of San Francisco Bay Area bands, including And That's Jazz, Professor Plum's Jazz, the Jelly Roll Jazz Band, Mission Gold Jazz Band, and the Zenith New Orleans Parade band; he also played with some further afield, including Gremoli (Long Beach, CA) and the Phoenix Jazzers (Vancouver, B.C.) Today he reviews traditional jazz CDs and writes occasional articles for several publications.