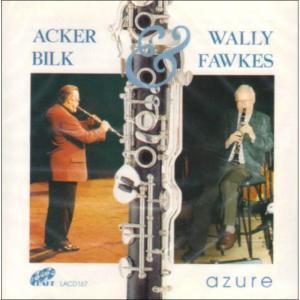 Clarinetists Acker Bilk and Wally Fawkes both carved out important niches in the traditional jazz world of Great Britain.
After a period working with Ken Colyer, Acker Bilk became one of the most popular stars of the trad boom, leading his Paramount Jazzmen on freewheeling performances yet having his greatest commercial success with his easy-listening albums with strings, making "Stranger On The Shore" famous.
During the first half of the 1950s, Wally Fawkes was one of the stars of Humphrey Lyttelton's pacesetting band before leaving in 1956. He had a successful career as a political cartoonist yet never stopped playing clarinet and enjoyed later reunions with Lyttleton.
The two clarinetists had never recorded together before so in 2002 pianist Stan Greig (who had worked extensively with both of them) organized the album Azure. In addition to those three musicians, the sextet includes two Bilk sidemen (guitarist-banjoist Tony Pitt and drummer Ritchie Bryant) plus bassist Clive Morton. Greig and Pitt are consistently excellent in their solos and accompaniment of the lead voices.
Rather than being a clarinet battle, these performances find Bilk and Fawkes working closely together and making the music sound much more cooperative than competitive. Fawkes switches to soprano now and then (including emulating Johnny Hodges on "Jeep's Blues") while Bilk is heard on alto clarinet on "When Day Is Done."
Most of the music is relaxed but there are some heated moments including an uptempo "Undecided" and the interplay of the clarinets on "Apex Blues." Other memorable performances on this easily recommended set include a happily loose "Down Home Rag," "Riverside Blues," and Johnny Dodds' "Perdido Street Blues."
Azure
(Lake LACD 167, 13 selections, TT = 49:33)
propermusic.com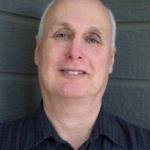 Since 1975 Scott Yanow has been a regular reviewer of albums in many jazz styles. He has written for many jazz and arts magazines, including JazzTimes, Jazziz, Down Beat, Cadence, CODA, and the Los Angeles Jazz Scene, and was the jazz editor for Record Review. He has written an in-depth biography on Dizzy Gillespie for AllMusic.com. He has authored 11 books on jazz, over 900 liner notes for CDs and over 20,000 reviews of jazz recordings.
Yanow was a contributor to and co-editor of the third edition of the All Music Guide to Jazz. He continues to write for Downbeat, Jazziz, the Los Angeles Jazz Scene, the Jazz Rag, the New York City Jazz Record and other publications.