I met Steve Spracklen almost 50 years ago when I arranged a concert through Bob Vernon billed as "Three Generations of Ragtime." Steve, Peter Lundberg, and "Ragtime Bob" Darch were the featured performers and they brought the sell-out audience to their feet. Darch and Spracklen had roots in southwest Missouri and Steve was one of many young ragtime musicians "Ragtime Bob" mentored in his career.
The two men maintained their friendship through the years, often working together or in proximity. It was because of their close relationship that Steve approached Bob about recording recollections of his long career on the "Ragtime Trail," as Bob referred to his itinerant years on the road.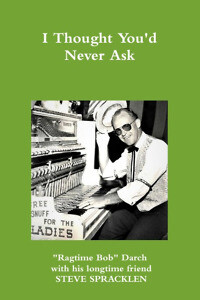 Finally, in 2001 just a year before Darch died, the two sat down together in several sessions and nearly 40 hours of tape later, Bob finished telling his stories. As an active musician and frequent performer on riverboats plying the Mississippi and its tributaries, Steve had little time to transcribe and, in some cases, "translate" those long-recorded narratives. However, he was adamant that the task would be finished by Bob's birth centennial. I Thought You'd Never Ask was published by Lulu Publications one week before Bob's 100th birthday. Sadly, the books were intended to be sold first at the Centennial Concert in Sedalia that had to be cancelled because of the coronavirus threat.
When Steve called right after the first of the year seeking assistance in publishing his manuscript, I was humbled, thrilled, and challenged to be involved. But Steve had already done all the work, so it was a pleasant task help see it to print. It has been a lot of work for Steve. Those of us who were entertained by Bob over the years know how much he enjoyed telling stories, especially on a stage with a piano, and we can remember how fast he spoke. I can't imagine trying to transcribe that long narrative with Bob's detail for remembering place names and people's names and his often-mimicked accents of particularly colorful characters or lyrics. Steve captured it all nearly word for word and, with only minimal editing, produced a most entertaining and readable biography.
The title comes from Bob's reaction every time Steve would ask Bob to come on stage if he was in a Spracklen audience. Bob was always the showman and he had enough music and stories memorized to perform at the least provocation.
As Steve reminds us in his Foreword, Bob didn't let facts stand in the way of a good story. Those of us who heard him perform over the years were especially entertained to hear how a story heard earlier had become embellished. Perhaps a better word I could use is gilded, for Bob's stories were golden.
The book is vintage "Ragtime Bob" Darch and as I read the narrative, it was like hearing his voice. It was as if the text had a soundtrack, too, because I could clearly hear the music he would have been playing as I read.
Like Michener in fiction or Sagan in science, Bob started at his very beginning, telling of his birth and childhood in Detroit in the pre-Depression years and then his school and college years in the depth of the Depression. He told about his introduction to music and the piano and then ragtime.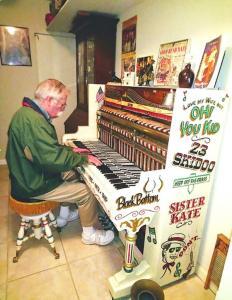 Many readers will be surprised to learn that Bob had a university degree in engineering and that he was a genuine hero as an army paratrooper in World War II. His last assignment was as a port engineer in Alaska from where he began his ragtime piano career in the saloons of the old gold fields. Before he set out for the lower 48, he purchased his famous 5-pedal Cornish Upright from an Eastern entrepreneur who had tried to buy and run an Alaskan saloon. Bob hauled that piano all over the continent before it was "retired" to a Florida landfill and then lovingly reclaimed and restored by his son Bill.
He tells the stories of most of his gigs and billings with some of the best-known entertainers of his day from Sophie Tucker and Burl Ives to Roy Rogers and helping out Yoko Ono. He started or was the impetus for many annual festivals across the country; some will hopefully be starting up again when our period of social isolation is over. I doubt that Sedalia, Missouri would appreciate its ragtime heritage had it not been for Bob's frequent appearances reminding the city of its legacy in the 1950s and 1960s and then during the festival years.
One of the things about Bob that really resonated is how hard he had to work to keep playing on the road. A month's gig was often the longest he stayed in one place and amid all his travel and performing he had to be arranging for future work. Somehow he managed to keep up a prolific correspondence usually jotted down on hotel stationery or scraps of paper he found in a motel wastebasket, quite legibly I might add.
I knew of all the original ragtime composers and musicians Bob helped to bring out of retirement or at least their music: Eubie Blake, Joe Lamb, Charles L. Johnson, and Joe Jordan. And, he championed the lives and music of Percy Wenrich, Euday Bowman, Tom Turpin, and Theron Bennett.
Bob was always promoting himself. It was an occupational necessity that often meant he took pokes at his competition. Through it all though, Darch promoted ragtime and its salient role in the evolution of American music. He was a marketing wizard and the book illustrates his prowess over and over.
Perhaps next to his thousands of admirers, it is the group of talented composers and musicians like Peter Lundberg, Steve Spracklen, and Susan Spracklen Cordell that Bob mentored, encouraged and inspired during his 60-year career. They keep on entertaining us in Bob's style or as a result of his influence. Because of entertainers like "Ragtime Bob" Darch, "Ragtime ain't dead, Hell, it ain't even sick."
I Thought You'd Never Ask: The Recollections of "Ragtime Bob" Darch, by Steve Spracklen
Lulu Books (April 2020), PB 288pgs $24.95, ISBN: 9781716154836