The Arizona Classic Jazz Society held its March meeting at the Crowne Plaza Phoenix – Chandler Golf Resort aka the San Marcos Hotel with our local Wildcat Jazz Band on stage for the performance.
Rob Wright (ldr/bj), Rob Boone (tb), Ric Peron (tp), Marco Rosano (cl), Ray Templin (p), Evan Dain (bs) and Chris Clementine (dr) subbing for regular drummer Arthur Vint, provided lots of music for the crowd in attendance. With dance floors on either side of the stage and an occasional second line parade, we find this a lovely way to spend a casual Sunday afternoon.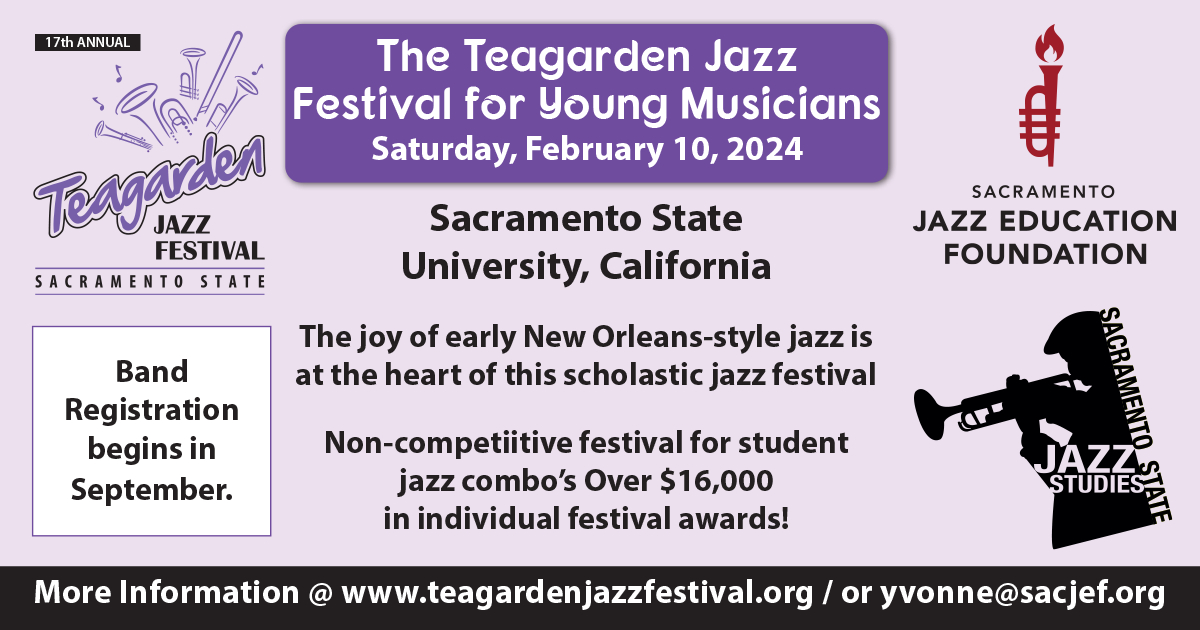 Wildcat Jazz Band member Ray Templin (p) will be heading to Madison, Wisconsin for the May 21st meeting of the Madison Jazz Society's last event. Unfortunately after almost 40 years, the Society will be dissolving. He will be with Bob Schulz's Frisco Jazz Band that performed at the Society's first event in 1984. From Ray:
I've known Bob and have played with him since the 1970s and am looking forward to playing drums with him in Madison. He and I left Wisconsin and Illinois respectively in 1979. Bob ended up in San Francisco playing lead for Turk Murphy for eight years and I ended up in Southern California playing percussion and piano at Disneyland. Over the years I've played 15 or so jazz cruises on piano with Bob's band and have been his festival drummer the last decade or so.
I think that Bob played at the very first meeting of the Madison Jazz Society in 1984 and they want to go out in style with him as the guest for their last concert.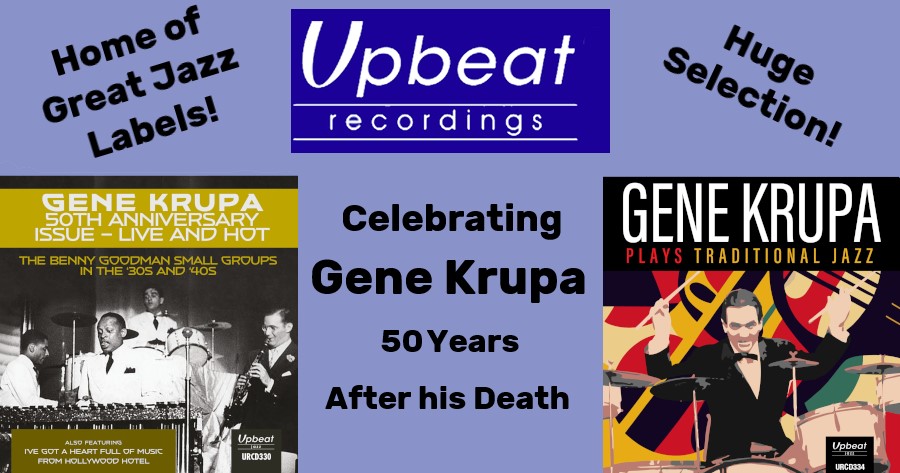 I am sure that the Madison Jazz Society members will agree that they are definitely "going out in style" having Bob's band and our own Ray Templin for their last event.
During the mid-performance break, Cheryl Thurston (p) will bring up a variety of "jammers" to relieve the main band and she always has a few surprises. Vocalists Sharon Tataran and Diana Perez belt out a few classics and Steve Means (cl), Marge Scooros (wash) and Paul Green (tuba) enhance the rhythm section for the group with a few others on a tune or two.
Current Board Member Bart Salzman has introduced a music program to several schools in the area and handed out over 1200 kazoos for the students. The following excerpt is from the monthly newsletter from Board President Helen Daley:
It was a busy and very successful few months for our Jazz in Schools Program. Thanks to the Arizona Classic Jazz Society and the Moyer Education Fund, our workshop band led by Bart Salzman visited seven Chandler School District Schools; three in January, two in February, and two in March. Over 1200 third and fifth grade students were served during this time, and yes, every one of them received a brand new high quality kazoo. Near the end of the hour the students were taught to perform a jazz blues tune and were declared "jazz musicians."
The band included Cheryl Thurston on keys, Sean Brogan on upright bass, Jim Bannister on drums, Steve McCarvel on clarinet and sax, and Bart on trumpet. The word is getting out around the district and beyond. We already have a waiting list for next semester. While the society has fundraisers regularly for educational purposes, additional donations are welcome at any time.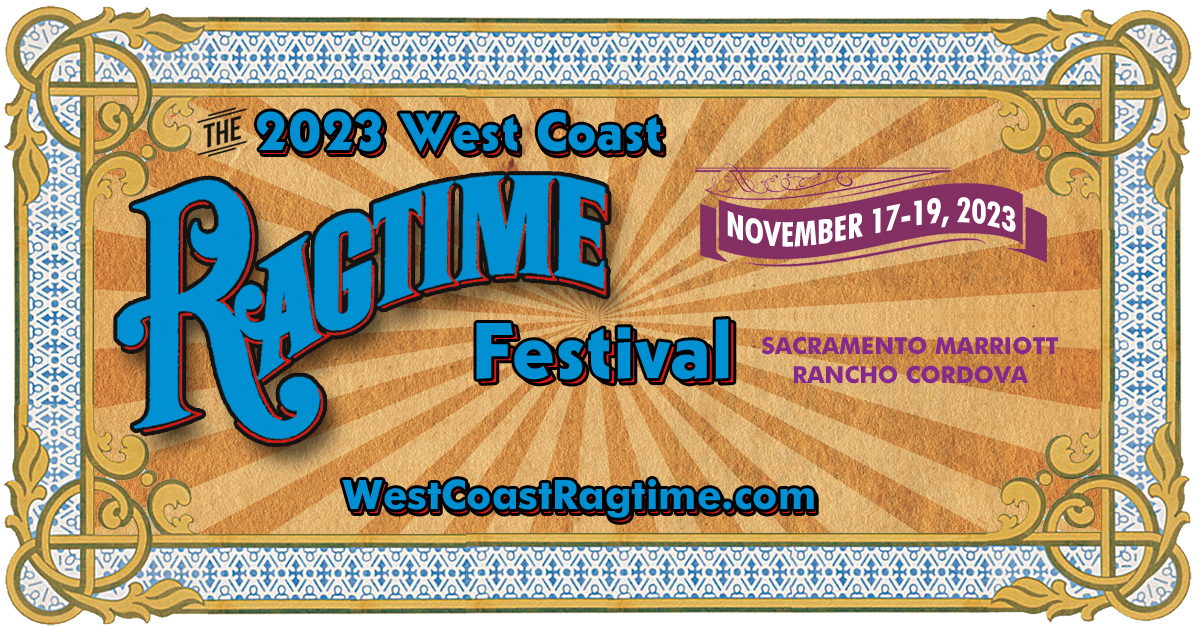 Since these students were learning something about jazz, we decided to take a four week course on Jazz from the local Learning Curve program in Tucson. In the course, titled "Discovering the American Soundtrack through the lens of Jazz," instructor Khris Dodge gave us an overview of the various jazz formats from New Orleans to Modern to Latin and all of the ones in between while emphasizing the similarities and differences in each.
From his bio:
Khris Dodge is a versatile musician and accomplished educator who has devoted more than 30 years to the Tucson arts community. He is proficient on piano as well as all forms of percussion, has arranged hundreds (maybe thousands!) of charts ranging from single instrumentation to symphony orchestras, is a prolific composer of original pieces, and currently serves as Executive Director of the Tucson Jazz Festival and the Conductor and Music Director for the Tucson Pops Orchestra.
The audience was very appreciative of his comparisons and thoughtful questions encouraged additional clarifications. Highlighting consonance, dissonance, major/minor chords, or tri-tonal references on the keyboard helped to audibly understand the various terms being discussed.
From the Learning Curve course outline: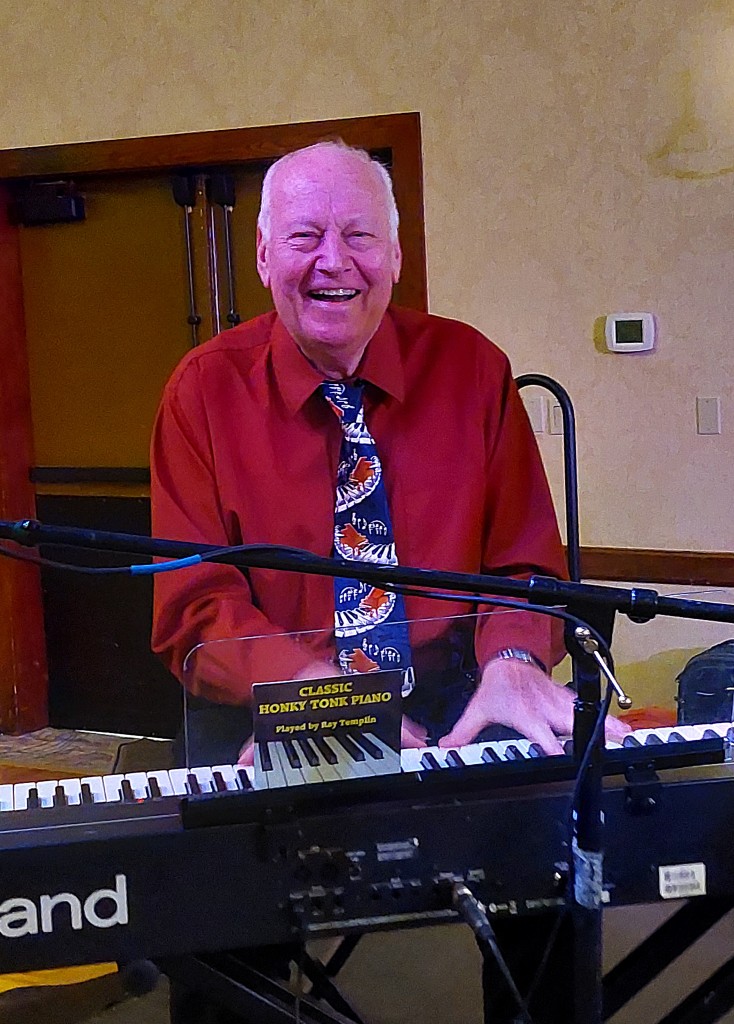 Explore the world of jazz and the art of understanding this uniquely American art form from a musician's perspective. Listen to the great artists and composers from Jelly Roll Morton, George Gershwin, and Louis Armstrong to Miles Davis, Herbie Hancock, Wayne Shorter, Wynton Marsalis, Herb Alpert, Buddy Rich, and others who have made a stunning mark in the musical landscape of America. Through a mix of live performance and recorded samples, take a journey through time as we experience music, gain different levels of understanding, and realize the "power of now" in Jazz Music. Get the inside scoop on how music develops and the techniques that musicians use. You will experience music, through the lens of Jazz Legends.
"Jazz washes away the dust of everyday life." — Art Blakey
The more I want to learn about music theory, compositions or structures, the less I know! I have such an admiration for those talented individuals that can play an instrument and experience the joy from within that I see in their expressions!
Next is the Jazz & Heritage Festival in New Orleans beginning April 28th so there will be lots more of those talented musicians with their engaging smiles and delightful banter…and I'll be smiling right back at them in the front row at the Economy Hall tent on the Festival grounds!