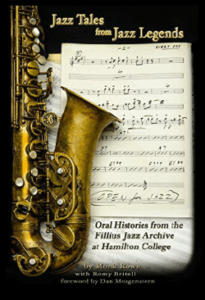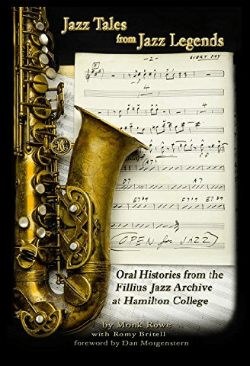 Jazz Tales from Jazz Legends:
Oral Histories from the Fillius Jazz Archive at Hamilton College
by Monk Rowe with Romy Britell
Foreword by Dan Morgenstern
Richard W. Couper Press (www.couperpress.com)
209 pages; paperback, $20.00
Since 1995, the Fillius Jazz Archive at Hamilton College has gathered oral histories from over three hundred jazz men and women—as well as from their spouses, roadies, and others who were there. These stories, mostly related to swing and mainstream jazz, are captured by way of videotaped face-to-face interviews conducted by a man who himself has a deep knowledge of the history and the form, Monk Rowe.
Rowe was an adjunct saxophone instructor at the college and a working musician when he was recruited into the enviable position of primary interviewer for the project as it was being organized by Hamilton alum and jazz patron Milt Fillius. Rowe claims to have educated himself in the era before academic jazz programs by tracing the movements of sidemen across LP liner notes. That turned out to be the perfect method for his role at the archive.
The first interviewee was Joe Williams, who had a friendship with Mr. Fillius. Williams then provided the introduction Rowe needed to many former Count Basie sidemen. The project caught its own wind from there and Rowe has interviewed everyone from Bucky Pizzarelli to Bela Fleck.
In addition to being a fine musician, interviewer, and jazz advocate, Rowe also turns out to be an intuitive editor. In Jazz Tales and Jazz Legends, he weaves together the best bits from the archive in segments that are never too long and build to support an underlying theme in each of nine chapters, organized by topic. The easy approach would have been to gather the most beloved artists from the archive and print full interviews with all their "ums" and "ahs." Instead, though several of the interviews are returned to in different chapters, no one artist gets more than two or three pages of transcription in a row. The breaks are filled with a paragraph or so guiding you logically into the next segment.
The questions elicit serious answers focused on the making and performing of Jazz rather than on the tragi-comic opera of a life in music. This reflects the goal of the project to provide the wisdom of past masters to future generations. Even the chapter "Road Travails," while entertaining, is simply a fair warning that 60 dates in a row is uncomfortable in any era, and that "making it" requires real dedication.
Other chapters, focused on the process of arranging, the reliance on studio work in the decades after big bands, and musicians' own thinking about improvisation, are fascinating as history and process. It is especially interesting how many of the interviewees repeat the same ideas. Several use language metaphors to explain improvisation—you must be able to speak like a native first. No one who recorded a hit ever seems to have realized it walking out of the studio.
The gathered insights into the lives and minds of big band musicians in the postwar era make this a valuable and enjoyable piece of primary source material for any personal or institutional jazz history collection. It may also have the reader seeking out the full original video interviews available to the public (via YouTube and other sources) from the Fillius Jazz Archive.
Related: Fillius Jazz Archive Is Now Available Online
Subscription Options
---
Or get the Print Edition with Online Access. To get the print edition of The Syncopated Times use this Paypal link. After you pay you will be issued a coupon for free online access.