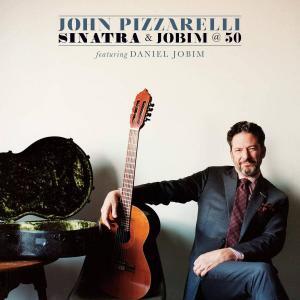 John Pizzarelli is an outstanding 7-string guitarist/vocalist from a musical family. Coming up in the tradition of his father Bucky who is still performing at age 90, John has extended and enlarged that role by adding vocals to his guitaristic skills.
According to liner notes, this CD was inspired by some of Frank Sinatra's vocals and by the emergence, fifty years ago, of Jobim's influence on the music world with the popularization of bossa-nova. John also sings on this recording with back-up vocals by his wife Jessica Molaskey and daughter Madeline. This is entirely in keeping with the Pizzarelli family's musical tradition.
John's brother Martin is a bassist and his sister Mary has made some recordings on guitar with her father, Bucky.
There are ten numbers on this recording by John with one solo piano selection by Daniel Jobim, grandson of composer Antonio Jobim. Instrumentalists on this CD include bassist Mike Karn, pianist Helio Alves, drummer Duduka DaFonseca, and tenor saxophonist Harry Allen. All arrangements are by John Pizzarelli except for the piano selection by Daniel Jobim.
Whereas John Pizzarelli can play "hot" guitar—I once saw him do an entire jazz chorus using artificial harmonics, which I thought was a physical impossibility—these arrangements are lovely ballads and present Pizzarelli's musical viewpoint. In all, a good hour of pleasant listening. One will want to revisit this CD often.
The following selections are on this CD:
Baubles, Bangles and Beads (Robert Wright-George Forest)
Agua de Beber (Antonio Carlos Jobim-Vinicius De Moreas-Norman Gimbel)
Meditation/ Quiet Night of Quiet Stars (both A. C. Jobim)
Dindi (Jobim)
I Concentrate on You/ Wave (Cole Porter/ Jobim)
Antonio's Song (Michael Franks)
Two Kites (Antonio Carlos Jobim) piano solo by Daniel Jobim
She's So Sensitive (John Pizzarelli-Jessica Molaskey)
Bonita (A. C. Jobim)
If You Never Come to Me / Change Partners (Jobim / Irving Berlin)
Canto Casual (John Pizzarelli and Jessica Molaskey)
Sinatra & Jobim @50 John Pizzarelli (featuring Daniel Jobim)
Concord Music Group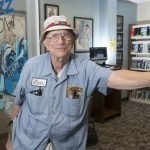 Dr. F. Norman Vickers is a founder of the Jazz Society of Pensacola/Pensacola Jazzfest and a charter member of the Jazz Journalists Association.