Bucky Pizzarelli suffered a mild stroke on October 29. Initial reports on his recovery were upbeat, but later were more guarded as he worked to get his strength back. A note on son John's Facebook page said, "Bedside with Bucky is a new reality show."
The venerable guitarist celebrated his 90th birthday on January 9, 2016, which was observed in his absence at the Bickford Theatre in Morristown, NJ. Ed Laub, Bucky's longtime performing partner, teamed up with Frank Vignola and Bucky's son Martin to present tunes from Bucky's 70 years in the music business, during which time he played with Benny Goodman, Dizzy Gillespie, The Tonight Show Band, Ray Charles, Dion, and the Belmonts.
Eric Hafen, the Bickford's producing artistic director, stated, "We have been celebrating Bucky's birthday for at least 10 years. The first year, we had fortune cookies with the wish, "Happy Birthday, Bucky." On occasions, we tried to have a cake for him, but he doesn't really want it. He's so low-profile."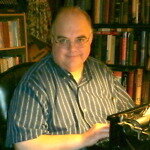 Andy Senior is the Publisher of The Syncopated Times and on occasion he still gets out a Radiola! podcast for our listening pleasure.