Bucky Pizzarelli died on April 1st, 2020, he was 94. Lew Shaw interviewed him for this profile when both men were 88. Read our obituary for him.
Having a conversation with John "Bucky" Pizzarelli is like chatting with an old friend, especially when you discovered you've both had many of the same life experiences. Such was the case when I sat down with the legendary guitarist during a break at the North Carolina Jazz Festival. It wasn't long before we discovered that:
Bucky is my senior by five days.
We both enlisted in the military in our late teens and saw
service in the Philippines just before the end of World War II.
My drives from Springfield to Boston would take me past
The Meadows on Route 9 in Framingham where Bucky
played with the Vaughn Monroe Orchestra.
We both had an association with the Berkshire Music Barn in
Lenox, Massachusetts, Bucky as a performer; yours truly as
publicist for three years.
Bucky's artistic talents are as an accomplished painter in oils;
mine as a writer.
We both taught briefly in academia and have written books.
And lastly, the pride we share in having been part of what
Tom Brokaw calls "The Greatest Generation."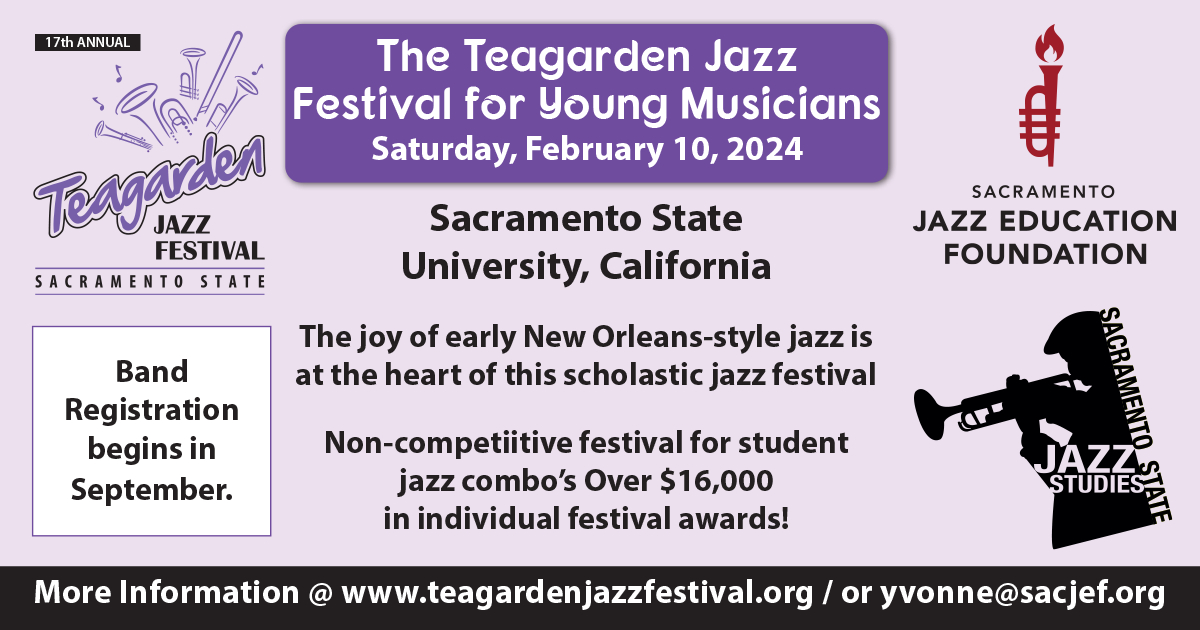 So it was a delightful trip down Memory Lane as this engaging octogenarian recounted his life story from growing up in Paterson, New Jersey to his current stature as a highly-revered musician who is universally recognized for all that he has done in keeping classic jazz alive over the past 70 years.
The list of people and bands with whom he has played and recorded reads like a veritable Who's Who of Jazz. He's been a studio musician, participated in literally hundreds of recording sessions (sometimes as many as three a day), was a member of The Tonight Show band, toured with his good friend Benny Goodman, can be heard on movie soundtracks, and has performed at the White House on three occasions (including one where he shared the stage with Frank Sinatra and Perry Como).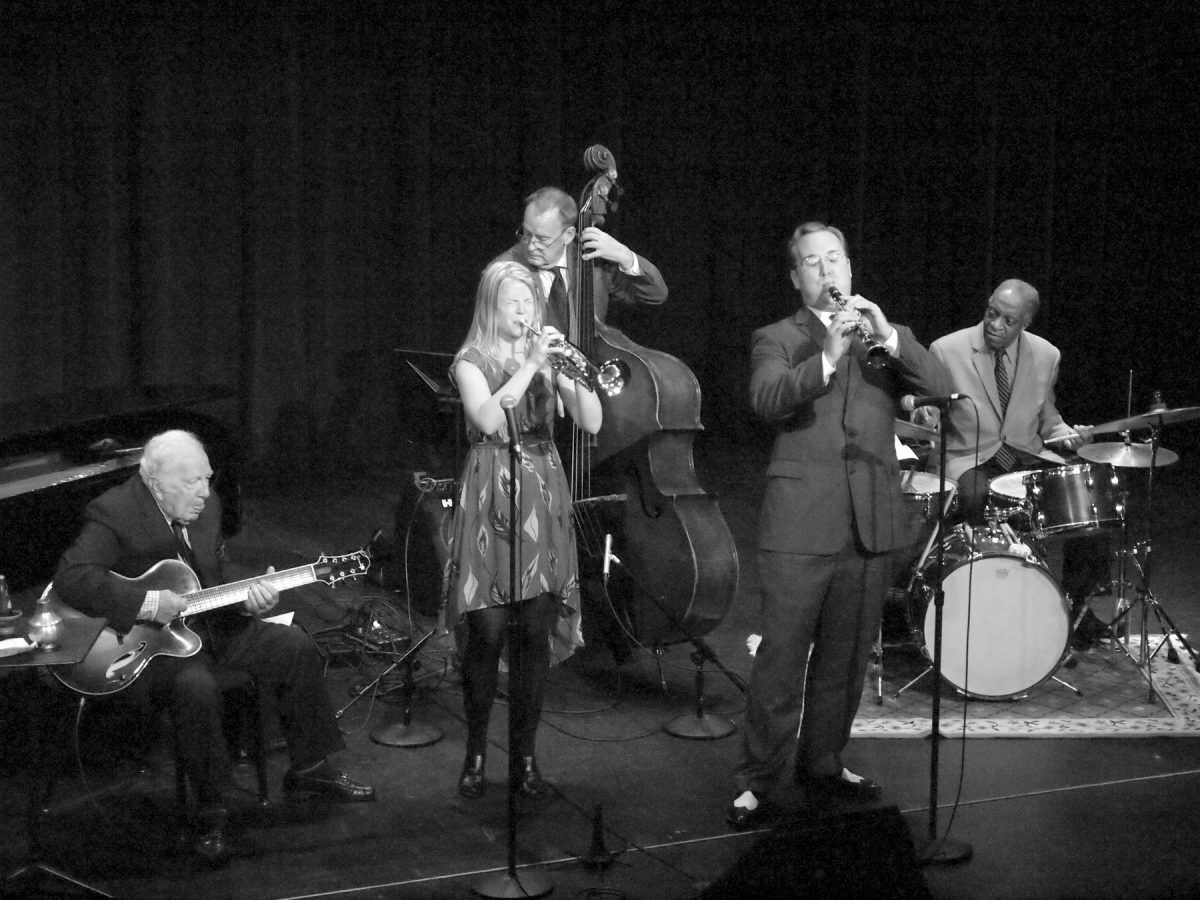 With its large Italian-American population, Paterson was a very musical city where Bucky's father had a grocery store on Union Street. Bucky was the delivery boy. The family remembers that young "Buckskin," as his father called him, would make his deliveries and then come back to the store and play his guitar. He had two guitar-playing uncles – Bobby and Pete Domenick, and the extended family would often gather at one of their homes with their guitars for a jam session.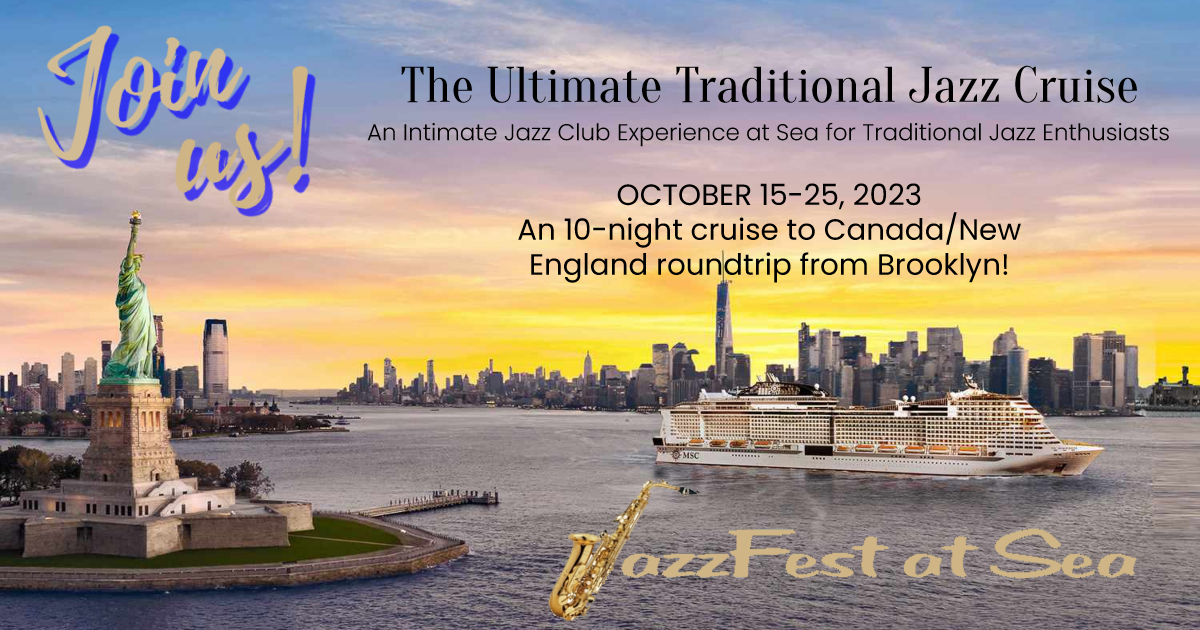 Uncle Bobby played with bands led by Bob Chester, Clyde McCoy, Raymond Scott, Buddy Rogers and Russ Morgan. Bucky recalled, "He was always coming home with a brand new suit and a brand new car and a big Super 400 Gibson, and I decided 'That's what I want to do.'" He also cites Joe Mooney, a blind accordion player who led a quartet that included Uncle Bobby, as a major inspiration. At Central High School, he was in a small band that played classical music.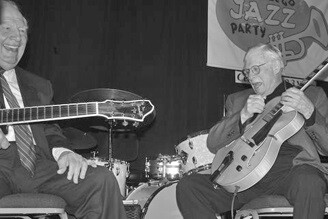 His first guitar was an archtop Gibson, an expensive instrument at the time. By the time he was an established studio musician in New York in the 1960s, he was playing a Gretsch Van Eps model, named for George Van Eps, known as the "underground guru of the guitar" who wrote a definitive text on guitar-playing and introduced the first distortion-free Epiphone guitar amp while playing with the Ray Noble Orchestra. Bucky now plays a Benedetto Bucky Pizzarelli Signature 7-string guitar, made by Robert Benedetto, who also makes guitars for Howard Alden and Frank Vignola, among others. The extra string, tuned to a low A, provides him with a bass line and expands his chord-voicing possibilities during solos.
Bucky began his professional career at the age of 17 when he joined the Vaughn Monroe Orchestra in 1944. With World War II in its final stages, the call to duty with the Army's 86th Division took him to Germany and the Philippines. He was back with the band in 1946 for the opening of The Meadows, a restaurant in the Boston suburbs that Monroe built and operated, and where the Camel Caravan radio show originated. The band is best remembered for its theme song, "Racing with the Moon" and its 1949 hit, "Ghost Riders in the Sky." As the Big Band era came to an end in the early 1950s, Bucky reminisced, "When the band broke up, I thought it was the end of the world."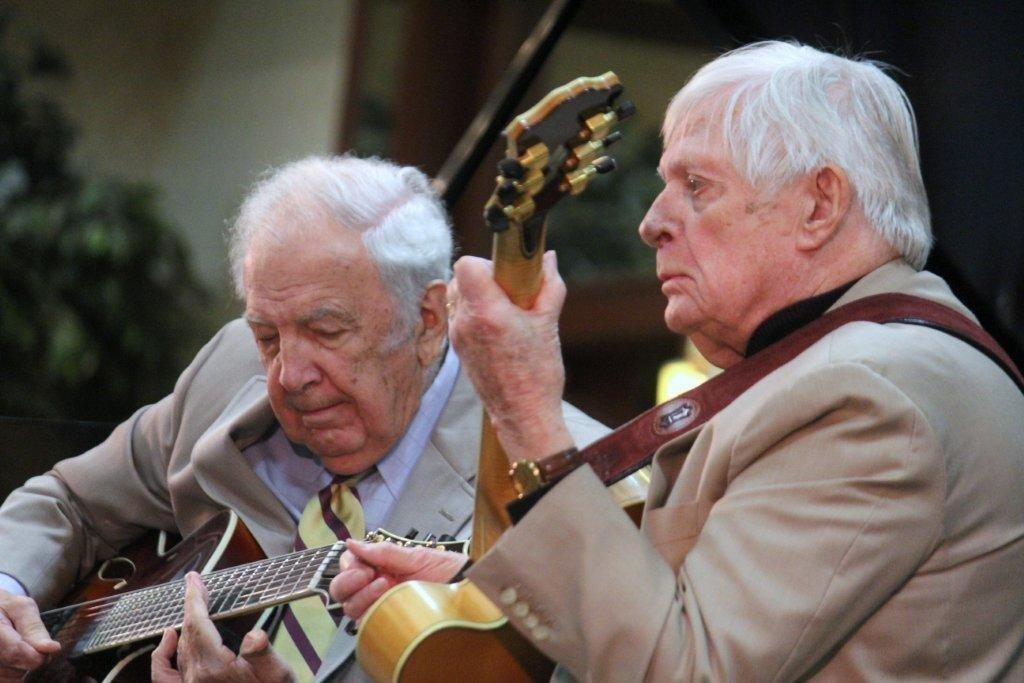 But he had become known as a solid rhythm player who could provide propulsion and background for other musicians, and he landed on his feet as a staff musician with the NBC network. He was in the orchestra that backed Kate Smith, the "Songbird of the South" who was best known for her renditions of Irving Berlin's "God Bless America" and "When the Moon Comes over the Mountain'" which she co-wrote. Bucky called her "a great show person."
In 1954-55, using the stage name, Johnny Buck, he was a member of the Three Suns trio. In 1964, he joined The Tonight Show band, first under Skitch Henderson and later Doc Severinsen, and remained with the band until Johnny Carson moved the show to California in 1972. One experience he had was helping Tiny Tim tune his ukulele on the day the performer married Miss Vicki on the popular late-night program. He toured with Benny Goodman, the highlight of which was a four-week stand at the Waldorf-Astoria Hotel in New York City, saying "That's the mark. Then everybody knows you."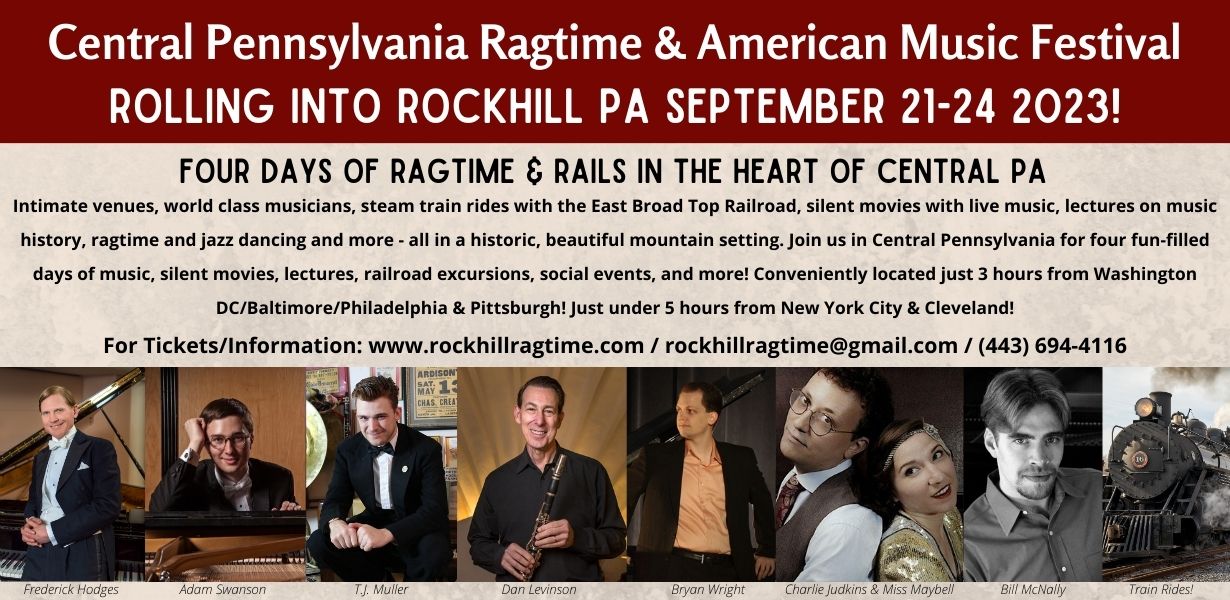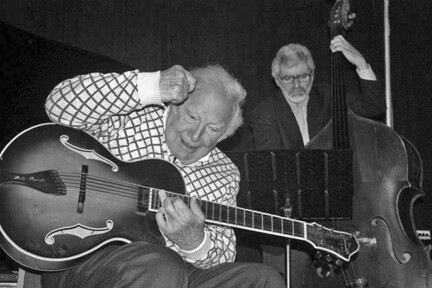 He did a 26-city European tour with an all-English band and can be heard on numerous movie soundtracks. While not a self-professed fan of rock 'n' roll, he recorded seven hits with Dion and the Belmonts in the 1970s. Decades later, son John brought Bucky to a Paul McCartney recording session. Bucky recounted that, "Paul suggested we do two guitars, and we did 'It's Only a Paper Moon' together. It came out great, but I never thought I'd be playing with a Beatle. He was the best artist I ever worked with, and I've played with everybody."
He acknowledges Django Reinhardt, Freddie Green of the Basie band and George Van Eps as influencing his style and mode of play. Les Paul was one of his New Jersey neighbors. He has made recordings honoring some of the jazz guitar founding fathers: Eddie Lang, Carl Kress and Dick McDonough. In making the obligatory plug, "We all have CDs for sale" at the North Carolina Festival, Dan Levinson quipped, "And Bucky has some LPs in the car he'll sell you." The subject of a 208-page book by Terence Ripmaster titled Bucky Pizzarelli: A Life in Music, Bucky has written three books on guitar techniques and taught at William Paterson University.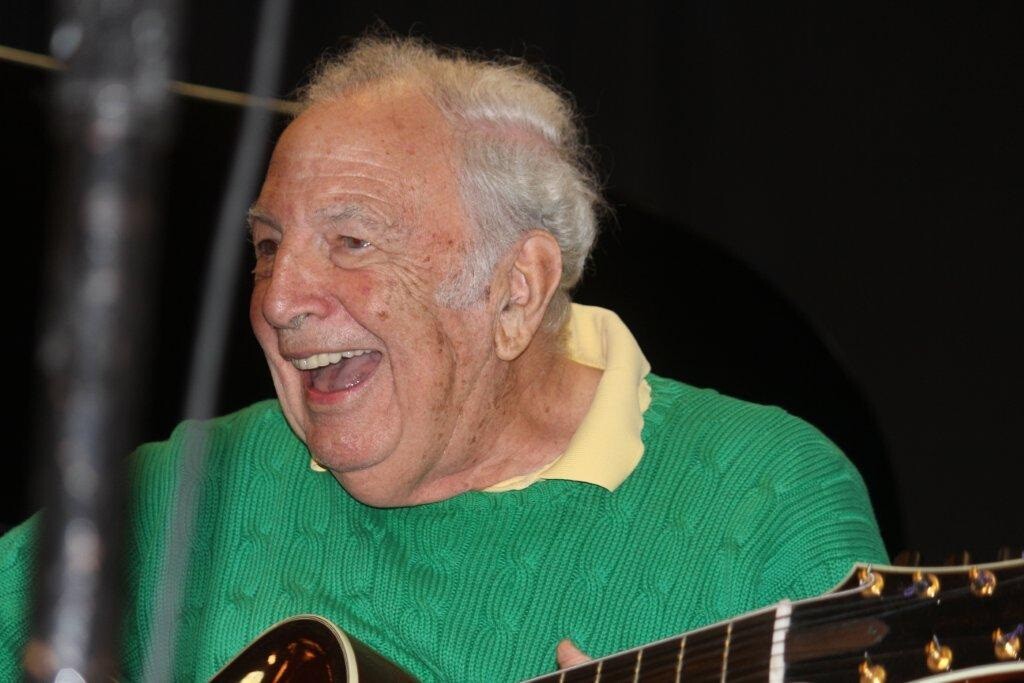 Music continues to be a big part of the Pizzarelli family heritage. Son John Pizzarelli (along with his wife Jessica Molasky on vocals and brother Martin on bass) has become a headline performer, and daughter Mary is known for her work on classical guitar and piano. From the time he took up the guitar at the age of six, John said, "All the jazz I heard at home was being played at the highest level, so if I wanted to join in, I had to bring my best game."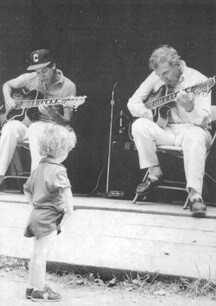 Early on when John had a rock band, Bucky joked, "We had a garage full of amplifiers, and every time they rehearsed, the cops would come." He even coached John when the younger Pizzarelli started to sing, telling him, "Don't try to sing too loud – sing soft and take your time" (which has become John's style). The advice he passes along to young musicians is "Do what you enjoy. Give your best performance whether the crowd numbers 10 or 10,000."
Bucky Pizzarelli Still Going Strong
At age 88, guitarist Bucky Pizzerelli says the word "retirement" is not part of his vocabulary. "As long as I stick with the Great American Songbook, people will come to hear me play," he says. Early in his career, he stuck his toe in the rock 'n' roll waters when he did a few numbers with Dion & the Belmonts. "At those early rock 'n' roll sessions, you had a lot of jazz players," he commented. "They were the only ones who could do it within the time the recording studio had been booked."
"Rock is one chord, one note and terrible lyrics," he continued. "But the great songs are still there. Harold Arlen, Richard Rogers, people like that . . . you can't go wrong with that material. You know you will always have great melodies and great lyrics. The songs of Duke Ellington and Billy Strayhorn are just beautiful. When you play 'Stardust', people are going to applaud. A song like Strayhorn's 'Lush Life' will always hold up."
---
This Article originally ran in our predecessor, The American Rag. Photos are from the archives of the American Rag, most are personal shots by authors reviewing Bucky's concerts.
Lew Shaw has interviewed and profiled hundreds of classic jazz artists. 47 of his profiles are collected in Jazz Beat: Notes on Classic Jazz. Volume two, containing profiles from 2013-2016 will be available on Amazon soon.