On a cold winter's night in Chicago, 1979, Dr. Harry Van Velsor, esteemed Wilmington, NC, dermatologist and jazz musician, stopped in a local bar for a quick warm up. The only other inhabitant in the bar was the bartender. After a couple of warming drinks, Harry noticed the old piano in the corner, and since he was still the only customer in the place, asked if he might play it. A few tunes later, Harry heard a husky voice ask politely "can I join you?". The man sat down, and they began playing together. It soon dawned on Harry that he was playing duet boogie-woogie with the famed jazz pianist Art Hodes!
The two became friends. VanVelsor and a group of local musicians and jazz lovers had begun a grass roots effort to start a jazz festival, so, a year later, as they were planning what would become the first NC Jazz Festival, Harry turned to Art to help him line up the musicians.
In 1980, Wilmington had a population of 44,000, not exactly a large metropolis, but there was a very active live music and jazz scene in the Port City due in part to the University of North Carolina at Wilmington's music department. In the 1970s, UNCW's first jazz instructor, Bill Adcock, initiated two new courses to the UNCW curriculum, the History of Jazz and Jazz Ensemble. Van Velsor, had formed a Dixieland group a few years earlier named Dixieland Society of Lower Cape Fear, and they performed in the clubs downtown. But Harry had a dream of bringing nationally known jazz musicians to Wilmington. Once he became friends with Hodes, he could see a road to realizing that dream.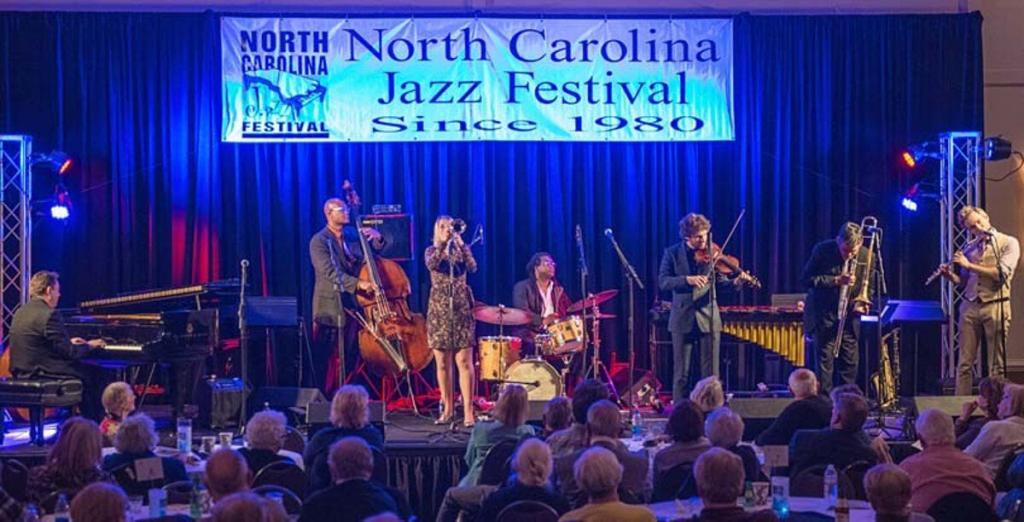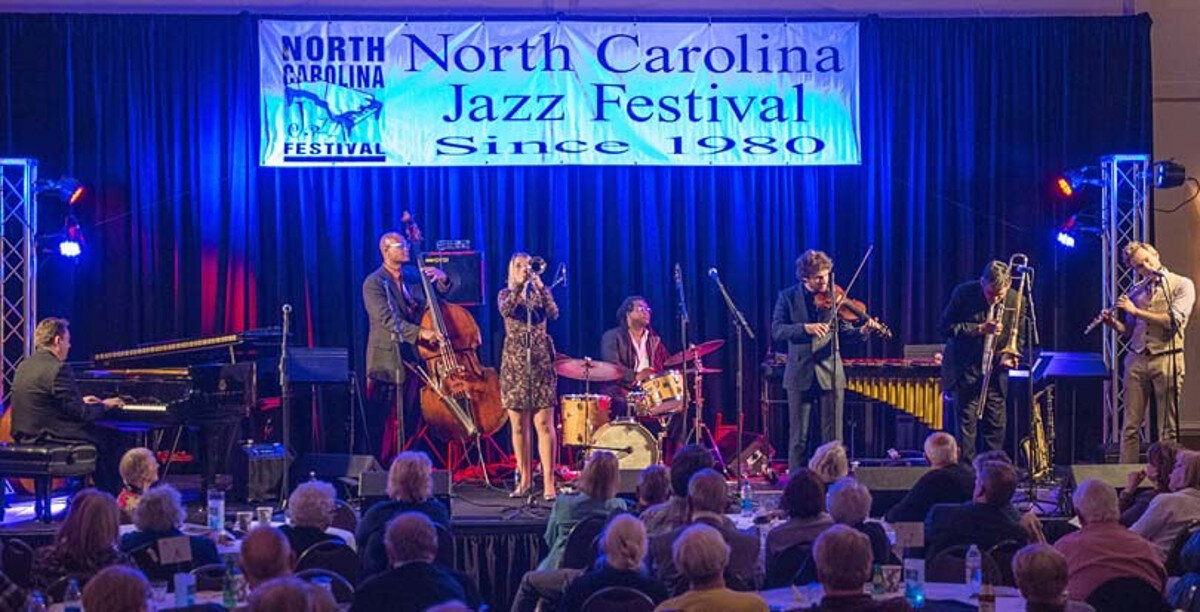 Initially, Van Velsor and Hodes planned to hold the first Jazz Festival in the fall of 1979, but for one reason or another, it got pushed out to February of 1980, which happened to be Harry's birthday. And what a Birthday Party it was! With Art's connections to the jazz world, the first lineup of musicians included the likes of Milt Hinton, Doc Cheatham, Bud Freeman and of course, Art Hodes.
The Hilton Hotel, downtown on the Cape Fear River, was chosen as the site for the 2- day festival. A good crowd showed up for that first festival and in April of that year, Van Velsor and two other local musicians, Gregory Cagle and John Mowbray, incorporated the festival as the North Carolina Jazz Festival, stating in that document that among its purposes were to educate members and the public concerning the "artistry of traditional jazz" and to "aid and assist" anyone interested in jazz and related music.
The Festival celebrated jazz every year after that at the Hilton, which is now the Hotel Ballast (still a Hilton property). At the conclusion of the 2006 Festival, Van Velsor handed the baton of leadership to Sandy Evans, former President of the Cape Fear Jazz Society, who had experience hiring musicians and bands for the Society. Sandy took the ball and ran with it, moving it away from the heavy influence of Dixieland and slowly adding other styles of jazz to the program over the years, adding a third night to the program.
In 2008, she instituted the first educational outreach, taking Festival musicians to Roland Gries Middle School for a concert. In 2015, the Jazz Education Program then introduced jazz to more local students through performances by local musicians at D.C. Virgo Preparatory School and Dreams of Wilmington. Snipes Elementary School was added to the Festival concert schedule. 2016 included a third school, GLOW Academy (Girls Leadership of Wilmington) concert during the Festival plus a concert featuring local musicians later in the spring at Sunset Elementary, a Title 1 school. 2011, brought more changes as Sandy initiated the Master Class program with Bucky Pizzarelli instructing guitar and Jonathan Russell teaching violin (at the time, Jonathan was about the same age as some of his students!).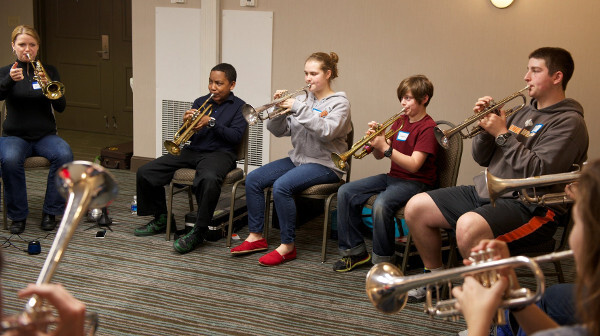 The free clinics were offered to middle school and high school students in the area. These clinics, taught by the Festival musicians, musicians who typically teach at the Lincoln Center in New York and around the world, have grown from the 2 offerings to 9 classes in a variety of instruments as well as vocals. In 2019, the Master Class program nurtured 78 local students from public, private and home schools.
In January of 2020, the North Carolina Jazz Festival will be celebrating it's 40 Birthday by bringing together some of the greats of international jazz as well as some of the rising stars. It will continue its educational outreach program with three school concerts as well as its vibrant Master Class program. It looks forward to many years of bringing the best and brightest of the jazz world to Wilmington, even as many other jazz festivals around the country have closed their doors.
In celebration of our 40th year, we are bringing back some of our old favorites such as Adrian Cunningham, Bruce Harris, Chuck Redd, Dion Tucker, Herman Burney, Houston Person, Jonathan Russell, Nicki Parrott, Nate Najar, and Rossano Sportiello. We will also be tipping our hat to some of the up and coming "lions of jazz", such as Veronica Swift who is following in her parents' footsteps (Hod O'Brian and Stephanie Nakasian) and wowing audiences at the Birdland Jazz Club in NYC and all of the big-time jazz festivals.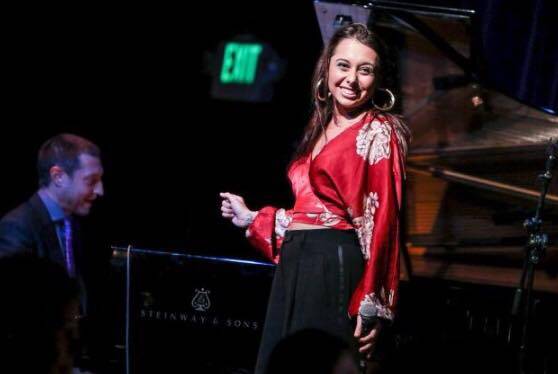 Veronica will be appearing with Emmet Cohen, who has tinkled the ivories for President Obama and performs regularly with Tootie Heath, Ron Carter, and Houston Person. Champian Fulton, mentored by Clark Terry, is a rising jazz pianist and chanteuse, will be sharing piano duties with our beloved Rossano, while Chris Gelb and John Hill, both of North Carolina, will be keeping the beat on the drums. Finally, Ben Polcer continues his father's (Ed Polcer) tradition on the NC Jazz Festival stage, bringing a little NOLA soul along with his trumpet.
We invite you to join us January 23-25, 2020, to celebrate 40 years of jazz, listen to these "young lions" roar, and keep this true American form of music alive and well.
Find out more and buy tickets at: ncjazzfestival.org/