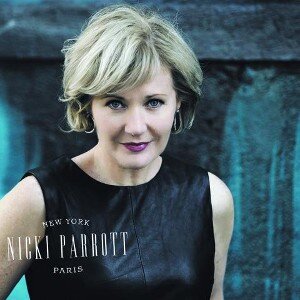 Nicki Parrott started her career in her native Australia before jazz took her to New York in 1994. Since then she has become a true world traveler as one of the top vocal stars of jazz as well as a consummate bass player.
On her latest album, New York to Paris, she pays tribute to two of the cities she knows best with a series of songs about each. The result feels autobiographical, even if all the songs are beloved standards.
She wrote all of the arrangements and is joined by a familiar team of Harry Allen (horns), John Dimartino (piano), and Alvin Atkinson (drums). The Parisian feeling is emphasized by an accordion played by Gil Goldstein on several tracks. The results are world class.
The New York songs include Gershwin's "There's A Boat Dat's Leavin'Soon For New York" as an instrumental jam highlighting the exceptional jazz chops of this team, notably Harry Allen. "On Broadway" is also performed without the vocal instead highlighting Parrott's swinging bass.
The lyrically driven "Do You Miss New York" is a highlight under Parrott's expert delivery. The lyrics of "I'll Take Manhattan" are cleverly updated to include some destination delicatessens of today.
Paris has also been the subject of many songs. "April in Paris" and "I love Paris" are both given wonderful treatments. Other Parisian titles include "Under Paris Skies" and Edith Piaf's "If You Love Me". She sings French like a native on "If You Go Away/ Ne Me Quitte Pas" and "La Mer (Somewhere Across the Sea)".
With 27 albums under her belt, Parrott has recorded 100s of titles, if you enjoy this album there are plenty more to dive into with an assurance that you'll be getting thoughtful performances by top tier artists. Browse them for the titles you want to hear at www.nickiparrott.com.