As the High Sierra Jazz Band closes out its 42-year run on the festival circuit this month at their home base in Three Rivers, California, fans are asking if there might possibly be a successor band at some point in the future performing the same high quality music associated with HSJB. Initially the overtures were rebuked in deference to the four charter members. But as the inquiries persisted, the seven members of the band conferred and ultimately gave their blessing to those members who might be interested in going forward to form a new band, but under a different name.
Earl McKee has been dealing with health issues, and the Huddleston brothers decided to put their days as traveling musicians in the rear mirror. That opened the door for the creation of the Sierra Seven, to be led by Pieter Meijers on reeds who will be joined by charter member Charlie Castro on drums; Marc Caparone, cornet; Howard Miyata, trombone; and Paul Hagglund, who has been filling in for Earl McKee on tuba. Filling out the lineup will be well-known and respected musicians Scott Anthony on banjo and either Randy Morris or Ray Templin on piano.
The Sierra Seven has been booked for the 2019 Hot Jazz Jubilee over Labor Day weekend and has already received inquiries from several other festivals.
♫ ♫ ♫ ♫
The granddaddy of all jazz parties and the oldest continuously-running jazz party in the United States is coming up May16-20 at the MCM Eleganté in Odessa, Texas. It's edition Number 53 of the West Texas Jazz Party.
While Dick Gibson is credited with initiating the jazz party concept in 1963 when he brought a group of musicians he liked and some of his friends together over Labor Day weekend in the mountains of Colorado. One of the attendees was physician O.A. "Jimmie" Fulcher from the Lone Star state who wondered why West Texas couldn't host a similar party. The first Odessa Jazz Party was held in 1967 over five nights and attended by 124 stalwart jazz enthusiasts.
The Midland Jazz Association was formed in 1977, and the Midland Jazz Classic was born. The two groups merged in 1998 under the umbrella of the West Texas Jazz Society. Over the years (1967-2018), 183 musicians have performed for the Collaboration, and the list reads like a who's who of jazz greats.
The WTJP website mentions some of the memorable moments from past parties, such as: pianist Ralph Sutton always set the tempo on his sets—not the set leader; Milt Hinton liked to turn up the volume on his bass as he got older; vibraphonist Red Norvo was deaf, and the rhythm section had to follow his lead; drummer Jake Hanna was always wickedly funny and disliked people who had no sense of humor; one musician with a pre-Alzheimer condition was caught trying to check out a couple days early; and musicians who could not hold their liquor did not get asked back.
♫ ♫ ♫ ♫
May 26 is the date, and the Birdland Theater in New York City is the place when the Anderson Brothers Play Gershwin. Joining them on the bandstand will be Molly Ryan, vocals; Steve Ash, piano; Phil Stewart, drums; and Neal Miner, bass. Asked while they chose to feature Gershwin, the Anderson's response was, "George Gershwin is one of the most striking geniuses of modern music. He composed for Tin Pan Alley, Broadway, film, radio, for symphonic orchestras, and even wrote a full-blown opera. His music defines the sound of America, and he was one of the first crossover artists combining ragtime and European classical music. His songwriting also tends to be simplistic, making it extremely fun to reinterpret and improvise. Gershwin's music also lends itself well to the saxophone and clarinet, and his melodies use many bluesy notes that allow for vibrato and expression."
♫ ♫ ♫ ♫
Evan Christopher has announced that his website, ClarinetRoad.com, has been completely overhauled to become the web's best resource about the New Orleans clarinet. He writes, "Brand new sections will let us enjoy curated showcases of the greatest players, learn classic songs, and have in-depth conversations about what makes the New Orleans-style clarinet so easily recognizable and culturally important. But the most exciting dimension will be original instructional materials about playing clarinet the New Orleans way. It has musicians in mind, but anyone can enjoy learning about this venerable craft."
♫ ♫ ♫ ♫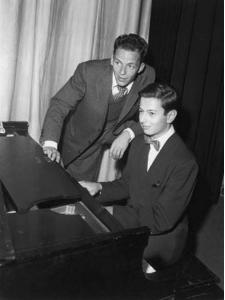 For those who would rather learn to play the piano, Grammy and Emmy Award winner Harry Connick, Jr., has come up with an on-line software program in collaboration with Playground Sessions. He says the lessons will both demystify the process of learning to play the piano while showcasing the power of technology to share knowledge.
"Music changed my life in every imaginable way, and I'm honored to share my knowledge with a global audience and give back," Connick said. "When I was growing up, I spent a lot of time by myself in the practice room. I would have loved an app like Playground Sessions to be able to learn from professionals and to get a glimpse of their process. It's the positive power of the Internet to be able to connect everyone and have no boundaries to learning."
To check on the availability of Connick's lessons, go to www.playgroundsessions.com.
♫ ♫ ♫ ♫
North Carolina Jazz Festival director Sandy Evans always has the musicians who perform at the annual event in Wilmington either conduct masterclasses or visit local schools to enlighten students about the music they play. Sandy reported on the visits to two Wilmington schools this past February.
"You're probably wondering how anyone can hold the attention of 250 middle school students. Well, we sent our Master of Entertainment, Adrian Cunningham, who regaled the students with a few Aussie jokes before discussing the roles that the front line and rhythm section play in jazz. Percussionist Alvin Atkinson led the students in some "shuffle and swing" exercises. Trumpeter Bria Skonberg and trombonist Jim Fryer talked about their instruments, while Cynthia Sayer discussed the banjo's historical role in jazz."
♫ ♫ ♫ ♫
Tenor saxophonist Houston Person is the 33rd recipient of the Satchmo Award presented by the Jazz Club of Sarasota, recognizing his "unique and enduring contributions to jazz." Houston knows the music business inside and out, from booking his own tours to producing his own albums. He has recorded everything from disco and gospel to pop, R& B and soulful hard rock. He had a musical partnership with Etta Jones for over 30 years until her death in 2001. He received the Eubie Blake Jazz Award in 1982.
♫ ♫ ♫ ♫
Katie Cavera was the popular "Musician of the Year" at the 39th Monterey Jazz Bash by the Bay. Katie has made a name for herself in this country and Europe playing 1920s and '30s classic jazz. She is a rhythm guitar specialist in the style of Freddie Green and Al Casey and also plays hot '20s plectrum and tenor banjo, New Orleans style string bass, and sings in the 1920s pop style of Helen Kane and Ruth Etting.
She has been teaching banjo and guitar at the San Diego Adult Traditional Jazz Camp since 2003 and also is on the faculty of the New Orleans Traditional Jazz Camp. Dubbed the "California Sunshine Girl" because of her upbeat singing style and sunny stage personality, she currently works at Disney California Adventure as a bassist and vocalist with The Pixarmonic Orchestra, which premiered this past summer at Disneyland's Pixarfest, playing music from Pixar films in the style of Spike Jones.
Dates for the 40th Monterey Jazz Bash by the Bay are March 6-8, 2020.
♫ ♫ ♫ ♫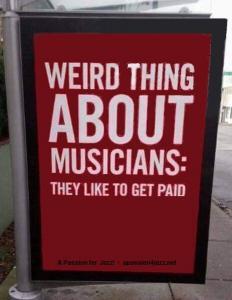 In citing his many accomplishments, The New York Times obituary for pianist-composer-conductor André Previn mentioned that he had written the score for a 1949 MGM film, The Sun Comes Up, staring wonder-dog Lassie and operatic singer Jeannette McDonald. What is unique about this pairing is that Jeannette MacDonald was allergic to dogs. Previn's comment was, "Go figure that billing. Like all Lassie pictures, there was hardly any dialogue, but a lot of barking."
♫ ♫ ♫ ♫
Interesting street sign in Canada tells us, Weird Thing About Musicians: They Like to Get Paid, and urges by-passers to support businesses that support musicians, The sign is the brainchild of an organization in Canada, A Passion for Jazz!, that serves music creators, music publishers, and visual artists. Its function is to ensure users are licensed to play, as well as collecting and distributing royalties in Canada and worldwide. Visit them online at www.apassion4jazz.net.