It's Trivia Night down at the local pub, and the question is: "Who was the official banjoist for the New York Yankees?"
Or the question might be: "What member of the National 4-String Banjo Hall of Fame was the piano player in Woody Allen's New Orleans Jazz Band?"
Or: "Who recently published a play-along book with CDs and downloads for people seeking to learn and practice traditional hot jazz and swing?"
And finally: "Who is the only banjoist to have graced the stage of the Metropolitan Opera concert hall and to have performed with the New York Philharmonic Orchestra?"
Congratulations if your answer to all of the above was "Cynthia Sayer."
Tailwinds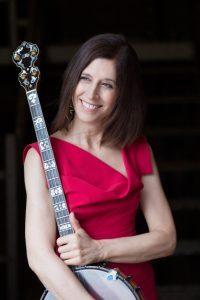 Cynthia Sayer has made a career out of doing something she loves. She originally wanted to play the drums, but when she was 13, her parents bribed her with a banjo and lessons as a more peaceful pursuit. This happenstance put her on a career path that has led to work in films, stints with symphony orchestras, performances at the White House and Carnegie Hall, teaching, and extensive international touring.
As a magna cum laude graduate from Ithaca College with a bachelor's degree in English, she thought about going to law school to become a lawyer, but decided to give music a shot for a year or two. She kept extending that "year or two," and it wasn't long before she concluded there's nothing wrong with earning your living at something you love doing.
She was soon playing with such legendary artists as Bucky Pizzarelli, Dick Hyman, Les Paul, Marvin Hamlisch, Wynton Marsalis, and Wycliffe Gordon. Her extensive career includes performing for two U.S. Presidents (once at the White House), playing banjo, ukulele and piano on feature film and TV soundtracks including several Woody Allen films, and doing TV commercials and radio jingles.
She tours with her bands, Cynthia Sayer & Joyride, Cynthia Sayer & Sparks Fly, and Cynthia Sayer's Women of the World Jazz Band (WOW). Her albums included Attractions with Bucky Pizzarelli and Joyride with Charlie Giordano, a member of Bruce Springsteen's E Street Band. In 2006 she was inducted into the National Four-String Banjo Hall of Fame, which is part of the American Banjo Museum.
She was featured on the PBS television documentary Give Me the Banjo that brought together contemporary players with folklorists, historians, instrument makers and passionate amateurs to tell the story of America's instrument in all its richness and diversity.
She was a founding member of Woody Allen's New Orleans Jazz Band and was its pianist for over 10 years. "When I was first approached I wondered why they would ask me when there are a ton of great piano players in New York City. I'm better on banjo. However, as I thought about it, I realized that Woody was partial to the clarinet style of George Lewis, and the band was like a George Lewis-Bunk Johnson New Orleans-style band, which has a very particular kind of sound."
"I concluded I was actually okay on piano because I understood that kind of music whereas most New York players have this extraordinary technical skill and don't tend to connect to this style. I loved the band and did play banjo on occasion when Eddy Davis, the regular banjo player, couldn't make it."
A gig playing for the New York Yankees led to board game fame for Cynthia, who was featured on a card in the 1998 edition of Trivial Pursuit. "I didn't know about the Trivial Pursuit question until a friend told me about it. What happened was that I was in the 'A Band' who played for certain home games at Yankee Stadium and also for some of the Yankee special events. I'm not a big sports fan, but got to meet a few players. It was cool."
Educator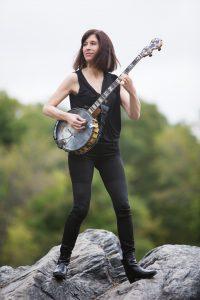 Cynthia has also been active as an educator, performing programs about early jazz and the 4-string banjo at colleges, giving lecture/demonstrations for various organizations, teaching workshops while on tour worldwide, giving private lessons, hosting jam sessions, and writing feature articles for several American and British trade publications.
Dispelling all the bad jokes about banjos and people who play the instrument, Cynthia recently gave a lecture/demo at the Lincoln Center Jazz Academy entitled THE VENERABLE JAZZ BANJO: Stars & Music from Speakeasies, Vaudeville, Concert Halls and More. While people normally associate the banjo with bluegrass, folk and country music, Cynthia pointed out that it was the 4-string jazz banjo that defined the hot rhythm section sound of American pop music of the Roaring '20s and early '30s. She went on to say that it remains an integral ingredient of America's traditional jazz sound, embraced by players and listeners alike in today's resurgent hot jazz scenes.
Music Minus One
As for the play-along book, which is titled You're in The Band, she said, "My students had expressed a good deal of frustration over the years in trying to find the right kind of play-along materials. They asked me to put something together, but I was always too busy with gigs and other work. Finally, the time was right.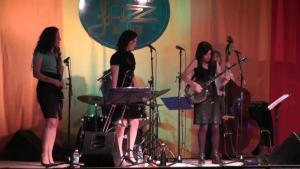 "Once I conceived the project, it grew organically to be more involved than I thought it would be. And I'm really pleased the way it turned out. It's designed to give a genuine experience of what it's like to play in a hot jazz, trad-style group, and is for all jazz instruments, not just banjo. Bria Skonberg (trumpet), Mike Weatherly (string bass) and Kevin Dorn (drums) recorded 13 familiar tunes with me. Each tune is performed at two different speeds: practice or gig tempo, and we leave space for the musician to play along. The book also gives lots of info and tips. The You're in the Band package will help players learn real traditional jazz by utilizing accurate music, playing styles and tempos as are played on quality professional gigs today—and to have fun in the process!"
Banjo Revival
There's no question in Cynthia Sayer's mind that she made the right decision to become a musician instead of a barrister, and that she picked the right instrument on which to build her career. "The banjo is in the midst of an enormous renaissance, and there is some great talent out there. It is seriously cool to be a banjo player right now. Needless to say, I'm happy about that.
"I remember when I was in my 20s going to parties, and people would say to me, 'Oh, what do you do?' I would reply, 'I play the banjo,' and they would look at me and literally not know how to respond. It was just not part of the consciousness of my generation. Now if I say I play the banjo, everyone is like, 'Wow, that's so cool!'"
Mark Twain had that figured out 150 years ago when he wrote in volume 2 of his Early Tales and Sketches, "The piano may do for lovesick girls who lace themselves to skeletons, and lunch on chalk, pickles, and slate pencils. But give me the banjo… When you want genuine music—music that will come right home to you like a bad quarter, suffuse your system like strychnine whiskey…ramify your whole constitution like the measles, and break out on your hide like the pin-feather pimples on a picked goose—when you want all this, just smash your piano, and invoke the glory-beaming banjo!"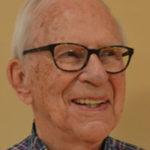 Lew Shaw started writing about music as the publicist for the famous Berkshire Music Barn in the 1960s. He joined the West Coast Rag almost thirty years ago and has been a guiding light to this paper through the two name changes since then as we became The Syncopated Times.  47 of his profiles are collected in Jazz Beat: Notes on Classic Jazz. Volume two, containing profiles from 2013-2016 will be available on Amazon soon. He taps his extensive network of connections and friends throughout the traditional jazz world to bring us his Jazz Jottings column every month.