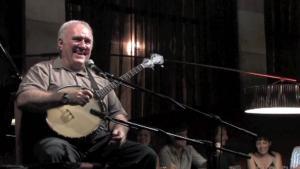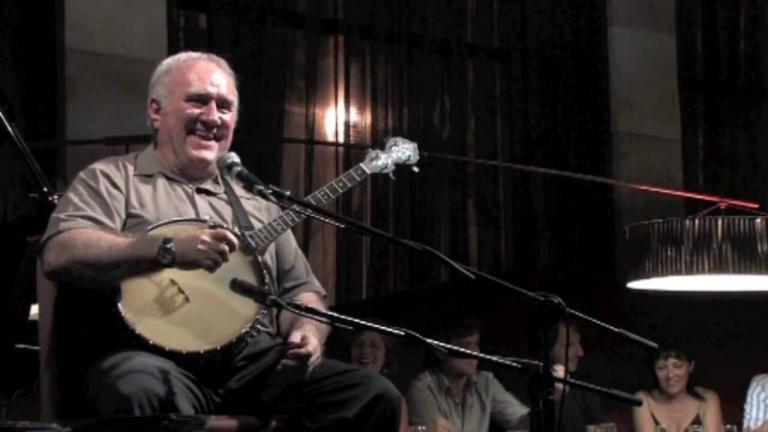 Beloved traditional jazz banjoist and "Manhattan Minstrel" Eddy Davis died of Covid-19 on April 7th. He contracted the virus while visiting an ER after a fall. Most recently he led The Woody Allen/Eddy Davis New Orleans Jazz Band at the Cafe Carlyle on Mondays until the start of the quarantine in New York.
Eddy Davis' professional career began while he was a senior in high school when he joined The Salty Dogs. He credits pianist John Cooper with teaching him the Dixieland repertoire on the way to Salty Dogs appearances at colleges around the midwest. That was 1958 and 62 years later he could still be heard regularly at trad jazz hotspots around New York, now a mentor to younger players.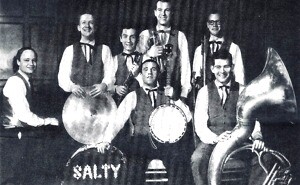 After a year at Purdue he moved to Chicago. He attended the Chicago School of Music while living in a YMCA near Rush St., the heart of traditional jazz in Chicago at the time. He soon started his own band, Eddy "Dixie" Davis and His Dixie Jazzmen. A young Woody Allen, then a stand up comic, would come by and sit in with his clarinet, beginning what would become an enduring partnership.
The Jazzmen migrarted through several clubs in Chicago and at the last Eddy Davis recorded his first album, Live at the Old Town Gate. In 1967 he moved to LA to open a new club, The Fire Station Inn. In L.A. he became involved with productions of Hello Dolly which led ultimately to a national tour with the show Mame in 1968.
After the tour he started a group called Banjo's Unlimited, the trio played 36 instruments between them. In 1969 he moved to New York with an idea for a comedy act. He found work as a house musician at Peer/ Southern in the Brill building and started to appear with The Village Stompers. In 1971, while doing various industry work he became, with Tina Kaplan, the opening duo act at a comedy club known as Upstairs at the Downstairs, switching after a house pianist was injured to that instrument.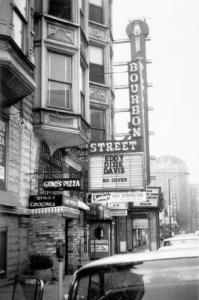 In 1972 travels for Your Father's Mustache led him back to LA to work on a show at Disneyland. He became part of the Firehouse Five noon jam sessions, and recorded ragtime and jazz albums. During this period he met Hal Smith, Dan Barrett, and Banu Gibson. He met Vince Giordano on several trips to Florence, Italy.
In 1975 he joined The Salt City Six and while with the band recorded with Don Ewell.  In 1976 he orchestrated and conducted a musical with music by Terry Waldo. He also started to play The Red Blazer Too several nights a week with different groups, alongside Vince Giordano, Carmen Mastron, Dick Wellstood and countless others.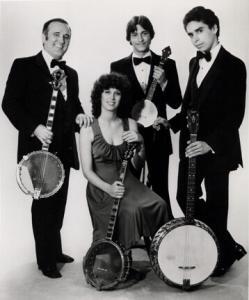 In 1979 he filled in with the Turk Murphy band at Earthquake McGoon's, covering John Gill's position on banjo while Gill covered Bob Helm's position on clarinet. In 1980 he toured the revival of Whoopee as the musical director of a 12 piece jazz orchestra. In 1981 he founded New York Jazz Records with Lew Micallef. In 1982 he joined Jabbo Smith and his Rhythm Aces.
In 1983 he formed the The New York Banjo Ensemble with Cynthia Sayer, the group also featured Howard Alden, Frank Vignola, and Bill Keller. Davis credited himself with several banjo innovations which were picked up by his sponsor OME, including an adaptation of the resonator.
Beginning with a 1984 recreation of the 1924 Aeolian Hall concert he worked with conductor Maurice Peress on several other recreation concerts over the following decades.
During the mid 80s he toured with Leon Redbone after arranging and recording the theme song to Mr. Belvedere with him. He also played on Tom Wait's entry for a Kurt Weil tribute album.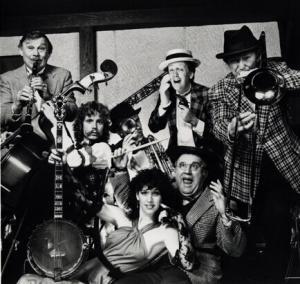 It was around this time that Davis began to sit regularly with the Woody Allen band at Michael's Pub, recording on the soundtrack to Radio Days in 1985 and on many others after. The Pub allowed Eddy to develop several creative acts including a Spike Jones tribute that evolved into The New York Society for the Preservation of Illegitimate Music, and the more formal yet fun Early Tin Pan Alley Orchestra.
By the late 80s international travels, albums, musicals, and stage projects came at a frenetic pace. He was on many movie soundtracks, worked on numerous stage projects, recorded on several continents, and joined countless bands and artists at festivals and on cruises.
In 1993 he spent a year in Germany as the co-creator and musical director of a show called Jazz Leggs. That same year the Woody Allen album The Bunk Project was highly praised.
After returning to New York he played with John Gill's Dixieland Serenaders and they recorded several albums for Stomp Off. He also led the Woddy Allen Band to South America on it's first tour without Allen. Then a European Tour with Woody became the film Wild Man Blues. For the rest of his career leading the Woody Allen band would be what he was most known for.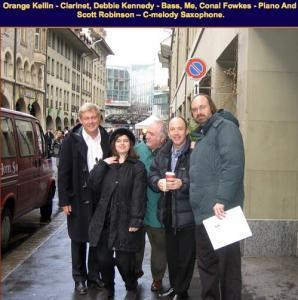 In 1999 he formed a band with Scott Robinson, Orange Kellin, Debbie Kennedy, and Conal Fowkes called Wild Reeds and Wicked Rhythm. He was particularly proud of this group. He was also with David Ostwald's Louis Armstrong Centennial Band as it formed in 2001.
By this time he had been involved in theater from every angle from conducting and arranging to writing his own play, The Blind Man. He also acted on occasion, on stage and in small parts in Woody Allen films.
While in Barcelona in 2007 for a Woody Allen filming a nightly cabaret residency resulted in the DVD Davis And Fowkes Live In Barcelona, which Davis felt highlighted his playing very well.
In recent years he has composed extensively including classical works and lyrics in the mode of the Great American Songbook. He  has also continued to record extensively and even resurrected his New York Jazz Label. In addition to Monday's at the Carlisle he could be found at The Ear Inn, and recently Cafe Bohemia.
---
TheEddyDavis.com features a detailed autobiography covering his fascinating career through 2001 as well as histories of the various bands and projects he has been involved in.
His YouTube Channel, MrGreenMeat, contains a wealth of amazing video.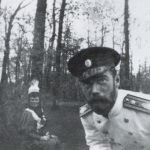 Joe Bebco is the Associate Editor of The Syncopated Times and Webmaster of SyncopatedTimes.com. He is available for liner notes and other writing or to give your website an overhaul. Reach him at [email protected]