Note: John Gill is a multi-instrumentalist with wide-ranging musical tastes. However, he is best known as an authority on San Francisco Style Jazz and also as one of the most authentic performers in that idiom. He has studied the music for over 40 years, was the original curator of the San Francisco Traditional Jazz Foundation and produced CDs for the Foundation as well as GHB Records.
Among the bands he has led are John Gill's San Francisco Jazz Band, the Minstrels of Annie Street and most recently the Yerba Buena Stompers—all of which have been dedicated to the music of Lu Watters and Turk Murphy.
Hal Smith: You play several instruments. Which one did you start on?
John Gill: When I was very young, I would guess four or five, Liberace had a show on TV..This was in my parents' first apartment on 11th Ave. in Whitestone, NY. I loved to watch Liberace play the piano. So there was a small, low window in the kitchen and my father had taken a pencil and drew a piano keyboard on the window sill and I would sit in my little chair which was just the right height and "play along" with Liberace. So my first instrument was the window sill.
By the time I was around ten I got the itch to play the drums and after a year or so of begging I got my first drum. It was a red plastic snare drum made by Maestro. I went crazy for that drum and played it all the time. I played along with records and the TV. After a while my folks set me up in the basement with a phonograph and a TV to play along with.
This would be around 1963. I began to acquire records from neighbors, and at garage sales where you could pick up records for 5 or 10 cents or for free. So while the other kids were playing stick ball and touch football, I was playing my little red plastic drum in the basement. The next big event was to get a small cymbal that a neighbor found in his garage.
I was listening to a lot of stuff, mostly 45 rpms. One time a neighbor who was going off to college gave me a nice pile of rock and roll records. By 1964 I was a full-fledged Beatles fan. It was time to move on from the red, plastic snare drum and get a full set. So I saved my money and got a fifty dollar, blue sparkle, Kent drum set listed for sale in the Buy Lines Press. This was a weekly newspaper that listed used items for sale. It was around this time that my Dad, tired of hearing the rock and roll music emanating from the basement stepped in and asked me to consider a record by Big Jeb Dooley.
That record really caught my ear and it would not be long before I abandoned rock and roll music. Big Jeb Dooley turned out to be Pee Wee Erwin who was a fantastic trumpet player with a great feel for the old jazz. Among the other players on this recording were Kenny Davern, Milt Hinton, Lou McGarrity, and on the drums was Cliff Leeman. So Cliff was my first real jazz inspiration. He had a great style and played the most inventive drum solos that I'd ever heard.
After the drums I got a banjo around 1967. I took a few lessons and played in Church for "Folk" Mass along with some other local guitar players. That was my first playing experience. Also played drums or banjo at various school events like assemblies and dances. I got interested in the clarinet around 1972 and took some woodwind classes at college. I had a soprano sax too. Got a bass saxophone later. Started trying out the guitar around 1979 when I was living in San Francisco. Got my first trombone around 1988 when I was living in New Orleans for the first time.
Who were some of the musicians you worked with when you were getting started?
I got to play with a lot of great and interesting musicians when I was coming up in New York. The first live band I ever heard was a group with the amazingly long name of The South Hampton Dixie, Racing, and Clambake Society Jazz Band. This would have been around 1968 and they played every Sunday at a place called Your Father's Mustache. This place usually had banjo sing along music but on Sunday afternoons they turned the stage over to Dixieland or Traditional Jazz as it's called these days. Coincidentally just a few years before it had been the famous Nick's In The Village where all the jazz greats played.
I discovered the place while looking thru the Sunday paper one day and noticed a listing for live Dixieland jazz, and minors welcome. In those days you had to be 21 to get into most places and I was not quite 18. I found the place, and lo and behold the doorman wouldn't let me in because I had to have someone over 21 with me.
So it was a nice summer afternoon and the big windows were opened and I stood on the sidewalk and heard for the first time the sound of a live jazz band. And I have to tell you it was thrilling! You never forget the first time you hear the sound of a hot cornet, a tailgate trombone and all the other musical ingredients that go into the sound of jazz. I'll never forget that moment.
As it turned out the guys in the band noticed the young kid looking in the window and at break time they came out and said hello. Best of all they vouched for me and I entered the portals and was allowed to listen to the band as long as I only drank Coke. They were all really great guys too.
The hot cornet man was Bill Barnes. He was a wonderful, generous and encouraging guy who made me feel very welcome. The drummer and band leader was Stan Levine—a classic character and another great guy, and the first person to let me sit in with a band, which was another unbelievable experience. The other guys were Connie Worden, banjo; Joe Ashworth, clarinet; Skip Strong, trombone; Barry Bockus, bass; and Ted Prohaska, piano. I'll never forget those guys.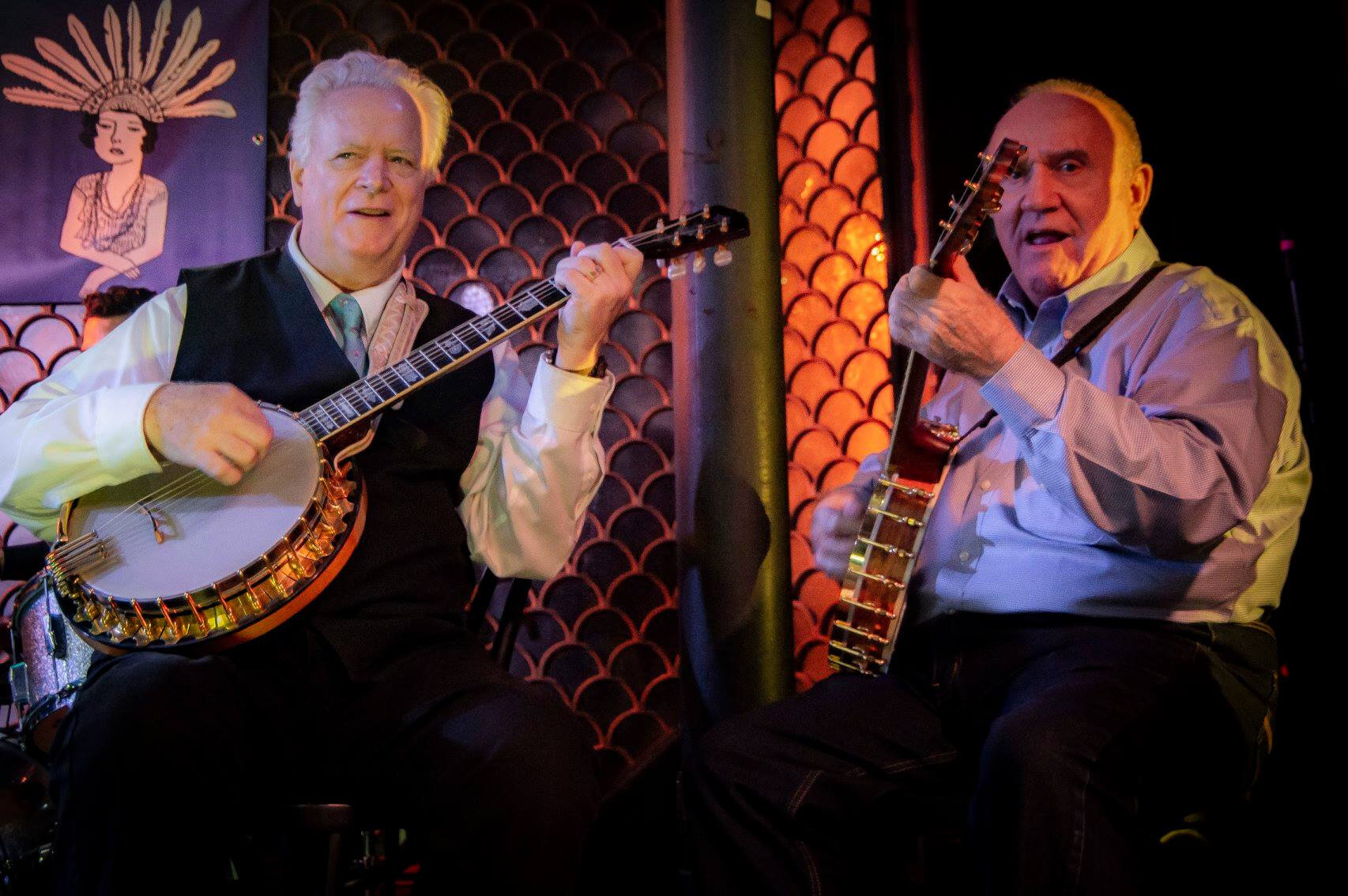 So Sundays at the Mustache became my regular place to be. Some of the people that I met there were Alan Cary, Eddy Davis, Woody Allen, Freddie Moore, Graham Stewart, The Red Onion Jazz Band, The Smith Street Society, Balaban and Cats, Warren Vaché, Allan Vaché, Terry Waldo, Joe Muranyi, Brian Nalepka, and all the guys who played across the street at Arthur's Tavern every Monday (and still do to this day).
Alan Cary introduced himself to me one day. He was a banjo player and he made this young student of the drums and banjo feel like I was part of the scene. He encouraged me to listen to records and suggested many artists that I needed to hear, musicians like Jimmie Noone, King Oliver, and the New Orleans Rhythm Kings. He even made the trek out to my home in Whitestone via public transportation (two trains and a bus each way!) to play me some records. He was also a great resource for sheet music and all things historical.
I met Woody Allen there right around the time he made his first movie and we still play together after all these years. Played many gigs with Freddie Moore, the crack drummer. He worked and recorded with people like King Oliver, Jelly Roll Morton, Sidney Bechet, and many others. Also through connections at the Mustache I was able to play with Ed Garland, Louis Nelson, Andy Blakeny, Joe Darensbourg, Alton Purnell, Johnny Wiggs, Raymond Burke, and Danny Barker.
As I improved on the banjo I was also able to start working with the Mustache Banjo Band. For several years I got to play and record with the Bix Beiderbecke Memorial Jazz Band. Took my first plane trip with them to play at Bix's gravesite in 1971. That turned out to be a great experience and it signaled the birth of the Bix Fest that happens every year in Davenport.
Around this same time I became a member of The Red Onion Jazz Band. An excellent traditional jazz band with an eclectic repertoire based in NYC. John Bucher—great hot cornet; Dennis Brady, soprano sax and clarinet; Dick Driewitz, trombone (he took lessons from Miff Mole); Hank Ross—a fantastic piano player who learned from James P Johnson; Barbara Driewitz or Jack Harkavy, tuba; and last but not least: leader and drummer Bob Thompson who also played nice washboard.
One of the groups you worked with caught the attention of our friend the late Wayne Jones, of the Salty Dogs Jazz Band. I remember that he raved about your drumming with the New Harmony Jazz Kings after hearing you on a tape by that group.
That band got together in the early '70s. Lew Green, the Salty Dogs bandleader, had moved to the area and he had some Bay City Jazz band arrangements for two trumpet stuff. We put a band together and started doing a Sunday residency at Your Father's Mustache. It was Lew and Dick Roberts on cornets; Dick Driewitz, trombone; Alan Vaché, Joe Muranyi, Dennis Brady, clarinet (not all three at once!); Hank Ross, piano; Mike Swan and Alan Cary on banjos; Sam Pilafian, tuba and me on drums.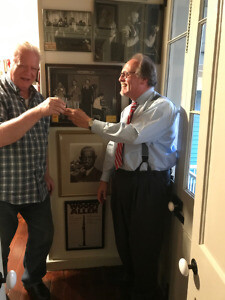 Yes, Wayne had some nice things to say about my drumming. Wayne was a great drummer himself and someone who was very interested in the young ones who were trying to learn. He was always sending me cassette tapes of stuff I'd never heard, and we spent many an hour talking about what was good and what was bad over a beer or two. I have fond memories of the late night yak sessions with him during the St. Louis Ragtime Festival from 1978 to 1985. I also got to play many gigs with him with different versions of Terry Waldo's band that were quite memorable. Those gigs also included the wonderful Frank Powers on clarinet.
The New Harmony band pretty much just played at The Mustache, we did a concert for the Connecticut Jazz Club. I mostly remember that gig because somewhere between Connecticut and Whitestone I lost the money they paid me with so I had to raid my savings account to pay everyone! The band just eventually went away because it was very hard to book an eight piece band.
You grew up about as far as possible from the birthplace of San Francisco Jazz. What was it about the music that caught your ear?
The way I heard about the SF Revival bands was at the library. As a young jazz hound I discovered that the public library had several interesting books about jazz. I first read about the Yerba Buena Jazz Band in Rudi Blesh's book Shining Trumpets. In another book Hear Me Talkin' To Ya I read about what some of the revival musicians had to say about about the concept and it intrigued me that they wanted to go back to square one and create a brassy sound that utilized tuba and banjo as part of the rhythm section. For some reason their mission captured my imagination.
Around 1968 I found my first record by Lu Watters and The Yerba Buena Jazz Band at a small local record store called Flushing Records on Northern Blvd. in Queens, NY. It was on the Good Time Jazz label and was called Stomps, Etc. and The Blues. So I put it on the record player and the first tune I heard was "South." It knocked me out. The back of the record had the biographies of the band members and a little about each tune. I was hooked.
Needless to say, these records were not easy to find and after searching for many weeks and finding nothing I wrote to Contemporary Records in Los Angeles, they owned the Good Time Jazz record label. A few weeks later I got a letter in the mail from Lester Koenig (he was the boss at Good Time Jazz). He sent me a nice note and a catalog of all the Good Time Jazz releases.
But the best part was he gave me the name of the distributor in NYC and instructed him to sell me anything I wanted at wholesale! So that's when I got all the Watters material, Turk Murphy, Scobey, Ory, and the Firehouse Five Plus Two. It took me a few months but I was able to get all that I wanted. I had hit the jackpot.
You had a long association with Turk Murphy's San Francisco Jazz Band. When did you first meet him?
Some friends of Turk's asked Lew Green to put together a band for a surprise Birthday Party for Turk at The Friars Club in NYC. We played some background music and then Turk joined us for a few tunes. It was my first meeting with him. This would have been around 1975.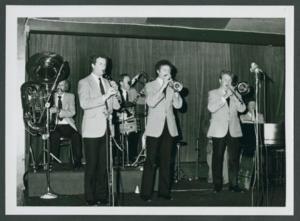 Previously, I had seen Turk's band in 1971 at The Newport In New York Jazz Festival. That was the first time that I heard him live. I was really moved by the sound of the band, with Leon Oakley, Bob Helm, Turk, Pete Clute, Carl Lunsford, and Bill Carroll. They sounded so good and it was a thrill to hear Turk and Helm live for the first time.
I had by this time collected all his records and was an avid listener. The sound of Turk's trombone has always attracted me and after I joined his band that sound is inside me somehow. He had a very charismatic sound. It was loud and rough house but very bluesy and truthful. I also enjoyed his singing very much.
What was it like to work with someone who you had idolized for a long time?
It was a little disconcerting. He was a tough band leader and somewhat prone to mood swings. He was very kind to me in the beginning but eventually the relationship became a little strained. I don't know for sure what caused it but he began to have issues with the time feel and the situation grew more and more awkward. He was strict with everyone though. Maybe I disappointed him somehow.
But that said, I loved playing in the band and I loved his approach to traditional jazz. When he was diagnosed with cancer we all knew the end was near. In his pain and sickness he became a little more difficult, and who could blame him? Over the years I had many wonderful experiences working with him and few uncomfortable moments but the good far outweighs the bad.
Finally in 1985 I was offered a fulltime job with singer-guitarist Leon Redbone and eventually accepted and gave Turk my notice. Turk was very unhappy with me and I was never able to patch up the relationship; he just wouldn't speak to me. I went to The Fairmont several times to hear the band but it became uncomfortable for both of us I guess and I stopped going.
I'll never forget seeing the headline in the newspapers saying that he had died. It was a sad day for me and for traditional jazz. I learned a lot from him and he was always generous to a fault in sharing advice, sheet music, and all things musical. He was always bringing me tapes, records and sheet music.
While you were in the Turk Murphy Jazz Band, you played at least four instruments at different times, and also wrote arrangements for the band.
I was hired to play banjo. When he learned that I played drums he began suggesting that we assemble a small trap kit—snare, cymbal, wood block—and then I could double. He left it up to me which one I should play. The real truth was that he loved to play the drums and as soon as I got up to sing or play a banjo solo he would get behind the trap kit! We should mention that he always brought his washboard and played it on all gigs.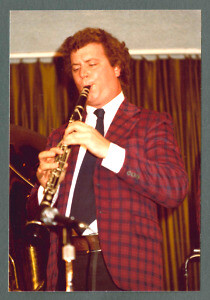 My clarinet/soprano work with Turk was pretty bad, in my opinion. The way it came about was Bob Helm had to take some time off for major medical procedures. We had been asked to play the Breda Oude Stijl Jazz Festival in a few months and Turk wanted someone locally to work with the band, and then play Breda.
Phil Howe (a wonderful player and a former member of the band) was unable to commit to a full schedule with the Murphy band during Helm's absence. The same situation happened with Bill Napier—another clarinetist who had worked with Turk in the 1950s. Turk didn't feel that there was anybody else locally who would work out. He thought about asking Bob Wilber to do it (he had done a stint with the band in the 50's) but Turk chose me. I tried my best, but I've heard the tapes and I sound like a disaster. Bob Helm never did come back because he and Turk had some kind of a disagreement. So one of the great traditional jazz teams called it quits.
When we started recording for Ted Shafer's Merry Makers label, Ted was insistent that we do some tunes that Turk was not interested in doing. So he ended up asking me to try my hand at arranging. He gave me some ideas for each tune and I went to work.
The tunes were "I'm Going Away Just To Wear You Off My Mind," "I'm a Little Blackbird," "At The Christmas Ball," and "Wildcat Blues." They came out okay, but I really didn't know what I was doing. Ted also wanted us to do "A Cup Of Coffee, a Sandwich, and You" but Turk shot that one down like King Kong on the Empire State Building.
I also did a few vocal tunes for myself like "The Border of The Quarter" and "Walking My Blues Away" and a few banjo solos. After I was out of the band I came home one day and found inside my door all the arrangements that I had done for the band with a note saying he wouldn't be needing these anymore. He really stung me with that one, I think it would have been better if he had just thrown them out.
You mentioned that the good outweighed the bad during your stay with Turk's band. What were some of the highlights that were particularly memorable?
Well to be honest, the whole thing was a highlight to me. I would do it again in a heartbeat and the only thing I would change was quitting. I should have sucked it up and stayed till the bitter end. My one great regret in life. Otherwise, I particularly enjoyed playing with Turk's band at the Australian Jazz Convention, the Cork Jazz Festival, and the St. Louis Ragtime Festival.
Also, I got to know some great musicians including Bob Helm, Leon Oakley, Phil Howe, Bob Neighbor, Pete Clute, Ray Skjelbred, Ev Farey, Bob Schulz, Bill Carroll, Lu Watters, Harry Mordecai, Burt Bales, Lynn Zimmer, Pat Yankee, Chris Tyle, and present company. Some of the great San Francisco legends like Wally Rose and Bill Napier played with the band from time to time as well.
You took up the trombone after Turk's death. After hearing him night after night on all those engagements, he must have been a major influence on your playing.
His playing really did hit me and when I took up the trombone later on my intention was to "Play Like Turk." I also love Ory, Brunis, McGarity, Dickenson, and Teagarden and Miff Mole and Tommy Dorsey and on and on but Turk was my man.
After leaving the Murphy band and returning to New York, what were some of the bands you played with?
I left the Turk Murphy band to play full time with Leon Redbone, and I stayed with him on and off until the mid-1990s when I was dismissed for some infraction that to this day I have no idea what it was. I played banjo, drums, bass sax, clarinet, and soprano sax. Also did a lot of arranging and musical directing.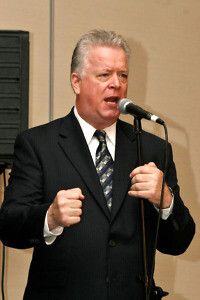 I also composed one tune that I never received credit for. It's called "So, Relax" and it was written for a very successful TV commercial for British Rail. The chords and some melody are from a Bing Crosby tune from the early '30s called "A Faded Summer Love." Leon changed a few words and somehow forgot to include my name in the credits. A tip to all of the youngsters out there: if you ever write a tune for a prominent recording artist make sure you get everything in writing! That is where I messed up on this.
Other than that, Leon was great to work with and he was a really great artist. Good on the guitar, and a fantastic and charismatic singer with great intonation and feeling. He was also very funny, and a very good conversationalist who knew a lot about many things. And he had wonderful taste in music and I spent many hours listening to great music with him. Check out his recent recording of Irving Berlin's "Where Are You." It's beautiful and touching. I miss my days with Redbone and I'm sorry they ended badly. Leon passed away in May 2019. RIP Leon, I miss you.
I also played with Vince Giordano's Nighthawks in NYC. It is modeled after the great bands of the 1920s and '30s and plays stock arrangements and transcriptions of classic jazz recordings. The band is a crackerjack group of excellent players and very good readers. I made a few good records with the band, like "Quality Shout" and the soundtrack to "The Aviator." I played at different times banjo, guitar and—less successful—drums. Truthfully, I did not have the reading chops to be in the band and left.
I had played with Woody Allen a few times at Your Father's Mustache in the late 1960s. He subbed on clarinet several times with The South Hampton Dixie, Racing, Clambake Society Jazz Band and I got to sit in when he played. He was a Bunk Johnson fan and in general a fan of the Old New Orleans style clarinet.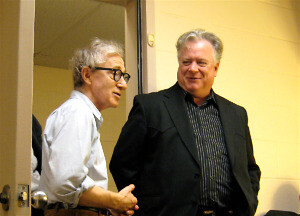 I was called to play banjo and drums many times when Woody had a band playing at Michael's Pub. After I had moved to San Francisco to join Turk I learned that Woody had been a frequent sit in with Turk's band. During Woody's comic years he came to San Francisco a lot to do standup comedy. When I got back to New York in the late 1980s I reunited with Woody's band which was now under the direction of Eddy Davis. I continued to play with the band until my recent move to New Orleans.
You also spent time in New Orleans in the 1990s. What were some of the groups you worked with at that time?
The Silver Leaf Jazz Band—organized by Chris Tyle. Chris is a fantastic trumpet player, clarinet player, drummer, and singer. It was my pleasure to play with him on hundreds of occasions and to make some great recordings. He is living in France these days living the good life.
Also, I played with the New Orleans Classic Jazz Orchestra. This group was formed by cornetist Eddie Bayard. It was a reading band and Eddie had a great book of classic jazz arrangements and transcriptions. Eddie asked me to join the band on banjo when I moved to New Orleans back in 1989. Eddie has since retired but he is still one of my favorite people and I'll never forget those nights out on the town with him back in the day.
You have made a very important series of recordings—particularly on the Stomp Off label. What are your thoughts concerning Bob Erdos and Stomp Off Records?
Bob was a great friend to Traditional Jazz, and very supportive of what I was doing. Most of the stuff I did for Stomp Off was in the Traditional realm, but I did do some 1920s hot dance stuff as well. I was able to participate in some great sessions with most of the greatest traditional jazz musicians. In all I did 48 albums/CDs either as a leader or a sideman for Stomp Off. Bob and I got along really well and it means so much to have been part of the Stomp Off story.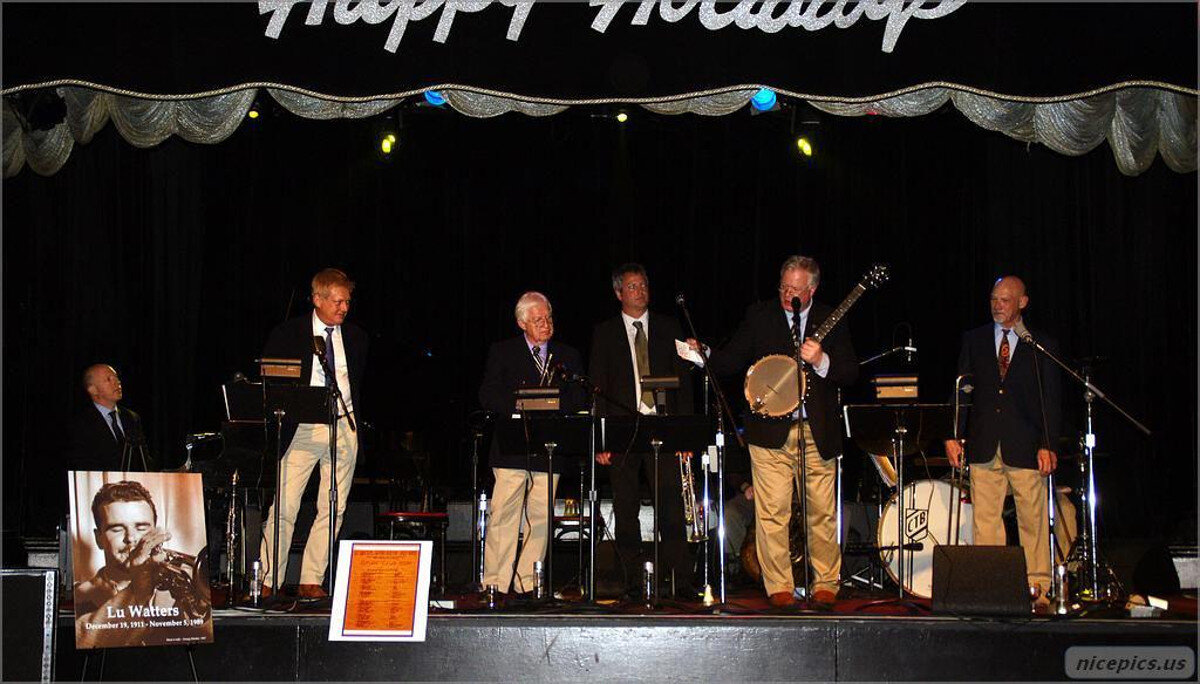 One of your bands which recorded extensively for Stomp Off is the Yerba Buena Stompers—which you are still leading in 2020. How did the Stompers originate?
The band came about when I got a call to put together a Lu Watters tribute band for the Oude Stijl Jazz Festival in Breda, Holland. I organized the band and set up a recording session. This was in 2001. The gig ended up falling through but we decided to keep the band together and ended up playing the festival circuit two or three times a year since. It's a band of people that I really love to play with and I wish that we could perform more often.
What brought you back to New Orleans in 2019?
Last year it was becoming apparent that NYC was becoming very expensive and beyond my means to sustain so I made the decision to move back to New Orleans. I had lived down here before and I really enjoyed it and the cost of living is within my means. There is also a thriving music scene and I thought that I could pick up a few gigs here and there. I've been here since June 2019 and it's been nice so far.
One of the groups I enjoy working with is the Steamboat Stompers, on the Natchez Steamboat. It was originally led by Eddie Bayard, but Duke Heitger took over the band when Eddie retired. The regular musicians include stalwarts like Steve Pistorius, Tom Saunders, and Tim Laughlin—playing classic New Orleans Jazz.
Through the years, and all the long-distance moves, you have had the unconditional support of Mrs. Kim Gill through good times and bad. She was kind enough to write down her thoughts on your musical adventures: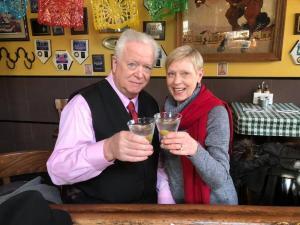 Thirty years, many moves, many cities and each offered their own unique take on this inspiring music. I never knew when I started my life with John that it would turn out to be the wonderful adventure that it has been. I have been blessed by the love and friendships I gathered along the way. To live a life where there is music around you 24/7 is amazing and I continue to get more than I give by a longshot! Moving again and again has never been an issue. I was always looking forward to the future and always embraced the changes that came with it. The best memory of it all is that we got to do it together. I would not change one moment of it. —Kim Gill
Other than gigging around New Orleans, are there other musical projects you are working on?
I've been working on a Johnny Cash tribute band called "The Regulators" and a traditional revival style jazz band called "The Down Home Jazz Band." And of course I still have my work with The Yerba Buena Stompers.
I've been working on the banjo and guitar lately. I took up the banjo back in the 1960s starting on plectrum banjo and then tenor banjo (for non-banjo players these are 4 string banjos that are tuned differently from one another). The plectrum banjo was used on many historically important jazz recordings by Bix Beiderbecke, The New Orleans Rhythm Kings, Red Nichols and The California Ramblers.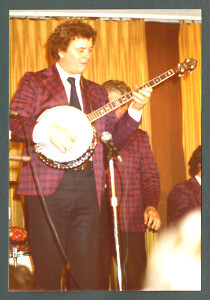 The tenor was the main banjo of the 1920's dance and pop and hot dance big bands like Paul Whiteman, McKinney's Cotton Pickers, Duke Ellington, Bennie Moten, and others. Since 2007 I've been working on the six string banjo which is tuned like a guitar. This particular banjo has relevance to the early days of jazz in New Orleans and is heard on many recordings by King Oliver, Louis Armstrong, Jelly Roll Morton. It is an older form of banjo than the plectrum and tenor. It is, for me, my favorite banjo to play. Also working on the guitar, trombone, and soprano sax.
You mentioned Johnny Cash just now and you also referred to the Beatles earlier. Besides Traditional Jazz, there is another aspect of your musical interests that some readers of The Syncopated Times may not be aware of. Can you tell a little bit about the "other" John Gill?
Well, back when I was a kid in the early 1960s the sounds of country and rock and roll did capture my attention. I was exposed to Elvis Presley, Eddy Arnold, Buddy Holly, Hank Williams, Bill Hailey, Johnny Cash, Jerry Lee Lewis, and others via records and TV. I still have a lot of love for that music and I very much enjoy performing it.
In California I organized a trio called the Dime Store Romeos. When I returned to New York I reorganized it there. It consisted of me on guitar and vocals, Kevin Dorn on drums, and Brian Nalepka on bass and vocals. We played pre-Beatles rock and roll and country classics from the '50s and '60s. We worked a lot and had long residencies at The National Underground and The Ear Inn. We had great fun.
Do you have any closing thoughts regarding the future of Traditional Jazz?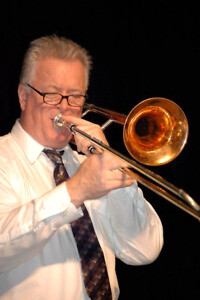 The style has changed a lot in the last 30 years and is in the hands of a lot of much younger people. My playing was shaped by my association with first and second generation jazz musicians whose rules for playing and performance are very different from today. So I have a very antique way of looking at all things jazz. Now everything's gotta swing out of course but I would like to see it in an older way. Armand Piron's Orchestra and King Oliver's Creole Jazz Band swung their tails off but they swing in a different way. That's what many of the younger cats need to get a hold of.
I'm one of the lucky ones in that I had a long career and got to hear many of the greats. When I started playing the drums I could actually go and hear famous players like Gene Krupa, Sonny Greer, Freddie Moore, and Jo Jones. Those guys had a distinctly different sound than most of the drummers get today and I mean really different.
The young jazz students today do not have the opportunities that I had to listen to the greats. I can sum up the difference this way: the old guys played less cymbals and more drums. There's an old saying: "more skin and less tin." The younger drummers should heed this advice.
The banjo has fallen quite a bit in popularity lately and I'm a little sad about that. It can be a very effective rhythm instrument when used properly. It seems that the guitar seems to be the choice today and that's fine, as long as it's acoustic and not electric—in my opinion.
I would say that it's important for everyone to learn the correct melodies and listen to the old records. Also listen to Jelly Roll Morton's advice: "Jazz should be played soft and sweet with plenty rhythm." These are words to live by.
Selected Video:
---
JOHN GILL DISCOGRAPHY
(All recordings are CDs unless otherwise indicated)
Audex
AX 103 Bix Beiderbecke Memorial Jazz Band LP
Bainbridge
BCD 501 Turk Murphy Jazz Band "A Natural High"
Blue Goose
BG 2020 Gary Lawrence and his Sizzling Syncopators LP
BMG/Sony
BMG 750116 The Aviator (soundtrack, with Vince Giordano's Nighthawks)
Compass Records
7446 2 Mick Moloney "McNally's Row of Flats"
Dawson & Chambers
(no catalog number) Scott Anthony & John Gill LP
Fat Cat's Jazz
FCJ 180 The Original Traditional Jazz Band in Concert at Manassas LP
GHB – Jazzology
BCD 280 Bay City Stompers "A Musical Tribute To Lu Watters"
BCD 289 Steve Pistorius Mahogany Hall Stompers "Tain't No Sin"
BCD 295 John Gill's San Francisco Jazz Band "Turk Murphy Style"
BCD 314 Lee Gunness Sings The Blues with Hal Smith's Creole Sunshine Jazz Band
BCD 319 Sylvia Kuumba Williams from New Orleans
BCD 331 Jacques Gauthé and his Creole Rice Jazz Band Featuring Bob Helm "Yerba Buena Style"
BCD 347 Silver Leaf Jazz Band "New Orleans Wiggle"
BCD 491 Turk Murphy and his San Francisco Jazz Band "Ragged But Right" vol. 1
BCD 492 Turk Murphy and his San Francisco Jazz Band "Ragged But Right" vol. 2
BCD 518 Yerba Buena Stompers "Duff Campbell's Revenge"
BCD 519 Yerba Buena Stompers "Take Us to the Land of Jazz"
BCD 526 Yerba Buena Stompers "The Gospel According to the Yerba Buena Stompers"
JCD 206 Bob Schulz and his Frisco Jazz Band
JCD 225 Ted des Plantes and his Louisiana Swingers "Ain'tcha Got Music?"
JCD 287 Charlie Fardella and his Sensation Jazz Band
JCD 339 Duke Heitger's Krazy Kapers
Good Time Jazz
GTCD 4416 Good Time Jazz Story (with Silver Leaf Jazz Band)
GTCD 15001 – 2 Silver Leaf Jazz Band "Streets and Scenes of New Orleans"
GTCD 15002 – 2 Silver Leaf Jazz Band "Jelly's Best Jam"
Jazz & Jazz
J&J 6357 903 Turk Murphy's Jazz Band "Oz Turk" LP
J&J 6437 156 Turk Murphy's Jazz Band/Original Salty Dogs "The Biggest Bear Stomp Of All" LP
Lake Records
Lake LACD 178 Turk Murphy's San Francisco Jazz Band "Southern Stomps"
Merry Makers Record Co.
MMRC 114 Turk Murphy's Jazz Band "San Francisco Jazz vol. 1" LP
MMRC 115 Turk Murphy's Jazz Band "San Francisco Jazz vol. 2" LP
MMRC 116 Turk Murphy's Jazz Band "San Francisco Memories" LP
MMRC SC 1001 Turk Murphy's Jazz Band "Songs of Christmas" LP
MMRC CD 2 Turk Murphy's Jazz Band "Sentimental Journeys"
MMRC CD 12 Turk Murphy's Jazz Band "Concert in the Park"
MMRC CD 17 Turk Murphy's Jazz Band "Live From the Rathskellar vol. 1"
MMRC CD 18 Turk Murphy's Jazz Band "Live From the Rathskellar vol. 2"
Music Masters
MM CD 01612-65098-2 Eddy Davis, New York Jazz Ensemble "The Bunk Project"
Rounder Select
613158 Leon Redbone "Christmas Island"
Sonic Arts
Sonic Arts 14 Turk Murphy Jazz Band "A Natural High" LP 1
Stomp Off Records
Stomp Off SOS 1094 John Gill's Original Sunset 5 LP "I Lost My Heart In Dixieland"
Stomp Off SOS 1126 John Gill's Original Sunset 5 vol. 2 "Down Home Blues" LP
Stomp Off SOS 1156 Johnny Gill's California Sunshine Boys vol. 1 "Some Sweet Day" LP
Stomp Off SOS 1157 John Gill's California Sunshine Boys vol. 2 "Big City Blues" LP
Stomp Off SOS 1161 Turk Murphy's Jazz Band "Southern Stomps" LP 2
Stomp Off SOS 1201 Terry Waldo's Gotham City Band "Footlight Varieties"
Stomp Off SOS 1223 New Orleans Classic Jazz Orchestra "Blowin' Off Steam"
Stomp Off SOS 1227 John Gill's Novelty Orchestra of New Orleans vol. 1 "Smile, Darn Ya, Smile"
Stomp Off SOS 1235 Chris Tyle's New Orleans Rover Boys "A Tribute to Benny Strickler"
Stomp Off SOS 1258 Chris Tyle's Silver Leaf Jazz Band vol. 1 "The Smiler"
Stomp Off SOS 1260 Vince Giordano's Nighthawks "Quality Shout"
Stomp Off SOS 1264 Down Home Five "Strut, Miss Lizzie"
Stomp Off SOS 1270 John Gill's Novelty Orchestra of New Orleans vol. 2 "Headin' For Better Times"
Stomp Off SOS 1272 Minstrels Of Annie Street "Original Tuxedo Rag"
Stomp Off SOS 1295 John Gill's Dixieland Serenaders vol. 1 "I'm Looking For A Little Bluebird"
Stomp Off SOS 1298 Chris Tyle's Silver Leaf Jazz Band vol. 2 "Sugar Blues"
Stomp Off SOS 1300 Down Home Jazz Band vol. 8 "Dancin' The Jellyroll"
Stomp Off SOS 1304 John Gill's Dixieland Serenaders vol. 2 "Take Me To That Midnight Cakewalk Ball"
Stomp Off SOS 1315 Bob Schulz's Frisco Jazz Band "Travelin' Shoes"
Stomp Off SOS 1316 Down Home Jazz Band vol. 9 "Paddle Wheelin' Along"
Stomp Off SOS 1321 John Gill's Dixieland Serenaders vol. 3 "Listen To That Dixie Band"
Stomp Off SOS 1325 Ted des Plantes' Washboard Wizards "Shim Sham Shimmy Dance"
Stomp Off SOS 1331 "Bob Helm & Miss Carol Leigh Blues & Jazz Review, Act I"
Stomp Off SOS 1332 "Bob Helm & Miss Carol Leigh Blues & Jazz Review, Act II"
Stomp Off SOS 1351 Imperial Serenaders "Music of the Bolden Era"
Stomp Off SOS 1367 Duke Heitger's Big Four "Prince Of Wails"
Stomp Off SOS 1369 Yerba Buena Stompers vol. 1 "Dawn Club Favorites"
Stomp Off SOS 1375 Yerba Buena Stompers vol. 2 "Barbary Coast Favorites"
Stomp Off SOS 1380 Dan Levinson's Roof Garden Orchestra "Echoes in the Wax"
Stomp Off SOS 1381 Yerba Buena Stompers vol. 3 "New Orleans Favorites"
Stomp Off SOS 1393 Barbara Rosene "Everything's Made For Love"
Stomp Off SOS 1400 Dan Levinson's Canary Cottage Orchestra "Crinoline Days"
Stomp Off SOS 1401 John Gill's Jazz Kings "I Must Have It"
Stomp Off SOS 1402 Manhattan Ragtime Orchestra vol. 1 "At The Jazz Band Ball"
Stomp Off SOS 1405 Barbara Rosene "Moon Song"
Stomp Off SOS 1406 Yerba Buena Stompers vol. 4 "San Francisco Bay Blues"
Stomp Off SOS 1409 Ted des Plantes' Washboard Wizards "Thumpin' and Bumpin'"
Stomp Off SOS 1418 Yerba Buena Stompers vol. 5 "Yama Yama Man"
Stomp Off SOS 1419 Manhattan Ragtime Orchestra vol. 2 "Euphonic Sounds"
Stomp Off SOS 1421 Ted des Plantes' Washboard Wizards "Feelin' Good"
Stomp Off SOS 1426 Delta Stompers "Do What Ory Say"
Sugar Hill/Rounder
SHCD 3761 Leon Redbone "No Regrets"
Swing Out
Swing Out CD 1004 Banu Gibson "You Don't Know My Mind"
Trad Jazz Productions
TJP 20 Turk Murphy's Jazz Band "Live at Earthquake McGoon's, vol. 1"
TJP 21 Turk Murphy's Jazz Band "Live at Earthquake McGoon's, vol. 2"
Triangle/Rhythm Masters
TRM 119CD Ray Skjelbred and his Monogram Boys "Wild and Wooly"
Notes:
1 = Reissued on CD (Bainbridge BCD 501)
2 = Reissued on CD (Lake Records LACD 178)
John Gill is also seen and heard onscreen with Woody Allen's New Orleans Jazz Band in the film "Wild Man Blues" and may be heard on numerous broadcasts of the Turk Murphy Jazz Band from the 1980s which were sponsored by See's Candies. Some of these broadcasts are available for listening through the Charles N. Huggins Project – San Francisco Traditional Jazz Foundation Collection