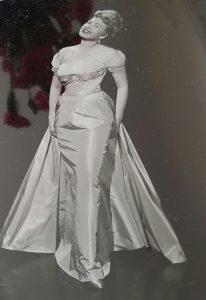 Led her own big band. Check.
Tap-danced on stage with Bill "Bojangles" Robinson. Check.
Was Maurice Chevalier's first choice for an opening act on Broadway. Check.
Canoodled with a mobster. Check
Pat Yankee, however, is very much alive and still performing.
"I've got to tell you I have really led a complete life."
Pat Yankee was born in a small town in Northern California called Lodi. Located outside a slightly bigger small town, Stockton, and as this goes to print Pat Yankee will be 90 years on this planet. And to quote another legend Elaine Stritch, "I'm Still Here" and when I used that song reference in our conversation, I was delighted with the story of how Pat Met Ms. Stritch. Elaine came into the Sherry-Netherland Hotel where Pat was singing with Turk Murphy's band. The gaggle of stars that came that night included: Elaine Stritch, the Gabor sisters, and Ethel Merman (who was in love with Turk) all dressed to the nines. Elaine got up "gassed to the antlers and sang Bill Bailey so bad, she was kind of a charming delightful gal." But I am getting ahead of the story. Let's go back to the beginning.
Mom was a telephone operator and Dad a grape grower. Surrounded by all things grapes in and out of the house, she still can't stomach the small fruit. Educated in a three-room school house her love of performing hit very early.
A medicine man came to town and her father took her into town to see "the show." A man set up on the back of a pick-up truck, a violin player was playing "Sweet Sue," and at the age of seven she looked up and knew that a life on stage would be her destiny.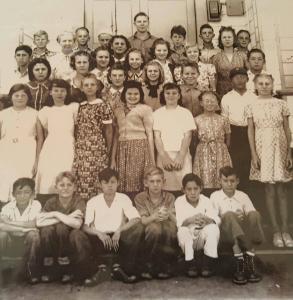 A "spindly" child, Pat was put into dance classes and that was to be her first grand entrance into showbiz. She excelled at tap dance and did shows at the American Legion; she was paid five dollars a show which at that time was better than you get in today's money for a three-set gig. She did so well she outgrew the teaching in Stockton and was sent to San Francisco. Every week her mom would drive her the hundred miles in her late '30s Ford V8 into San Francisco to study at the Peggy O'Neil dance studio. Pat was 13 years of age, it was the end of the 1930s, and it was vaudeville's swan song. She caught the last wave and was booked as a solo-featured tap dancer at the Golden Gate Theatre. Performing on stage during her summer vacations, Pat would stay at a hotel in the city with a chaperone. Her act included twirling a baton and, as with all things, you might have the occasional off day—and that meant the drummer got bonked on occasion. "He really didn't like me."
It was during this time at the theatre that Pat met some of the greats: Mel Torme (who was 15); The Marx Brothers: Lionel Hampton. The show changed every two weeks and the world came through that theatre—and there was Pat to meet them all. There was an exotic dancer on the bill and her husband had the dog act. With a gleeful, free flowing laugh Pat told me that eight dogs would come out and he would direct them to do all kinds of tricks. The dogs would exit and Pat would do her dance act. (I of course had to ask if the dogs ever left a present for her. She said "No." I like to think they wouldn't dare.)
Though she danced she usually sang a chorus of something. During the years of WWII she performed at all of the Stage Door Canteens (except Washington DC). When she performed at 15 at the Hollywood Canteen, Harry James backed her tap dance with "Rose Room." Years later when she was performing and leading her own band in Tahoe, Harry was performing in a different club and came to see her and remembered that he had played "Rose Room" for her. He was hot off a divorce from Betty Grable and took to showering Pat with champagne and roses. It was squashed because Pat was at that time already spoken for.
Then at 16 she went off to New York and studied dance. A ballet master once told her, "You are doing well—but dear, you dance just like a Mack truck." Pat just broke into hysterics and went on her merry way. All of us dancers know if you aren't a ballerina and you are taking ballet class, you are doing so to make your other dancing stronger. She had no delusions of being a prima ballerina. Billy Rose couldn't put her in his review as she was too young. Hollywood then came calling and she was cast in a "just awful B picture." The gimmick was her tapping on point in toe shoes (take that ballet master) to the tune "Caldonia" with changed lyrics.
Then Pat Yankee was hired for the Ted Lewis Review. She was still not quite 18, so she had to sit backstage where she would delicately sip at champagne. She toured for many months with him traversing up and down the East Coast via railroad cars. At one point it was Ted Lewis' birthday and Sophie Tucker was across the street performing and Bill "Bojangles" Robinson was also performing in the same block—and and they all came to the theatre to pay tribute. As Pat finished her dance she looked into the wings and saw no other than the tap legend himself, Mr. Robinson. After her number was over Lewis came out on stage with Bill Robinson. Ted Lewis said, "Let's all three of us do the Shim Sham together." Pat says, "It was one of the highlights of my life."
After making close to $300 a week with the Ted Lewis Review (which in today's dollars is equal to $3000) she was hired to be with the Milt Britton Comedy Band. On one quiet, almost empty night in the theatre two men requested that she come to their table. It was Frank Loesser and Maurice Chevalier. Chevalier was slated to do a one-man show on Broadway and they wanted Pat to be his opening act. She was absolutely over the moon for this chance to perform on Broadway. Unfortunately, it was during the war years, and shortly after that initial meeting Chevalier was shipped back to France for being a suspected Nazi sympathizer.
Toward the end of the '40s, the combination of the struggle and her home sickness got the best of Pat and so she headed back to the West Coast. She landed back with her old mentor San Francisco dance teacher Jean Devlin, who not only put her up but also put her back into the chorus line as a featured tap dancer.
The transition to Red Hot Mama came slow but sure. Pat tinkered at the piano and wrote some funny songs such as "Fletcher the Dog Catcher" ("I went out with Fletcher and all I got was fleas") and "Third Girl From the Right in the Rear." Now in her 20s at the beginning of the 1950s, she was in Las Vegas performing for a few years. At that time in Vegas there was only a half-dozen hotels; this was even before The Sahara was built. Vegas was also the venue for her very short lived first marriage.
From 1952 to 1956 Pat Yankee played a residency at Goman's Gay Nineties, and with that steady gig she saved enough money to go down to Los Angeles and find someone that would help her get her own act together. In Los Angeles an agent hooked her up with Judy Garland's brother-in-law, Jack Cathcart and he created an act for her.
During this period she was playing clubs. She was now being booked by a new agent, Milton Deutsch, and for a couple of months she found herself playing a club in Alaska. Deutsch was also Turk Murphy's agent, and when Turk needed a singer he suggested that he use Pat. It was a pairing that would stick, but first she had to fulfil a contract obligation in Las Vegas before she could join Turk. So from Alaska she headed back to the desert and finished up her contract commitment at the Silver Slipper.
While in Sin City that her life got even more colorful. The cast of characters included Mickey Cohen who came in to see his girlfriend "Candy Barr" perform as the exotic dancer on the bill. "Russian Louie," the guy who ran the place, introduced her to the most "darling man, a perfect gentleman" and they had a lovely romance until she found out that he was Russian Louie's hitman.
Pat did end up with the Turk Murphy Band and stayed with him for over a decade. Turk introduced her to Lou Rosenauer, and it was a love connection. With Lou's help she got her own band together and played all over Tahoe and Vegas. Love eventually won out and she devoted herself to being a loving partner and wife—which found her being, among other things, owner of a pig farm in Spain.
In 2000, well past normal retirement age at 73, Pat won the Bay Area Critics Award for best female in a musical for her show To Bessie with Love. (To her surprise, she beat out Broadway star Bebe Neuwirth who appeared as Jenny in Kurt Weill's Threepenny Opera in San Francisco that year.) Bessie was written, directed, and narrated by Frank E. Reilly. She did that show for two and a half months, eight shows a week.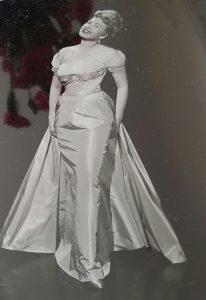 I wanted to hear her speak about her challenges as a female bandleader. We had several off-the-record conversations about how earning the respect of a male dominated industry was a difficult road. Her fear in talking about this part of her journey was that she didn't want to be perceived as a "feminist." I get it. "Being a feminist" is still a loaded pronouncement. The truth is present in the silence. To fear that when you are 90, when it can longer impact you in a negative way, speaks volumes to the struggle. We haven't come a long way, Baby.
We barely scratched the surface when I visited Pat Yankee in her amazing San Francisco apartment. Her stories are going to be shared in depth when her book See Your Mama Every Night is published. (The memoir will be "as told to" Medea Burns.) Stanford University is archiving her collection of music and memorabilia of her years on the stage. And that is a very impressive legacy for a little girl from Lodi who fell in love with dancing and never looked back.
In 2017 Pat Yankee is scheduled to appear at several festivals including The Sacramento Hot Jazz Jubilee and The Pismo Beach Jubilee by the Sea, where you can see her with her own band which includes the amazing Bob Ringwald on piano. Pat also plays a once monthly local gig at Nick's in Pacifica, CA, where she is joined by several of the guys that were regulars in Turk's band.
Subscription Options
---
Or get the Print Edition with Online Access. To get the print edition of The Syncopated Times use this Paypal link. After you pay you will be issued a coupon for free online access.